Six delicious, nutrient-rich foods that will satisfy you after a hard workout and deliver the vital ingredients your body needs to recover quickly, build muscle, and feel great.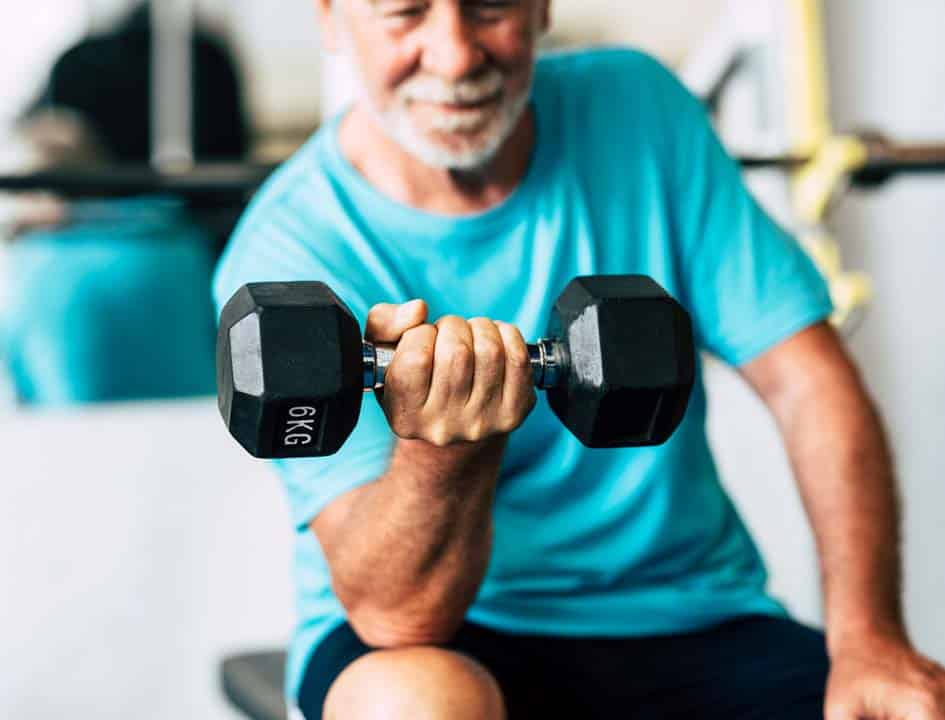 What is a Vegetarian Workout Recovery Meal?
Note: Be sure you're following recommended workout recovery in the gym before you go into the kitchen: taper off with low-impact exercise to 'cool down,' like a stationary bike, yoga, or swimming.
You need to eat after a workout because you're hungry. Also, your muscles have burned through their stores of endogenous glycogen. Glycogen is how your body stores and delivers energy to your muscles. When you eat carbs, your body turns them into glucose, then turns some of them into glycogen and sends them to your muscles.
Some nutritionists and doctors report the benefits of eating right before and during a workout, which might be messy at the gym, but hey, that grill is heavy. Do you even lift, Bro? You carry a water bottle around from station to station in the gym. Why not keep a protein bar or a couple of bananas in your kit, too?
When Should I Eat After a Workout?
Soon. The window for recovery has two parts. There's a narrow window of one to two hours, during which you need to eat to replenish those nutrients you used up pumping iron. Then there is the 24-hour window where you need to eat good food with the right nutrients in balanced meals to support your body while it builds muscle.
What Should I Eat After a Workout?
First things first: drink water. Hydration is vital to so many bodily systems. To all bodily systems. So, take it seriously and after your workout and drink a great big bottle of water.
Once you're hydrated, you want to think about the nutrients your body needs. These are probably the same ones you just burned up doing burpees. At the macro level, these are protein and carbs. At the micro-level, it's still protein and carbs but for the sake of detail, that breaks down to amino acids, sarcoplasmic, myofibrillar, and collagen/extracellular matrix proteins.
How much protein you need in a vegetarian workout recovery meal is a hard number to nail down. Generally, daily protein should fall between 1.2 to 1.6 grams per kilogram of your body weight. However, as you get older your body becomes less sensitive to protein ingestion. If you're 50+ and working out hard (especially if you are using resistance training or weightlifting) you may need to exceed the maximum of 1.6g x kg of your body weight for protein ingestion.
What this means for your post-workout recovery protein serving depends on how much protein you're eating throughout the day. Of course, the numbers listed above are for scientists. Regular people like you and me must read them with caution or our heads may explode. Fortunately, smart people in science have dumbed those numbers down to some general guidelines for protein ingestion. According to Harvard Health, and the government, the recommended daily ingestion for sedentary adults is about 53 grams of protein a day.
To determine your daily protein intake, you can multiply your weight in pounds by 0.36, or use this online protein calculator. For a 50-year-old woman who weighs 140 pounds and is sedentary (doesn't exercise), that translates into 53 grams of protein a day.

Harvard Health Blog, June 21, 2019
The recommended 53 grams is about three AA batteries worth of protein. If you're working out, maybe charge up with an extra battery or two to somewhere around 75 to 120 grams. The American College of Sports Medicine (ACSM) says if you're working out to gain muscle, the recommended amount of protein of .05 to .08 grams per pound (75 grams or 300 calories of protein for someone weighing 165 pounds) to 128 grams or 512 calories.
How you factor that additional protein into your post-workout meal depends on 10 million factors including your weight, just how hard you work out, the position of the moon, and the frequency of cricket song at dusk. Fortunately, Harvard has that worked out, too. Don't add any protein to your post-workout meal. You should be eating nutrient-rich meals all day and the foods you eat should have enough protein throughout the day to take care of you. Also, how that protein is delivered matters:
It's also important to consider the protein "package" — the fats, carbohydrates, vitamins, minerals, and other nutrients that invariably come along with protein. Aim for protein sources low in saturated fat and processed carbohydrates and rich in many nutrients.
For Vegetarian Workout Recovery Meals That Means Beans
Vegetable-based protein often comes down to legumes. Edamame is especially high in protein, but lentils and chickpeas are not far behind. Of course, it's not like you carry a can of beans in your gym kit.
A vegetarian's next best option is milk. Ice-cold chocolate milk is a classic vegetarian workout recovery meal (unless you're lactose intolerant, or just have a hard time digesting milk). A six-ounce container of Greek Yogurt has 17 grams of protein. A half cup of cottage cheese has 14. A half cup of cooked beans has eight.
What Carbs Should I Eat After a Workout?
According to the US National Library of Medicine, a healthy adult on a 2,000-calorie-a-day diet should eat about 275 grams of carbohydrates or 45% to 65% of your calories. How much this changes for people working out depends on multiple factors. There is no one-size-fits-all number, but the Mayo Clinic says increasing the recommended 3 to 5 grams per pound per day to 6 to 10.
Good sources of carbs are also good sources of fiber and vitamins. You probably already have most of them in your fridge right now.
Broccoli — one cup is 6 grams of carbs
Carrots — one cup is 12 grams
Corn — one cup (1 large ear) is 30 grams
Sweet Potato — one cup is 27 grams
Beets — one cup is 13 grams
Parsnips — one cup is 23 grams
Brussels Sprouts — one cup is 12 grams
Zucchini — one cup is 3.5 grams
Butternut squash — one cup is 21 grams
Spinach — one cup is 2 grams
Chickpeas — one cup is 45 grams
However, portability is an issue for those of us who work out at a gym. You can jam an apple into your kit for a solid 25 grams of carbs or a banana for 27.
Make-Ahead Meals
The good news is, Tupperware exists. You can throw together a nice post-workout meal kit and tuck into it immediately after you pump iron. A nice plastic container of any of the ingredients above will make for the perfect recovery meal. Of course, if you're an inveterate lunch-container-losing maniac like me, you can pick up some cheap containers that work just as well and if you leave one in your locker over the weekend you can just toss it out.
The meals below are excellent make-ahead prep meals for your workout recovery. Each one features a balance of carbs, protein, and fiber and they're easy to make. But don't think the ratios are set in stone. Dial each ingredient up or down depending on your need and routine. Your vegetarian post-workout recovery foods are your own.
Finally, it's important that your meals taste good. It's not enough to simply throw together some proteins, some carbs, and something fibrous. We are working out to better enjoy life. Start enjoying it now by making your meals delicious. Besides proteins, carbs, and fiber, each meal employs the simple chef's meal design mantra of salt-fat-acid-heat.
A buddha bowl is a classic vegetarian meal with as many variations as there are food blogs. Our version is simple and easy to prep. It's full of protein and carbs, healthy fat, and tastes great.
Print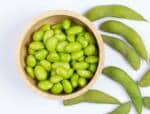 Buddha Bowl
---
Author:

Total Time:

35

Yield:

4

1

x
Description
You get your protein from edamame and chickpeas and a little from the brown rice, which also delivers carbs along with the cucumbers, cabbage, broccoli, and tomatoes. 
---
1 1/4 c. Brown rice, rinsed
1 1/2 c. Shelled edamame (frozen is fine)
1/2 c. Chickpeas, canned (drained)
1 1/2 c. Broccoli florets lightly steamed or roasted
1 1/2 T. Soy paste
4 C Red cabbage, shredded thinly
2 Persian cucumbers, partially peeled, then cut into 1/2-inch wheels
2 Avocados, cubed
---
Instructions
Cook rice per instructions, tossing the edamame in for the last three minutes to blanch; drain, cool to room temperature.
Combine the cooled rice and edamame with the cabbage, chickpeas, broccoli florets, and soy paste.
Divide the mixture evenly into four resealable containers.
Keep the avocado and cucumbers in a separate container until you're ready to build your bowl, then add them with a wedge of lime and salt to taste.
Prep Time:

15

Cook Time:

20

Category:

Dinner

Method:

Chop and Assemble

Cuisine:

American
Keywords: buddha bowl, edamame
Icelandic Skyr and Banana Box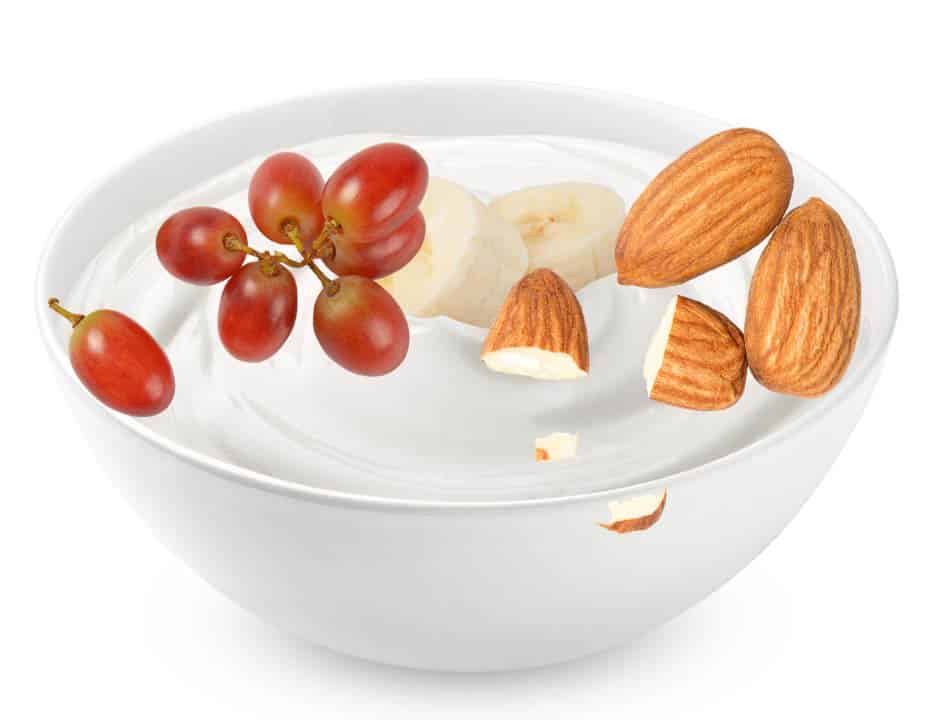 A Lunchable for grown-ups who've just pushed their body just to the edge of its limit in the name of hulking out. Icelandic Skyr is denser and has more protein than regular yogurt. It's smooth and delicious.
INGREDIENTS
1 6 oz. Container of Icelandic Skyr (strawberry goes well with banana)
2 Bananas, peeled and chunked
1/4 c. Salted, roasted almonds
1 small bunch of seedless red grapes
INSTRUCTIONS
Pack it all into your lunchbox and keep it cool.
NUTRITION FACTS
Serves 2, Calories per serving: 209, Prep time: 15 minutes
Total Fat: 9.3g, Sodium: 1.9mg, Sugars: 15.2g, Vitamin A: 3.5ug, Cholesterol: 0mg, Total Carbohydrate 30.8g, Protein: 5.1g, Vitamin C: 10.3mg.
Greek Chickpea and Feta Salad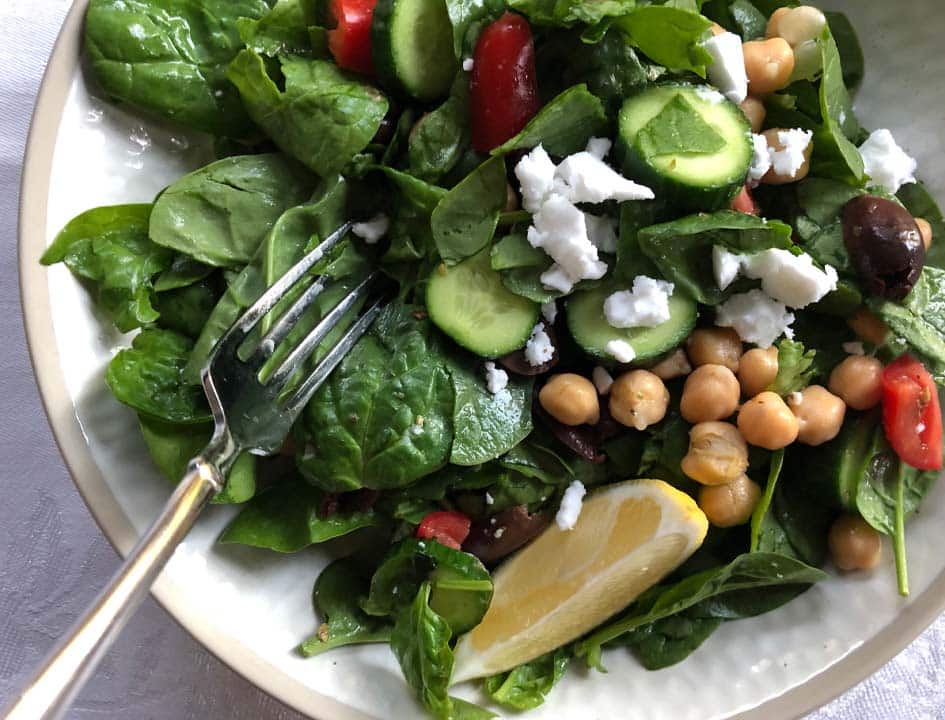 This melange of Grecian flavors packs a solid punch of protein and carbs, plus it tastes amazing and is super easy to make. Pack it for lunch or a post-workout meal.
INGREDIENTS
1 can Chickpeas, drained and rinsed
1 Small bunch of fresh spinach
4 oz. Vegan Feta cheese, crumbled or cubed (use regular Feta if you prefer)
1/4 cup ripe cherry tomatoes cut in half or sundried tomatoes packed in olive oil
1/4 cup Kalamata olives, pitted, sliced, or chopped
1 Small Persian cucumber, sliced into 1/4-inch wheels
1 Lemon wedge
2 T. olive oil
1/4 t. dried oregano (more to taste)
Pinch of Aleppo pepper flakes
INSTRUCTIONS
Combine chickpeas, spinach, olives, cucumber, tomatoes, and feta in a resealable container in an artful fashion in case someone takes a picture of it. Season with oregano and Aleppo pepper.
If you are serving immediately, drizzle with olive oil and lemon, toss together, and serve.
If you are taking it to your workout or work, pack the olive oil in a small container and nestle the lemon wedge in a corner until you're ready to eat, then squeeze the lemon and sprinkle the olive oil on top. Toss and eat!
Go to the recipe card for more on this Greek delight.

© Photos/iStock/Health Food Radar
This post is not intended to substitute for medical advice or prescribed medication. Especially if you have special health needs or a special diet, consult a physician before undertaking any new diet or exercise plan.
The author has not been compensated for any of the products mentioned in this post. In some cases, we may earn a small affiliate fee from certain links, including Amazon and the Health Food Radar shop. This helps compensate our staff for their time. Thanks for supporting us by clicking on the links!
Statements made on this website have not been evaluated by the U.S. Food and Drug Administration. Any information or products are not intended to diagnose, treat, cure, or prevent any disease. Information provided by this website or this company is not substitute for individual medical advice.