Can adding cruciferous vegetables, the green and white superfoods, help control diabetes? We'll discuss the diet-diabetes link here, read on.
Diabetes is a chronic condition that impacts a staggering number of people worldwide. It wrecks your organs and tissues, heightening your odds of developing other diseases. Hence, managing diabetes on time is of utmost importance and hinges on the choices we make in the kitchen. And that's where cruciferous vegetables, the green and white superfoods, come into play.
In this article, we'll discuss the diet-diabetes link and the power of cruciferous vegetables to aid in diabetes control.
Understanding Diabetes and its Impact on Health
As opposed to what most people think, diabetes is more than just a sugar control issue. It's a complex metabolic condition that messes with how your body uses glucose—the primary fuel (sugar) for your cells.
Where does this glucose come from? It comes from your food and travels through your blood to reach every cell. This becomes possible due to insulin, a hormone that facilitates the entry of glucose into your cells. However, when you have diabetes, your cells either lack insulin or become resistant to insulin.
Consequently, your cells can't take up glucose from your blood and utilize it for energy. The excess glucose builds up in your blood, leading to a host of complications. Some of the common complications of diabetes include:
| | |
| --- | --- |
| Complications | Description |
| Heart problems | Diabetes can affect your heart and blood vessels, leading to atherosclerosis (hardening of the arteries), high blood pressure, and high cholesterol. These complications may manifest as chest discomfort, heart attacks, strokes, and compromised blood circulation. |
| Kidney disease | Diabetes can damage the small blood vessels in your kidneys, interfering with their function to filter waste and fluids from your blood. Hence, this fluid leak can cause swelling, protein in urine, and kidney failure. |
| Nerve damage | Diabetes can attack the nerves that control your sensations and movements, especially in your feet and legs. Nerve damage manifests as numbness, tingling, pain, weakness, and loss of balance. Other nerves affected by diabetes are those that control your digestion, bladder, and sexual function. |
| Eye problems | Diabetes can damage the blood vessels in your retina, the light-sensitive layer at the back of your eye. As a result, you can develop blurred vision, cataracts (clouding of the lens), glaucoma (increased eye pressure), and diabetic retinopathy (bleeding and scarring of the retina). These can lead to vision loss if not treated. |
The Role of Diet in Managing Diabetes
Managing diabetes requires a multifaceted approach where your dietary choices pack quite a punch. The right foods and portions sizes can help boost insulin sensitivity, regulate blood sugar levels, and optimize overall health. Conversely, the wrong choices can send your blood sugar levels on a rollercoaster ride.
What are Cruciferous Vegetables?
Cruciferous vegetables are a group of green and white superfoods that belong to the Brassicaceae family. Some examples of these vegetables are broccoli, cauliflower, kale, Brussels sprouts, and cabbage.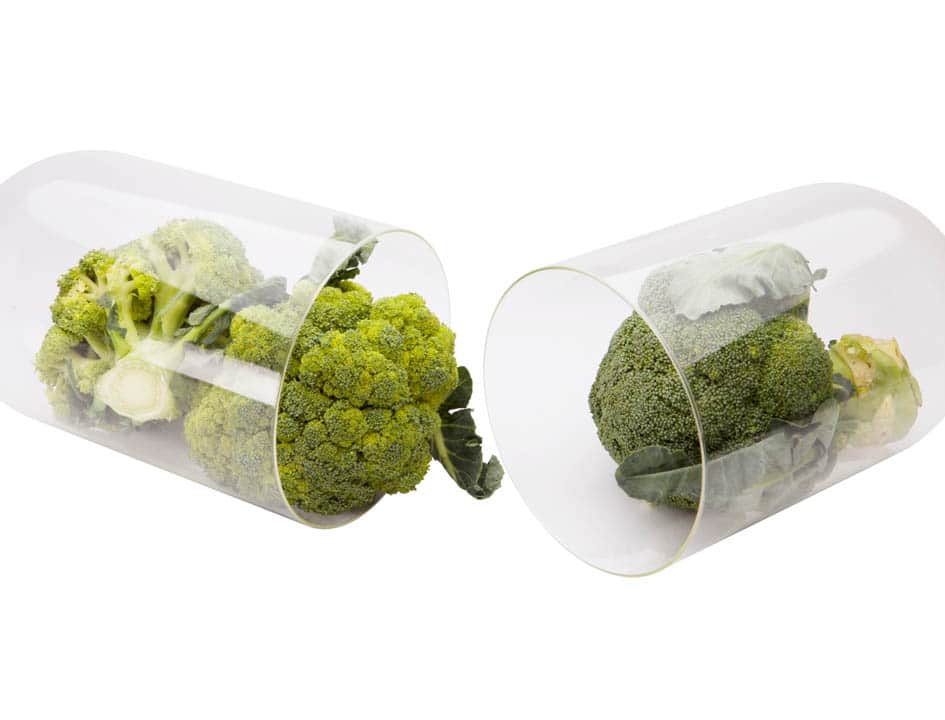 Key Nutrients in Cruciferous Vegetables that Aid in Diabetes Management
Cruciferous vegetables are a nutritional powerhouse, carrying an impressive array of vitamins, minerals, and other compounds. Here's a closer look at some key players that help in diabetes management:
1. Fiber
These superfoods are fiber-rich. Let's see how their fiber content aids in diabetes care:
a. Steadies your blood sugar. Fiber ensures the entry of glucose into your blood at a slower and steadier pace. This steady glucose release prevents rapid spikes and crashes in blood sugar, which is a critical concern in diabetes.
b. Improves appetite control. Fiber also fills you up and keeps you satisfied for longer. Hence, by curbing appetite, fiber can assist in reducing calorie intake, making it easier to maintain or achieve a healthy weight. As we know, managing your weight is crucial for diabetes care, and for a good reason. No wonder excess pounds can make your body more resistant to insulin, thereby challenging blood sugar control.
Scientific research also solidly supports increased fiber intake for improved glucose control and HbA1c levels. The HbA1c measures your average blood sugar control over three months.
So, it's evident that fiber-rich foods (such as cruciferous veggies) improve blood sugar control if you already have diabetes. Additionally, fiber-rich cruciferous vegetables can greatly lower your odds of developing diabetes. That creates a win-win situation!
2. Sulforaphane
Sulforaphane is a phytonutrient that you can get from all cruciferous vegetables, with broccoli being the most abundant source so far.
This unique nutrient shows promise in fighting diabetes by:
a. Amping insulin sensitivity. Sulforaphane can make your system more responsive to insulin, thus stabilizing blood sugar levels. What's more? This sulforaphane-powered boost isn't just for people already dealing with diabetes; it also benefits those at risk of developing it. So, whether you have diabetes or are proactively taking steps to prevent it, sulforaphane's got your back!
b. Neutralizing free radicals. Sulforaphane is also a powerful antioxidant, combating the harmful free radicals that threaten to wreak havoc on body cells affected by diabetes. This process, known as oxidative stress, plays a crucial role in the disease process of diabetes. Hence, sulforaphane can protect and keep your cells healthy by neutralizing these dangerous molecules.
Comparative study
Interestingly, a scientific study also revealed that taking sulforaphane daily worked the same way as metformin, a common diabetes medication. Both tamed the amount of sugar that the liver made. But unlike metformin, sulforaphane did not cause any side effects.
Benefits over metformin
Unlike metformin, sulforaphane does not carry the risk of stomach or kidney issues often associated with the medication.So, you can reap the benefits of broccoli without worrying about your stomach or kidneys.
3. Carotenoids
Carotenoids are a class of natural pigments responsible for the vibrant red, orange, and yellow colors of various fruits and vegetables. You can find them in plants, algae, and some bacteria. Some of the main carotenoids in cruciferous vegetables are beta-carotene, lutein, and zeaxanthin.
These colorful compounds are not just eye-catching additions to your plate. They play a significant role in the fight against diabetes, offering a slew of health benefits. Carotenoids act like a protective shield for your body, warding off diabetes on multiple fronts. They benefit diabetes via:
a. Antioxidant properties: Carotenoids act as natural antioxidants, scavenging the harmful free radicals in people with diabetes. People with diabetes have more free radicals in their cells than normal, so they need more antioxidants to fight them off.
b. Improved insulin sensitivity: Studies indicate that diets rich in carotenoids can boost insulin sensitivity. These carotenoid-rich diets specifically include dark leafy greens (e.g., spinach and kale), carrots, and sweet potatoes.
c. Protection against complications: Carotenoids can also shield you from some of the nasty complications that diabetes can bring. By curbing inflammation and oxidative stress, they provide protection for:
Heart and blood vessels: Carotenoids shield your cardiovascular system from potential damage.
Nerve health: They can also keep your nerves healthy and mitigate nerve pain or numbness, which are common symptoms of diabetes.
Eye health: Carotenoids are essential for maintaining healthy vision. Thus, they can prevent complications like diabetic retinopathy, which, if left untreated, may lead to blindness.
So, as you can see, by adding some color to your plate with carotenoid-rich cruciferous veggies, you can take charge of your diabetes and its possible consequences.
4. Chromium
Cruciferous vegetables contain chromium, a trace mineral that plays a role in insulin action. While the mechanism isn't fully understood, supplementing chromium does show promise in improving blood sugar control in diabetic patients.
5. Vitamin C
Found abundantly in Brussels sprouts and kale, vitamin C can help alleviate inflammation and improve blood vessel function—both critical for people with diabetes.
6. Magnesium
Cruciferous vegetables are a good source of magnesium. This mineral plays a vital role in how your body uses glucose. It helps your cells respond better to insulin and harmonize your sugar levels. Hence, ensuring an adequate magnesium intake can better your blood sugar control.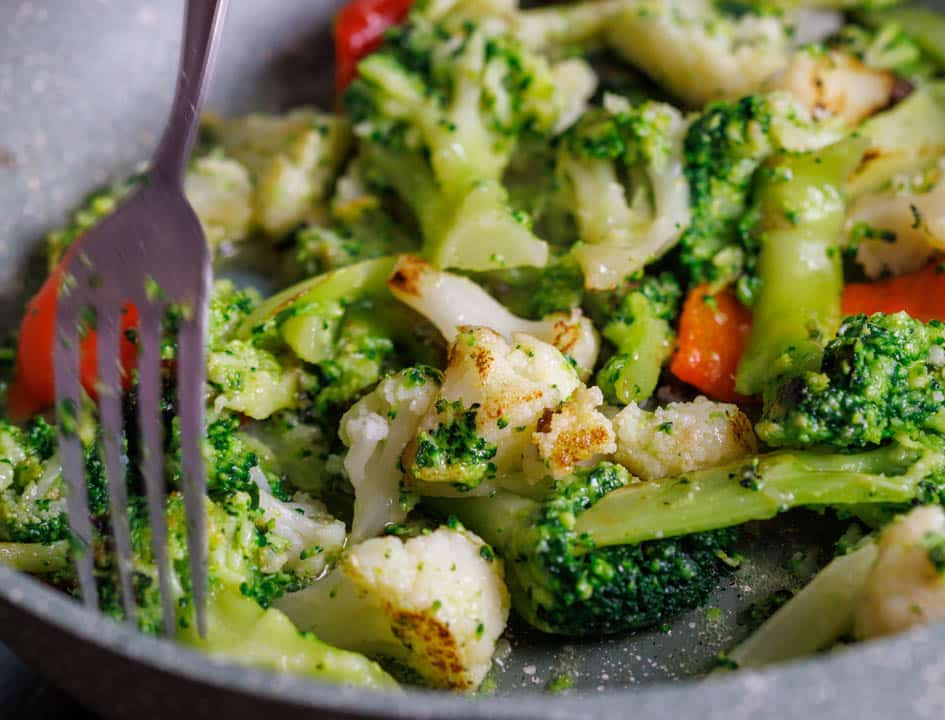 Delicious Diabetes-Friendly Recipes Featuring Cruciferous Vegetables
Now that we've delved into the nutritional benefits of cruciferous veggies, let's get creative in the kitchen. Here are three delectable recipes that harness the power of these superfoods to help control diabetes:
Recipe 1: Roasted Brussels Sprouts with Balsamic Glaze
Ingredients
To make this recipe, you will need:
1 pound Brussels sprouts, trimmed and halved
2 tablespoons olive oil
2 tablespoons balsamic vinegar
Salt and pepper to taste
1-2 cloves garlic, minced (optional)
2 tablespoons grated Parmesan cheese (optional)
Instructions
The steps are:
Preheat your oven to 400°F (200°C).
Toss the Brussels sprouts in a bowl with olive oil, salt, and pepper.
Spread them on a baking sheet and roast for about 20-25 minutes until tender and lightly browned.
Simmer balsamic vinegar and garlic over low heat in a small saucepan until it reduces and thickens slightly.
Drizzle the balsamic glaze over the roasted Brussels sprouts.
Optional: Sprinkle with Parmesan cheese before serving.
Recipe 2: Spicy Broccoli and Cauliflower Stir-Fry
Ingredients
To make this recipe, you will need:
2 cups broccoli florets
2 cups cauliflower florets
1 red bell pepper, sliced
1 onion, thinly sliced
2 cloves garlic, minced
1 tablespoon olive oil
2 tablespoons low-sodium soy sauce
1 teaspoon sriracha sauce (adjust to taste)
1 teaspoon grated fresh ginger
Sesame seeds for garnish (optional)
Instructions
The steps are:
Heat the olive oil over medium-high heat in a large skillet or wok.
Add the garlic and ginger, and sauté for about 30 seconds.
Add the broccoli, cauliflower, bell pepper, and onion to the skillet. Stir-fry for 4-5 minutes or until the vegetables are tender-crisp.
In a small bowl, whisk together soy sauce and sriracha.
Pour the sauce over the vegetables and stir to coat evenly.
Garnish with sesame seeds if desired.
Recipe 3: Garlic Roasted Kale and Chickpea Salad
Ingredients for the salad
4 cups of fresh kale, with stems removed and torn into bite-sized pieces
1 can (15 oz) of chickpeas (garbanzo beans), thoroughly drained and rinsed
2 cloves of garlic, finely minced
2 tablespoons of high-quality olive oil
1/4 teaspoon of red pepper flakes
Salt and freshly ground black pepper, to taste
Ingredients for the dressing
2 tablespoons of extra-virgin olive oil
2 tablespoons of freshly squeezed lemon juice
1 teaspoon of Dijon mustard
1 clove of garlic, minced to perfection
A pinch of salt and a dash of freshly ground black pepper, to taste
Instructions
Begin by preheating your oven to a toasty 400°F (200°C).
Lay out the drained and rinsed chickpeas in a pan. Drizzle them with a single tablespoon of olive oil and sprinkle on the finely minced garlic, red pepper flakes, a touch of salt, and freshly ground black pepper. Toss the ingredients to coat evenly.
Slide your seasoned chickpeas into the preheated oven and let them roast for 20-25 minutes or until crispy. Give the pan a little shake to ensure they roast evenly.
Grab a spacious mixing bowl and massage the torn kale leaves with a tablespoon of olive oil until tender and just a touch wilted.
Next, whisk two tbsp of extra-virgin olive oil and freshly squeezed lemon juice with a hint of Dijon mustard, minced garlic, salt, and a dash of freshly ground black pepper. This creates a delectable dressing.
Once your chickpeas are roasted to your liking, remove them from the oven, and let them cool briefly.
Pour the roasted chickpeas into the bowl of massaged kale.
Drizzle the dressing over the kale and chickpeas and gently toss them all together.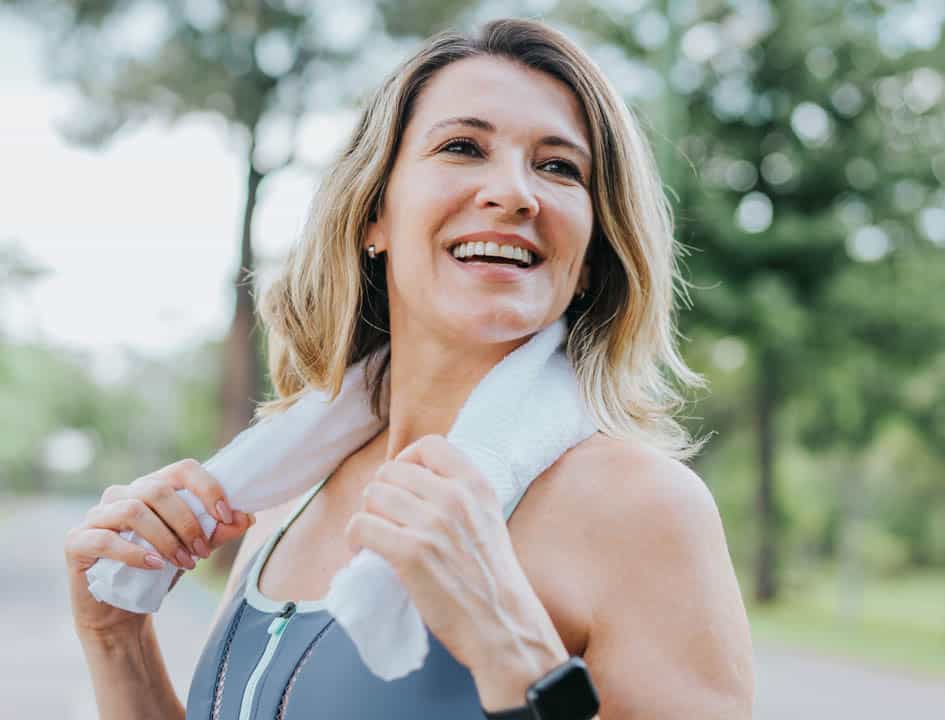 Additional Lifestyle Tweaks for Optimal Diabetes Management
Besides a healthy diet, you can also integrate several lifestyle changes to address your diabetes more effectively.
1. Take it one day at a time
You can better manage your diabetes by taking it one at a time. Instead of feeling overwhelmed by the big picture, focus on solving one aspect of your diabetes care at a time. For example, you can start by setting a goal to check your blood sugar regularly or eat a balanced breakfast daily. By solving each problem one by one, you can reach your goals and get ready for the next big challenge.
2. Embrace Daily Challenges
Another vital strategy for managing diabetes is to embrace the new challenges each day brings. Diabetes is not a static but dynamic condition that fluctuates with various factors, such as stress, illness, exercise, and food intake. Therefore, you need to be flexible and adaptable to modify your diabetes plan as needed. For instance, you may need to change your insulin or carbs based on your blood sugar readings or consult your doctor if you have any symptoms or concerns.
2. Cut the sweet stuff
This is no surprise. You need to cut ties with sugary snacks and drinks to get a grip on your blood sugar levels.
3. Don't put all your eggs in one basket
Don't rely solely on one food type; spread your nutrient choices. Diversifying your meals helps you get the necessary nutrients, prevent boredom and cravings, thereby balancing your blood sugar levels.
Different foods have varied effects on your blood sugar, depending on their carbohydrate, protein, fat, and fiber content. Ergo, by diversifying your meals, you can avoid eating too much or too little of any food group while enjoying a range of flavors and textures.
4. Sweat it out
Regular exercise burns away excess sugar, calories, and fat, thus aiding in diabetes care.
5. Don't put all your cards on the table
Keep some surprises in your diabetes management playbook. Don't reveal all your strategies to your body at once. Instead, surprise it with varied activities and meal plans to keep it guessing.
For instance, you may consider adding one or two servings of cruciferous vegetables into your daily dietary routine for optimal outcomes. Complement this with regular physical activity and a wholesome lifestyle. This combo can help you feel great and manage your blood sugar better.
6. Don't let diabetes get you down
Your best weapon against diabetes is your positive attitude while handling your health. A positive attitude helps you cope with negative thoughts and feelings and overcome difficulties. Regardless of the obstacles you encounter, always remember that you possess the strength to overcome diabetes.
7. Put your best foot forward
When managing diabetes, every step counts. Every choice you make impacts your journey to better health. Therefore, take each step carefully and decide what's best for you.
Harnessing the Power of Cruciferous Vegetables for Diabetes Control
In summary, keeping tabs on your blood sugar is vital in managing diabetes. But what's the real game-changer for achieving better sugar control? It all boils down to your dietary choices and portion sizes! So, when you're dealing with those wonky glucometer readings, remember that cruciferous vegetables like broccoli, cauliflower, and kale are your secret allies. They're packed with fiber, sulforaphane, chromium, vitamin C, and magnesium – all the good stuff your body needs. So, try making these goodies a regular part of your meals.
And as you work towards improving your blood sugar control, remember that small changes in your diet can yield meaningful results. Working more cruciferous veggies into your diet can be a delicious and nutritious step towards a healthier you. So, the next time you visit your local grocery store, grab some broccoli, cauliflower, kale, or Brussels sprouts. These nutritional powerhouses can make a remarkable impact in your battle against diabetes.
References
Post RE, Mainous AG 3rd, King DE, Simpson KN. Dietary fiber for the treatment of type 2 diabetes mellitus: a meta-analysis. J Am Board Fam Med. 2012;25(1):16-23. doi:10.3122/jabfm.2012.01.110148
Wang Y, Li F, Wang Z, et al. Higher intake of fruits, vegetables or their fiber reduces the risk of type 2 diabetes: a meta-analysis. J Diabetes Investig. 2016;7(1):56-69. doi:10.1111/jdi.12376
Axelsson AS, Tubbs E, Mecham B, et al. Sulforaphane reduces hepatic glucose production and improves glucose control in patients with type 2 diabetes. Sci Transl Med. 2017;9(394):eaah4477. https://www.science.org/doi/10.1126/scitranslmed.aah4477
Roohbakhsh A, Karimi G, Iranshahi M. Carotenoids in the treatment of diabetes mellitus and its complications: A mechanistic review. Biomed Pharmacother. 2017;91:31-42. doi:10.1016/j.biopha.2017.04.057
Havel PJ. A scientific review: the role of chromium in insulin resistance. Diabetes Educ. 2004;Suppl:2-14.
---
The information provided on Health Food Radar is intended for general informational purposes only. While we strive to offer accurate and up-to-date content, we do not provide medical advice, diagnosis, or treatment. Always consult with a qualified healthcare professional before making any dietary or lifestyle changes, especially if you have underlying health conditions or concerns.