Holidays bring a change in our diet that includes more sugar, carbs, fat, and alcohol. Here's a green juice cleanse to detox and reset.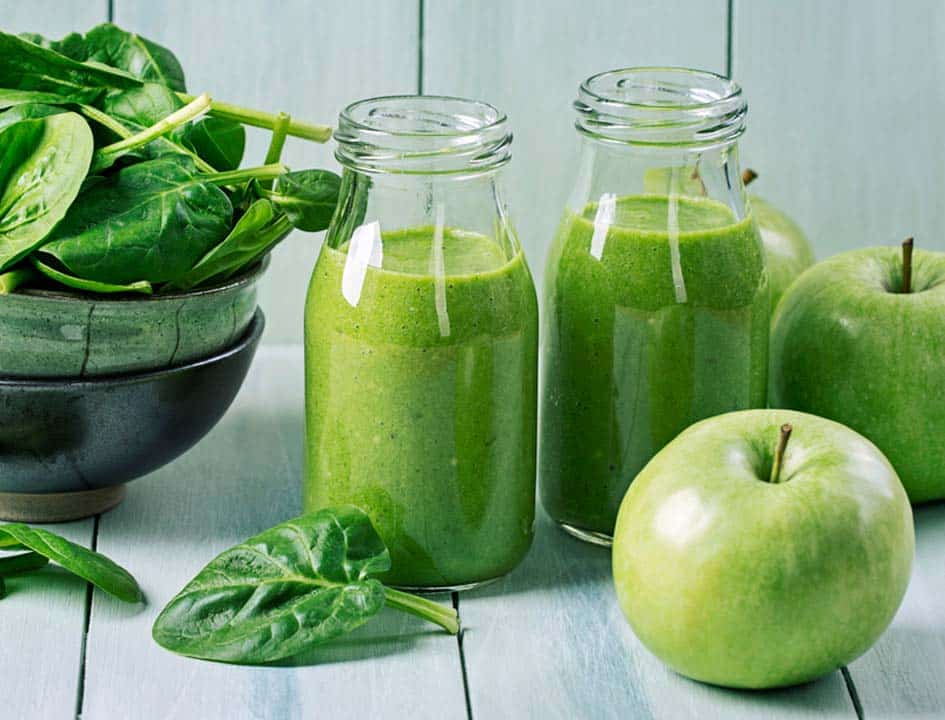 Did you join in the holiday celebrations this year? Along with the festivities sometimes we make unintended changes to our diet that include more sugar, carbs, fat, and alcohol than our body is used to. This can make us feel sluggish and lethargic, and make our digestion feel off. Now that the holidays are over, it's the perfect time to reset the body. There are lots of ways to reset, whether you are looking to lose those extra five pounds you picked up during all of the fun or just feel better. Here's the perfect green juice cleanse to detox and reset.
What Is a Juice Cleanse?
Juice cleanses typically have you consume only fruit and vegetable juices and usually last anywhere from one to seven days, depending on how much you want to detox and how long you can go without consuming food.
Before you start, it is important to know the risks and benefits of a juice cleanse before you start. To be clear, we are talking about doing a juice cleanse where you juice your own fruits and vegetables at the time you plan to consume them. Some juice cleanses include protein shakes or allow for certain foods to be consumed. Only you can decide which plan is correct for you. If you do a high-energy sport or have specific caloric needs, a strict juice cleanse may not be right for you.
There is a difference between juicing (extracting juice from a fruit or vegetable and separating out the pulp) and blending (pulverizing fruits or vegetables into a juice and leaving the pulp in the drink). When we discuss juicing we are talking about extracting the juice from the fruits or vegetables without the pulp. While we are not suggesting any specific plan, we think if you are doing a juice cleanse you should only consume fresh juice and plenty of water.
The Benefits of a Green Juice Cleanse
Juice cleansing has many benefits, including helping with weight reduction. Since you should only fast for a short amount of time, however, juice cleansing is not considered a long-term weight loss plan. If you are looking to take off the five pounds you picked up over the holidays, though, this might be a great way to jump-start your journey. Another benefit is that juicing can replace important nutrients you may have missed out on while indulging over the holidays. Juicing can also help replenish digestive flora if done correctly leaving you well balanced with more good bacteria in your gut.
Detoxing your digestive system and giving it a rest is yet another benefit to juice fasting. Because you are only drinking your nutrients, your digestive system can rest and process any leftovers still hanging around in your body. This means you basically give yourself a fresh start with a clean digestive tract. Plus when you are only consuming juices you will not be consuming refined sugar, processed foods, or caffeine. These foods can all lead to a toxic overload.
The Risks
Be aware that if you suffer from certain health conditions juice cleansing may not be right for you. Always check with your doctor before beginning a new plan. Juice cleansing should only be done for a short amount of time because it lacks certain nutrients. If done incorrectly, juice fasting can cause hypo or hyperglycemia, so make sure you are juicing a balance of fruits and vegetables. Over-consuming certain juices high in oxalates can lead to kidney stones so make sure you know your risk before you begin a cleanse.
The Cleanse
Be prepared for your green juice cleanse, by creating a plan. Make sure you have a good juicer capable of handling all ingredients you want to juice. Decide what fruits and veggies you will juice and for how long. Make sure you have the supplies on hand before you start your cleanse so you are not tempted to deviate once you have begun the cleanse.
Here are some good juice combinations to consider for your detox plan.
Apple, Cucumber, Celery, Kale or Spinach, Parsley
Apple, Lemon, Ginger, Beet
Apple, Pineapple, Lemon, Mint
Aim to juice about six 8-ounce servings spaced throughout the day to keep your energy up. Although a juice cleanse can last up to seven days, three to four days is the sweet spot — your body is able to rest and reset but it is not deprived of nutrients and food so long that it can't keep up its energy stores. If you want to continue with the detox for another three or four days, consider adding small amounts of protein such as steamed chicken breast or steamed fish and some fresh veggies in addition to your juice for the remainder of the week.
Why These Fruits and Veggies?
Kale: Anti-inflammatory, antioxidant
Spinach: High in iron, antioxidant
Cucumber: Detoxifying to kidneys and liver
Lemon: aids in digestion, detoxifying
Celery: Detoxifying to kidneys, high in Vitamins A, C, and K
Beets: High in nitric acid (studies show this helps reduce blood pressure) detoxifying, antioxidant, anti-inflammatory
Apple: Aids in digestion, heart health benefits
Ginger: Anti-inflammatory, immune benefits
Pineapple: Anti-inflammatory, High in enzymes that aid in digestion
Mint: Aids in digestion, Detoxifying, High in vitamins B and C, calcium, zinc and copper
Print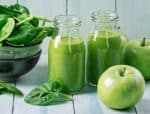 The Perfect Juice Cleanse for the New Year
---
Author:

Total Time:

15 minutes

Yield:

8 ounces

1

x
Description
This green detox juice is fresh tasting and delicious. Its anti-inflammatory, rich in antioxidants, iron, vitamins, and minerals, and immunity building.
---
1 Cucumber
3 Celery Stalks
1 Apple (medium)
1 c Baby Spinach
1/4 c Parsley
---
Instructions
Wash all fruits and veggies. Run all ingredients through the juicer. Enjoy!
Prep Time:

15

Category:

Detox

Method:

Juice

Cuisine:

Special diet
Keywords: green detox juice, green juice cleanse, green drink, apples, antioxidants
Please note: Nutrition facts and calories per serving are approximate.
© Photos/iStockPhoto
This post is not intended to substitute for medical advice or prescribed medication. Especially if you have special health needs or a special diet, consult a physician before undertaking any new diet or exercise plan.
The author has not been compensated for any of the products mentioned in this post. In some cases, we may earn a small affiliate fee from certain links, including Amazon and the Health Food Radar shop. This helps compensate our staff for their time. Thanks for supporting us by clicking on the links!
Statements made on this website have not been evaluated by the U.S. Food and Drug Administration. Any information or products are not intended to diagnose, treat, cure, or prevent any disease. Information provided by this website or this company is not substitute for individual medical advice.