In our fast-paced world, finding quick and nutritious ways to fuel our bodies has become more important than ever. Enter Health Food Radar's Protein-Packed Green Smoothie — a delicious, easy recipe that can revolutionize your daily nutritional intake.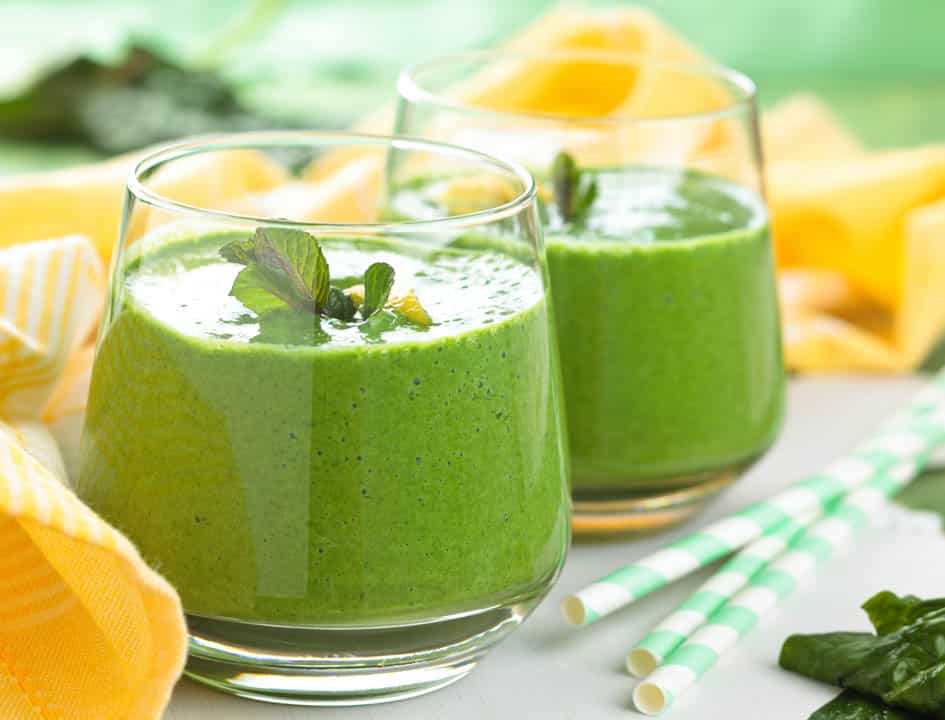 Why Is This Green Smoothie So Good?
Combining the power of leafy greens, fresh fruit, and a dose of high-quality protein, this smoothie is not only a refreshing treat but a game-changer for those looking to improve their health and well-being.
Below are some benefits of key ingredients in our Protein-Packed Green Smoothie recipe: Leafy baby greens, Flax oil, and whey protein.
Leafy Baby Greens
Leafy Baby greens such as kale, chard, and spinach are packed with essential vitamins, minerals, and antioxidants. They are rich in vitamins A, C, and K, as well as folate, iron, and calcium. These nutrients play crucial roles in supporting immune function, promoting healthy bones and teeth, and providing the body with energy. Leafy greens have alkalizing properties, helping to balance the body's pH levels. Consuming alkaline foods can support overall health by reducing inflammation and supporting optimal cellular function.
Flax Oil
Flax oil is an excellent source of omega-3 fatty acids, specifically alpha-linolenic acid (ALA). Omega-3 fatty acids are essential for the body's functioning and play a vital role in brain health, cardiovascular health, and reducing inflammation.
Whey Protein
Whey protein is a protein derived from milk that offers a range of benefits for people seeking to support their fitness goals, enhance muscle recovery, or simply improve their overall health. It is rich in essential amino acids, particularly branched-chain amino acids (BCAAs) such as leucine, isoleucine, and valine. These amino acids play a crucial role in promoting muscle growth and repair.
Grab Your Blender and Prepare for a Flavor Journey
This protein-packed green smoothie is a fantastic addition to your morning routine will leave you feeling rejuvenated, nourished, and ready to conquer the day. It is a delicious and convenient way to enhance your overall health and well-being. So, grab your blender and get ready to revolutionize your nutrition with this vibrant and nutrient-dense concoction. Your body will thank you.
Try the recipe and let us know what you think!
Print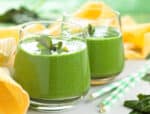 Protein Packed Green Smoothie
---
Author:

Total Time:

5-10 munites

Yield:

2

1

x

Diet:

Vegetarian
Description
This delicious and nutrient-dense protein-packed green smoothie is a great way to start out your day and it only takes a few minutes to make. We suggest you use a high-powered blender meant to prepare smoothies.
---
1–1/2 cups Baby Greens
1 Tbs Ground Flax Seeds or Chia Seeds
2 tsp Maple Syrup
1 Scoop Whey Protein (may substitute vegan protein)
1/2 Peeled Banana
4 Frozen Organic Strawberries
4 Frozen Organic Cherries
3 Ice Cubes
1 cup Water
---
Instructions
Combine all ingredients in the blender. Blend together on high in a smoothie blender until all greens are pulverized and frozen berries and ice are incorporated about 1 minute. Pour into a glass and enjoy.
Notes
Substitute any frozen fruit. Sweetness can be adjusted to taste.
Time-saving tip: Prep ahead by combining the frozen berries and half banana in individual bags stored in the freezer. 
Prep Time:

5-10 minutes

Cook Time:

None

Category:

Smoothie

Method:

Blend

Cuisine:

American
Keywords: protein green smoothie, green smoothie, protein smoothie, workout recovery smoothie
This post is not intended to substitute for medical advice or prescribed medication. Especially if you have special health needs or a special diet, consult a physician before undertaking any new diet or exercise plan.
The author has not been compensated for any of the products mentioned in this post. In some cases, we may earn a small affiliate fee from certain links, including Amazon and the Health Food Radar shop. This helps compensate our staff for their time. Thanks for supporting us by clicking on the links!
Statements made on this website have not been evaluated by the U.S. Food and Drug Administration. Any information or products are not intended to diagnose, treat, cure, or prevent any disease. Information provided by this website or this company is not substitute for individual medical advice.