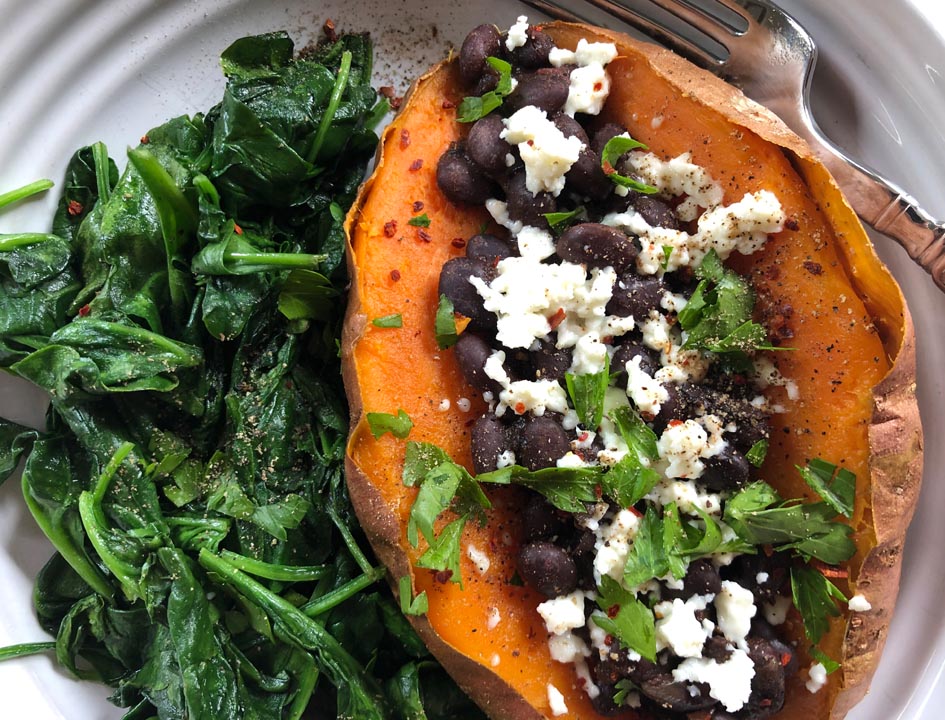 Three things. Sweet potato, black beans, and spinach. A trio of health. Why? Beans have tons of fiber, vitamins and protein. Sweet potatoes are packed with lots of vitamin A, fiber, and antioxidants. Spinach is a superstar, high in iron and fiber — and may improve oxidative stress. So, when I'm in the mood for something really healthy, fast and easy to make, filling and tasty, this recipe is my go-to.
The combination of these three superstar foods for a quick and healthy dinner is also easy on the budget, and sweet potatoes, black beans, and spinach easy to find in most grocery stores.
Let's get into the steps of putting this dish together.
Bake the Sweet Potato
Set your oven to 400 degrees. Wash your sweet potatoes and lightly rub with olive oil. Leave the skin on for extra fiber. Place on a baking pan (line with tin foil for easier cleanup) and place in the oven for 45 to 50 minutes. It's done when you can stick a fork in it!
Prepare the Black Beans
Meantime, prepare your black beans. Place a 14-oz. can of drained black beans in a medium-sized saucepan and heat over on low heat. You can add salt and pepper to taste and leave it at that, but I like to spice up the flavor by adding a little bit of salsa to the pan. Any salsa will do, but I like Newman's Own chunky medium salsa or Whole Foods' 365 medium salsa. Use a half-cup.
(Note: If you prefer homemade beans, you can use Joan's black bean recipe here.)
Raise the heat to medium and stir until the beans and salsa are integrated. Salt and pepper to taste. Set these aside in a bowl.
Now let's work on the spinach.
Saute the Spinach
You'll be using the same pan. For the spinach portion of this dish, I use a container of baby Spinach — the usual clamshell container you get in the supermarket. Keep in mind that once it is cooked, that clamshell will end up being about a fistful of spinach; not much. So, if you love spinach like I do, you might want to get more.
Add the remaining olive oil (about 1 tablespoon) to the pan, raise the heat to medium and stir in the spinach until wilted — 3 to 5 minutes. Add a pinch of salt and pepper and stir. Set aside.
Assemble Your Super Food Medley
Take the sweet potatoes out of the oven and let them cool a bit.
On two shallow bowls or plates, slice the sweet potatoes in half, drizzle with olive oil and add salt and pepper to taste. Ladle a half cup of black beans over the sweet potato and place the sauteed spinach on the side. Your sweet potato, black bean, and spinach medley is almost complete.
For the final touch, you're going to be adding a crumble of Queso Fresco cheese over the top of the sweet potato and black beans. Garnish with chopped parsley, a squeeze of lime, and a pinch of Aleppo pepper flakes. Then, sprinkle on salted roasted pumpkin seeds for texture and crunch. Get creative and add your own toppings!
There you have it: Sweet potato, black beans, and spinach, so healthy, so tasty and so easy.
FAQs: Healthy Facts About Sweet Potatoes
What vitamins are contained in sweet potatoes?
Sweet potatoes are high in beta carotene. Also, 1 cup of sweet potatoes has 18,869 IU of vitamin A.
What's the best way to store sweet potatoes?
Store sweet potatoes in a cool, dry place. Put them in their own basket in a kitchen pantry. Do not store sweet potatoes in the refrigerator.
Are sweet potatoes good for the gut?
Sweet potatoes are a good source of two kinds of fiber: soluble and insoluble. Humans can't digest either one and they don't break down into glucose. These fibers travel through the digestive tract aiding the microbiome.
Print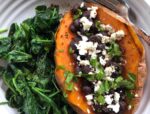 Sweet Potato, Black Bean, and Spinach Medley
---
Author:

Total Time:

1 Hour 20 Minutes

Yield:

2

1

x
Description
This sweet potato, black bean, and spinach medley is a quick, healthy, and easy-to-make dinner for two. It's great on a budget, too!
---
1 14-oz. can of black beans, drained (preferably low salt)
1/2 cup salsa, medium heat
1 medium clamshell of baby spinach
2 medium sweet potatoes
1 tablespoon olive oil plus extra for drizzling on top of the dish
1/2 lime
2 tablespoon queso fresco, crumbled
2 tablespoon salted, roasted pumpkin seeds
1/2 tablespoon parsley, chopped
Salt and pepper to taste
Optional: Allegro pepper
---
Instructions
Preheat the oven to 400 degrees.
Prepare the sweet potato: clean, rub with a teaspoon of olive oil, place on a baking sheet and bake for 40 to 50 minutes until you can squeeze it.
Combine black beans, salsa and a pinch of salt and pepper in a medium pan. Heat over medium until heated through, approximately five minutes. Set aside in a bowl.
Using the same pan, saute spinach with a splash of olive oil and a small pinch of salt and pepper. Saute until wilted and most of the water is gone.
Remove the sweet potatoes from the oven and allow them to cool for a few minutes.
Assemble the dish: Slice the sweet potatoes in half. Place two halves on each plate. Top each sweet potato pair with a half cup of black bean mixture. Serve spinach on the side. Squeeze the lime juice over the entire dish. Sprinkle queso fresca and parsley on top and garnish with pumpkin seeds and Allegro pepper. Serve!
Prep Time:

20 Minutes

Cook Time:

50 Minutes

Category:

Dinner

Method:

Bake

Cuisine:

American
Keywords: black beans, sweet potato, spinach
Please note: Nutrition facts and calories per serving are approximate.
© Photos/Health Food Radar
This post is not intended to substitute for medical advice or prescribed medication. Especially if you have special health needs or a special diet, consult a physician before undertaking any new diet or exercise plan.
The author has not been compensated for any of the products mentioned in this post. In some cases, we may earn a small affiliate fee from certain links, including Amazon and the Health Food Radar shop. This helps compensate our staff for their time. Thanks for supporting us by clicking on the links!
Statements made on this website have not been evaluated by the U.S. Food and Drug Administration. Any information or products are not intended to diagnose, treat, cure, or prevent any disease. Information provided by this website or this company is not substitute for individual medical advice.