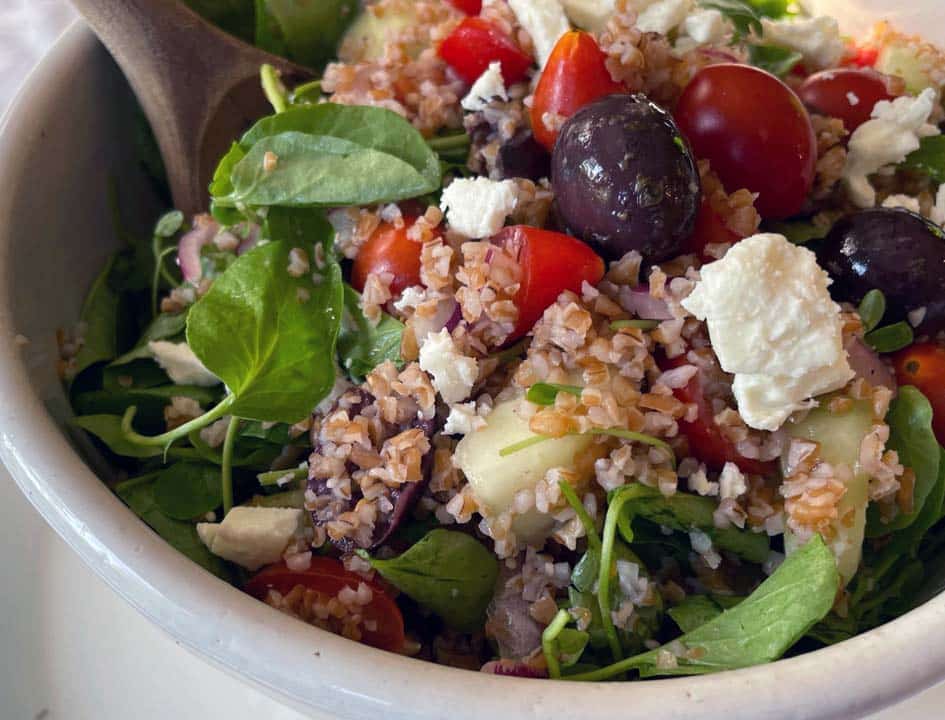 This delicious Vegan Greek watercress salad could be a go-to for you at least one day a week. The watercress and grain pair well with the classic Greek salad ingredients—cucumber, olives, tomatoes, red onion, and, for this recipe, vegan feta cheese!
Why add watercress to a Greek salad? It adds lots of texture, is extremely tasty, and it's rich in nutrients. And, despite a reputation as an upper-crust ingredient found in the kind of fancy tea sandwiches they would serve at Downton Abbey, Watercress is readily available at markets all around the country.
The Heath Benefits of Watercress
Watercress is a leafy aquatic plant that may reduce the risk of heart disease, obesity, and diabetes. It promotes an overall healthy complexion and may boost an individual's energy level. Additionally, watercress may help prevent certain types of cancer because it's high in phytochemicals.
Watercress contains a wide range of nutrients and vitamins, particularly helpful in regulating blood pressure and enhancing digestive functions.
Some of the Many Nutrients in Watercress
Here are some of the most common nutrients found in one cup of watercress:
Vitamin K
Vitamin C
Vitamin A
Calcium
Manganese
Potassium
Vitamin E
Thiamin
Riboflavin
Vitamin B-6
Magnesium
Phosphorus
Green Crunchy Freshness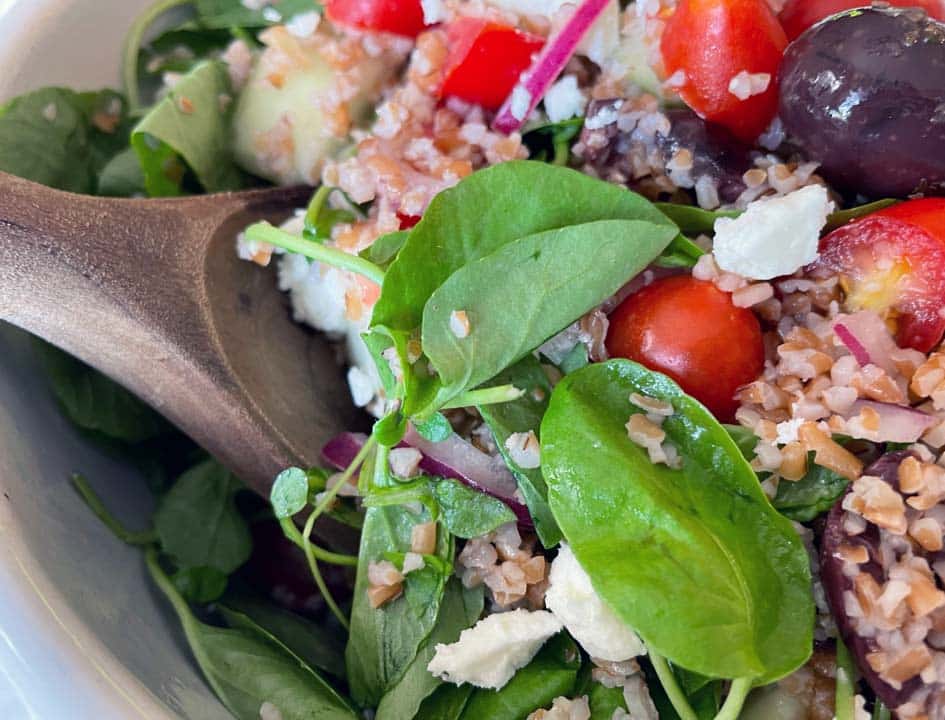 Watercress is part of the cruciferous family of vegetables, like broccoli and cauliflower. I love any kind of lettuce in a salad (except radicchio), but it's nice to switch things up a bit. And, we all could use the extra vitamins and mineral boost in watercress.
How to Eat a Greek Watercress Salad
Serve your watercress salad in a shallow bowl and try to use ripe tomatoes. If they are out of season, find good quality sun-dried tomatoes packed in olive oil. Crumble the feta on the salad—don't cut it into large chunks. (BTW, there's no red pepper in a Greek salad, and if you're serving bread with your Greek salad, use sourdough or a baguette, not pita bread. If you want to use pita bread, we have a really fresh, delicious gluten-free tabbouleh salad recipe you should check out.)
Let's get into the recipe!
Print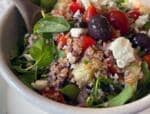 A Delicious Vegan Greek Salad With Watercress Recipe
---
Author:

Total Time:

40 minutes

Yield:

4

1

x
Description
Greek bulgur wheat salad is a bright, easy to make dish that should be a once-a-week go-to. It's a great way to make use of those end of summer tomatoes, too.
---
1

cup

prepared bulgar wheat or quinoa

2

T fresh lemon juice

2

T extra-virgin olive oil

1

large diced tomato (or

one

container multi-color cherry tomatoes)

1/2

diced red onion (blanched or pickled if you want to reduce the bite)

1/2

cup

chopped fresh watercress (use mostly the tops and about an inch or two of the stems)

1/2

medium English cucumber, medium dice

1/2

cup

crumpled Vegan Feta cheese,

1/2

cup

Kalamata olives, pitted and chopped, divided

1/4

cup

toasted pine nuts
Salt and pepper to taste
---
Instructions
Cook the bulgur wheat according to directions. Stir in the lemon juice and olive oil and fluff with a fork. Add a pinch of salt and a hearty grind or two of pepper. In a large serving bowl, combine the vegetables, olives and half the Vegan Feta cheese. Stir in the bulgur mixture. Top with the remaining feta and sprinkle with pine nuts and a watercress sprig or two. Taste and adjust the seasoning. You might want to add a squeeze of lemon for extra acidity, or a splash of olive oil if the salad seems dry. Serves 4.
Notes
If you are watching your salt intake, you can reduce the amount of olives and Feta, or put these toppings on the side instead of mixing them in.
Prep Time:

20 minutes

Cook Time:

20 minutes

Category:

Salad

Method:

Chop and steam

Cuisine:

Greek/vegan
Keywords: vegan Greek salad, watercress salad, bulgar wheat, Greek salad recipe
Photo ©Health Food Radar
This post is not intended to substitute for medical advice or prescribed medication. Especially if you have special health needs or a special diet, consult a physician before undertaking any new diet or exercise plan.
The author has not been compensated for any of the products mentioned in this post. In some cases, we may earn a small affiliate fee from certain links, including Amazon and the Health Food Radar shop. This helps compensate our staff for their time. Thanks for supporting us by clicking on the links!
Statements made on this website have not been evaluated by the U.S. Food and Drug Administration. Any information or products are not intended to diagnose, treat, cure, or prevent any disease. Information provided by this website or this company is not substitute for individual medical advice.