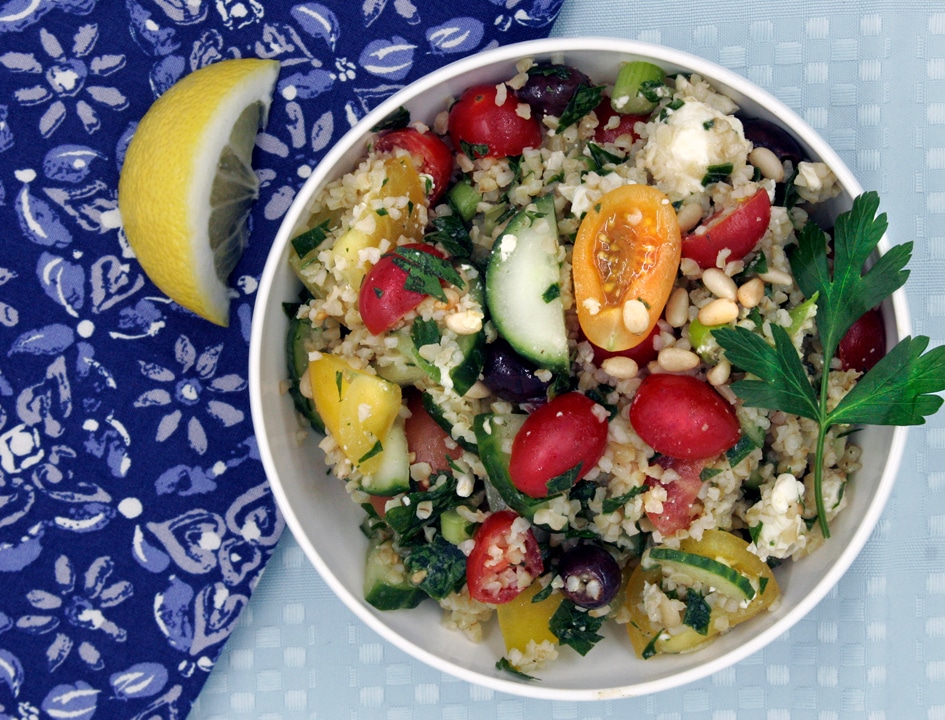 Want a fresh, delicious gluten-free tabbouleh salad, but short on time? Try this easy take on a traditional Middle Eastern salad. Tabbouleh is a bright, easy-to-toss-together salad of chopped vegetables and quinoa. The best part? You can adjust the recipe depending on what's fresh in the market, and tweak it to your specific tastes and diet. Second-best part: If you can boil (or microwave) water and use a knife, you can make this recipe, fast.
Most Tabbouleh salads have a base of cucumber, tomato, parsley and mint, but I call this farmers market salad because you can embellish it with what's in season. For example, use fresh watercress or tender baby kale to complement the parsley and mint. Add fresh orange or yellow peppers to add color and crunch. And in late summer months, take advantage of all the different varieties of tomatoes fresh from the farm.
If you're craving gluten-free tabbouleh in the winter months when good tomatoes are scarce, you can pump up the flavor by adding sun-dried tomatoes or oven-roasted plum tomatoes.
Don't worry too much about the amounts listed in the recipe. In general, the ratio should be 1 part quinoa to 2 parts vegetables. Experiment and have fun!
A large serving of this salad can easily be a low-calorie meal in itself (but it is delicious paired with grilled salmon).
Print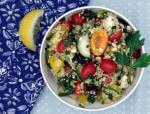 Farmer's Market Fast and Easy Gluten-Free Tabbouleh Salad
---
Description
Tabouleh salad is a bright, easy salad of chopped vegetables and Quinoa.
---
3 cups cooked Quinoa (Traditional Tabbouleh uses 1 cup uncooked bulgar wheat)
2 tablespoons fresh lemon juice
2 tablespoons extra-virgin olive oil
1 large diced tomato (or one container multi-color cherry tomatoes)
1/2 diced red onion (blanched or pickled if you want to reduce the bite)
1/4 cup chopped fresh parsley
1 tablespoon chopped fresh mint
1/2 medium English cucumber medium dice
1/2 cup crumpled Feta cheese,
divided 1/2 cup Kalamata olives, pitted and chopped, or to taste
1/4 cup toasted pine nuts
Salt and pepper to taste
---
Instructions
Cook quinoa al dente according to directions. Stir in the lemon juice and olive oil and fluff with a fork. Add a pinch of salt and a hearty grind or two of pepper. In a large serving bowl, combine the vegetables, olives and half the Feta cheese. Stir in the bulgur mixture. Top with the remaining feta and sprinkle with pine nuts and a parsley sprig or two. Taste and adjust the seasoning. You might want to add a squeeze of lemon for extra acidity, or a splash of olive oil if the salad seems dry. Serves 4.
Notes
If you are watching your salt intake, you can reduce the amount of olives and Feta, or put these toppings on the side instead of mixing them in.
Photo ©Health Food Radar
This post is not intended to substitute for medical advice or prescribed medication. Especially if you have special health needs or a special diet, consult a physician before undertaking any new diet or exercise plan.
The author has not been compensated for any of the products mentioned in this post. In some cases, we may earn a small affiliate fee from certain links, including Amazon and the Health Food Radar shop. This helps compensate our staff for their time. Thanks for supporting us by clicking on the links!
Statements made on this website have not been evaluated by the U.S. Food and Drug Administration. Any information or products are not intended to diagnose, treat, cure, or prevent any disease. Information provided by this website or this company is not substitute for individual medical advice.