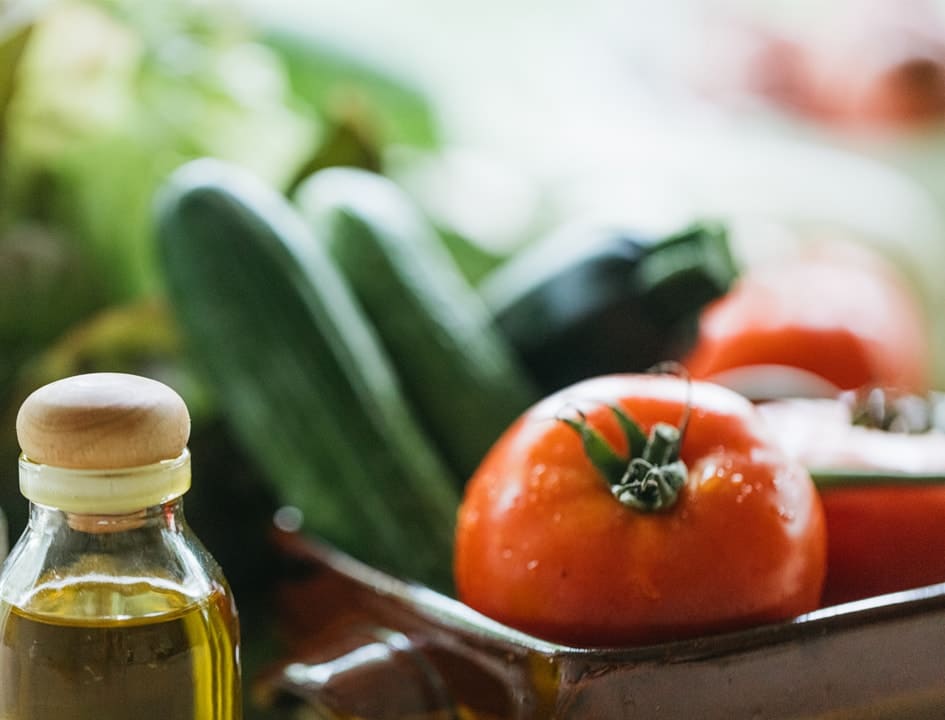 Turn Your Summer Squash Bounty into a Delicious Side
A Brilliantly Simple Summer Zucchini Salad.
Zucchini is a summer vegetable rockstar and if you're like me and you decided to plant it in your garden this year, you already have too much.
Ever wonder why zukes are so cheap in July and August? Because farmers can't keep up with these incredibly productive plants. You can practically watch these things grow. Which means you may have run through your repertoire of courgette recipes and now you're dangerously close to making soup. Instead, here's a great way to use zucchini, adapted from a recipe by the late French chef Roger Vergé, first published in his 1994 book, Roger Vergé's Vegetables.
A Legendary Old Cookbook
Vergé was Nouveau French royalty, particularly renowned for his lifelong commitment to making vegetables the stars of his dishes. He developed sauces made entirely from the harvest of his home garden. He created dishes that featured plants we take for granted. Who knew you could braise celery? Who knew you can fry cucumbers? Vergé knew and his clientele swooned over his plates for decades.
Like This Brilliantly Simple Summer Zucchini Salad
The ingredients are freshly picked zucchini, lemon, tomato, basil, and salt. I have changed the recipe slightly—Vergé used mint and coriander. I use basil and a Meyer lemon, which has a savory flavor that's more peppery than regular lemons. When you balance that against the zuke and the salt it's perfect. You can usually get Meyer lemons at Whole Foods for a great salad.
But It's What You Do to the Lemons That Matters
This recipe requires a pinch of technique because you're going to supreme a lemon. I can tell you the idea of supreming an orange or a lemon sends some chefs into a paroxysm of fury because it requires nerves of steel and a steady hand—kind of like brain surgery but on a lemon. It's lemon surgery. But those chefs are just pithed off and have no patience. Supreming a lemon just means you shave the peel off entirely and remove the segments, leaving the pith. Check it out.
How to Supreme a Lemon
Slice off the top and bottom peel all the way down to the flesh.
Using a very sharp paring knife, slice from the top cut down along the side of the lemon, removing the peel down to the flesh, and following the contour of the lemon.
Now that you can see where the inner peel meets the flesh of the lemon, you make another vertical slice at the edge of your first one, preserving as much of the flesh as you can, and again, following the contour of the lemon. Do this all the way around until you have a naked citrus.
Holding the fruit in your cupped hand over a bowl to contain the juice, pick a segment to remove. Notice it's held between the ribs of the lemon. Slip your super sharp knife down the inner edge of that rib, gently, toward the center of the lemon. Now do it on the other side of that segment. You should be able to easily pull the segment out, so it drops into the bowl.
Congratulate yourself on this newly mastered culinary skill.
Print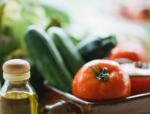 Zucchini Summer Salad Supreme
---
Description
A deceptively simple summer salad of Zucchini, lemon, and herbs, adapted from the 1994 book, Roger Vergé's Vegetables. You will have to supreme a lemon and chiffonade some basil, but it's easier than it sounds and the result is a savory Zucchini salad that's absolutely delicious. Make sure your paring knife is sharp!
---
2

Meyer lemons, one supremed, one juiced

2

medium Zucchini

1

medium, ripe plum tomato
Zest from half of one of the lemons
Six to

eight

leaves of freshly picked basil, including some tiny, tiny leaves, cut in a chiffonade

1/2 tablespoon

Kosher salt (or your favorite expensive sea salt)
Freshly ground pepper to taste
---
Instructions
Peel the Zucchini in strips so you leave colorful green stripes of peel about a quarter-inch wide.
Dice the Zucchini. (Vergé says 1/8 inch dice, but if that's a bit small for you, just make them as small as you can. A quarter inch is OK.) Add to a bowl.
Add the juice from one lemon to the bowl with zucchini
Supreme the other lemon over the bowl to reserve juice, add segments to bowl
Squeeze the seeds and juice from a fresh plum tomato; dice the same as the zucchini
Place into the bowl with the lemon juice, add a generous pinch of salt, cover with saran wrap, and refrigerator for at least half an hour, letting it macerate.
Remove, make basil chiffonade, using about six or seven freshly picked basil. (Vergé uses mint, but I think basil goes really well with the peppery Meyer lemon—you do you), reserving the tiniest leaves for garnish.
Taste for seasoning, garnish with the zest and basil leaves, gently turning them into the salad.
Serve.
Notes
Alternative: replace the Zucchini with steamed baby beets, and the basil with fresh dill.
Prep Time:

10

Cook Time:

35

Category:

salad

Cuisine:

French
Keywords: zucchini, meyer lemon, basil, summer zucchini salad, zucchini salad, zucchini salad recipe, cold zucchini salad, lemon zucchini salad
© iStockphoto
This post is not intended to substitute for medical advice or prescribed medication. Especially if you have special health needs or a special diet, consult a physician before undertaking any new diet or exercise plan.
The author has not been compensated for any of the products mentioned in this post. In some cases, we may earn a small affiliate fee from certain links, including Amazon and the Health Food Radar shop. This helps compensate our staff for their time. Thanks for supporting us by clicking on the links!
Statements made on this website have not been evaluated by the U.S. Food and Drug Administration. Any information or products are not intended to diagnose, treat, cure, or prevent any disease. Information provided by this website or this company is not substitute for individual medical advice.