A weight loss journal template will help jump-start your food diary and sustain you through the long haul of sustainable weight loss.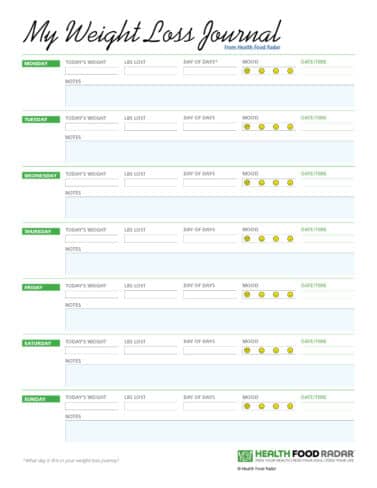 Subscribe to HFR and get your free "Weight Loss Journal" template.
You will receive a welcome email from Health Food Radar with a link to your free download.
All fields are required. By signing up, you are opting into Health Food Radar's free newsletter and occasional emails with news and offers. By using this service, you indicate that you agree to our Terms and Conditions and have read and understand our Privacy Policy.
---
Using a Journal to Lose Weight Works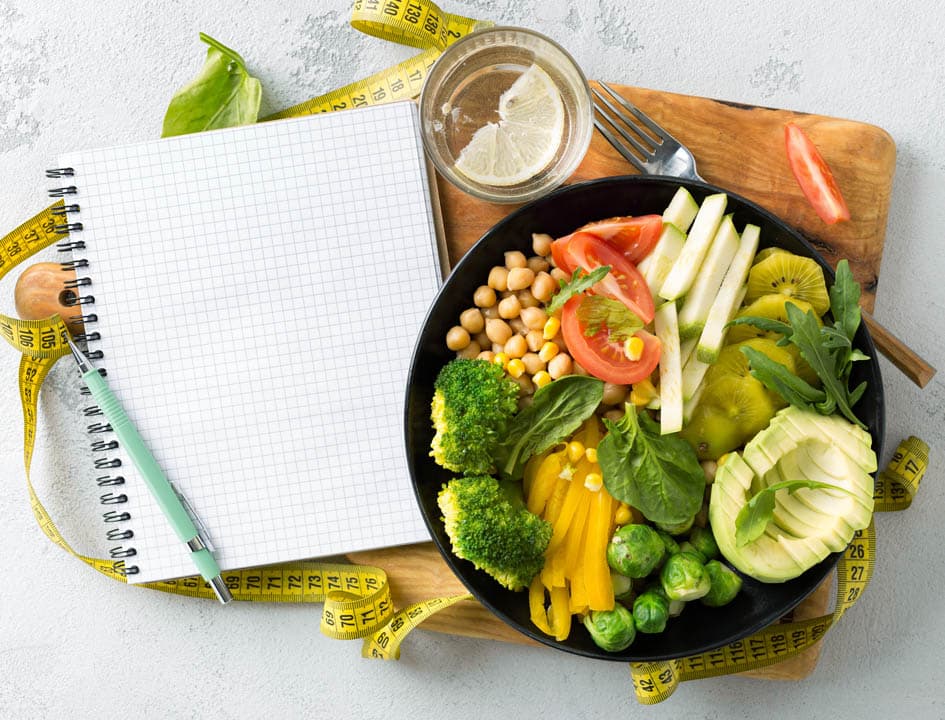 Losing Weight Is Hard
Hell, it's almost impossible.
There's a multi-billion dollar industry built around the struggle to lose weight. But what if it's not true? What if losing weight is … easy? If there is a silver bullet to lasting weight loss, the diet pill and Hollywood drugs crowd haven't found it yet. But science cuts a side eye at all that advertising junk anyway. The truth is, losing weight is a long game and a weight loss journal is the engine that often drives success.
Let's be clear: a weight loss diary doesn't actually cause weight loss. Diet and exercise do that. But the diet and exercise route only works if you are motivated. And that is where the weight loss journal comes in. When you record your progress in a journal, you develop a conversation with yourself about your journey. Your journal is peppered with real data, facts, notes, and illustrations showing you when you're on track, and when you need a nudge.
Here's How a Weight Loss Journal Template Works
Journaling may seem like a vintage hobby, but science backs up its value. According to Analog Attorney, there's a growing trend among business professionals where they ditch some of their cherished tech apps in favor of paper and pen. Writing things down instead of keying them in makes a world of difference in how your mind processes information. In short, writing in a journal employs executive function, retains information better for faster recall, and generally maximizes your chill.
Writing in Your Weight Loss Journal Helps You Retain Information
When you write, you have to make a lot of decisions about which words to use because you are trying to keep up with your thoughts — which are fast. Writing slows down your interaction with those thoughts, sort of grounding your efforts in a tangible space. As you imprint words on paper, those same words are imprinted on your mind with much greater definition and completeness than typing. Because of this, you can recall more information faster.
This matters when you're keeping a weight loss diary. All the data inscribed on the page is done slowly. Compared to using an app, it's laborious and takes twice as long. However, an app just accepts and stores your information. And it does so externally in the memory of your device, not in your brain. Journaling stores all your information on the page, but also makes it an active memory in your mind. So, when you begin to ruminate about how long it's going to take to lose weight, the data you entered recently pops into your head. The fact that you can recall it means you're on a downward trend.
That's fairly motivating.
But There's Another Reason Journaling for Weight Loss Matters
It's the mind-body connection. Like yoga, journaling activates a physical action, the writing, while also activating a mental action, the entrainment of information. And these actions are connected to your actual weight-loss efforts on the yoga mat and the gym so that you develop this activated triangle of action, commentary, and support. This keeps your efforts and your understanding of your efforts alive. Your daily record is so easily accessible that during the day, you regularly recall the information without even meaning to.
I know that sounds like too-good-to-be-true magical unicorn tears, but it's true. Journaling keeps the information live. This develops a kind of steady reassurance that you're progressing — a reassurance back-up by the data you record on paper.
That doesn't happen with an app. You enter information into an app and it's gone. You have to make an effort to recall it. You open your phone, tap the icon, scroll through the data and click on "overview" and finally you get a postage stamp-sized graph. Journaling puts all that information in the live feed in your head. If you want to check in, there aren't any steps. It just shows up as you think about it.
Types of Weight Loss Journals
It doesn't matter what kind of journal you use. I prefer a cheap notebook, but the truth is I also love a good Baron Fig or a Leuchtederm 1917. Your notebook style is your choice. What does matter is you like it enough to enjoy using it every day.
Here's How You Make a Weight Loss Journal
I use a very simple method, turning my Moleskin Cahier into a weight loss diary by dividing each page in half across the middle. Each half is a whole day. But there's more organization. You should chart your progress on some kind of graph so you have an instant visual of your progress. Adding in a rewards calendar and a projected weight loss calendar is a good idea.
Ultimately, you need only the following info in your daily report:
The date: Because of course.
The time: Because it matters when you check-in.
Your metric: Is it weight? Add that in. Diet? Add that in.
Oh, and one more really important thing that is mandatory:
Record how you feel.
This is vital and, really, it's the whole point of keeping a weight loss journal. The true motivation and enduring support for weight loss is emotional. Your emotions can wreck you or help you level up. By keeping track of how you feel, you may develop a more steadfast passion for your weight loss journey — and that will keep you going during low motivation periods better than anything — especially an app.
Use This Amazing Weight Loss Journal Template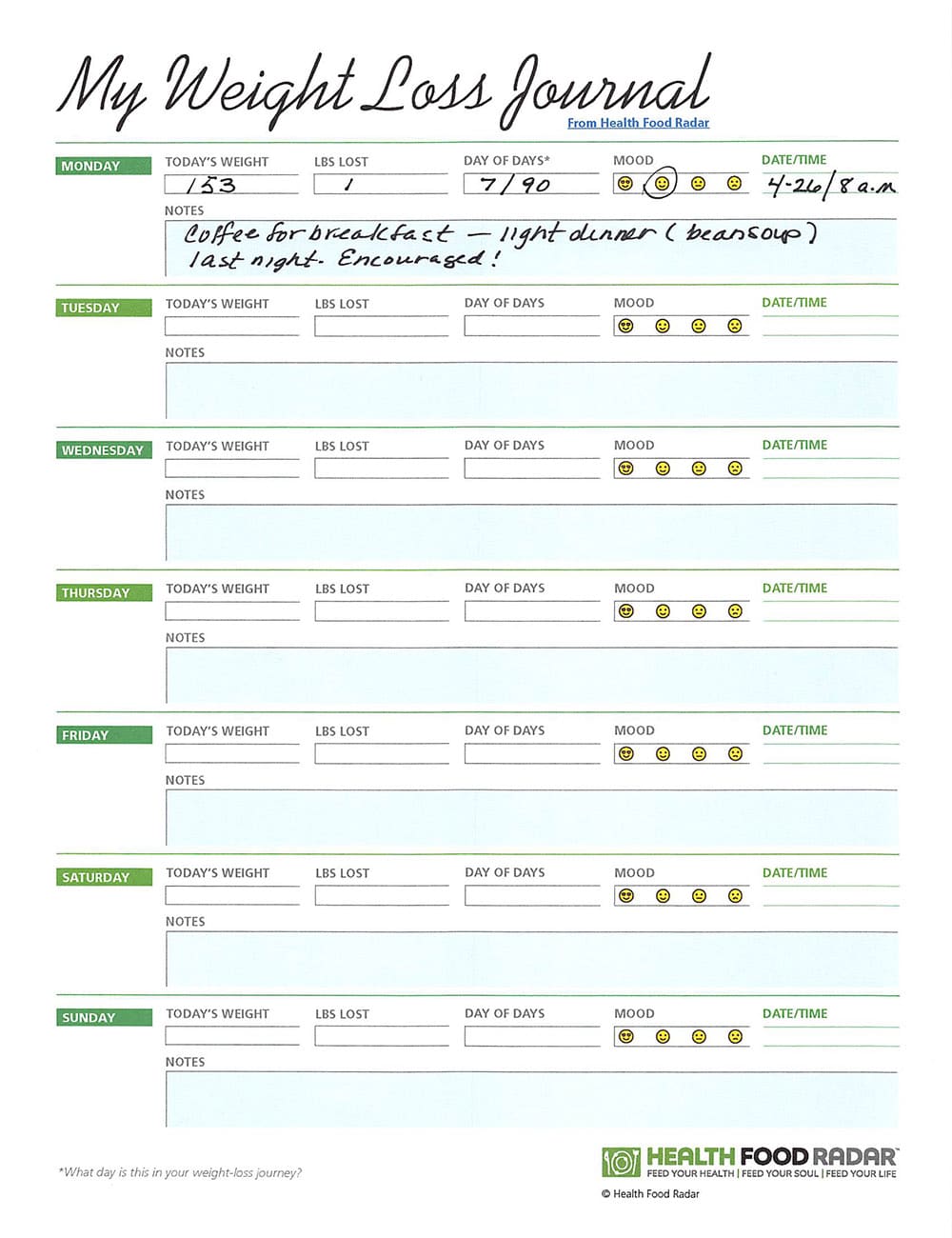 We've developed a simple one-page template for keeping a weight loss journal. Just fill out the form below (you'll have to join our newsletter, but I promise it's worth it) and you'll receive an email with a link to our pdf download with a week's worth of simple ways to record data as you lose weight.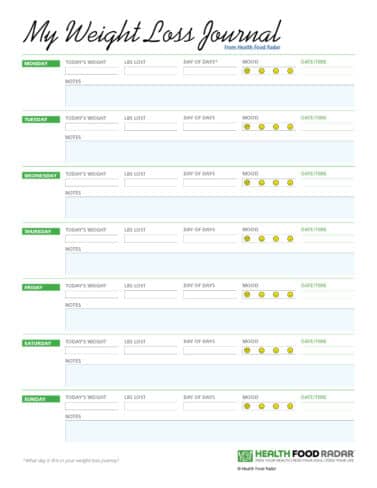 Get the Free Download! Subscribe to HFR and get your free "Weight Loss Journal" template.
You will receive a welcome email from Health Food Radar with a link to your free download.
All fields are required. By signing up, you are opting into Health Food Radar's free newsletter and occasional emails with news and offers. By using this service, you indicate that you agree to our Terms and Conditions and have read and understand our Privacy Policy.
Image © iStockPhoto.com
This post is not intended to substitute for medical advice or prescribed medication. Especially if you have special health needs or a special diet, consult a physician before undertaking any new diet or exercise plan.
The author has not been compensated for any of the products mentioned in this post. In some cases, we may earn a small affiliate fee from certain links, including Amazon and the Health Food Radar shop. This helps compensate our staff for their time. Thanks for supporting us by clicking on the links!
Statements made on this website have not been evaluated by the U.S. Food and Drug Administration. Any information or products are not intended to diagnose, treat, cure, or prevent any disease. Information provided by this website or this company is not substitute for individual medical advice.