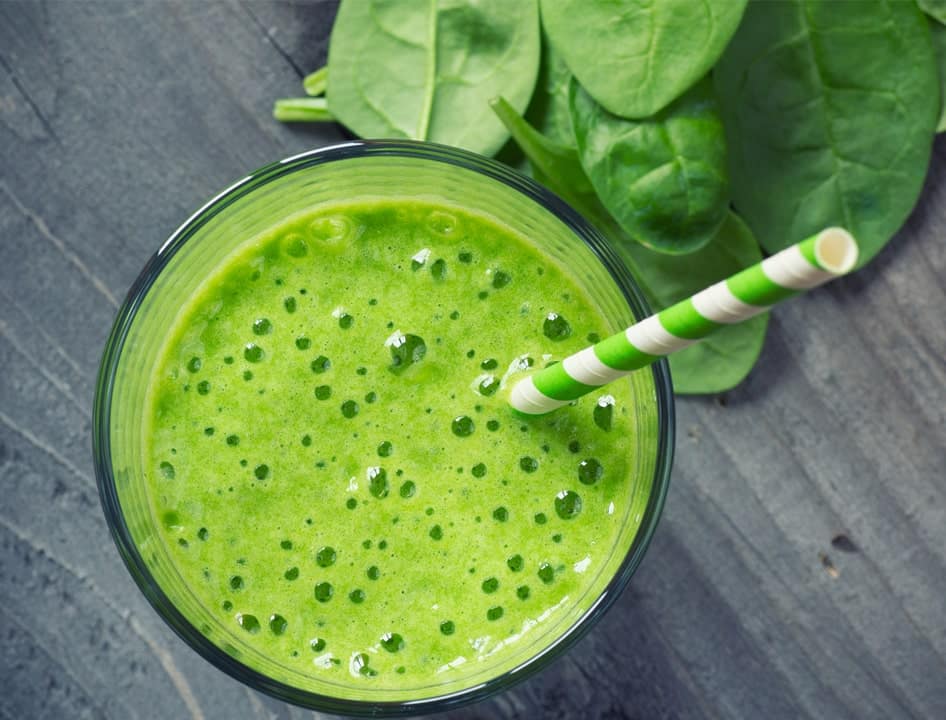 What could be better than a healthy green smoothie recipe! Try this quick and tasty, nutritious, low-fat, high-fiber recipe.
Everyone knows the past year has been a hellscape. Not only have we disrupted our lives to avoid getting sick but also the uncertainty of the supply chain is still causing some disruptions 3 years into this mess. I usually gain a few extra pounds over the holidays, but this year that meant adding pounds upon pandemic pounds — and losing the extra weight seems insurmountable.
I Won't Back Down
I know that small changes in your diet can make a big difference, and once I lose the first five pounds, I'll feel much better. So, this month I began experimenting with a healthy green smoothie recipe as a breakfast replacement. My goals were to create a low-sugar drink, high in fiber and nutrients, and something my family would actually enjoy, too!
Besides, what could be better than a healthy green smoothie recipe to start the year!
Hmm … now what to put in. What's healthy, filling, and tastes good?
Romaine Lettuce
Romaine lettuce packs a pretty good nutritional punch. It's high in minerals like calcium, phosphorous, magnesium, and potassium. An added benefit—Romaine has vitamins C and K, Folate, and it's a good source of beta carotene. One cup of raw romaine lettuce has about 8 calories, 1.5 g of carbs, 1g fiber, and 0.6 g of protein. OK, I'm sold. Romaine is the foundation of our green smoothie drink.
Baby Spinach
Baby spinach will add some extra flavor and nutrients. Half a cup of baby spinach has about 3 calories, .06g fat, and .54g carbs. Baby spinach is harvested young. It's more tender and has a sweeter flavor. (It's also easy on the blender.)
Avocado
What could be better in a healthy green smoothie recipe than avocado? One Avocado has about 234 calories but is packed with good fats, fiber, and nutrients. A 100-gram serving has about 20 vitamins and minerals, like 485 ml of potassium, 81 mg of folate, .26 ml of vitamin B6, and vitamins C and E.
Adding avocado to the smoothie helps meet my goal of creating a filling smoothie. According to Healthline: "Overweight and moderately obese adult study participants who ate about half of a Hass avocado at lunch felt full for three to five hours afterward. Blood sugar levels remained more stable than those of participants who ate an avocado-free lunch."
Granny Smith Apple
Granny Smith apples are a good source of fiber and minerals and add perfect color to a healthy green smoothie recipe. They are low in sugar and carbs — 100 grams of a Granny Smith apple has around 58 calories, 9.6g sugar, fiber 2.8g, and 120mg of potassium—but still add a sweet and sour punch to a smoothie.
Frozen Peaches
Peaches were the last ingredient I settled on for this smoothie. After blending the lettuce, spinach, avocado, and apple, plus a splash of lime juice and a couple of Stevia drops, the drink still needed more flavor and texture. Frozen mango was my first choice, but peaches are lower in total sugars than mango — a big plus for my smoothie goals. A 140-gram serving of frozen peaches is 60 calories and very high in vitamin C, 252 mg. And, bonus, peaches and Granny Smith apple flavors pair well together.
Okay, let's make this healthy green smoothie recipe official.
Print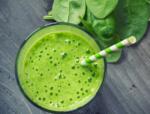 Healthy Green Smoothie Recipe
---
Author:

Total Time:

15 minutes

Yield:

Four

12 oz

Servings

1

x
Description
This Healthy Green Smoothie recipe is fast and easy to make in your blender. It makes enough for four servings at approximately 82 calories per serving and can be stored for up to three days. Make it on Sunday night and don't worry about Monday's breakfast. It's delicious, packed with superfoods, and has lots of fiber to keep you satisfied.
---
4 Leaves of Romaine lettuce, preferably from a fresh head (about 2 cups), washed and rough-chopped
1 Medium avocado, pitted and sliced
1 Medium Granny Smith apple, cored and rough-chopped
1/2 c. Baby spinach
1/2 c. Frozen peaches
2 T. Fresh-squeezed lime juice
3 c. Filtered water
1/2 c. Ice cubes
8 Drops Stevia
---
Instructions
Add lettuce, spinach, avocado, and frozen peaches to the blender.
Add water, ice, and Stevia.
Blend on a low setting until ice is crushed. Increase speed and then blend until smooth.
Notes
Smoothie can be stored in the refrigerator up to three days.
Keywords: healthy green smoothie recipe, healthy green smoothie, green smoothie
© iStockPhoto.com
This post is not intended to substitute for medical advice or prescribed medication. Especially if you have special health needs or a special diet, consult a physician before undertaking any new diet or exercise plan.
The author has not been compensated for any of the products mentioned in this post. In some cases, we may earn a small affiliate fee from certain links, including Amazon and the Health Food Radar shop. This helps compensate our staff for their time. Thanks for supporting us by clicking on the links!
Statements made on this website have not been evaluated by the U.S. Food and Drug Administration. Any information or products are not intended to diagnose, treat, cure, or prevent any disease. Information provided by this website or this company is not substitute for individual medical advice.