File this delicious, simple slow-cooker pot roast under comfort food — comfortable to prepare, no matter your skills or patience.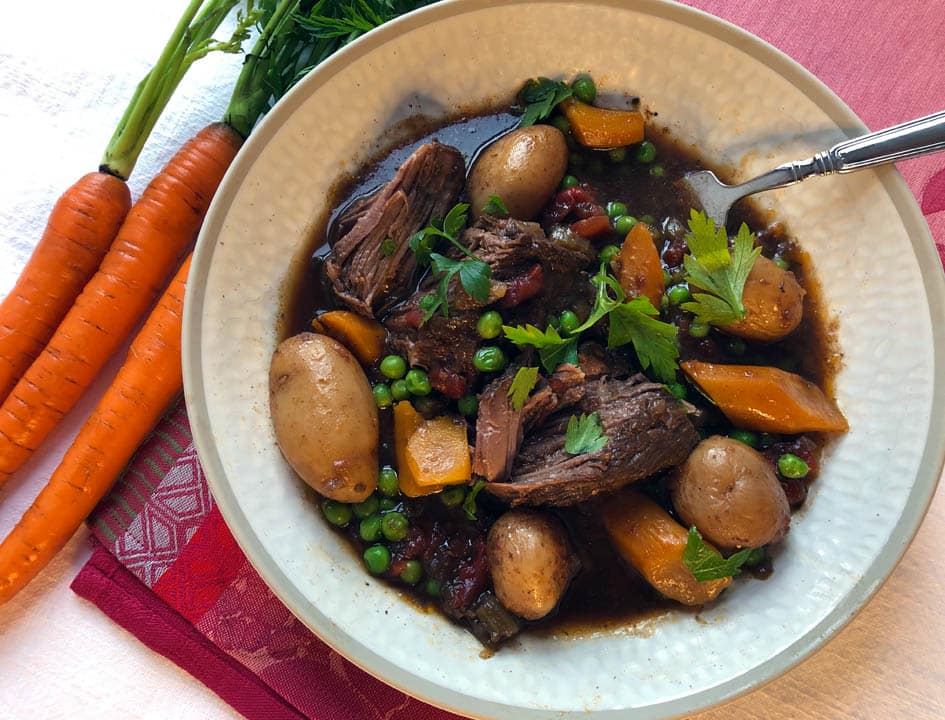 Simple and easy doesn't mean tasteless. I have a few tricks to help build flavor, whether you use a slow cooker or dutch oven. And once you've mastered it, this is the type of dish you can dress up to suit your palate (or to suit whatever is in your pantry).
We Came for the Roast
OK, let's be honest. You could take almost any roast, throw it in a slow cooker with a jar of sauce, turn it on high for 3 or 4 hours and have a meal. Boom. But that's not what we're here for.
So let's get started.
First, a Word About Prep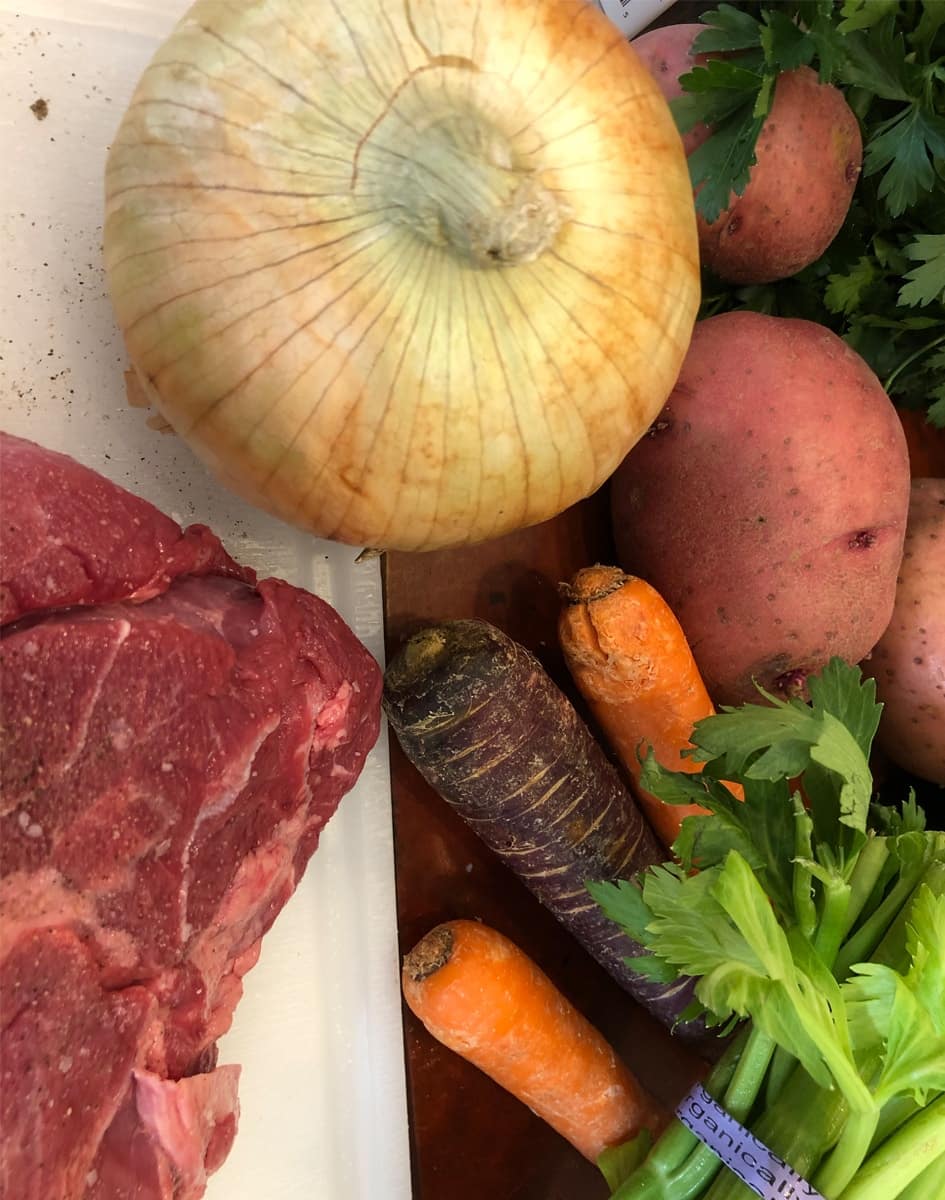 Boneless chuck roast is the go-to here. Find a nice four-pound piece, not too fatty. About half an hour before you are ready to cook, pull it out of the refrigerator and season it liberally with salt and fresh cracked pepper. (You don't want to kill anyone, but an almost room-temp. piece of meat will sear better in the skillet than a super chilled one.)
While the roast is coming up to temp, turn to your chopping board.
There's no need to be precious with chopping the vegetables, just consider the size. The onions should be approximately ½-inch dice. Slice the celery into about ½-inch chunks. Carrots are the star, so keep them between one and two inches, and for a fancy touch, slice them on an angle. Chop the potatoes into at least one-inch chunks. Get the parsley cleaned and chopped, too, and smash that one clove of garlic.
Note: If you chop the vegetables too small, they'll melt away during cooking.
As for the remaining ingredients, the beef broth should be the low-salt variety. You know why: It's easier to add salt than take it away. Read the label — it doesn't have to be organic, but the fewer ingredients and chemicals the better. Tomatoes should be high quality and organic. I prefer Muir Glen's low-salt brand. For the wine, a dry red works well, but pick something you like.
Tip: Make sure your broth, can of tomatoes and cup of wine are nearby and open. (I always forget this step and inevitably waste precious time hunting down the can opener or wrestling with a wine cork.)
Let's Get Cooking
Here's where the rubber hits the road — or the roast hits the skillet. If you are in a hurry or don't like messing up extra pans, move on to "No Fuss Method" below.
First, we'll get the meat seared and the onions soft. Heat a large skillet on the stovetop (this is where a well-seasoned cast-iron skillet shines) and add about a tablespoon of safflower oil. Once the oil is heated, add the roast. It will sizzle if you've done it right (not too loud — turn it down!). Now, step away for at least three minutes. The meat should pull away easily from the pan when it is done. Use your tongs to turn the roast on all sides until you get a nice brown crust going. Or a medium brown … sear.
Take the roast out of the pan and set it aside.
Immediately add the onions, a pinch of salt, and a grind or two of pepper and stir over medium heat until softened. Then, pour in the wine while scraping up any brown bits on the bottom of the pan. Let it simmer for at least five minutes to cook off the alcohol and build flavor. I really love this part.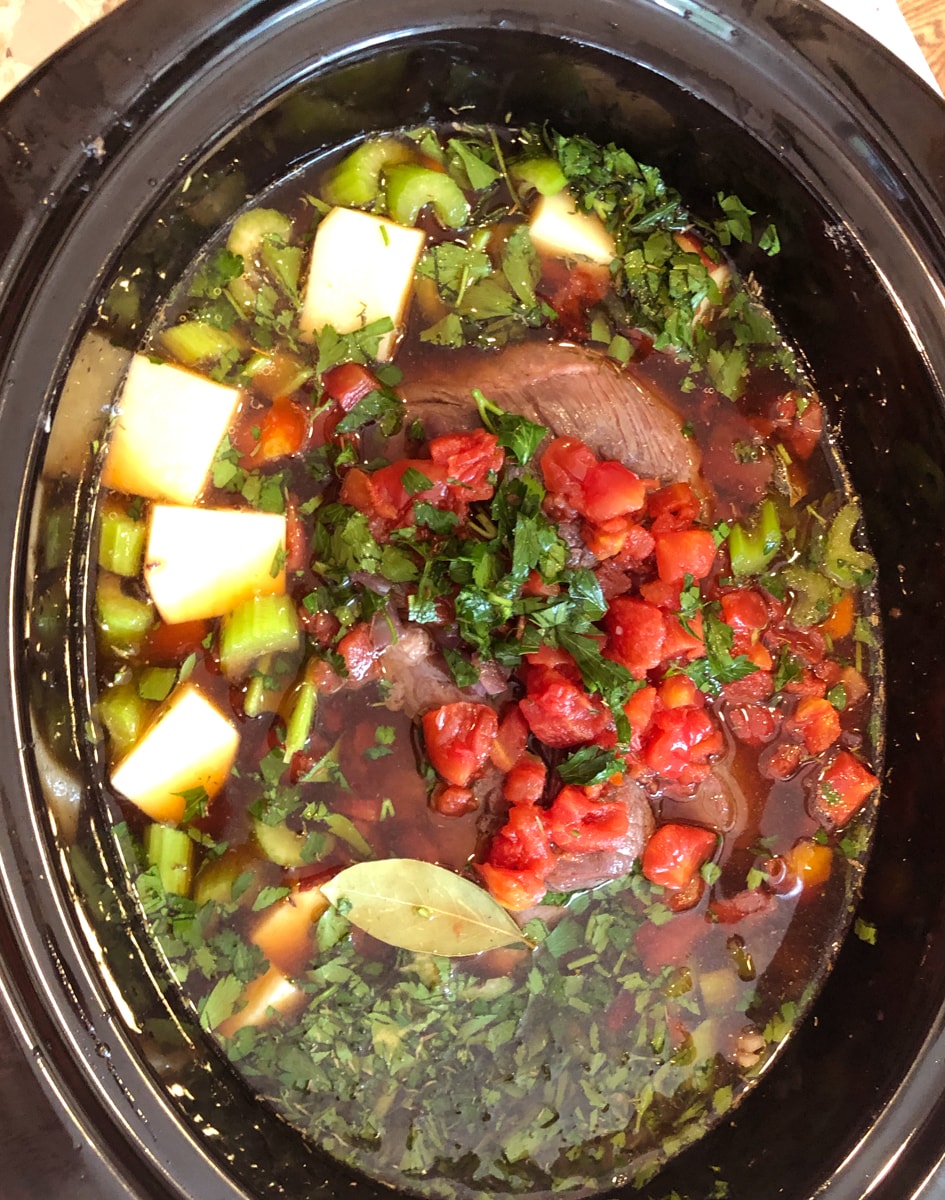 Time for the Slow Cooker to Get to Work
It's important to layer the ingredients when making slow-cooker pot roast, especially for the first hour of cooking.
First, spread the chopped vegetables on the bottom of the pot. Second, place the meat on top of the veg. Third, pour the red wine and onion on top of the meat, and toss in the garlic. Fourth, pour the canned tomatoes directly on top of the roast — don't let them slide off — and add the parsley along with one teaspoon of salt and one teaspoon of pepper. Finally, pour the beef broth around the sides of the pan until it covers the roast. Now turn on the slow cooker and enjoy the rest of your day.
The pot roast is done when you can pull it apart with a fork without much trouble.
Finishing Touches for a Tastier Slow Cooker Pot Roast
OK, this isn't strictly necessary, but I like to strain the cooking liquid — which is, inevitably, way more volume than I imagined — into a skillet on the stove and cook it down by at least a third. At this point, you can adjust the seasoning. When nobody's looking, adding a bit of butter can't hurt. You aren't aiming for gravy, just a rich, flavorful sauce.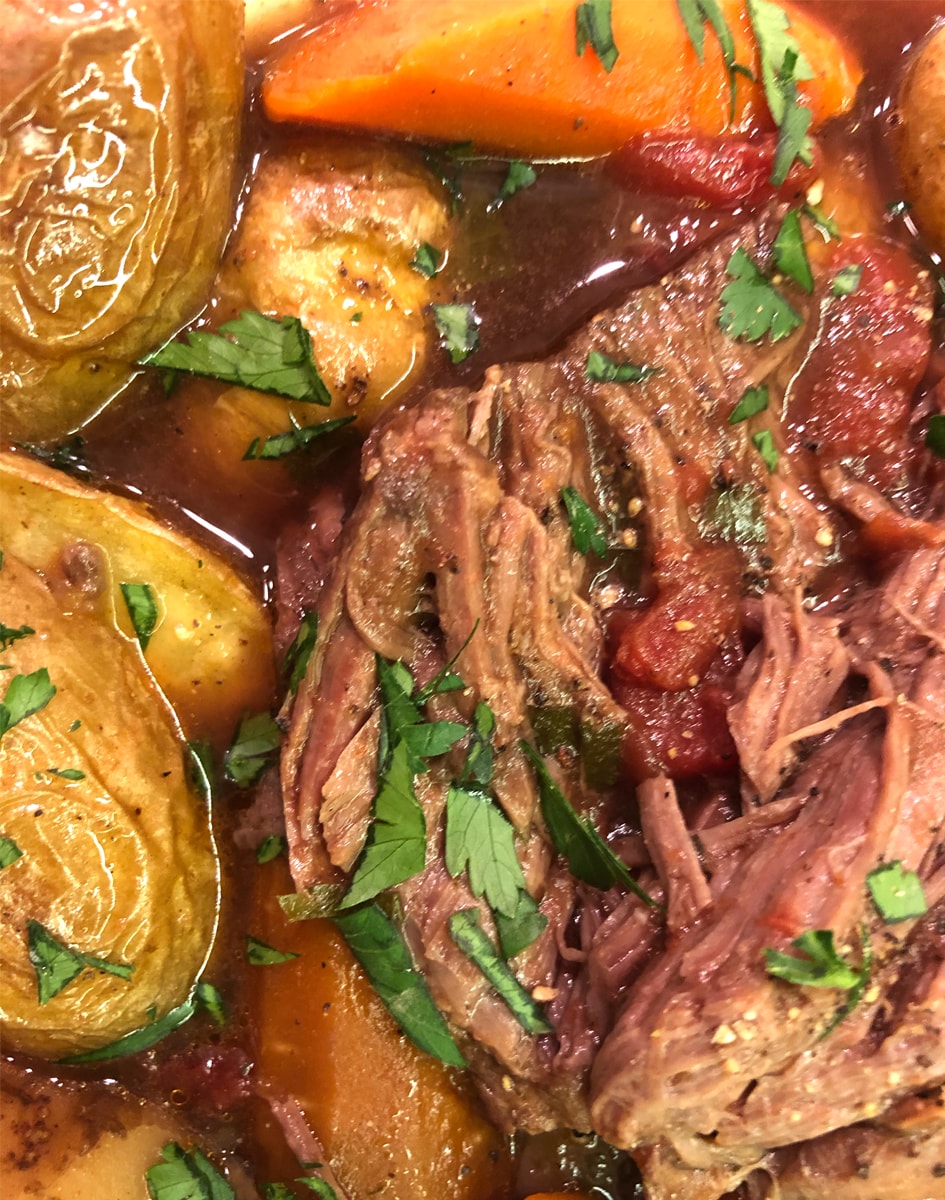 Slow Cooker Pot Roast: Over-the-Top Potato Tip
Does anyone really like pot roast potatoes? Personally, I think they're just there to thicken the broth. My secret twist for pot roast (beef stew, too), is to add crispy roasted potatoes at the very end. Roasted potatoes add a different textural element to slow-cooker pot roast — that can be a bit one-note. It is yet one more pan to wash, but roast potatoes turn an everyday kind of meal into something special.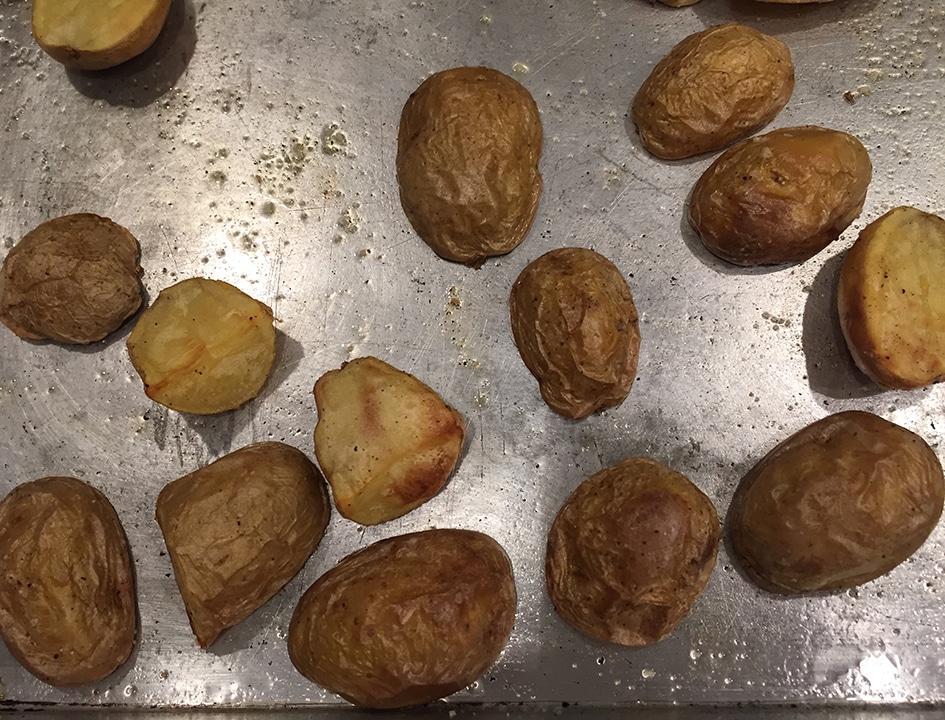 About half an hour before serving time, toss one to two pounds of baby potatoes (Yukon Golds, preferably) with olive oil, salt and pepper. Spread them on a rimmed baking sheet and roast in the oven at 375 degrees for 15-20 minutes, until crispy and cooked through.
You can add these to the pot roast dish, or serve on the side.
Related Recipe: Brow Butter Basted New Potatoes
A Word About Taste
The trick to seasoning this basic pot roast is to keep it simple: Salt, pepper, Bay leaf, and a smidge of thyme. And it's good. But, this is a base recipe — something you turn to time and again, but can dress up as you please. Down below in the recipe, I've included variations for turning this recipe into an Italian, Moroccan, or Mexican feast.
Tips for Building Flavor
To recap, the steps that turn an ordinary slow cooker pot roast into a great one revolve around building flavor. These are tips that translate to plenty of other dishes:
Brown the protein in a hot skillet before adding it to the slow cooker (some slow cookers allow you to brown in the same pot).
Saute onions and garlic in the same skillet and deglaze with red wine before adding to the slow cooker.
Strain excess liquid from the slow cooker after the roast is done — reduce and thicken in a hot skillet before serving.
Super Fast, No-Fuss Method
1. Add all the chopped vegetables to the bottom of the slow cooker.
2. Season the meat with salt and pepper and place the meat on top of the vegetables.
3. Pour canned tomatoes on top.
4. Season with salt and pepper.
5. Add beef broth.
Turn on the slow cooker and cook on high for 3-4 hours.
Storing Pot Roast Leftovers
It's best to store your leftover Pot Roast in a covered container. Stores well for up to three days in the refrigerator. When reheating, add water or beef broth if necessary.
Print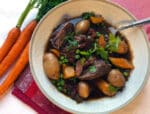 Fall Apart Slow Cooker Pot Roast
---
Author:

Total Time:

5-6 hours

Yield:

4

–

6

servings

1

x
Description
This slow cooker pot roast is simple to prepare (just 30 minutes of active cooking time — less if you use the shortcut method) and comfort food at its best.
---
2 T. Canola or Safflower Oil
3–4 lb chuck roast
4 carrots, peeled and sliced in one-inch chunks
2 celery stalks, half-inch slices (rough chopped)
1 large onion, diced
1 clove garlic, smashed
4 medium red potatoes, cut into one-inch cubes
1/2 c red wine*
2 bay leaves
3 T. chopped parsley
1 qt. Beef broth
14.5 oz. can chopped tomatoes (low salt)
1 t. Salt
1 t. Pepper
Optional:
1–2 lbs. Baby potatoes (Yukon gold or red)
Safflower or Olive Oil
Salt and Pepper
---
Instructions
Season the pot roast on all sides with salt and pepper, allow to sit at room temp. for at least 30 minutes.
Heat oil in a large saucepan or cast iron skillet. Add meat and sear on all sides. Remove meat from the pan and set it aside on a plate nearby.
Quickly add chopped onions to the hot pan and stir for tw0-three minutes until beginning to soften and get color. Add a pinch of salt and pepper.
Add wine to the skillet to deglaze the pan. Allow to cook down for at least five minutes. 
Meantime, add the remaining fresh vegetables to the slow cooker (except for the baby potatoes). Sprinkle with a pinch of salt and pepper.
Add seared pot roast to the slow cooker. Top with canned tomatoes. 
Pour broth around the pot roast, making sure it covers the meat.
Add bay leaves, thyme and salt and pepper. 
Turn on the slow cooker on high for 3 to 4 hours. If the roast is not fork tender (you should be able to stick a fork in the roast and twist it easily), add one more hour to the time.
When roast is done, remove it and the large vegetables. Strain the liquid remaining into a large saucepan. Bring to a simmer and reduce at least by one third. Return the pot roast and liquid to the pan. 
If you are not adding the optional roast potatoes, serve in bowls sprinkled with parsley.
For optional roast potatoes, make sure your potatoes are roughly equal in size. Toss with 1 T. (or 2) of oil, salt and pepper. Heat oven to 375 degrees. Place potatoes on a large, rimmed baking sheet. Roast for 15 minutes, turn and roast another five minutes or until done. 
Once potatoes are done, toss them into the slow cooker with the pot roast and service. (You could also simply place the pot roast on top of the roast potatoes in each person's bowl.)
Prep Time:

30 minutes

Cook Time:

4-5 hours

Category:

Dinner

Method:

Slow Cooker

Cuisine:

Comfort Food
Keywords: pot roast, beef, slow cooker, dinner, comfort food, slow cooker pot roast, slow cooker pot roast recipe
© Photos: Health Food Radar Inc.
This post is not intended to substitute for medical advice or prescribed medication. Especially if you have special health needs or a special diet, consult a physician before undertaking any new diet or exercise plan.
The author has not been compensated for any of the products mentioned in this post. In some cases, we may earn a small affiliate fee from certain links, including Amazon and the Health Food Radar shop. This helps compensate our staff for their time. Thanks for supporting us by clicking on the links!
Statements made on this website have not been evaluated by the U.S. Food and Drug Administration. Any information or products are not intended to diagnose, treat, cure, or prevent any disease. Information provided by this website or this company is not substitute for individual medical advice.