A brown butter new potatoes recipe, also known as Itish Potatoes, are sautéd in brown butter sauce with rosemary for a quick, side dish.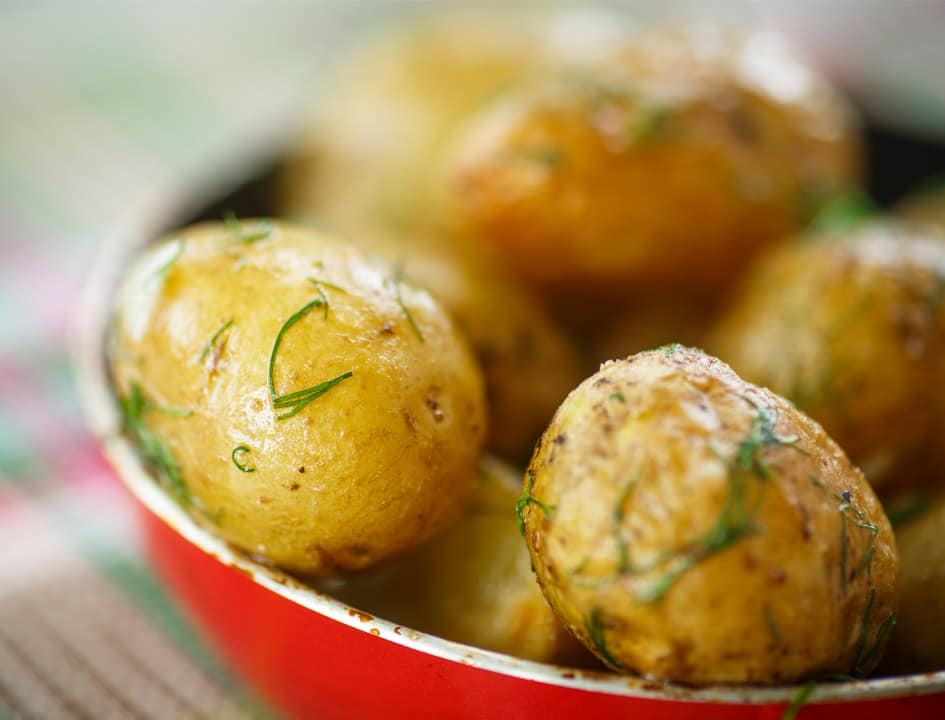 New potatoes are those little golf-ball sized red tubers separating the Yukon Golds from the Idahos in the produce section. They're a staple in everyone's kitchen because they cook fast and they are easy to portion for a meal. Easy to boil. Easy to plop down next to your main course. Easy to chew. Easy to forget.
But You Can Do So Much More With New Potatoes Than Boil Them
New potatoes are perfect for grilling, for smashing, for hasselbacking, or for making hash. Or for cooking as a quick downtown restaurant side that impresses the hell out of everyone and takes, like, no effort.
The recipe meets your hardwired desire for salt, fat, heat, and crispy potatoes and gives it a giant bear hug of flavor. Adding rosemary heightens the taste and makes everyone suspect you used to be a line cook at the Four Seasons.
Brown Butter Sauce Can Smell Fear
Step one in making a good brown butter sauce is to relax. This isn't hard. The worst that can happen is you burn some butter. And trust me, right before it burns you're going to look at it and think, oh, look, it's brown.
And look, we can get all Fancy here and talk about locally sourced organically grown grass-fed hand-churned cultured butter with high-fat content, we can, but any butter works.
Because You're Going to Brown It Anyway
I use a chef's pan for this, but you can use any sauté pan. Use your favorite skillet. I have a white bottomed pan that's perfect because the color of the butter shows through really well.
And here's what's going to happen. You're going to chop a stick of butter into small chunks and melt them in the pan. You're going to stare into that pan as the butter foams and recedes a couple of times. At some point, you're going to think to yourself. as the butter foam seems to rise into a flat dome, surely I'm doing this wrong. But you're not. About the time you doubt yourself, the milk solids in the butter will brown and the foam will disappear and the aroma of toasted nuts will fill your kitchen. That's when you turn off the heat and toss in the potatoes.
But Before You Cook the Small Potatoes You Should Cook the Small Potatoes
You're not Gordon Ramsay, ok? You're a busy homemaker with a family to feed. Or maybe it's just you and your dog. You're just a person cooking a meal and if you want to cheat, then cheat. Against the late Anthony Bourdain's express admonition, I use a garlic press. I use a hand held blender. I use a microwave. And so should you. With these potatoes. Just pop them in and hit the potato setting and go watch tv. It's all fine.
No, wait, don't do that. The potato setting on your nuker always thinks it's cooking a nine pound Idaho baking potato. It'll ruin new potatoes. Instead, cook them on high for six minutes. Then poke the tip of a paring knife into a couple of them to see if they are ready (the knife should meet no resistance). You can keep nuking the potatoes a couple of minutes at a time until they are just ready. I know it would be nice if I could just tell you exactly how long to microwave the taters but I can't because all taters are different.
Sauté the New Potatoes in the Brown Butter Sauce
Quarter the potatoes (or halve, depending on their size) keeping an eye out for those truly tiny baby new potatoes–leave them whole. Heat the brown butter again in the same pan, give it a stir, then saute your potatoes until they brown around the edges. Serve immediately.
Print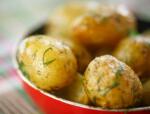 New Potatoes in Brown Butter Sauce
---
Description
Here's a three-star recipe for using new potatoes (also known as Irish potatoes) that's easy and delicious.
---
1

lb of new potatoes, microwaved, quartered

1

stick of unsalted butter

1 tablespoon

of fresh rosemary leaves, bruised; or

1 teaspoon

of dried rosemary
Kosher salt and pepper
---
Instructions
Microwave the potatoes until easily pierced with the tip of a knife–about 6 minutes
Halve or quarter potatoes (depending on size)
Brown the butter in a sauté pan
Add potatoes and rosemary; sauté, flipping often, until the potatoes are slightly browned and well coated with the butter
salt generously, pepper to taste
Serve warm
Keywords: brown butter new potatoes recipe, new potatoes, butter red potatoes, butter potatoes recipe
Image © iStockphoto
---
The information provided on Health Food Radar is intended for general informational purposes only. While we strive to offer accurate and up-to-date content, we do not provide medical advice, diagnosis, or treatment. Always consult with a qualified healthcare professional before making any dietary or lifestyle changes, especially if you have underlying health conditions or concerns.