For extra antioxidants do you need to sacrifice taste? This hardcore antioxidant smoothie recipe tastes great, but get used to those greens!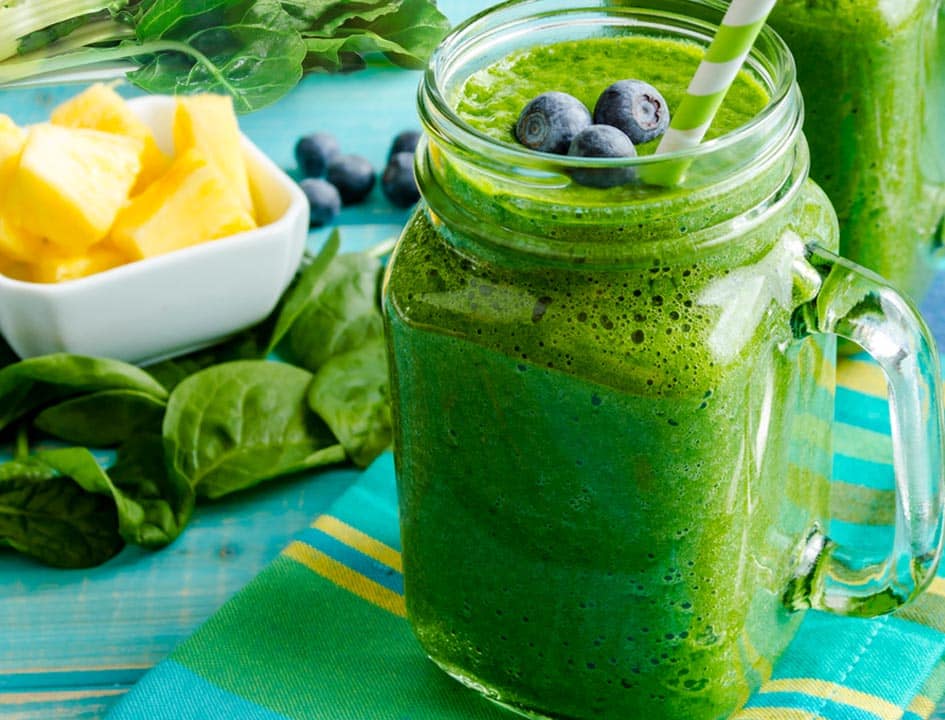 Sometimes you make a smoothie because you want something refreshing that tastes good and is healthy, too. Sometimes you make a hardcore antioxidant smoothie because you want those extra health benefits.
When you want those extra antioxidants, does that mean you have to sacrifice taste? Maybe. These smoothies tend to rate a bit lower on the taste side. But, no pain no gain!
Still, you don't have to totally sacrifice taste to get those hardcore greens and antioxidants into a smoothie. We used some delicious fruits packed with antioxidants to flavor and naturally sweeten this smoothie. Just know that if you jam-pack your smoothie with greens and other healthy vegetables you are going to taste them. I say embrace the taste and enjoy all of the health benefits.
Consider This your Intro to Hardcore Smoothies
There are endless ways to make smoothies with loads of healthy ingredients. You can use this as a base and add in more ingredients as you build up a taste for hardcore healthy smoothies.
Pineapple
We use pineapple because not only are they rich in antioxidants but specifically high in Vitamin C and the mineral Manganese. The enzymes in pineapple aid in digestion and help reduce inflammation. Pineapple promotes tissue healing and can also help reduce pain due to its anti-inflammatory properties. Reducing pain and inflammation can help with arthritis, post-workout recovery, and many other issues related to inflammation.
Blueberries
Blueberries are included in this smoothie because they taste good and they are a superfood. They are believed to contain one of the highest antioxidant levels of all common fruits and vegetables. Plus, they help protect cholesterol from oxidating in your blood. One study found that in just one month adding blueberries to the daily diet improved blood clotting and blood vessel function.
Kale
Kale is rich in vitamins A, B6, Folate, C, and K as well as providing a great source of the minerals calcium, potassium (although not as much as spinach) copper, and manganese. It is a member of the dark green leafy cruciferous vegetable family, which has certain anti-cancer properties. Kale is also great for eye health as it is a source of lutein and zeaxanthin as well.
Spinach
The health benefits of spinach are plentiful. It is rich in potassium and magnesium. According to an article published in Live Science, it is said to provide 893 mg of potassium per cup, which is more than a banana. Its also a great source of vitamin K, zinc, and phosphorus.
Of course, as Popeye knows, this cruciferous vegetable is also a great source of iron.
Chard
Like the other cruciferous vegetables, we included chard for its anti-cancer benefits. Chard is also a rich source of many vitamins and minerals. These vitamins include A, Folate, C, E, and K as well as the minerals Calcium, Magnesium, Phosphorus, Potassium, and Iron. These nutrients can help lower blood pressure and improve bone density.
Print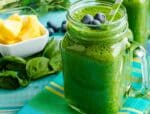 Hardcore Antioxidant Smoothie
---
Author:

Total Time:

28 minute

Yield:

8

-

12

Oz

1

x
Description
This smoothie has a refreshing green taste and is packed with antioxidants and nutrients to get your day off to a great start.
---
1 C Pineapple cut into chunks
1/2 C Blueberries
1/2 C Baby Spinach
1/4 C Baby Kale
1/4 C Swiss Chard
1/4 C water
1/4 C crushed ice
---
Instructions
Place all of the ingredients in a high-powered blender such as a Vitamix or Nutri-bullet and blend for 30 seconds to one minute.
Pour into a glass and enjoy.
Notes
For added nutrients and energy add your favorite protein powder to this smoothie to make it a meal replacement.
Prep Time:

10 Minutes

Cook Time:

None

Category:

Smoothie

Method:

Chop and blend

Cuisine:

American
Keywords: green smoothie, antioxidant smoothie, healthy smoothie
© Photos/iStockPhoto
This post is not intended to substitute for medical advice or prescribed medication. Especially if you have special health needs or a special diet, consult a physician before undertaking any new diet or exercise plan.
The author has not been compensated for any of the products mentioned in this post. In some cases, we may earn a small affiliate fee from certain links, including Amazon and the Health Food Radar shop. This helps compensate our staff for their time. Thanks for supporting us by clicking on the links!
Statements made on this website have not been evaluated by the U.S. Food and Drug Administration. Any information or products are not intended to diagnose, treat, cure, or prevent any disease. Information provided by this website or this company is not substitute for individual medical advice.