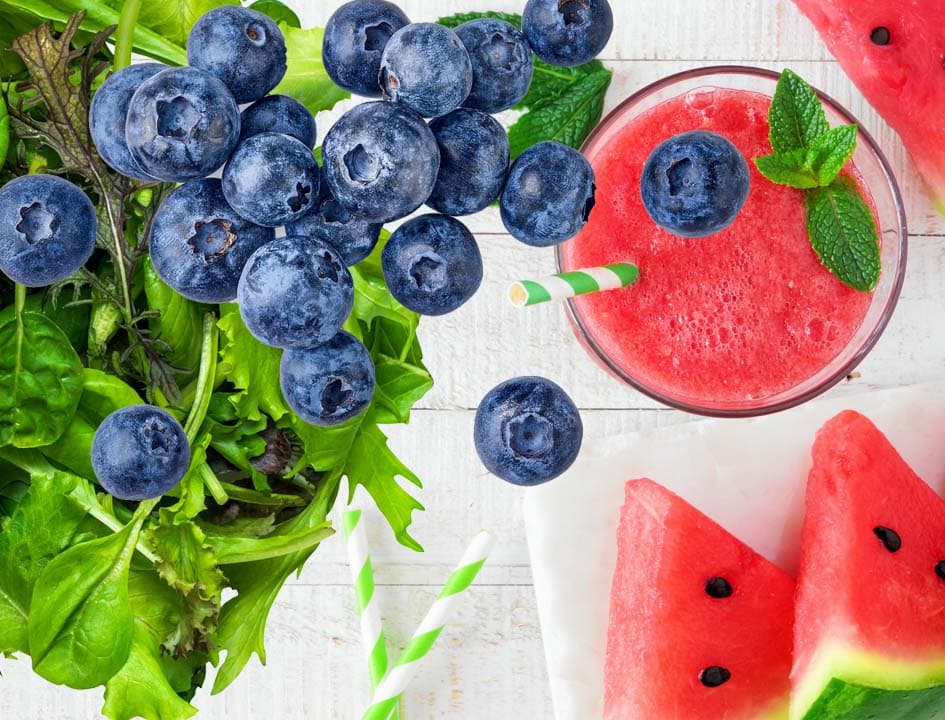 Table of contents
Americans spent an estimated $36.5 billion on skincare in 2020 — with $11.6 billion of that spent on anti-aging products. But, as Steve Martin says, it's not the size (or age) of the nose that matters, it's what's inside that counts. And when it comes to aging, what you put in your body can matter just as much as what you put on it. The good news is that many common foods contain nutrients that help slow the aging process, both internally and externally. And you don't have to change your lifestyle to include them in your diet. Here's a list of 10 anti-aging foods that can help you age as gracefully as possible.
Eat These Anti-Aging Foods
Along with drinking lots and lots of water, limiting your time in the sun, and getting plenty of exercise, adding these 10 anti-aging foods to your diet can help keep you looking and feeling young.
Broccoli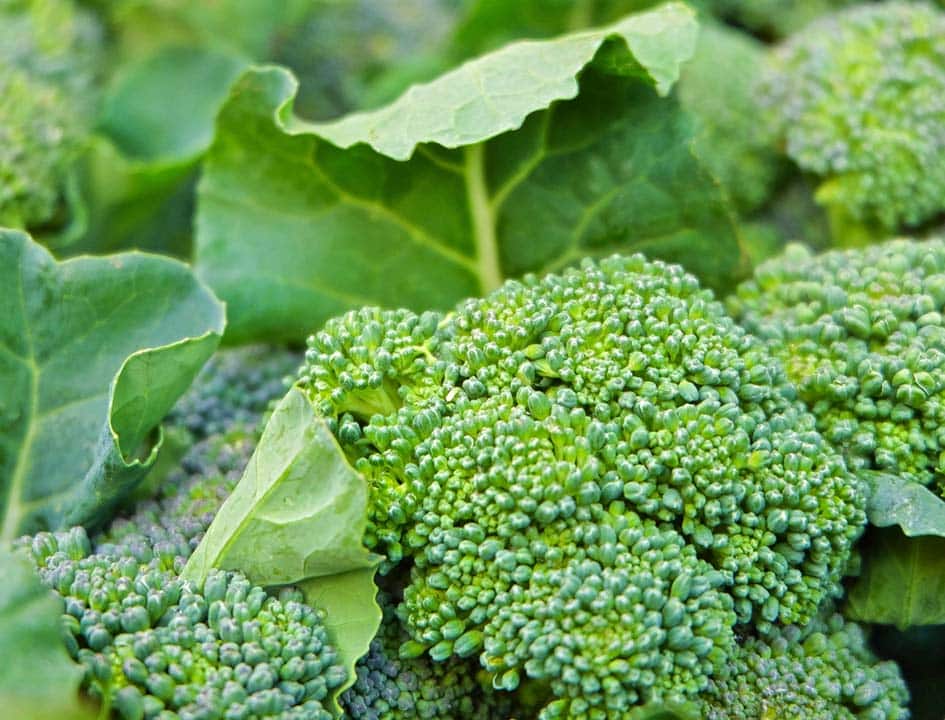 Broccoli is packed with Vitamin C, Vitamin K, and lots of fiber making it an ideal choice when it comes to anti-aging foods. Vitamin C is a collagen stimulator and a powerful free-radical fighter. Free radicals damage cells causing them to become defective. The antioxidants and other nutrients present in broccoli help prevent a multitude of age-related diseases such as high blood sugar, high cholesterol levels, oxidative stress, and inflammation.
Blueberries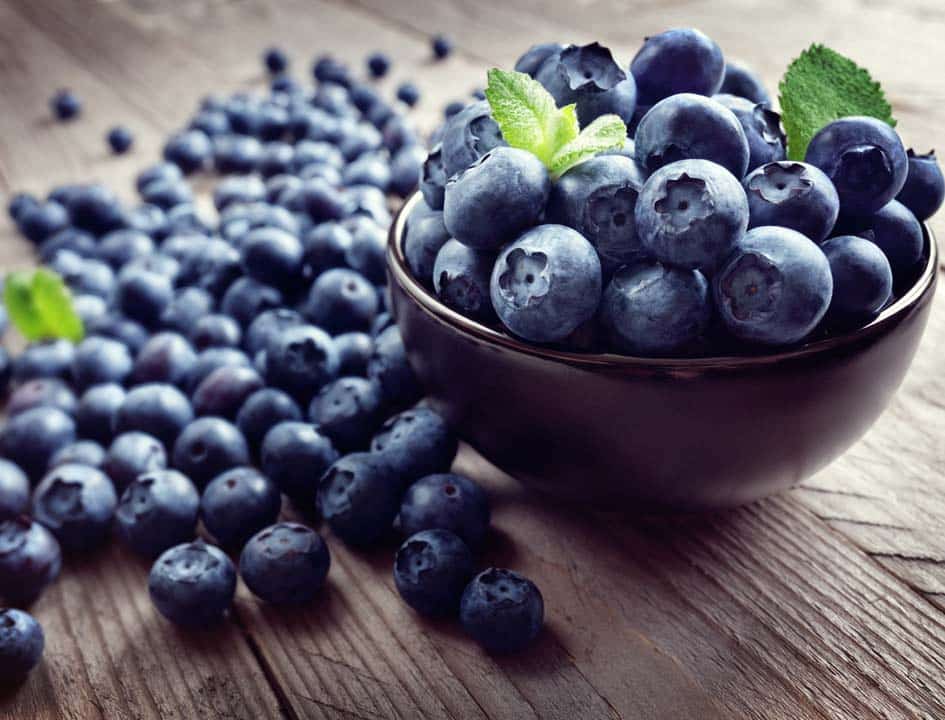 Blueberries are packed with antioxidants, which are essential to slowing the aging process not only on the outside of our bodies but on the inside, too. Blueberries are particularly rich in a specific flavonoid, anthocyanins, which is thought to be where most of the blueberries' benefits come from. Anthocyanins in blueberries have been shown to have beneficial effects on insulin sensitivity and blood sugar.
Avocado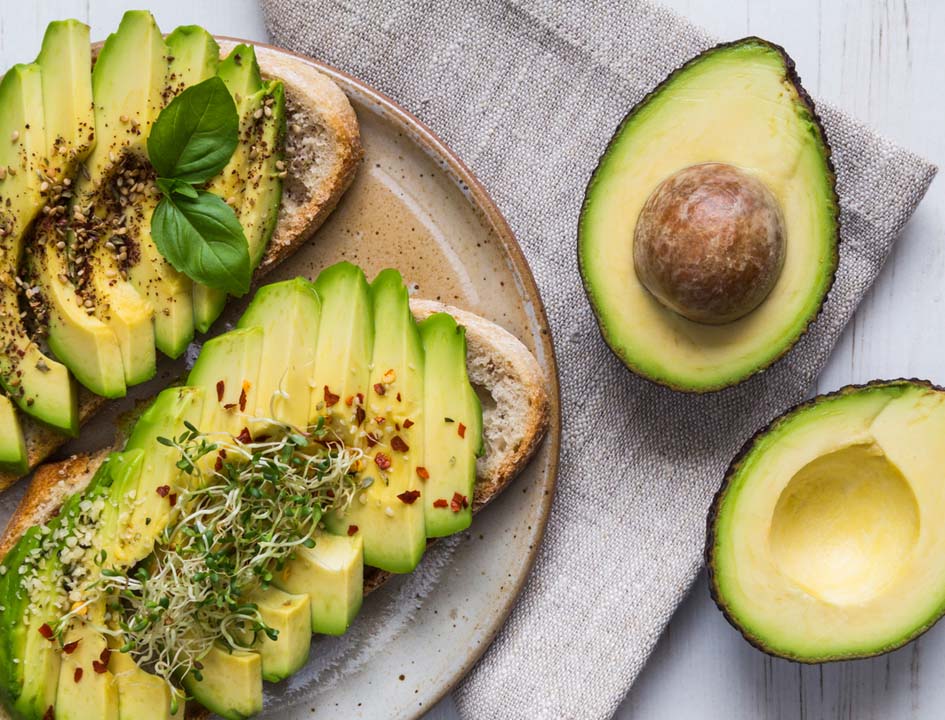 Avocados are rich in many vitamins and the minerals magnesium, potassium, riboflavin, niacin, pantothenic acid, pyridoxine, Vitamin C, Vitamin E, and Vitamin K — all of which have anti-aging properties. In addition, avocados are packed with mono and polyunsaturated fats known to have a healthy effect on bad cholesterol. Avocados are also high in fiber, which keeps your gut health in check. A healthy gut keeps the whole body young and keeps skin vibrant.
Pomegranate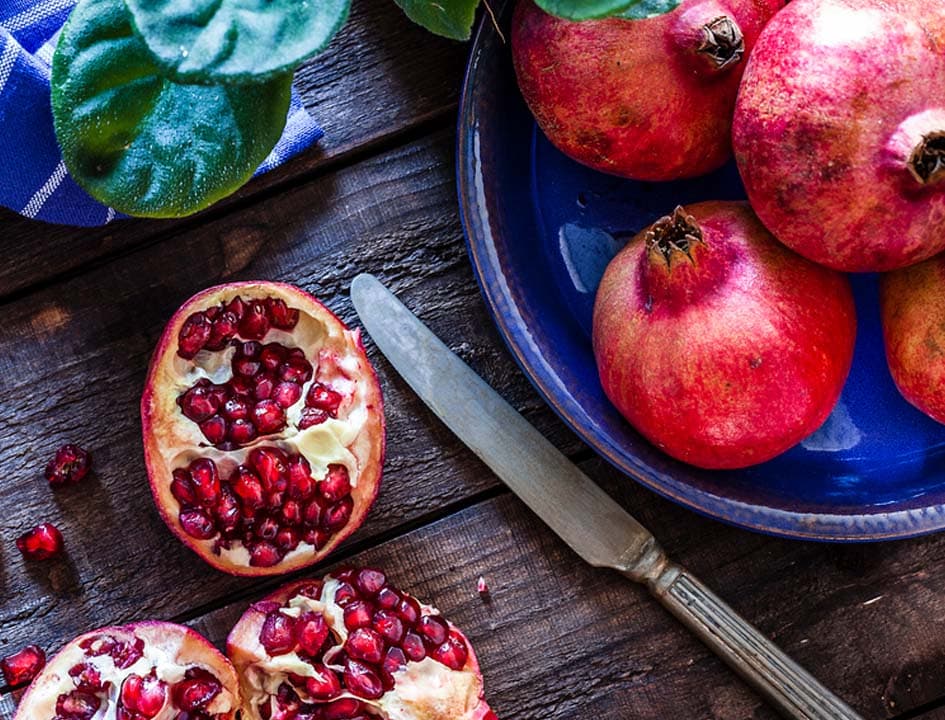 Much like blueberries, pomegranates are loaded with antioxidants. As we know, antioxidants prevent or slow the oxidation of cells, which is one of the main ways a cell ages. Pomegranates also have anti-inflammatory properties which means a reduction in diseases related to inflammation such as cancer, arthritis, and certain types of heart disease. Also, it has been shown to help improve memory in older adults.
Fatty Fish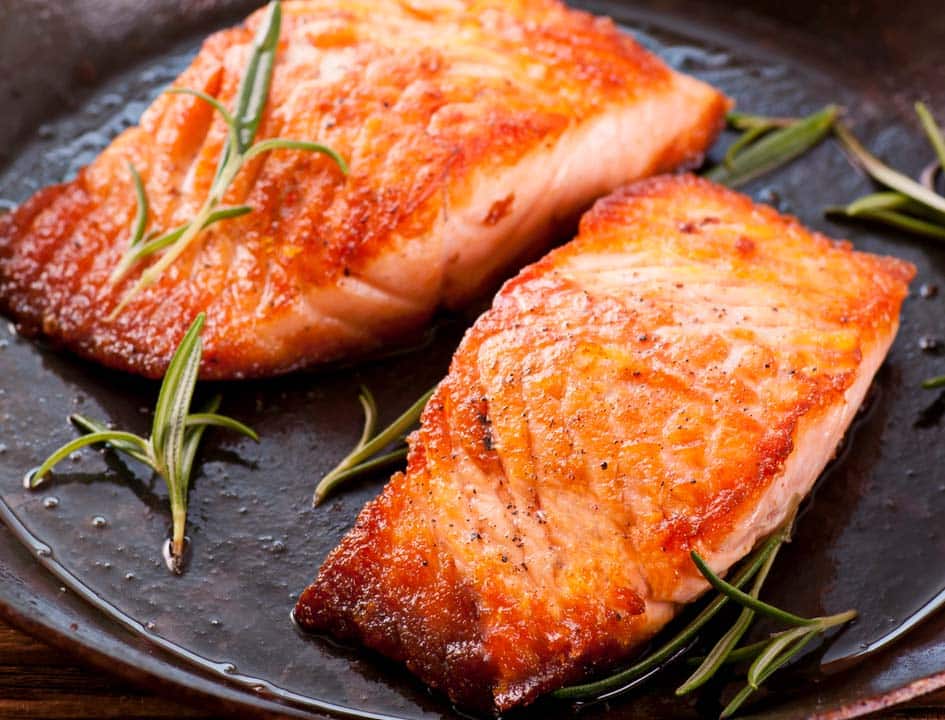 Fatty fish like salmon are rich in omega-3 fatty acid not to mention Docosahexaenoic acid DHA and eicosapentaenoic acid EPA. Not only is omega-3 and great for brain and heart health, it's also good for skin health. Omega oils help moisturize skin from the inside out and is also a natural anti-inflammatory. Low systemic inflammation is associated with looking and feeling younger.
Watermelon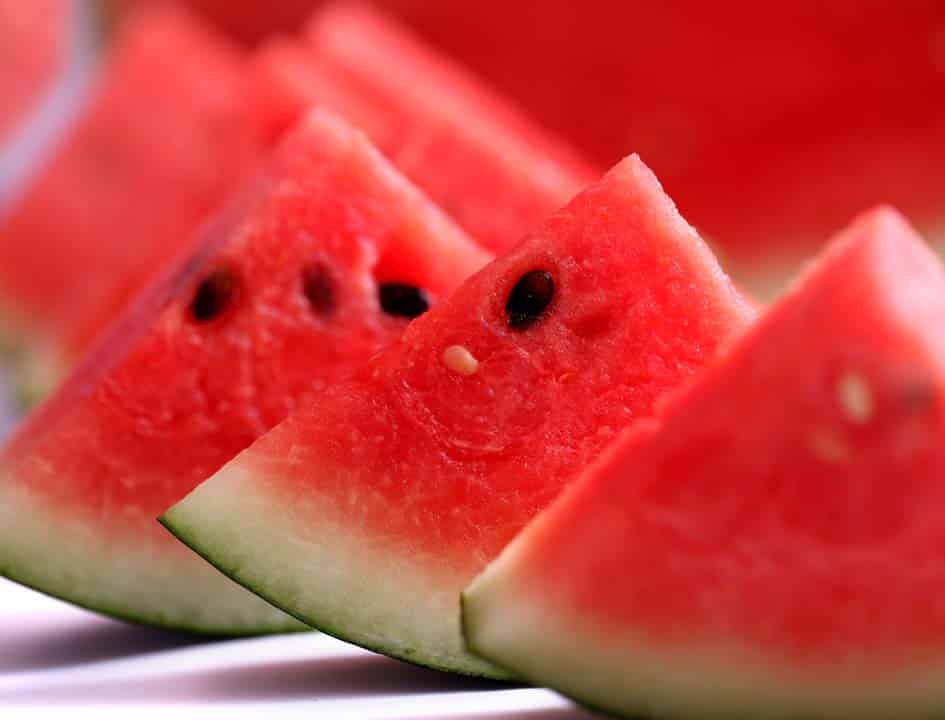 Watermelon is loaded with lycopene — an antioxidant that studies show may help reduce the risk of diabetes and cancer. It's also high in Vitamin C, about 23 mg per wedge. Vitamin C is one of the main building blocks of collagen. Plus they are 92% water so they are very hydrating.
Green Tea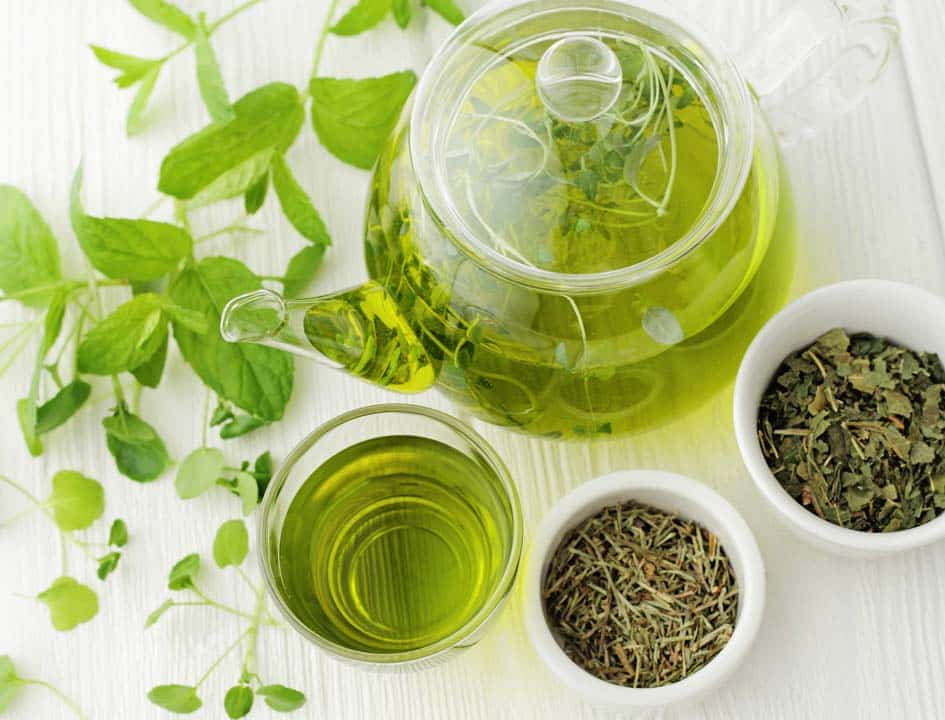 Green Tea is full of bio-active compounds that are anti-aging. One compound is Catalin, which contains epigallocatechin-3-gallate (EGCG). EGCG is well known as an antioxidant, which helps to prevent cell damage and scavenge up free radicals throughout the body. Research has been linked in studies to reduce the risk of breast, prostate, and colorectal cancer. Green tea is also rich in the amino acid L-Theanine, which is known for its anti-anxiety effect.
Raw Cacao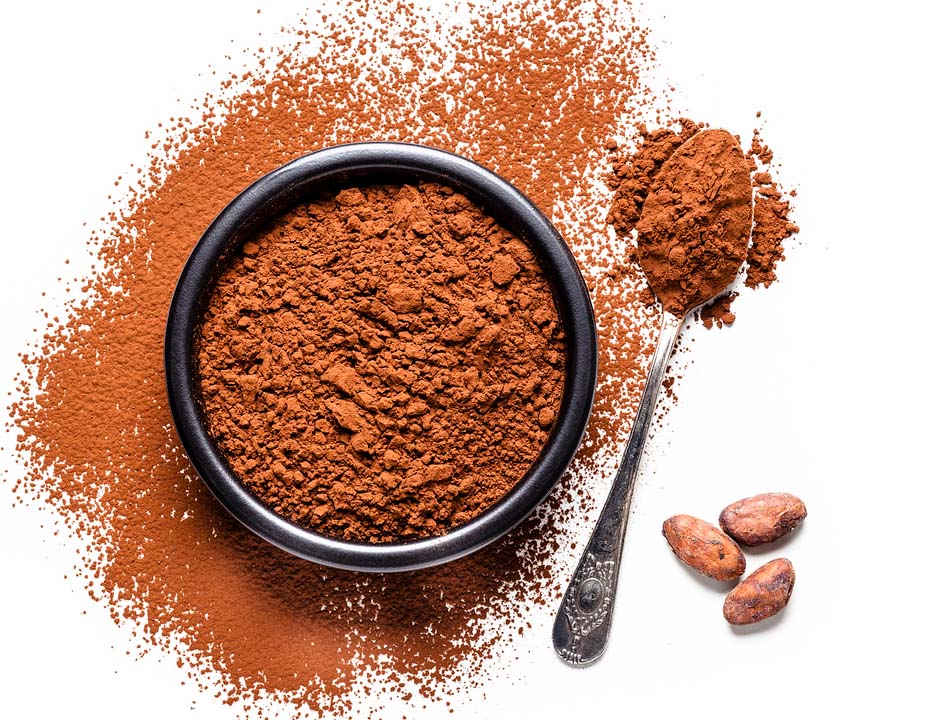 Raw Cacao is an anti-aging food full of a compound called flavonoids which are shown in studies to help lower blood pressure and improve blood flow to the brain. Flavonoids can also help reduce inflammation in the body. In addition, Cacao is rich in several minerals: iron, potassium, and magnesium. 
Red Bell Pepper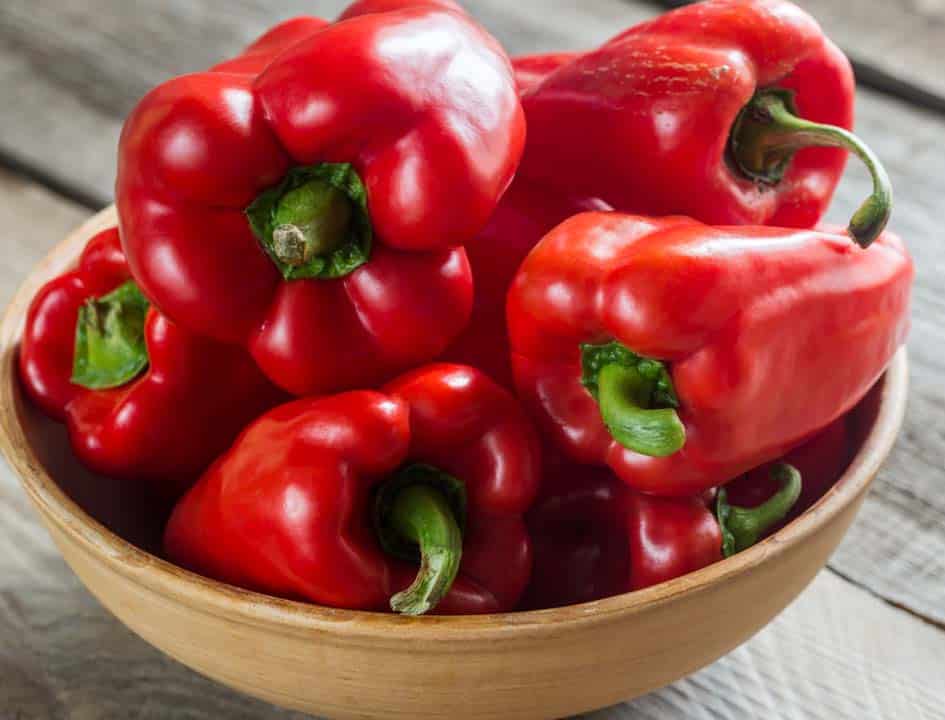 Red bell pepper is chocked full of vitamin C, an important nutrient in preventing premature aging. Vitamin C is a powerful antioxidant and helps to build collagen and elastin in the skin and connective tissue in the body. Vitamin C can also help even skin tone when applied topically.
Dark Green Leafy Vegetables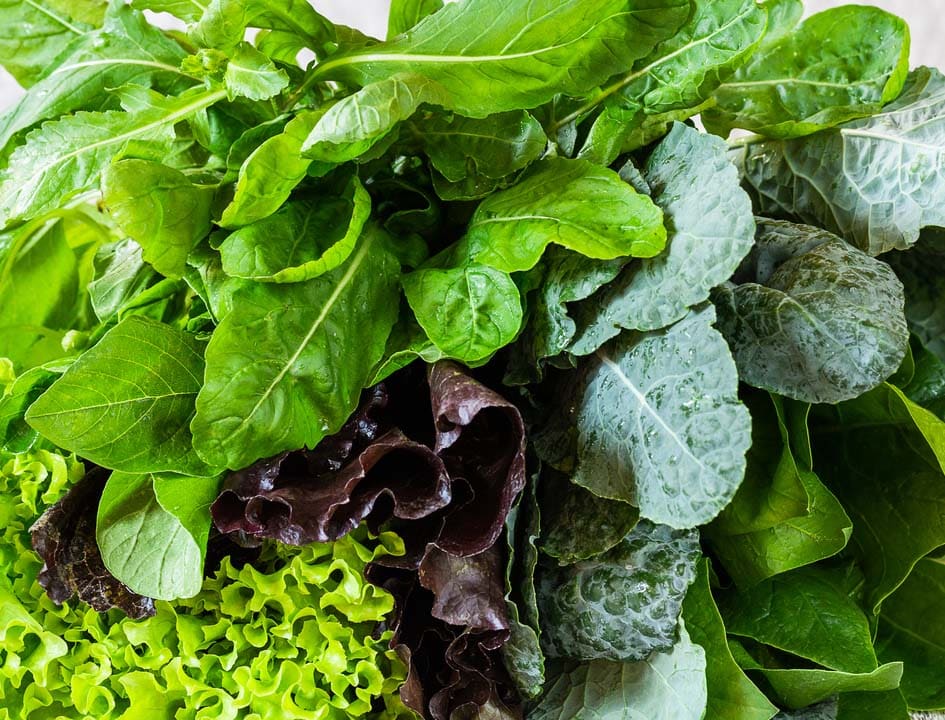 Dark green leafy vegetables such as chard, kale and spinach, and the like are packed full of vitamins such and A, C, E, K, and folate. Vitamin K is a nutrient that helps prevent osteoporosis by directing calcium into the bones. Another important function of vitamin K is to help prevent calcium plaques from sticking to the arterial walls which could cause blockage. It also helps with bruising. Dark green leafy vegetables are also packed full of antioxidants that help fight cancer. Studies show that two to three servings per week may help lower the risk of stomach, breast, and skin cancer. The same cancer-fighting antioxidants help lower the risk of heart disease as well. Eat these anti-aging foods regularly.
Watermelon Berry Smoothie Recipe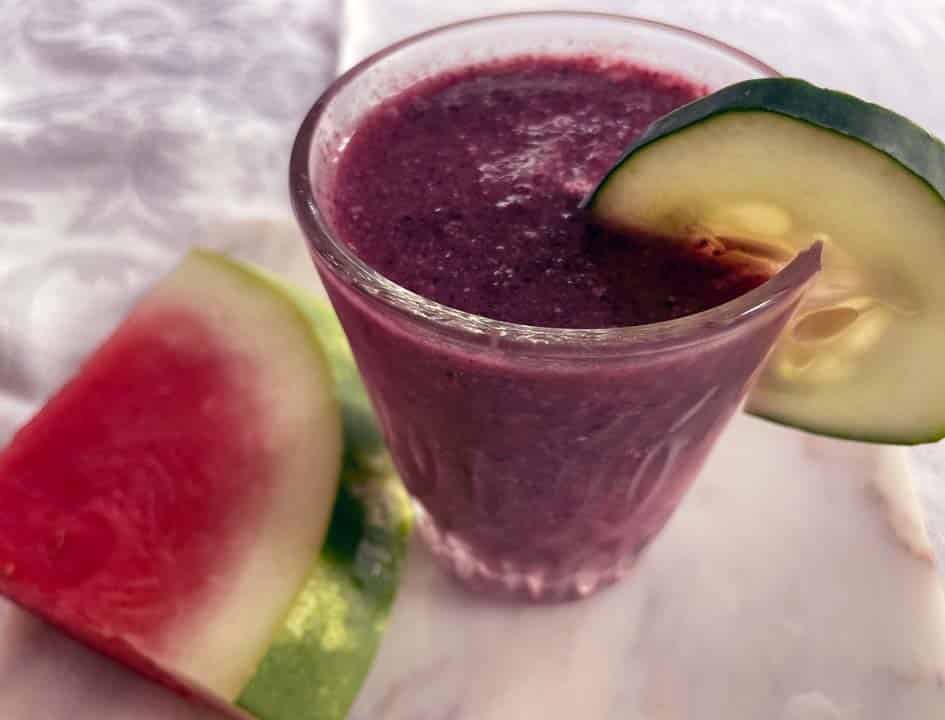 It's easy to put these anti-aging foods and ingredients into action. We've added a refreshing watermelon smoothie recipe below. Tested in our kitchen, and full of protein, minerals, and vitamins. BTW, it tastes great!
Print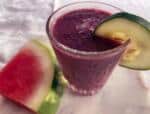 Watermelon Berry Blast Smoothie
---
Author:

Total Time:

15 minutes

Yield:

3

1

x
Description
This refreshing smoothie is packed with anti-aging foods. Add spinach or baby kale to the base recipe to add even more leafy greens to your diet.
---
4 c. Watermelon, one-inch cubes
2 cups cucumber, one-inch cubes
Juice of one lime
1/2 cup Blueberries, frozen
1/3 cup Almond milk
1 T. Chia seeds
2 drops Stevia
2 cups Ice
---
Instructions
Add all the ingredients to your blender and mix on high until smooth and frothy. Serves 3. 
Notes
Experiment with the base recipe by adding your favorite protein powder. Use probiotic yogurt or kefir instead of almond milk for extra creaminess. Add leafy greens to add extra anti-aging nutrients. 
Prep Time:

10

Cook Time:

5
Keywords: watermelon blueberry smoothie, anti-aging foods, watermelon blueberry smoothie recipe
© Photos / iStock / Health Food Radar
This post is not intended to substitute for medical advice or prescribed medication. Especially if you have special health needs or a special diet, consult a physician before undertaking any new diet or exercise plan.
The author has not been compensated for any of the products mentioned in this post. In some cases, we may earn a small affiliate fee from certain links, including Amazon and the Health Food Radar shop. This helps compensate our staff for their time. Thanks for supporting us by clicking on the links!
Statements made on this website have not been evaluated by the U.S. Food and Drug Administration. Any information or products are not intended to diagnose, treat, cure, or prevent any disease. Information provided by this website or this company is not substitute for individual medical advice.