When I started cooking with gluten-free flour I thought I'd have to give up some of my favorite dishes. I'm a French-Cajun-I'm-Making-This-Up kind of cook and nearly everything I make starts with butter and flour. Roux for gumbo? Flour. Gravy for garlic chicken? Flour. Biscuits? Please.
Worse, I am not a good baker, meaning I have a hard time combining dry ingredients accurately because oh hey look at this recipe and I'd better this one ingredient and look, it's four hours later. Remembering to add xanthan gum or almond flour or whatever magic fairy dust goes into gluten-free mixes is never going to happen.
Besides, I'm in a Hurry! I Don't Have Time to Make Flour
I just want to toss gluten-free flour into my recipe and keep listening to music and not think about science. Which is why the following brands are my favorites. They are 1-to-1 replacements for regular flour, work in every culinary technique, and their taste is indistinguishable from ordinary flour.
Cup-4-Cup is My Jam
I mean, it's my biscuits which you can make using Cup-4-Cup just like your grandma did. Not that your grandma used Cup-4-Cup but everything else will be just the same. I'm a buttermilk biscuit guy and when I used this gluten-free flour blend from the wizards at the French Laundry, to make my grandma's special perfect southern biscuits, it was like she was in the room nodding her head and patting me on the back.
Bob's Red Mill Gluten Free 1-to-1 Baking Flour
Read that title carefully and study this bag. Bob's Red Mill makes nine million different baking blends so it's easy to get confused. Bob's Red Mill catalog has three pages of alternate flours and two of them are called Guten Free Baking Flour—but only one of them says 1-to-1. That's the one you want. It's made from sweet rice flour, whole grain brown rice flour, potato starch, whole grain sorghum flour, tapioca flour, and xanthan gum. Their all-purpose version is rumored to bake up a little dense. Their 1-to-1 baking flour is light a fluffy.
King Arthur Measure for Measure Gluten Free Flour
A lot of baking sites talk about their Gluten-Free All-Purpose flours, and not about this mix that contains xanthan gum. Like the other mixes on this list, it's a no-brainer replacement for wheat flour which makes baking and cooking easy. It's good for cookies, bread, and pastries–but it works just as well as a thickener or for gravy. Just like regular flour.
Krusteaz Gluten Free All-Purpose Flour
You know Krusteaz because you've used one of their pancake or brownie mixes. Their gluten-free all-purpose flour is another 1-for-1 mix that includes xanthan gum and starches so it bakes up light while maintaining the texture and behavior (stretchy, crumbly) of ordinary flour.
Jules Gluten Free Flour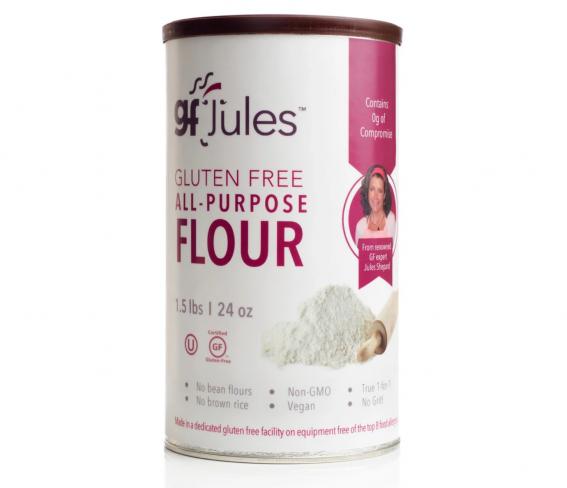 Reader Mindy H. reached out to let me know I'd missed a really great product, Jules All Purpose Gluten Free Flour. Jules is a favorite of gluten-free cooks and was recognized as the best all-purpose gluten-free flour by the Gluten-Free Buyer's Guide in 2020.
You won't need a science degree to use any of these flours. Try them in any of your favorite recipes.
This post is not intended to substitute for medical advice or prescribed medication. Especially if you have special health needs or a special diet, consult a physician before undertaking any new diet or exercise plan.
The author has not been compensated for any of the products mentioned in this post. In some cases, we may earn a small affiliate fee from certain links, including Amazon and the Health Food Radar shop. This helps compensate our staff for their time. Thanks for supporting us by clicking on the links!
Statements made on this website have not been evaluated by the U.S. Food and Drug Administration. Any information or products are not intended to diagnose, treat, cure, or prevent any disease. Information provided by this website or this company is not substitute for individual medical advice.