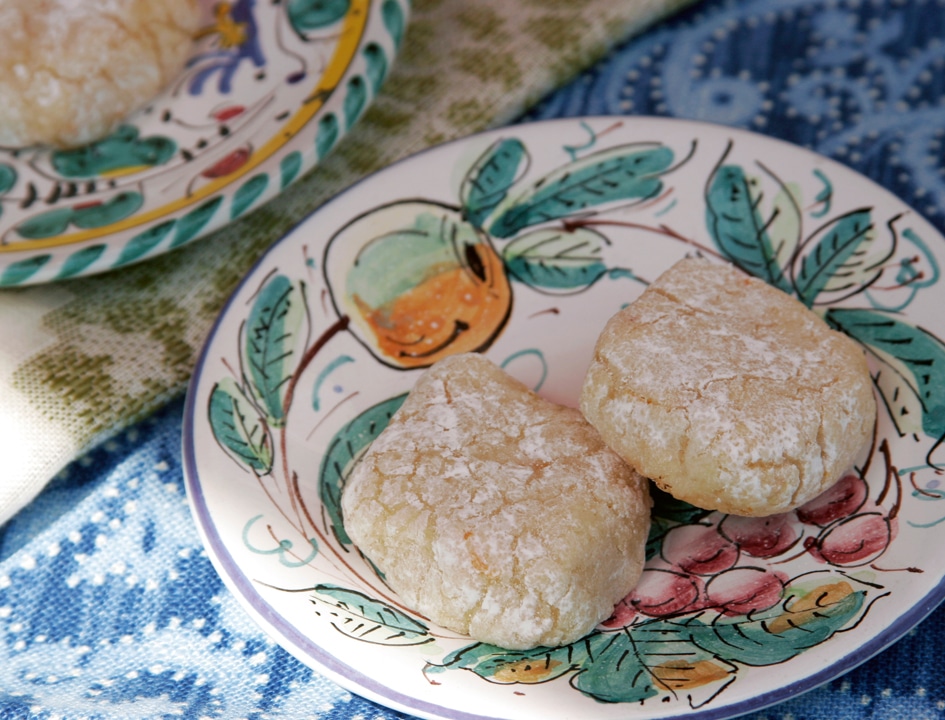 There's more to Italian cookies than those hard-as-rock biscotti you find at the Starbucks counter. One of my pandemic baking goals was learning to use alternative flours. Another goal was to sort through my many years' worth of magazine clippings. So discovering this recipe for gluten-free Italian cookies, clipped from an old edition of "Fine Cooking," was a real win-win.
Almond Flour Baking Challange
When most Americans think of biscotti, we think of those crispy almond-studded oblong cookies that fill tall glass jars on coffee house counters. But in Italy, the term "biscotti" applies to all cookies, of all shapes and flavors: Cantucci, Amaretti, Baci d'Allasio, Anicini, and the brightly colored rainbow Christmas cookies, also known as Venetians.
In "Essentials of Italian Classic Cooking," Marcella Hazan includes a Piedmontese version of almond cookies called "Brutti Ma Buoni" — roughly translated as "ugly but good," she says. Her recipe contains only four ingredients: Almonds, sugar, egg whites, and vanilla, and there is no dough-shaping involved. Cookbook author Domenica Marchetti's Siena version of almond cookies is a bit more involved. It requires shaping and uses both granulated and powdered sugar, plus honey, orange zest, and a touch of Almond extract. The result is a fragrant, light, fluffy pillow of a cookie with a slightly chewy texture. It's a delicious — and completely gluten-free Italian cookie.
Here's my adaption of the recipe.
Santé! Enjoy.
Print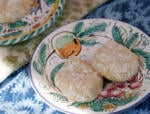 Ricciarelli (Siena Almond Cookies)
---
Author:

Total Time:

2.5 to 3 hours

Yield:

2

Dozen

1

x
Description
These delicious gluten-free Italian cookies are light and pillowy with a slightly chewy texture — reminding me of a lighter version of marzipan. Delicious — and completely gluten-free.
Timing Note: Allow enough time in your schedule to let the cookies sit for at least an hour before they go into the oven.
---
3 3/4 c. Almond Flour (Bob's Red Mill)
3/4 c. Sugar
½ c. Powdered Sugar + another ½ cup for dusting (1 c. total)
1 T. Orange zest
3 Large egg whites (room temp.)*
1 ½ T. Honey
½ t. Almond Extract 
1/4 t. Vanilla Extract
Additional Powdered Sugar for Finishing.
---
Instructions
Prep: Line 2 cookie sheets with parchment paper. Bring eggs to room temperature.*
Whisk together almond flour, sugar, ½ c. powdered sugar and orange zest in a large bowl.
Using a stand mixer or hand-held mixer, beat egg whites on high speed until they reach soft peak stage.
Gently fold egg whites into the almond flour mixture with a rubber spatula.
Add honey, almond extract and vanilla extract to the mixture and mix well. (The dough will be sticky and somewhat stiff.) 
Form the dough into small teaspoon-size round balls. Toss each ball into the reserved 1/2 c. powdered sugar and coat evenly. Place on the prepared baking sheet, at least two inches apart. Gently press each ball into a diamond shape, pinching the corners.** You should have approximately 24 cookies or two sheets of 12.
Let the cookies rest for one to two hours to dry out a bit. This helps keep the baked cookie from being too chewy.
Preheat oven to 325 degrees. Place one pan of cookies onto the center rack of the oven. Bake for 10 – 12 minutes (depending on the size of the cookies), until the edges are slightly golden. Repeat.
Cool on a wire rack. Dust with more powdered sugar once they are cool. 
Store in an airtight container. These will keep for at least three days and up to a week. 
Notes
*To bring cold eggs to room temperature, place them in a bowl of hot (not boiling) tap water for 2 to 3 minutes. 
** Diamonds sound easier to shape than I found them to be. The cookies will puff out a bit, so don't be afraid to exaggerate the corners. Otherwise, you'll have equally delicious puffy squares or Marcella's ugly lumps. 
Quantity: This recipe can be doubled easily — just watch the volume of egg whites. Start with 5, adding a 6th if the batter seems dry. I found this out the hard way. I added a full 1 cup of powdered sugar to the dough mixture and had to compensate by doubling the rest of the ingredients. I am glad they tasted so good, because Almond flour is a precious commodity these days!
Adapted from "Fine Cooking," Dec. 2015/Jan. 2016
Prep Time:

30-40 minutes plus resting time.

Cook Time:

12 minutes

Category:

Dessert

Method:

Bake

Cuisine:

Italian
Keywords: Gluten-Free Italian Cookies, Almond Cookies, Gluten-Free Baking, Gluten-Free Cookies, Almond Flour, Nut Cookie, Italian Cookie, Cookie
This post is not intended to substitute for medical advice or prescribed medication. Especially if you have special health needs or a special diet, consult a physician before undertaking any new diet or exercise plan.
The author has not been compensated for any of the products mentioned in this post. In some cases, we may earn a small affiliate fee from certain links, including Amazon and the Health Food Radar shop. This helps compensate our staff for their time. Thanks for supporting us by clicking on the links!
Statements made on this website have not been evaluated by the U.S. Food and Drug Administration. Any information or products are not intended to diagnose, treat, cure, or prevent any disease. Information provided by this website or this company is not substitute for individual medical advice.