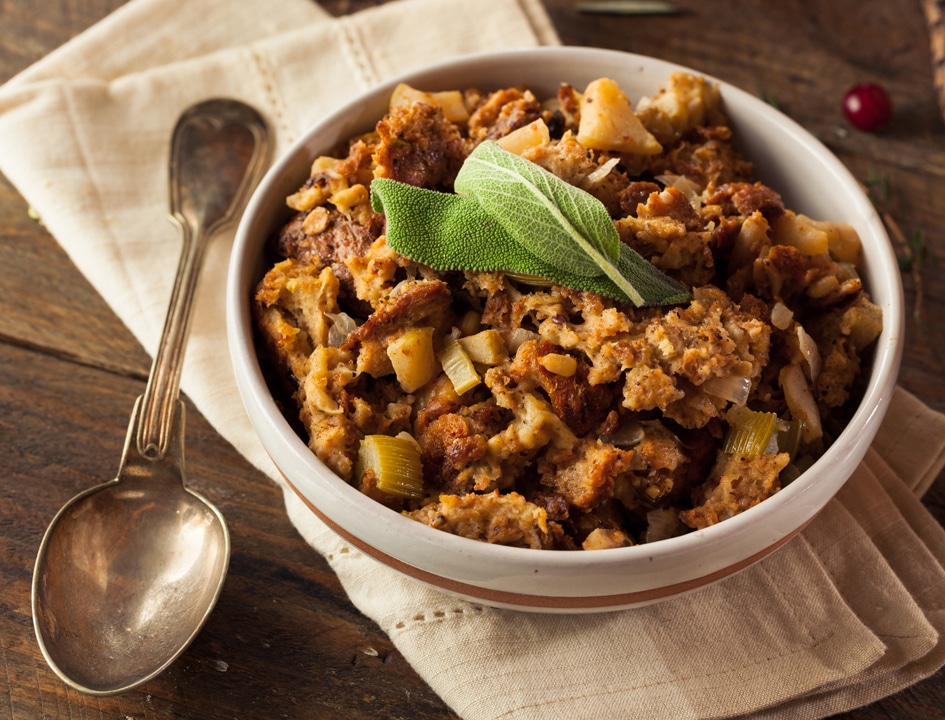 My dad is famous for his "not so gluten-free" cornbread stuffing. Actually, he calls it "dressing" because he's southern and always notes that it's only "stuffing" if it's stuffed inside the turkey. Growing up, we ate his dressing every Thanksgiving. He spent years tweaking and perfecting the recipe and each time he made it, there was some new addition or substitution. Everyone who came to our house for Thanksgiving looked forward to guessing what the new ingredient list would be. Wayne's Cornbread Dressing was a Thanksgiving tradition in our house.
A Gluten-Free Twist on the Stuffing Tradition
When my mom Carole was diagnosed with celiac disease in 2001, Thanksgiving changed. She could no longer eat my dad's famous dressing. The first year she tried to make a rice dish, which was nice but didn't compare to Wayne's dressing. Then I was diagnosed with celiac disease in 2004 and, because I have the best mom in the world, she decided to recreate a gluten-free, corn-free version of my dad's dressing.
My mom is a great cook, so she set out to capture all of the Thanksgiving flavors without gluten. Unlike my dad, who is still in charge of the non-gluten-free dressing for the crowd, it took my mom only two years to get her stuffing recipe right. She has been making it the same way since 2006.
Thanks, mom for continuing to make Thanksgiving taste just like I remember as a child.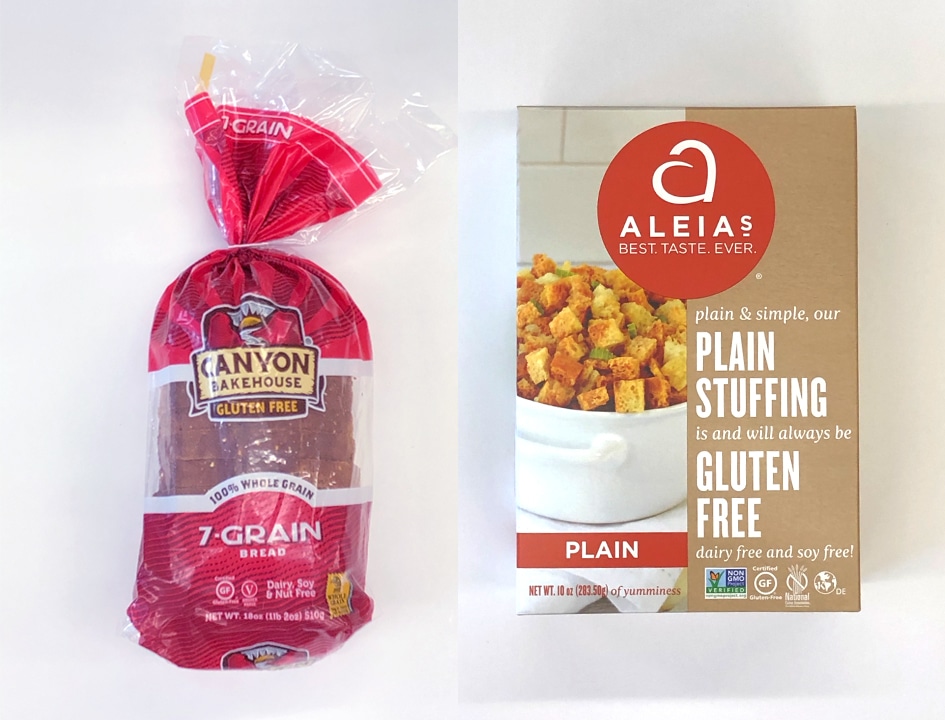 Print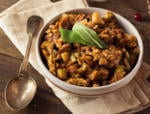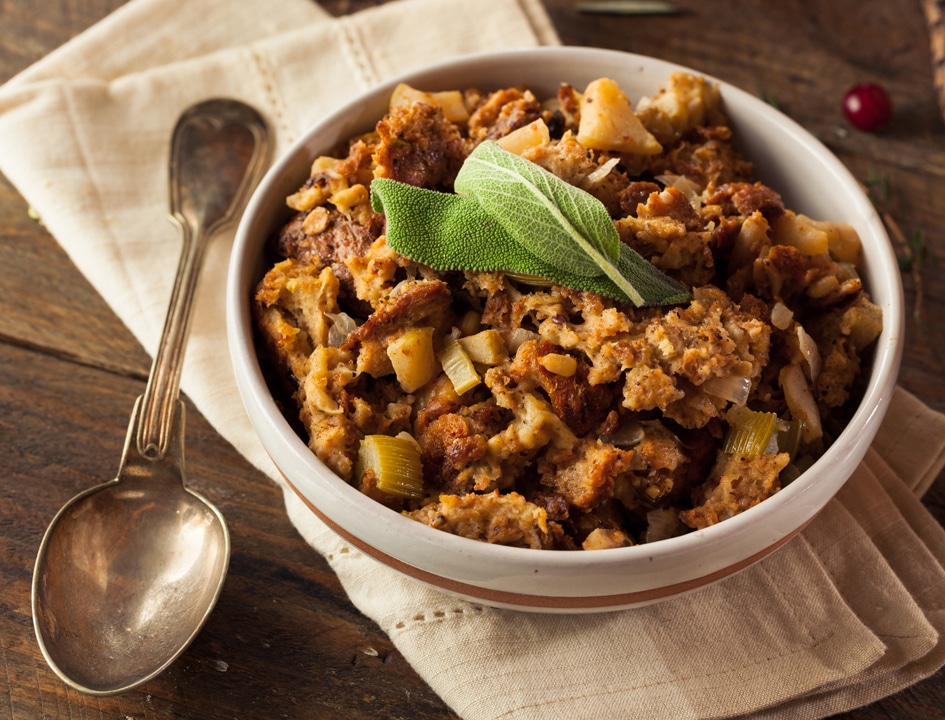 Carole's Gluten-Free Stuffing
---
Author:

Total Time:

1 hour 25 minutes

Yield:

6

1

x
1 loaf stale Canyon Bakehouse 7 Grain Gluten-free bread*
1/2 c. Plant-based butter such as Soy free Earth Balance
1 1/2 c. Celery chopped
1 –1/2 c. Yellow Onion chopped
1 t. Poultry Seasoning
1 t. Ground Sage
1/2 t. Thyme
1–1/2 t. Salt
1/2 t. Pepper
1/2 c. Parsley chopped
3/4 c. to 1 c. Turkey broth, preferably homemade (see instructions below)
Note: You will need the giblet and neck packet from your turkey to make the homemade broth.
*Substitute packaged gluten-free stuffing bread such as Aleia.
---
Instructions
Preheat oven to 350 degrees.
If you do not have stale bread on hand, the night before preparing the stuffing, remove the bread from the packaging and lay it out on a baking sheet. Place the baking sheet inside a cool oven overnight. The bread should be ready to use the next morning.
To make the broth, remove giblets and neck from turkey and place in a sauce pot with 4 cups of water. Bring to a boil the nreduce heat and simmer until giblets are tender, about 30 minutes.
Melt plant-based butter in a large saute pan.
Add chopped celery and onions to saute pan and sweat them until translucent and tender, about 8 minutes.
Place bread in food processor and pulse until it reaches your desired consistency of small or large chunks.
Empty processed bread into large mixing bowl.
Add cooked celery and onion to the bread.
Add seasonings and parsley to bread mixture and combine.
Add 3/4 c. broth to seasoned bread and stir to combine. If the stuffing seems dry, add more broth a little bit at a time until it reaches your desired consistency. 
 Add bread mixture to a greased 9×13-inch baking dish.
Bake for 30-40 minutes
Notes
Oven Space Hack: Instead of using a baking dish, create a foil packet for your stuffing to save oven space. Simply put the stuffing on a large sheet of heavy-duty foil and wrap it up like a package. Form it into a narrow rectangle or whatever shape you wish to fit it beside your other holiday dishes.
Prep Time:

45 Minutes

Cook Time:

40 Minutes

Category:

Side Dish

Method:

Bake

Cuisine:

American
Keywords: gluten-free stuffing, gluten free stuffing recipe, recipe for gluten free stuffing, gluten free stuffing, thanksgiving gluten free stuffing bread
You might also like …
https://healthfoodradar.com/vegan-coming-to-thanksgiving-dinner/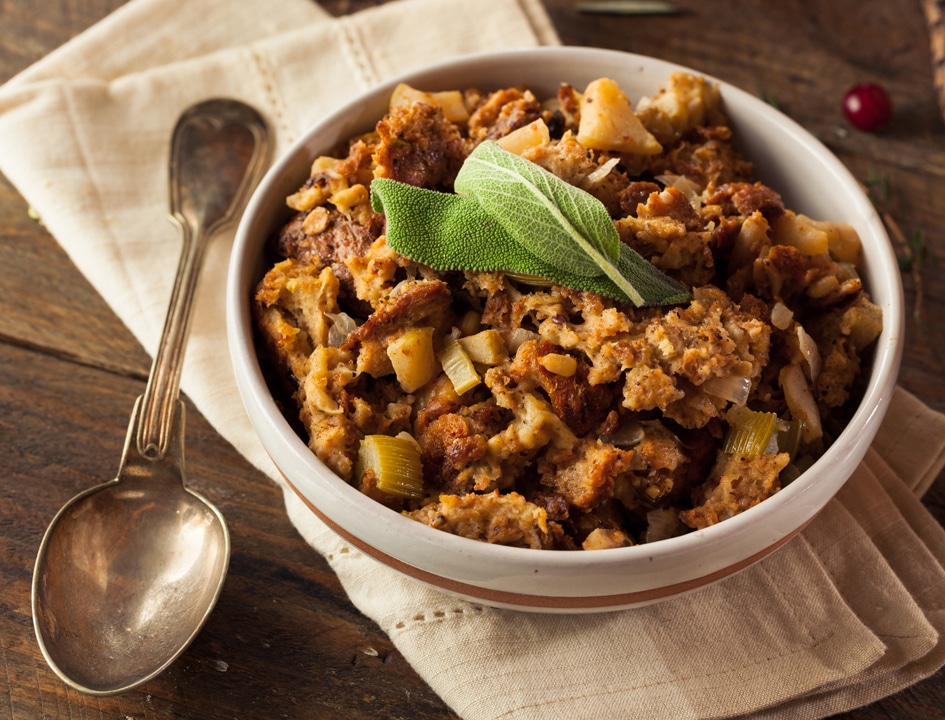 © Photos / iStockPhoto / Health Food Radar
Please note: Nutrition facts and calories per serving are approximate.
This post is not intended to substitute for medical advice or prescribed medication. Especially if you have special health needs or a special diet, consult a physician before undertaking any new diet or exercise plan.
The author has not been compensated for any of the products mentioned in this post. In some cases, we may earn a small affiliate fee from certain links, including Amazon and the Health Food Radar shop. This helps compensate our staff for their time. Thanks for supporting us by clicking on the links!
Statements made on this website have not been evaluated by the U.S. Food and Drug Administration. Any information or products are not intended to diagnose, treat, cure, or prevent any disease. Information provided by this website or this company is not substitute for individual medical advice.