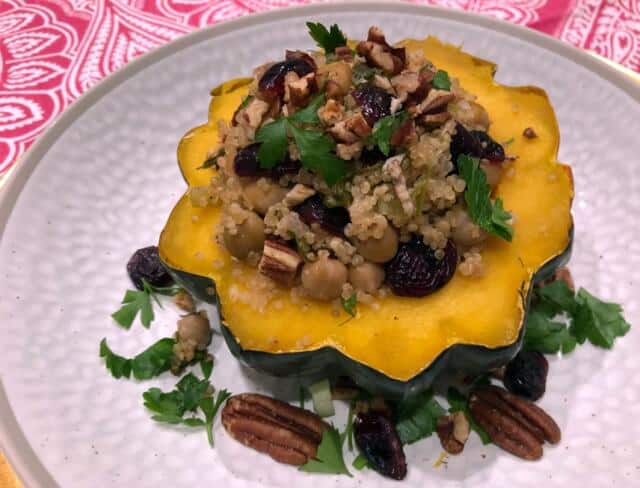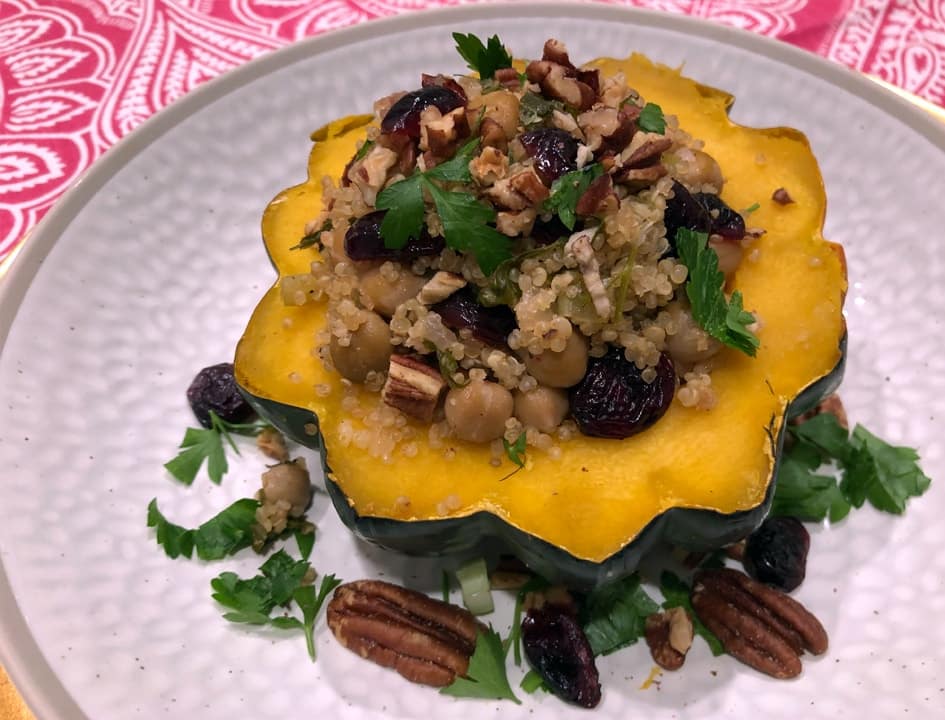 Stuffed Acorn Squash, a festive main dish that satisfies vegetarian and vegan guests. Bright cranberries and toasted pecans adorn this tasty quinoa stuffed acorn squash.
At Thanksgiving, we give thanks for a rich harvest of fall fruits and vegetables: think pumpkin, squash, sweet potatoes, green beans, and brussels sprouts, apples, pears, and, of course, cranberries.
Given this fall bounty, creating festive dishes that satisfy vegetarian or vegan friends and family should be easy as pie. And with all the ingredients available in the modern pantry, there's no reason to relegate vegetarian items to the side dish table. These dishes can share the stage with any main dish.
HFR friend Bonnie Hawkins is an accomplished home cook known for the delicious and festive food served at her winter and summer solstice parties — as well as her talent for seeking out new techniques and flavor combinations. When Bonnie switched to a vegan diet last year, she dedicated herself to experimenting with dinner-party worthy dishes.
Here's the festive vegan Thanksgiving main dish she will be serving this season.
Print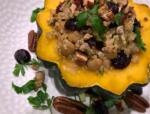 Festive Stuffed Acorn Squash
---
Description
Whole Food Plant Based, Vegetarian, Vegan, Gluten-free, Oil-free.
Serves 4.
---
2

acorn squash (

2

lbs. each)

1

rib celery, chopped (

1/2

c.)

2

cloves garlic chopped

1/2

yellow onion chopped (

1

c.)

1

15 oz. can low-sodium garbanzo beans, rinsed

1

t. dried thyme

1

t. smoked paprika

1/8

t. cayenne pepper

1/2

c. dried cranberries

1

 c. quinoa, rinsed (Bob's Redmill preferred)

1/4

 c. chopped fresh parsley

1/4

c. pecans, coarsely chopped
---
Instructions
Prick squash and roast whole at 400 degrees for 45 minutes.
In a medium pot, heat 2 tablespoons of water. Add garlic and onion and cook on low heat until soft, stirring frequently.
Add 1-1/2 c. water and rest of ingredients (except for pecans) to the pot. Bring to a boil then lower heat and simmer until the quinoa absorbs all the liquid, about 20 minutes. Turn off heat.
Once squash are cool enough to handle, cut in half and scrape out seeds. You will have four half shells. Fill each half with a quarter of the quinoa mixture.
Sprinkle each squash with pecans and serve.
Make Ahead: The squash can be stuffed ahead of time, refrigerated and reheated in the oven or microwave. They can also be frozen, thawed and reheated. Do not refrigerate or freeze with pecans on top for crisper pecans.
Keywords: stuffed acorn squash, stuffed acorn squash vegan, stuffed acorn squash recipe
Acorn Squash Is Nutrient-Rich, Too
There's good reason why this nutty-flavored squash finds its way onto vegetarian and vegan tables: It's one of the healthiest carbs out there — high in fiber, naturally low in fat, and packed with vitamin C, vitamin A, magnesium, and potassium. One cup of cubed acorn squash (or one half of a squash) contains 115 calories, 30 grams of carbs, 9 grams of fiber and 2 grams of protein.
And in that one cup you can make a lot of progress reaching your daily vitamin and nutrient goals:
Provitamin A: 18%
Vitamin C: 37%
Thiamine: 23%
Vitamin B6: 20%
Folate: 10%
Iron: 11%
Magnesium: 22%
Potassium: 26%
Manganese: 25%
Image © Health Food Radar
This post is not intended to substitute for medical advice or prescribed medication. Especially if you have special health needs or a special diet, consult a physician before undertaking any new diet or exercise plan.
The author has not been compensated for any of the products mentioned in this post. In some cases, we may earn a small affiliate fee from certain links, including Amazon and the Health Food Radar shop. This helps compensate our staff for their time. Thanks for supporting us by clicking on the links!
Statements made on this website have not been evaluated by the U.S. Food and Drug Administration. Any information or products are not intended to diagnose, treat, cure, or prevent any disease. Information provided by this website or this company is not substitute for individual medical advice.