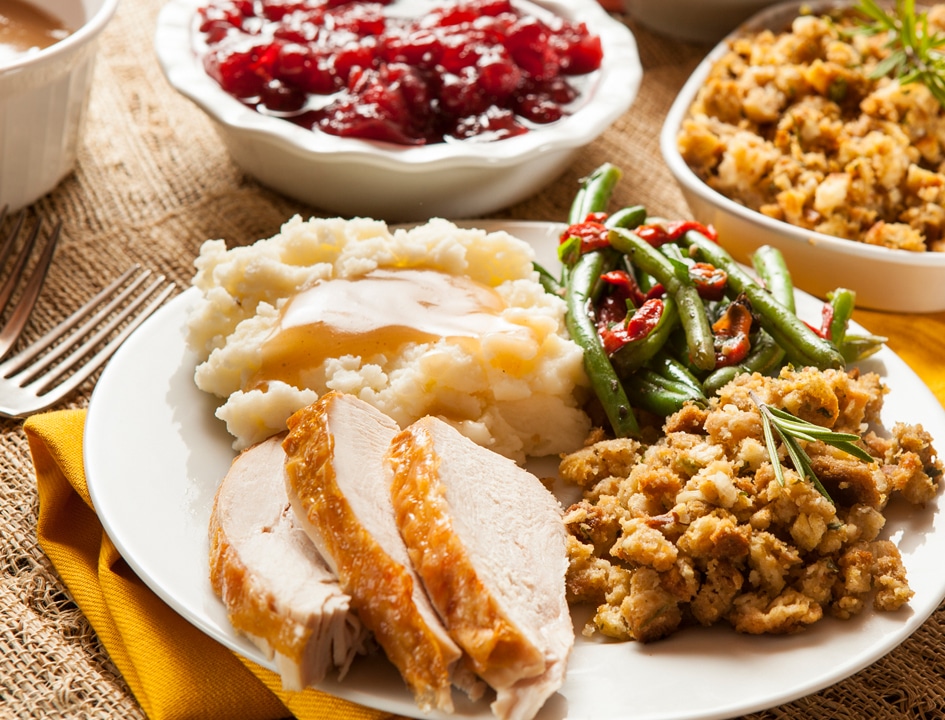 Thanksgiving leftovers are piled up on my table like a mountain. I could slalom down the north face of the mashed potatoes. There's enough leftover stuffing to start a bakery. And turkey? Are you kidding me? I'm gonna gobble gobbler grub until St. Patrick's Day. I'll be turning this turkey into toasties well into my retirement. Only no, I'm not, because the internet won't have it.
I've combed through a vast tureen of recipes for Thanksgiving leftovers, so you can just lie there on the couch in a tryptophanic fugue. Relax, loosen your belt, and follow me through round two of a classic t-day meal.
What to Do With Leftover Turkey
What to do with all that extra turkey that's filling 87 Tupperware tubs of Thanksgiving leftovers? Well, over at Tasty Bites, they suggest you marry it with your giant wheel of leftover Brie. What, you don't have an enormous wheel of Brie after the holidays? What are you even celebrating! These Turkey and Brie Monte Christo Sandwiches are so good you might have turkey day twice. They'll put a decent dent in your giant mound of bird and your five-gallon bucket of cranberry sauce. It's the perfect thanksgiving leftover recipe. You're welcome. Well, actually, you should thank Karen Lee.
For Lee's version, you'll need turkey, Brie, bread (sliced Italian in her recipe, but whichever bread you want), Dijon mustard and arugula. But I've modified this recipe slightly to accommodate gluten-free diets by using gluten-free sandwich bread and swapped regular Dijon for my favorite Dijon mustard. Check it out.
Print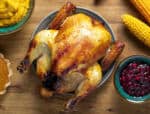 Leftover Thanksgiving Turkey and Brie Monte Christo
---
Description
This gluten-friendly version of the classic Monte Christo sandwich uses Brie instead of swiss cheese, and cranberry sauce instead of jam. I also swap the incredibly savory Moutarde au Noix for regular Dijon.
---
Four slices of gluten-free sandwich bread

6 oz

of leftover thanksgiving turkey

4 oz

of Brie, sliced

2 tablespoons

of leftover cranberry sauce

2 teaspoons

of Edmond Fallot Moutarde aux Noix (Walnut Dijon)
A generous handful of sunflower and radish micro-greens

1/2 cup

milk

1

egg

1 teaspoon

sugar

1 teaspoon

powdered sugar (optional)
butter for frying
---
Instructions
Spread the Moutarde aux Noix on the bread
Pile the turkey, brie, and microgreens on one slice
Spread cranberry sauce on other slice and marry them together.
Lightly whisk together eggs, milk, and sugar in a shallow bowl.
Dip sandwich in the egg wash to coat.
Heat butter in a non-stick frying pan. Fry the sandwich in the butter until crust is golden brown (about 3 to 4 minutes per side).
Sprinkle with powdered sugar (optional).
Notes
Swap the brie for any other soft cheese; try a Stilton, or a chevre.
Swap the microgreens for any other soft green lettuce like bibb, or arugula, or spinach.
Add a slice of ham for a true Monte Christo.
Keywords: brie monte christo, thanksgiving leftovers, thanksgiving leftovers recipes
Stuffing, Gravy, and Green Bean Casserole Mini Pies
First of all, you'd better be using haricots verts, because regular green beans are just so basic. Second, you know this goes together when you're working your way through thirds, and you're mashing everything into a forkful of Thanksgiving mélange, which you shove into your mouth proudly. So why not turn that guilty pleasure into a thing with your Thanksgiving leftovers? Well Vegan thought, hey, this would be great as a pie! And they invented their famous Leftover Thanksgiving Hot Pockets, which are lose-your-ability-to-speak good. However, I'm changing their recipe because gravy is the song of my people and I want a butter crust.
Print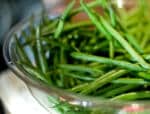 Thanksgiving Leftovers Mini Pies
---
Description
Choosing a filling is where these pies get creative. You have a metric ton of Thanksgiving leftovers, and though most of that is potato, you can still combine classic sides to make a delicious pie. Try a filling of stuffing and gravy, of mashed potatoes and turkey, of green bean casserole and candied yams. Go crazy.
---
4

single pie crusts, thawed

2 cups

of Thanksgiving leftovers

1/2 cup

olive oil
---
Instructions
Preheat oven to 350°
Using a bowl about 4 inches across, trace and cut 8 circles from the pie-crust. Lay the crusts flat on an oiled baking sheet. You may have to fold some scraps into a ball and roll it out flat to make the last one.
Place about three tablespoons of your leftover Thanksgiving filling on top of 4 of the circles (bottoms).
Place the other circles (the tops) on top of your filled circles; press the dough down around the filling, crimping the edges with a fork
Brush the pies on all sides with olive oil
Bake for 25-30 minutes or until golden brown
Keywords: thanksgiving leftovers mini pies, mini pies, what to do with leftover turkey
Thanksgiving Leftover Mashed Potatoes
My leftover mashed potatoes look like a scene out of "Close Encounters of the Third Kind," but bigger. I need to portion these things out. Maybe feed a small village in Canada. Or I could use them to make freeze ahead meals like turkey Shepherd's Pie or the Cuban classic, Papas Rellenos. There are 95 bazillion recipes for Shepherd's Pie on the internet. It's one of the easiest things in the world, a one-pot wonder meal that tastes fantastic and feeds an army. But few of them tell you the most important trick of turning out a gorgeous, tasty pie: pipe your potatoes. Fill a cake decorating bag with your mashed potatoes (and hey, toss in your favorite cheese, why not?). Using a star-shaped tip, pipe individual half inch tater dots on the surface of your pie until it's covered. The crenelations will brown up perfectly, giving your Shepherd's Pie a delicious crunchy surface.
But for a real treat, turn those taters into Cuban potato fritters. I grew up in Florida where there is a thriving Cuban community. You could get these in Cuban bakeries and breakfast cafes, and they are scrumch.
Print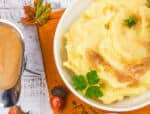 Papas Rellenos with Turkey and Mashed Potatoes
---
Description
These are deep-fried, lightly breaded potato fritters, known in Cuban coffee shops and home kitchens as Papas Rellenas. They typically use a ground beef filling with the potatoes, but we use some of your abiding bird in this version.
---
4 cups

of leftover mashed potatoes (approximate)

1

lb. leftover turkey

1

T. warm milk

1/2

t. salt

2

eggs

1 tablespoon

water

1 cup

gluten-free bread crumbs

1

–

1/4

cup gluten-free flour

1 tablespoon

vegetable oil

1

red onion, finely chopped

1 tablespoon

finely minced garlic

1 cup

green bell peppers, finely diced

1/2 cup

red bell peppers, finely diced

1/2 cup

Serrano peppers, finely diced

1/2 teaspoon

salt

1 teaspoon

freshly cracked black pepper

1 teaspoon

paprika

1 teaspoon

cumin

1 teaspoon

dried oregano

1 tablespoon

Worcestershire sauce

1

lime, juiced
vegetable oil for frying
---
Instructions
In a heavy-bottomed pan, sauté the onions until they're clear; add the peppers. After a minute or so, add the garlic, turkey, and spices. Cook on medium until the turkey is well heated and some pieces are slightly browned. Remove from heat and drain.
Prepare a baking sheet lined with foil or parchment.
Scoop a ball of mashed potatoes into the palm of your hand. It should be about the size of a golf ball. Make a deep indentation with your thumb.
Fill the indentation with the filling, close it up by rubbing the mashed potatoes around the edges together.
In your first bowl, combine the eggs with a dash of warm water.
In your second bowl, place about a cup of gluten-free flour.
In a third bowl, combine the gluten-free breadcrumbs and the remaining gluten-free flour
Dip each ball in the egg wash, then in flour, then back in the egg wash, then in the breadcrumb mixture. Place your balls onto the prepared baking sheet.
Refrigerate for one hour (you can also freeze some for later).
Fill a deep fryer with enough oil to cover the balls; heat oil to about 375°.
Fry a few balls at a time, giving them plenty of room to brown. Use a slotted spoon to retrieve the balls and then drain on a rack over paper towels.
Serve warm.
Keywords: turkey and mashed potatoes, thanksgiving leftovers, what to do with thanksgiving leftovers
Thanksgiving Leftover Cranberry Sauce
When confronted with my Tupperware vat of cranberry sauce, my first thought is I could probably do laps in that. But there are rules about swimming in jam so let's move on. My second thought is that it would make some great barbeque sauce. Cranberries are good with more than turkey. You can serve them with chicken, pork, or beef. But here you are with a lot of bird still on the table and an Olympic swimming pool of sauce, so why not combine these through the alchemical magic of Barbecue sauce. Alternatively: use crushed fresh cranberries or chunky cranberry sauce in a vinaigrette.
And look, I could spell all this out in a recipe, but honestly, we're all tuckered out from cooking–and eating–our annual gluttony, so maybe today isn't the day to get all authentic. Just grab your favorite barbecue sauce and mix it with leftover cranberry sauce at a 2:1 ratio.
For vinaigrette, you can take a bottle of Italian salad dressing and swish in a tablespoon of cranberries.
That Thing with Sweet Potatoes and Marshmallows
I AM ABOUT TO SELF-PROMOTE SO PLEASE GIRD YOUR LOINS. I do this other thing about food called "Eating Vincent Price," where I perform an exegesis (it's like an exorcism but with fewer demons) on the actor's infamous and rare "Treasury of Great Recipes," published in 1965. Price loved Thanksgiving and has a section of great recipes from the Wayside Inn, one of New England's oldest restaurants. Wayside is located a stone's throw from the original alfresco spot of the pilgrims. However, there's no recipe for the ubiquitous holiday glurge of mashed yams with brown sugar and marshmallows, which is either your favorite thing or what you defenestrate once a year because it's gross. I don't have a recipe for Thanksgiving leftovers of candied yams and neither does Vincent Price. What he did offer is an alternate recipe using roasted Papaya that is an absolute unit of 1970s food horror.
© iStockphoto
---
The information provided on Health Food Radar is intended for general informational purposes only. While we strive to offer accurate and up-to-date content, we do not provide medical advice, diagnosis, or treatment. Always consult with a qualified healthcare professional before making any dietary or lifestyle changes, especially if you have underlying health conditions or concerns.