Now, what am I going to do with all these tomatoes? Here are a few suggestions for fresh tomato recipes.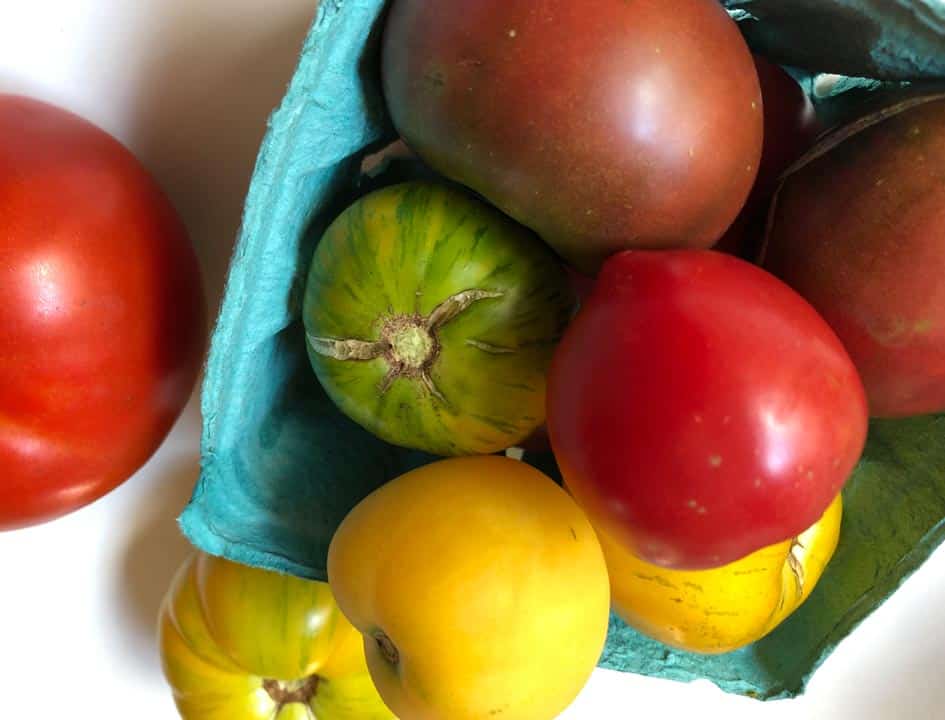 I'll admit, I miss stepping outside to harvest the tomatoes ripening on the vine outside the backdoor of our former home. I've never had a green thumb, but cherry tomatoes are failproof and grew like crazy there. Some years, the vines were so huge and the tomatoes so heavy I'd resort to draping them across random pieces of lawn furniture to keep them off the ground. Tomato stakes and green tape were no match for those big guys. Sometimes we'd manage to grow a couple of heirloom varieties, too — and grab a few before the raccoons took a bite.
Now, we live in the city. Instead of a garden, we walk to the weekly farmer's market, where I get to pick exactly what I want, in season. It's been a blast. And there's no need to outsmart deer or raccoons, just an occasional elbow from the competitive shoppers in the mushroom line.
This week, I headed straight for Henry's Organics in the corner, where shoppers were swarming tables overloaded with at least a dozen varieties of freshly harvested tomatoes in all their crimson, claret, striped and spotted gold glory.
Whether you grow your own or, like me, can't resist snagging "just one more" Porkchop tomato, the question is the same:
Now, What Am I Going to Do With All These Tomatoes?
Here are a few suggestions for fresh tomato recipes:
1. Easy Caprese Salad or Bruschetta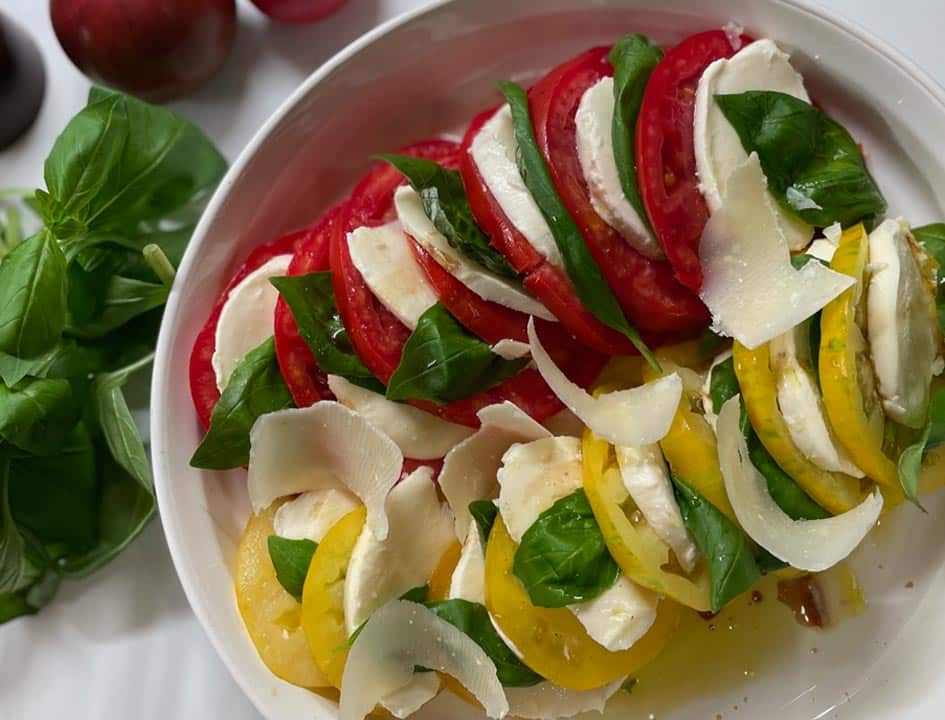 Making Caprese salad is absolutely the tastiest (and easiest) way to respect in-season, ripe tomatoes. It is so good when prepared correctly, I want to kick myself every time I overpay for an overdressed restaurant Caprese salad made with a mealy greenhouse tomato and bland, rubbery cheese. I know better than to order it out of season. After all, the tomato is the star.
Here's how to put together a decent Caprese salad on a plate:
Layer a slice of tomato, a slice of fresh mozzarella, and a fresh basil leaf. Repeat. Sprinkle generously with salt and pepper. Drizzle with good quality extra virgin olive oil and a small splash of balsamic vinegar. Top with parmesan cheese shavings and a chiffonade of any remaining basil. Find a glass of wine, a hunk of bread, a good book and a comfy chair. That's summer.
Here's the bruschetta variation:
In a medium bowl combine two or three chopped tomatoes or cherry tomatoes, add salt and pepper and allow the juices to stew for at least 10 minutes.
Add a few tablespoons of olive oil, 2 teaspoons of balsamic, and a quarter cup of basil leaves chiffonade to the tomatoes and stir.
Slice a french baguette into chunky one-inch slices. (Italian bread or sourdough is excellent here, too, as long as it is not too soft.)
Places the bread on a cookie sheet and brush each slice with olive oil.
Broil or grill the bread until crispy brown on the edges.
When the bread is ready, place two or three slices of fresh mozzarella on top of each slice.
Top with the tomato salad. And don't forget the juice.
Garnish with shaved parmesan and leftover basil.
2. Greek Salad All Day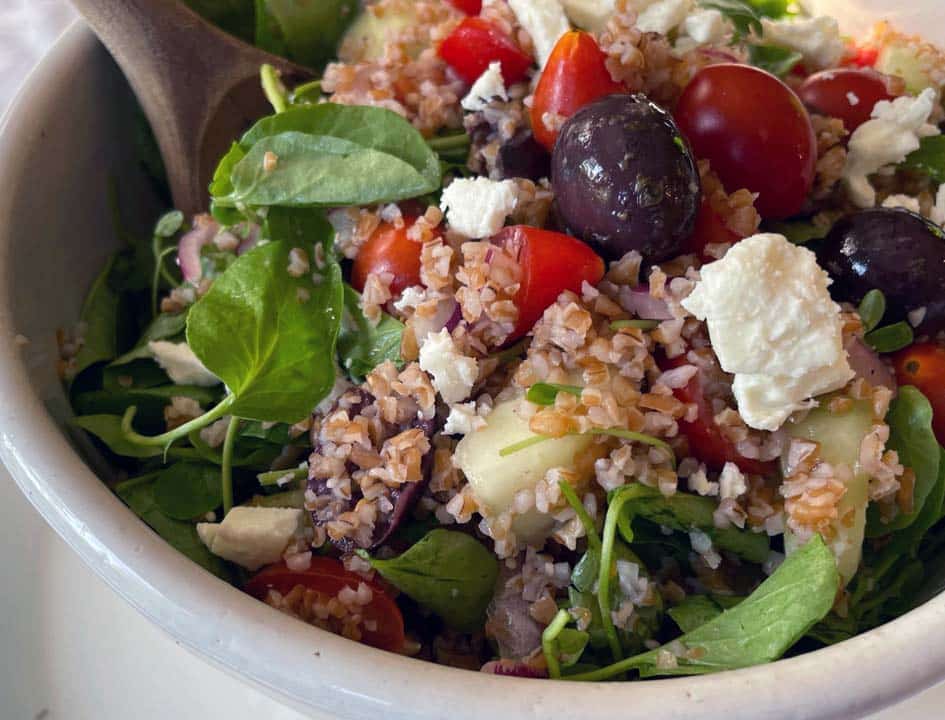 Is there anything better than a Greek salad? That combination of tomato, cucumber, lettuce, onion, olives and feta? Nope. But with a few tweaks and embellishments, it gets even better. Here are three recipes from HFR:
Delicious Vegan Greek Salad with Watercress
Greek Chickpea. Tomato and Feta Salad
3. Sandwich Heaven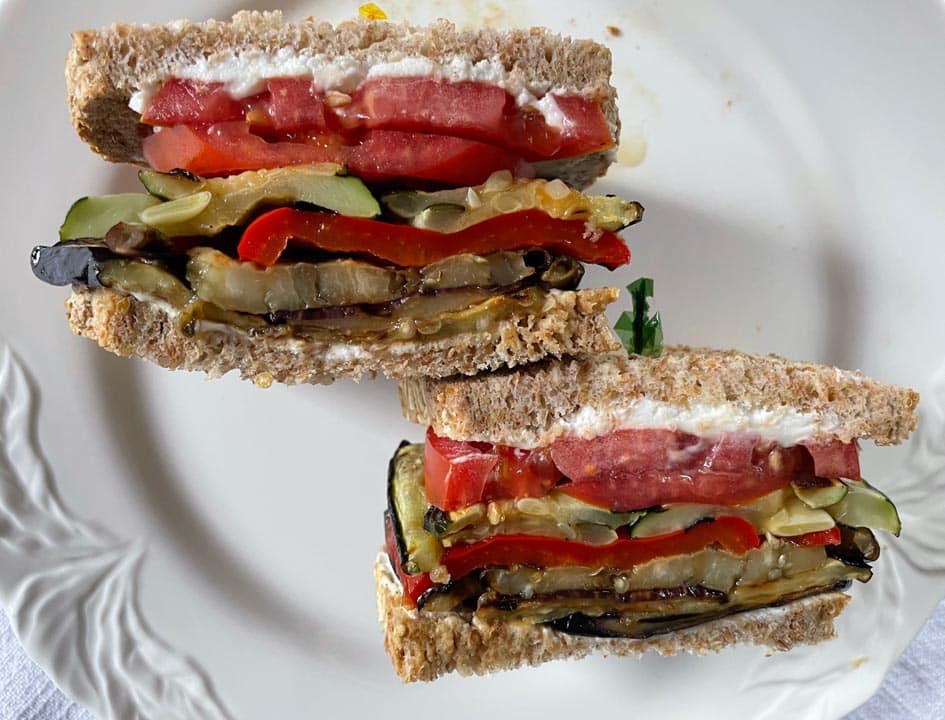 All summer long we've been eating Bull Garlington's cult favorite Southern Tomato Sandwiches (talk about easy!). But when we're craving avocado and sprouts with our tomato, we turn to this California Veggie Sandwich recipe.
Tomatoes also taste amazing atop my latest creation — a grilled vegetable sandwich with eggplant, zucchini and peppers (and goat cheese).
4. Keep Those Fresh Tomato Recipes Alive for Winter, Roast 'em
While I have deep admiration for people who have the talent, patience and organizational skills required to can any type of food. And I have been tempted. But the freezer is my friend. It's easier and faster.
Here's how I preserve summer's tomatoes for winter:
Preheat the oven to 250 degrees.
Slice tomatoes into rounds and remove as many seeds as possible.
Lay them out on a cooling rack (the same ones you use for cooling cookies). Lightly salt to help bring out the juices. Let drain for at least 30 minutes. Roma tomatoes work well, but almost any variety will do.
Blot the tomatoes dry.
Lightly grease a sheet pan with olive oil.
Place the tomatoes — touching but not overlapping— on the sheet pan. Drizzle lightly with olive oil. Salt and pepper and place a few sprigs of fresh rosemary and half a dozen whole cloves of garlic in the pan.
Roast in the oven for 1-3 hours until dry and somewhat shriveled but not crips. Time will depend on the number of tomatoes you've used and your oven temp.
Once the tomatoes are cool, remove the rosemary and garlic and drizzle with a tablespoon of olive oil. Divide into freezer bags, label, and freeze until you need them.
You can use the gems in pasta, soups, bruschetta, sandwiches, grain salads and regular salads, as a pizza topping — and to kick up the flavor of storebought marinara or homemade marinara. Just about anything!
5. Let's Eat Pie! Bull Garlington's "Easy Tomato Pie" Recipe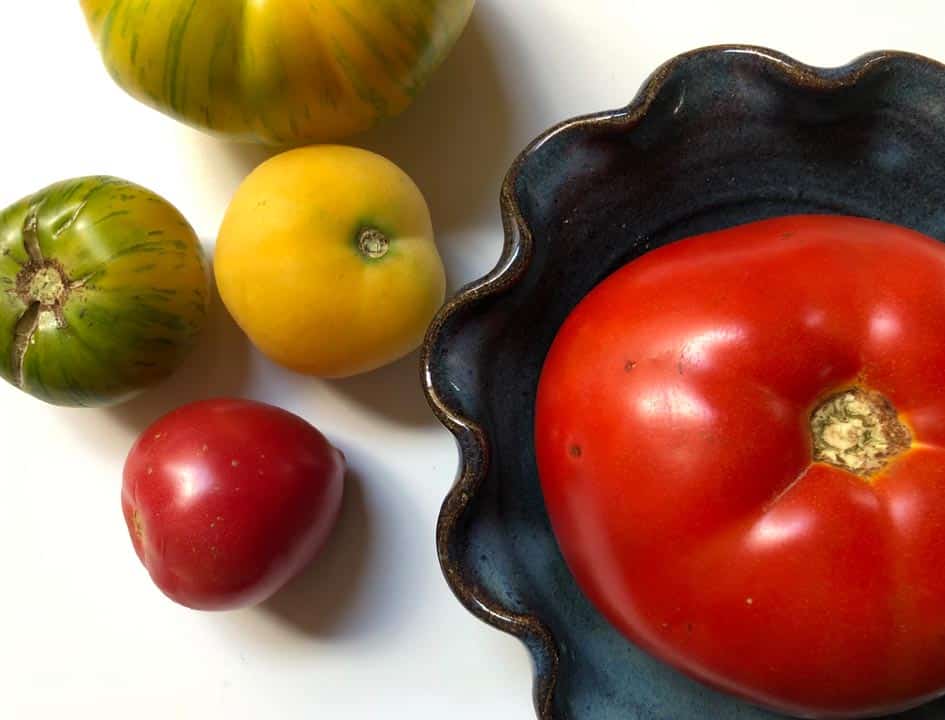 You may have discovered tomato pie in "Southern Living" or tomato tart in a French cookbook, consisting of crust, layers of tomato and not an ounce of mayo. But, our resident southern cooking expert, Bull Garlington, says if you didn't grow up in Alabama, Georgia, or North Florida, you've never had a real tomato pie. "Because it does have mayo, and it's weird and it's delectable." We trust him when he says it is delicious, "peak southern cooking here." Here's the recipe:
© Photos/Health Food Radar
This post is not intended to substitute for medical advice or prescribed medication. Especially if you have special health needs or a special diet, consult a physician before undertaking any new diet or exercise plan.
The author has not been compensated for any of the products mentioned in this post. In some cases, we may earn a small affiliate fee from certain links, including Amazon and the Health Food Radar shop. This helps compensate our staff for their time. Thanks for supporting us by clicking on the links!
Statements made on this website have not been evaluated by the U.S. Food and Drug Administration. Any information or products are not intended to diagnose, treat, cure, or prevent any disease. Information provided by this website or this company is not substitute for individual medical advice.