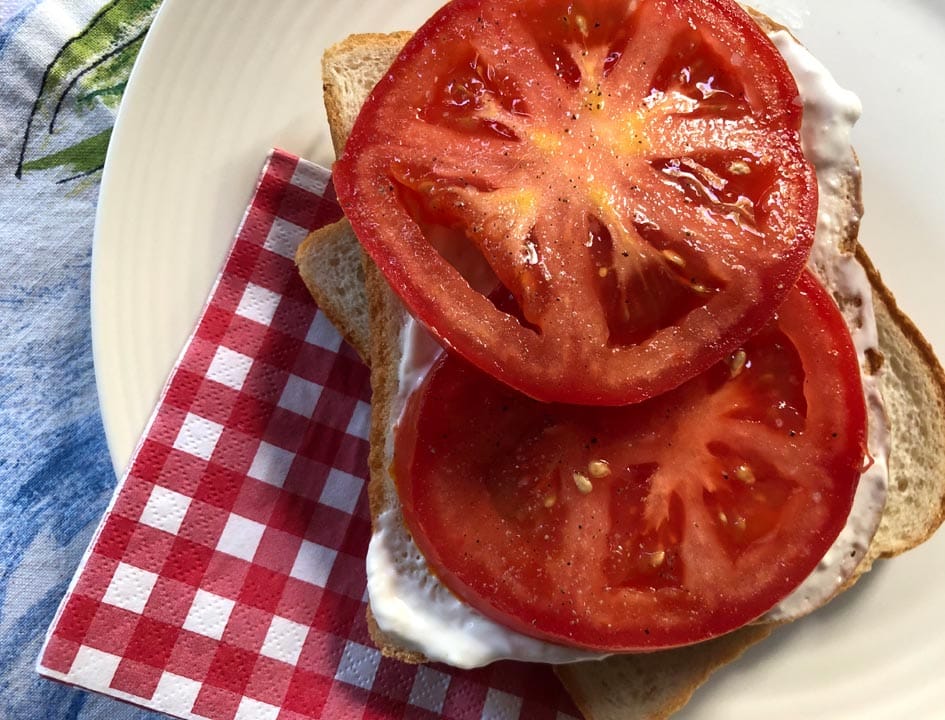 A tomato sandwich. It calls to me. I see those crenelated, heavy heirloom tomatoes at the farmer's market and I can almost taste them in a sandwich. Maybe you see a tomato and think, oh man, I can't wait to cook that down into Sunday gravy and I applaud you. I do. The sauce is the boss. Or maybe you see a couple of Mortgage Lifters and mentally chop them up for making a robust Bruschetta, to which I say Manga manga.
But Nothing Beats a Simple Tomato Sandwich from the South
I'm not even going to put a recipe in here. It's too simple. It's too rustic for measurement. When you're making a tomato sandwich, you don't need anything except a cutting board, your favorite tomato knife, and a spoon. Maybe. If you want to be truly authentic, you'll need to order some Duke's mayonnaise because that's how one lives south of the Mason Dixon line. But, as a southern ex-pat and a man who's no longer allowed to visit for the following reason, I will stray from tradition and tell you that Hellman's is better than Dukes (sorry Alabama). However, use what you've got. This isn't Michelin territory.
It's Tomato Town
To build the perfect tomato sandwich, you need a tomato, mayonnaise, white bread, salt, and pepper. You're probably going to Google this to see if I'm just messing with you about a tomato sandwich and you're going to be amazed at the number of top-notch news outlets that have covered this veritable staple of the dixie kitchen. You'll find recipes that try to elevate this dish, recipes for open-face tomato sandwiches, and recipes using aioli or specialty bread and they're all wrong. Don't listen to them — CLICK AWAY FROM THOSE IMPOSTORS, EUGENE!
Is a tomato sandwich healthy? Sure. Why not: It's healthy because of all the things that don't get added: no cheese, no meat. And we already know that tomatoes are a superfood. (My editors also remind me that healthier vegan alternatives to Hellman's are pretty tasty, too. Believe them if you wish.)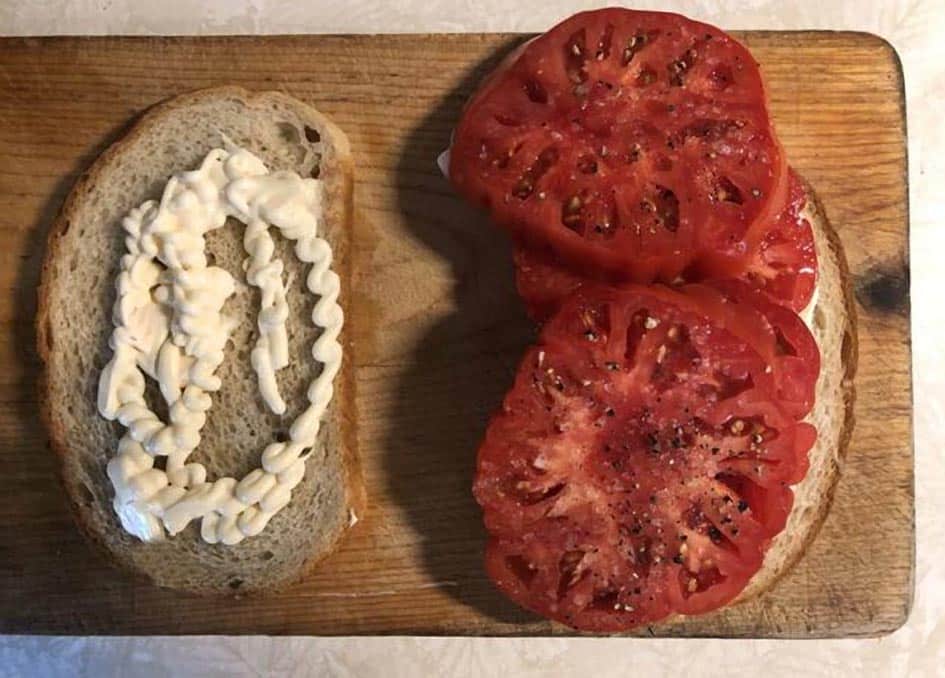 The Classic Southern Tomato Sandwich is Cheap
You don't need to elevate it. You shouldn't. It's wrong. it's like putting a tuxedo on a possum. It doesn't make it better, it just makes it stupid. This is farm food. This is a simple rural lunch. It is a combination of flavors developed by working southerners who were busy and didn't have any baloney. So they used what was there. They looked around, saw a beautiful ripe red tomato in a shallow bowl by the sink, and thought, well, that'll do.
They didn't think this sure would be better if I made the mayo from scratch and slathered it on freshly baked sourdough bread. They didn't add cheese. They didn't carmelize the tomatoes on a grill. They did it like this:
How to Make a Perfect Tomato Sandwich
Slice a large tomato into thick wheels. I like a Cherokee Purple fresh from the garden. Those weird flat tomatoes with the deep creases that scare you in the produce section? Use one. They're called Red Ruffled tomatoes or Cortoluno Florentenos and they're amazing. Season with salt and pepper.
Slather mayonnaise on two slices of cheap white bread. Please note the use of the word slather. Do not spread the mayo. You don't want a thin sheen of condiments. You want a thick blanket of mayonnaise. A slather. Use a spoon. Go large. You should be concerned about how much Hellman's is on the bread. You should worry.
Lay the slices onto one slice of bread. Lay the other one on top. Pick it up and hold it over the sink and chow down.
They're Also Called 'Sink Sandwiches' — For Good Reason
This is a messy sandwich. We really do eat them standing over a sink in the south. If you're going to sit at the table, have a roll of paper towels nearby. The salt draws out all the juices which mix with the mayo, turning it all into a pink sludge that will leak out from the bread and slide down your arms onto the floor.
But it's worth it. The sheer simplicity of this sandwich is what makes it great. You really only have two flavors: the bright summery tang of the tomatoes and the salty fatty goodness of the mayo. And it's perfect, it really is. In fact, I'm going to go make one right now.
© Photos/Health Food Radar
This post is not intended to substitute for medical advice or prescribed medication. Especially if you have special health needs or a special diet, consult a physician before undertaking any new diet or exercise plan.
The author has not been compensated for any of the products mentioned in this post. In some cases, we may earn a small affiliate fee from certain links, including Amazon and the Health Food Radar shop. This helps compensate our staff for their time. Thanks for supporting us by clicking on the links!
Statements made on this website have not been evaluated by the U.S. Food and Drug Administration. Any information or products are not intended to diagnose, treat, cure, or prevent any disease. Information provided by this website or this company is not substitute for individual medical advice.