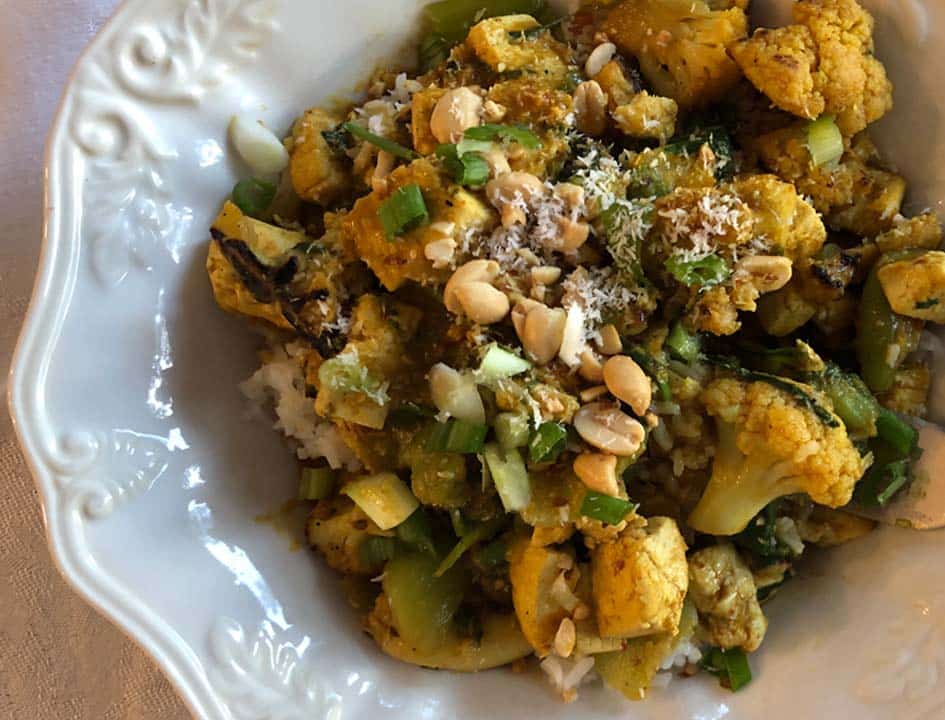 There's never been a better time to be vegan, especially with recipes like this in your back pocket. This bok choy cauliflower curry recipe has become one of my favorites. You won't miss the meat. Period.
It's Spicy, Flavorful and Full-Bodied
If you are a curry fan, this flavorful cauliflower curry recipe will be your new weeknight go-to. Even if you aren't a fan, this might be the recipe that wins you over. It tastes great — and it is easy to make. With tofu, bok choy, and cauliflower, it is full of nutrients, protein, and enzymes. And lots and lots of antioxidants. You couldn't have a better dinner or lunch.
When I Decided to Go Vegan
When I decided to go vegan, I asked my doctor If my bones were gonna break and my teeth were gonna fall out. He said no, that going vegan is great and that, as a matter of fact, his family was going vegan, too. So, I said, going all vegan won't hurt me? He said I'd be fine as long as I kept eating lots of protein—you know, hummus, guacamole, and grains.
Personally, I eat vegan during the week but take the weekends off, when I don't worry about dairy, or a pastry, or even a burger once in a rare while. Even if you go vegan a few days a week, you'll get some benefits.
I based this Bok Choy, Cauliflower Curry recipe on the nutritional value of the ingredients. For instance, we have tofu for extra protein and bok choy for extra fiber and antioxidants — more greens are always better! The curry is a basic sauce you create out of the jar (Roland red curry paste) doctored up a bit to give it more depth. Of course, cauliflower is a vegan go-to: it absorbs flavor and gives the dish texture, so you won't miss that chicken.
Let's take a minute and do a deeper dive into bok choy. Why is this veggie so great?
FAQs About Bok Choy
What is Bok Choy?
Bok choy is a Chinese white cabbage — you'll find it in many Asian dishes.
What Does Bok Choy Taste Like?
The greens have a spinach-like taste with a very mild bitterness.
What Part of Bok Choy do You Eat?
Bok Choy has a white bulb at the base and a green leafy top that looks like spinach. The whole vegetable can be eaten.
What are Some of the Biggest Nutrients in Bok Choy?
Bok Choy is a great source of vitamin C and K. It also has fiber that supports gut bacteria.
Preparing the Vegetables
Most of the time for this recipe is spent chopping the veggies and the tofu. Here's a quick list of what you need to prep and how to chop things up.
Start with the tofu. Put the tofu block on the cutting board. Put 2 or 3 sheets of paper towel sheets on a plate nearby. You want to cut the tofu into 1/2-inch blocks and then transfer to the plate with paper towels to soak up the exta mosture.
Chop the califlower into 1″ bite-size florets.
Chop the carefully cleaned bok choy at the base. Clean again if nessisary and then slice each leaf vertically down the middle.
That should give you a good start. Now Let's dive into the recipe below.
Print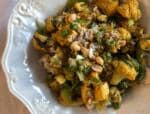 Bok Choy Cauliflower Curry Recipe
---
Author:

Total Time:

45 minutes

Yield:

4

1

x

Diet:

Vegan
Description
This Bok Choy Cauliflower Curry Recipe is easy to make and packs lots of flavors and nutrients.
---
Sauce
1 jar Roland brand Thai red curry paste
1 can unsweetened coconut milk (Goya is our favorite)
3 T. brown sugar
2 t. Madras curry powder
2 T. vegetable oil
2 t. Kosher salt
1 lime cut in quarters
Stir Fry
2 bunches of baby bok choy ( 6 to 8 ), leaves cut vertically in half
1 medium cauliflower, cut into bite-size florets
14 oz. of firm tofu, cut into 1/2-inch cubes
1/4 c. vegetable oil
1 ts. salt
1 ts. pepper
1/4 cup roasted cashews or peanuts
1/4 cup unsweetened coconut flakes
2 cups cooked white
---
Instructions
Make the sauce: heat the oil in a small saucepan over low heat. Add the curry paste, coconut milk, brown sugar and salt. Whisk to combine and heat until slightly simmering. Add the lime. Heat for five more minutes over low heat. Taste and add more salt or sugar if you prefer it sweeter. Set aside.
Bring a large pot of water to boil. Add the cauliflower florets and cook for two minutes. Remove immediately and drain in a colander.
For the stir fry, heat the oil in a wok or large frying pan. Add the tofu; turn until golden brown on most sides (about five minutes). Remove the tofu to a plate. Immediately add the blanched cauliflower florets and the bok choy. Stir on over high heat for about 3-4 minutes until you get a slight char on the cauliflower. Turn heat to medium, add the tofu and gently stir to combine. Add half the curry sauce, stir gently and heat through for five minutes.
If the mixture seems too dry, add another quarter cup of the remaining sauce or more if you wish.  Keep the leftover sauce for up to one week in the refrigerator or freeze.
Serve over rice, top with a sprinkle of cashews and coconut.
Notes
This recipe is inspired by "Myers + Chang At Home". 
Note: If bok choy is hard to find, you can use baby spinach or broccolini (or both!)
Prep Time:

15 minutes

Cook Time:

30

Category:

Dinner/lunch

Method:

Stir fry

Cuisine:

Asian
Keywords: cauliflower curry recipe, curry recipe vegan, curry recipe, curry recipe vegetarian, cauliflower stir fry
Please note: Nutrition facts and calories per serving are approximate.
© Photos / Health Food Radar
This post is not intended to substitute for medical advice or prescribed medication. Especially if you have special health needs or a special diet, consult a physician before undertaking any new diet or exercise plan.
The author has not been compensated for any of the products mentioned in this post. In some cases, we may earn a small affiliate fee from certain links, including Amazon and the Health Food Radar shop. This helps compensate our staff for their time. Thanks for supporting us by clicking on the links!
Statements made on this website have not been evaluated by the U.S. Food and Drug Administration. Any information or products are not intended to diagnose, treat, cure, or prevent any disease. Information provided by this website or this company is not substitute for individual medical advice.