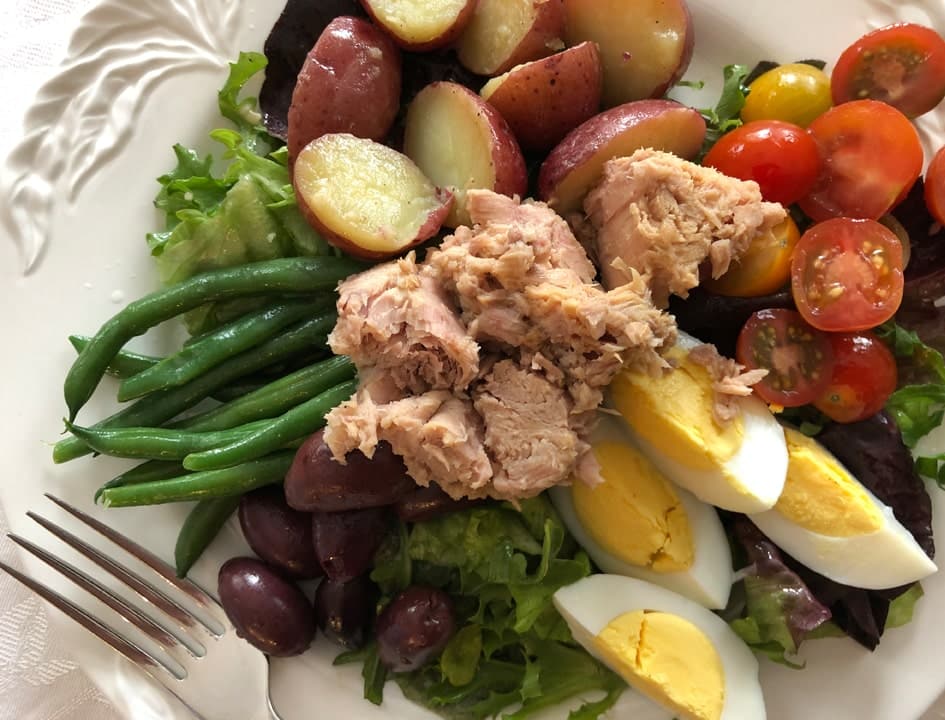 Let's talk about a poor man's version of a Nicoise Salad recipe. "Poor man" because when you order Niçoise Salad in a French restaurant, it usually comes with a beautifully grilled fresh tuna steak. Cut perfectly and fanned out onto the plate in a perfect pattern. For this version, we use canned tuna to make something similar at home, but for a quarter of the price? Can we replicate the restaurant quality? Let's give it a shot.
I experimented with this recipe at home today on the cheap, but not too cheap. From the research I did, it sounds like we need to use a good quality canned tuna packed in oil.
What Is Nicoise Salad?
Before we get into the recipe, here's a quick rundown on the history behind the Nicçoise Salad. First, this salad did originate in the French city of Nice. It's been popular worldwide since the early 20th century, and it's been made by many chefs in many variations. So what are the traditional ingredients in a Nicoise salad recipe? Tuna, French green beans, hardboiled eggs, tomatoes, red onion, lettuce leaves, yellow pepper, Niçoise olives, basil leaves, capers, anchovies, and potatoes. And this does not include the dressing!
That's a Lot of Ingredients! Let's Simplify Our Nicoise Salad!
For this poor man's version, we'll pare down the ingredients and substitute those we can't find at our local grocery store. Let's go with these:
1 can of good quality tuna packed in olive oil (we used Genova Yellow Fin Tuna)
2 c. baby romaine lettuce leaves green and red
2 c. baby arugula leaves
3/4 pound small red potatoes
1/4 c. red onion, minced
1/4 c. Kalamata olives pitted (use Niçoise if available), optional
1/4 c. French green beans (haricot verts are typically found packaged in the herbs section of the produce dept.)
2 hard-boiled eggs, quartered
10 cherry tomatoes, halved
Luckily, The Dressing Ingredients are Easy to Find
2 T. red wine vinegar
3 cloves garlic, peeled and minced
2 T. red onion, minced
3/4 c. extra-virgin olive oil
1 t. salt
2 t. freshly ground black pepper
2 T. Dijon mustard
The nice thing about this Nicoise salad recipe is that you can prepare most of the ingredients ahead of time. For instance, you can hard boil the eggs, blanch the string beans, make the potatoes ahead of time.
The key to keeping this salad moist and flavorful is that some of the ingredients — the green beans, potatoes, and lettuces — get dressing before you assemble them on the plate.
Some Benefits of Green Beans in a Salad
This recipe is easy to scale up or down, depending on how many folks you have at dinner, and it really is the perfect summer salad. It has all those components that fill you up but aren't fatty. Green beans, for instance, are a very healthy ingredient, tuna and eggs are filled with protein, and the greens are just good for you.
Let's talk about the health benefits of green beans. They contain no cholesterol, and one cup of green beans has 2.7 grams of fiber, and 4.0 grams of it is Soluble. Soluble fiber can help lower LDL, or so-called bad cholesterol, and total cholesterol levels overall. It may also support health by lowering blood pressure and reducing inflammation.
Green Beans are Also a Good Source of Vitamins and Minerals
For instance, green beans contain a lot of essential vitamins. One cup of raw green beans contains 33 micrograms (mcg) of folate, almost 10 percent of the daily recommended value. Some other vitamins and minerals in 1 cup of green beans are vitamin K, 43 mcg, niacin, 0.7 mg, vitamin B-6, 0.14 mg. Minerals: calcium, iron, magnesium, phosphorous, potassium, and zinc. All the minerals range from 38 mg to 0.24 mg.
This poor man's version of a Nicoise Salad recipe is tasty and filling, and the ingredients are readily available in most grocery stores. Nothing fancy here — it will taste expensive, but you won't spend a fortune. So let's get into the recipe.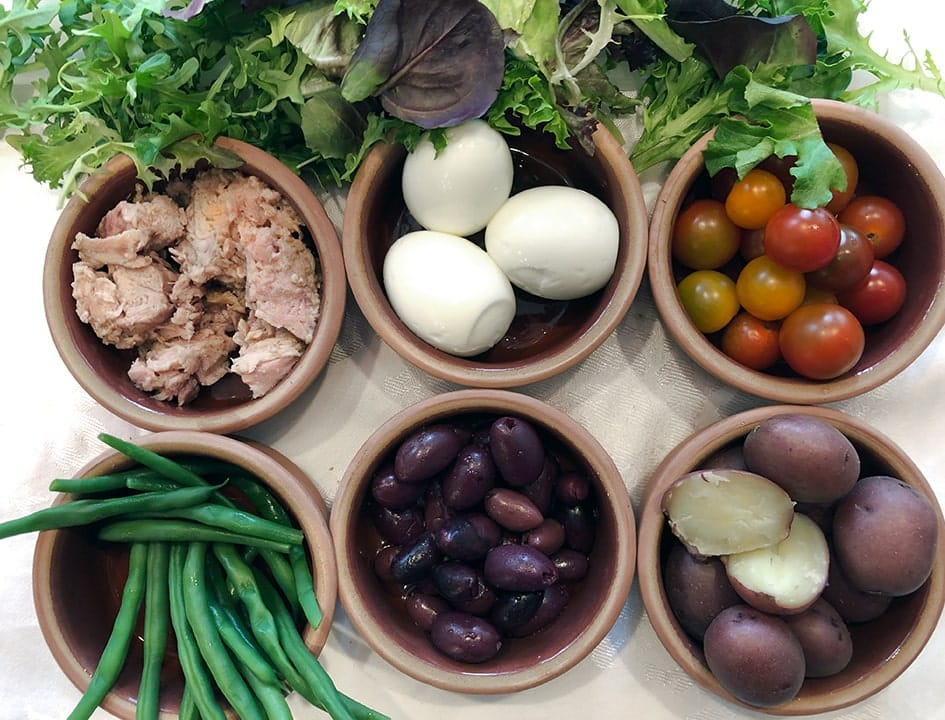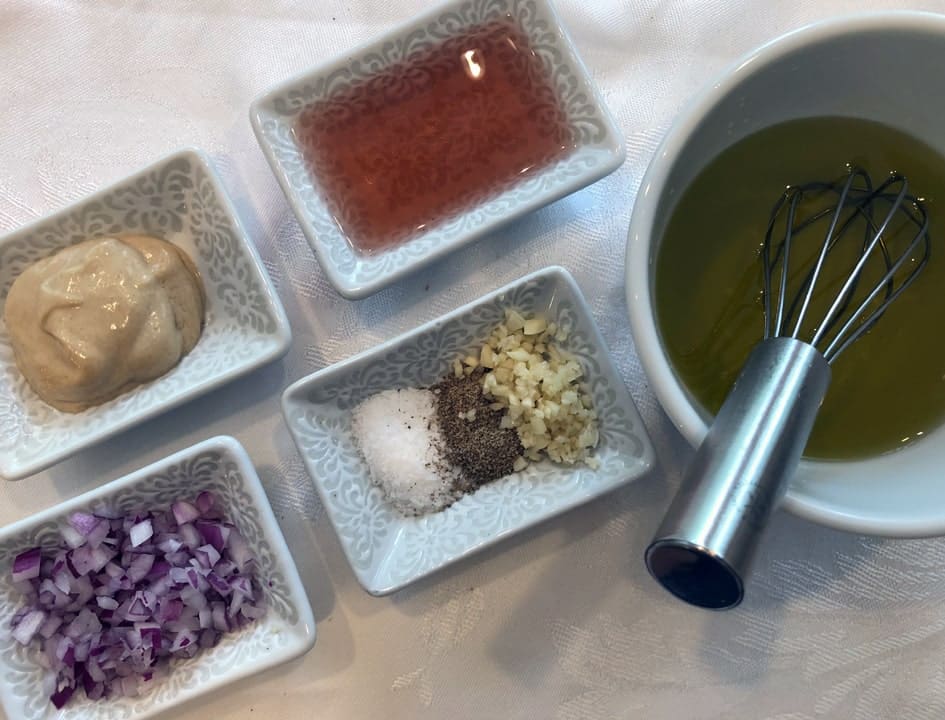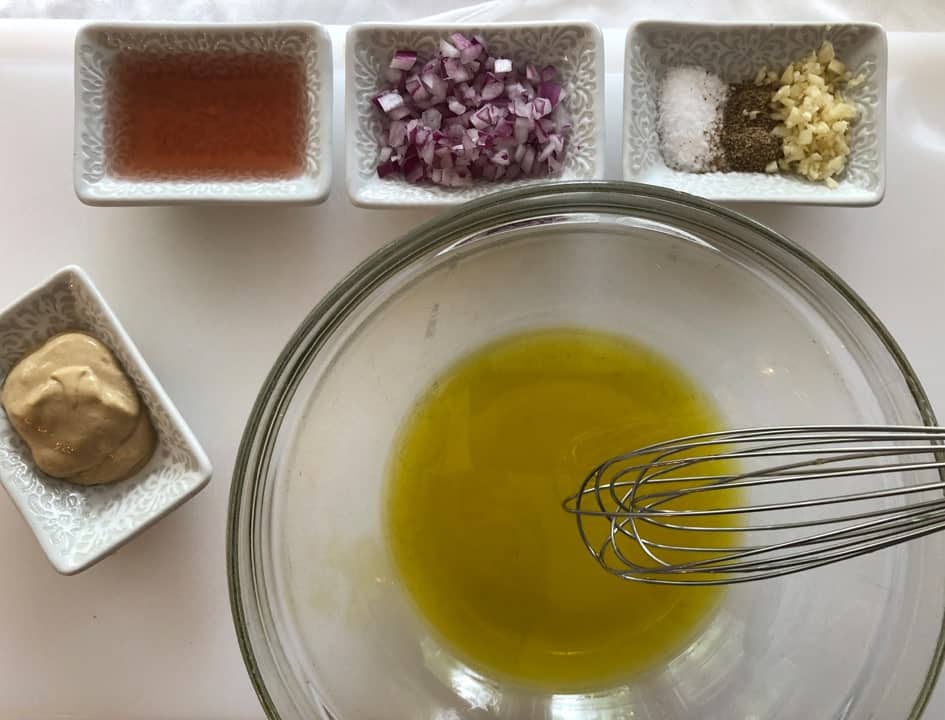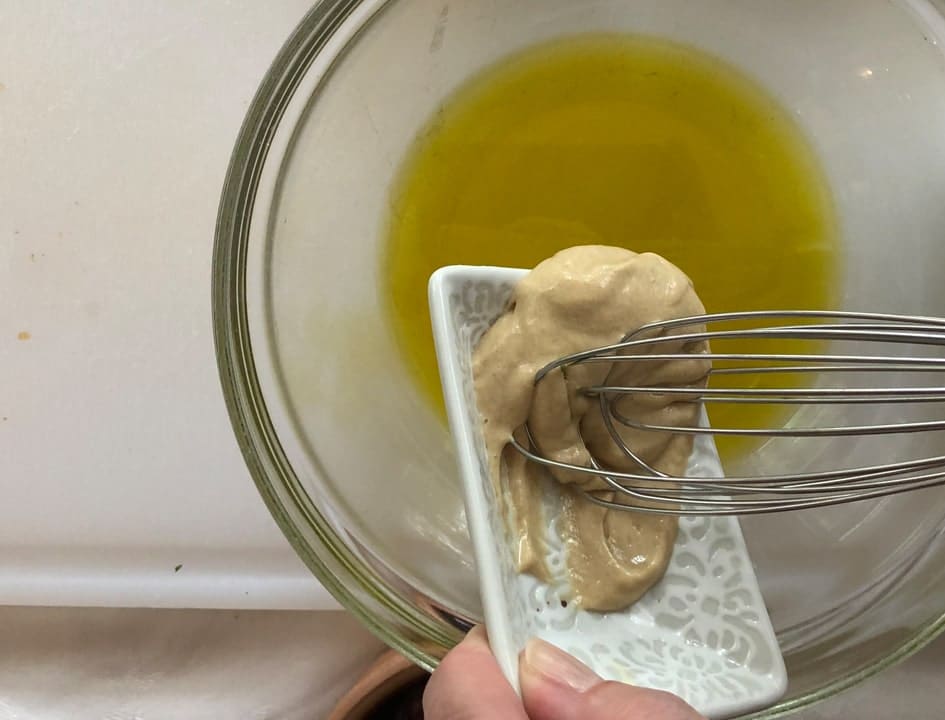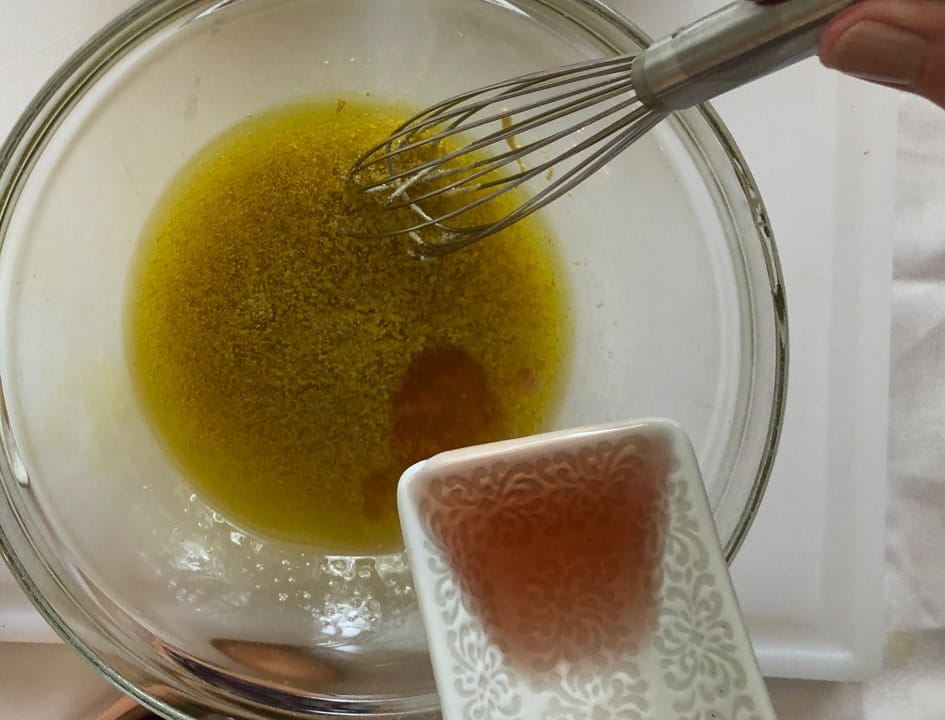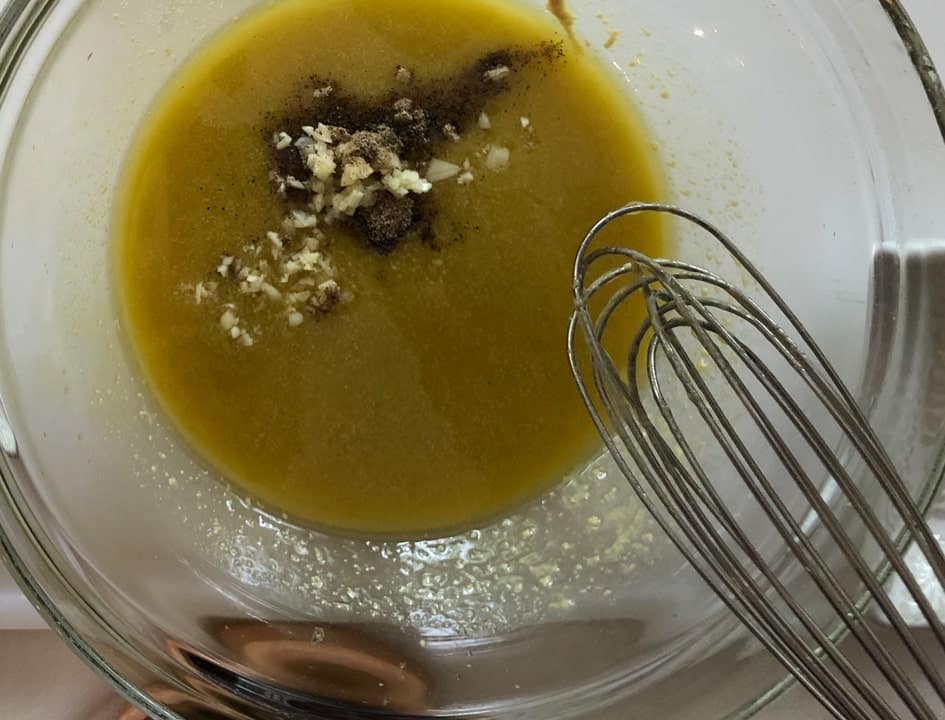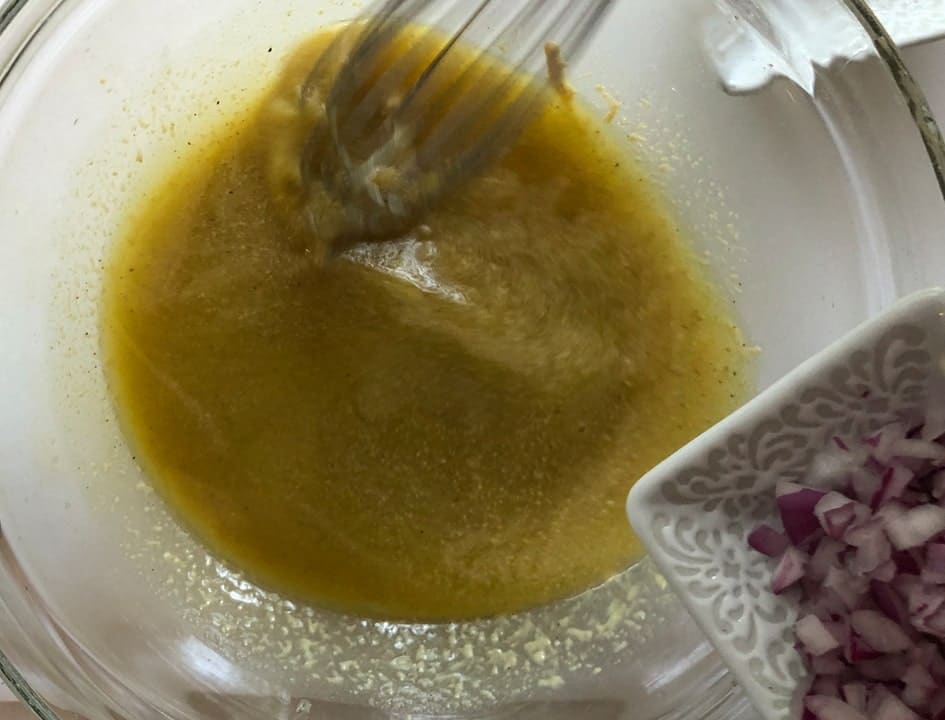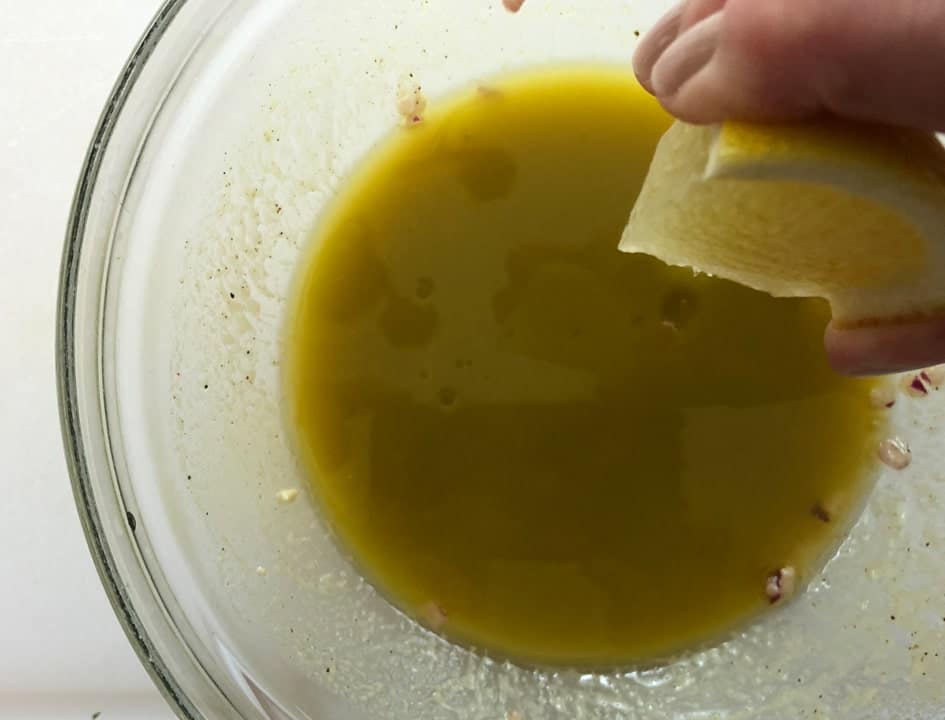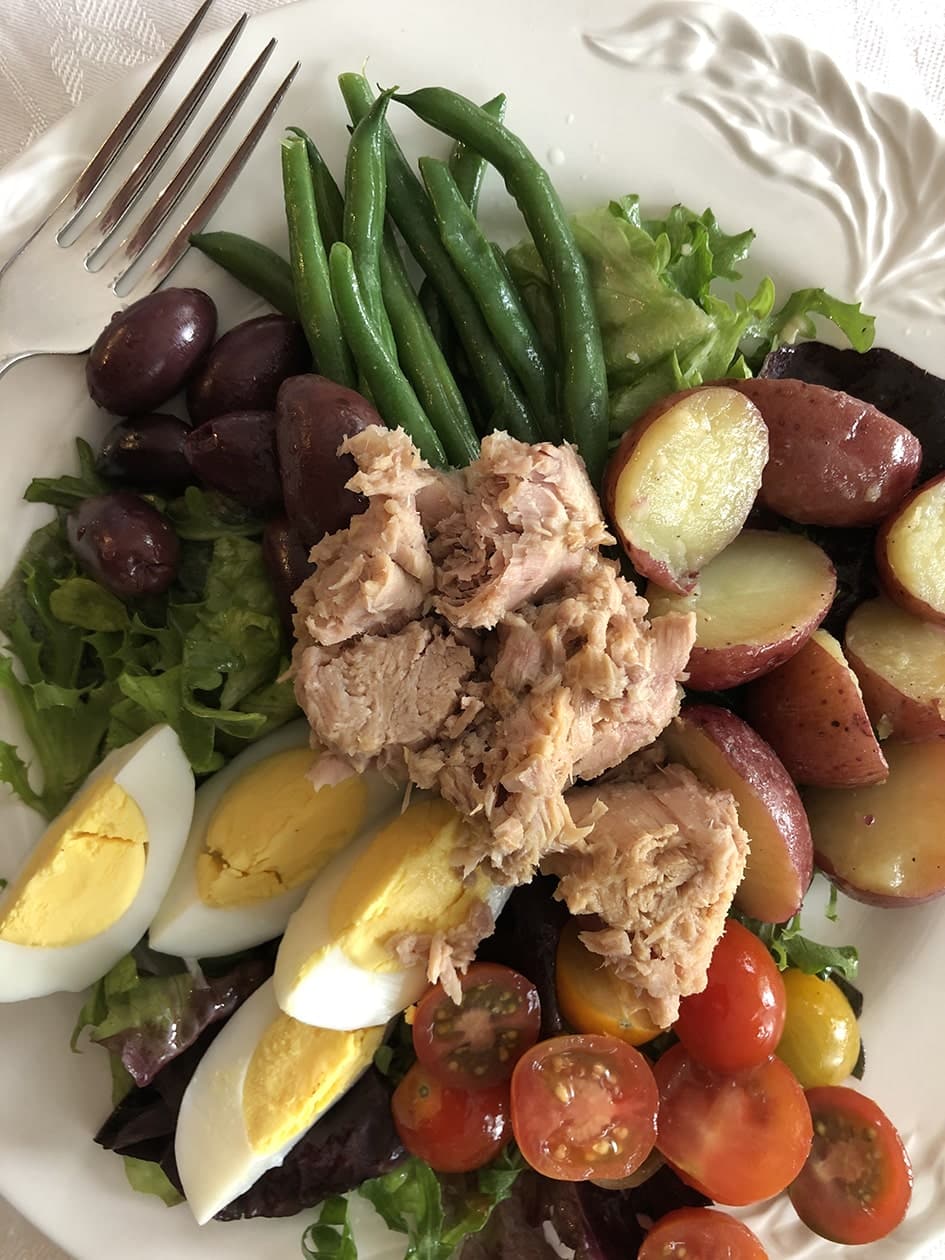 A Nicoise salad may seem upper-crust but these really are humble ingredients. As a matter of fact, while I was making it, my wife pointed out that it has my favorite deli salad ingredients — minus all the mayo, of course. If you're like me and love tuna salad and egg salad and especially potato salad, you're going to love this Nicoise salad.
Print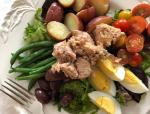 Poor Man's Nicoise Salad Recipe
---
Author:

Total Time:

1 Hour

Yield:

2

1

x

Diet:

Gluten Free
Description
This delicious Nicoise Salad recipe uses basic ingredients found at most grocery stores to create a gorgeous, colorful, and protein-packed main dish. 
---
1

can of good quality tuna packed in olive oil (we used Genova Yellow Fin Tuna)

2

C baby romaine lettuce leaves, green and red

2

C baby arugula leaves

3/4

pound

small red potatoes, unpeeled

1/4

C red onion, minced

1/4

C Kalamata olives, pitted (use Niçoise if available), optional*

1/4

C French green beans (haricot verts are typically found packaged in the herbs section of the produce dept.)

2

hard-boiled eggs, quartered

10

cherry tomatoes, halved
Dressing:
2

T red wine vinegar

3

cloves garlic, peeled and minced

2

T red onion, minced

3/4

C extra-virgin olive oil

1

t salt

2

t freshly ground black pepper

2

T Dijon mustard
Fresh lemon slice
---
Instructions
Start by making the dressing. Place the olive oil, red wine vinegar, salt, pepper, minced garlic, mustard and minced onion into a medium-sized bowl and whisk together until emulsified. Finish the dressing with a squeeze of lemon. Taste and adjust seasoning if desired. Before adding more salt, beware that the tuna and olives are very salty!
Place the whole potatoes in a medium pan and cover with cold water. Boil until fork-tender, drain, and set aside to cool.
Place the green beans in a small saucepan, cover with cold water and boil for 3-4 minutes. Immediately rinse with cold water to stop the cooking process. Set aside to rest.
Combine the salad greens and arugula and toss with 2 T. of dressing.
Dress the green beans with 1 t. of dressing.
Cut the potatoes in half and dress with 2 T. of dressing.
Assemble the salad: Divide the lettuce and arugula in half on two plates, creating a bed of greens for the other ingredients. In a circle around each plate, place the green beans, tomatoes, hard-boiled eggs, potatoes, and pitted Kalamata olives in separate piles. Divide the tuna in half and mound each half onto the center of each plate (see photograph). 
Serve and enjoy!
Notes
Note: This recipe is easily doubled.
You will have leftover salad dressing to serve on the side or for other dishes.
*If you prefer using water-packed tuna, you will want to drizzle a bit of salad dressing on top of the plate before serving or serve the dressing on the side.
*Kalamata olives are quite salty — substitute lower salt olives or omit if you are avoiding salt in your diet.
Prep Time:

35 minutes

Cook Time:

25 minutes

Category:

Salad

Method:

Stove top

Cuisine:

French
Keywords: nicoise salad recipe, nicoise salad dressing, nicoise salad ingredients, nicoise salad, tuna salad
© Photos / Health Food Radar
---
The information provided on Health Food Radar is intended for general informational purposes only. While we strive to offer accurate and up-to-date content, we do not provide medical advice, diagnosis, or treatment. Always consult with a qualified healthcare professional before making any dietary or lifestyle changes, especially if you have underlying health conditions or concerns.