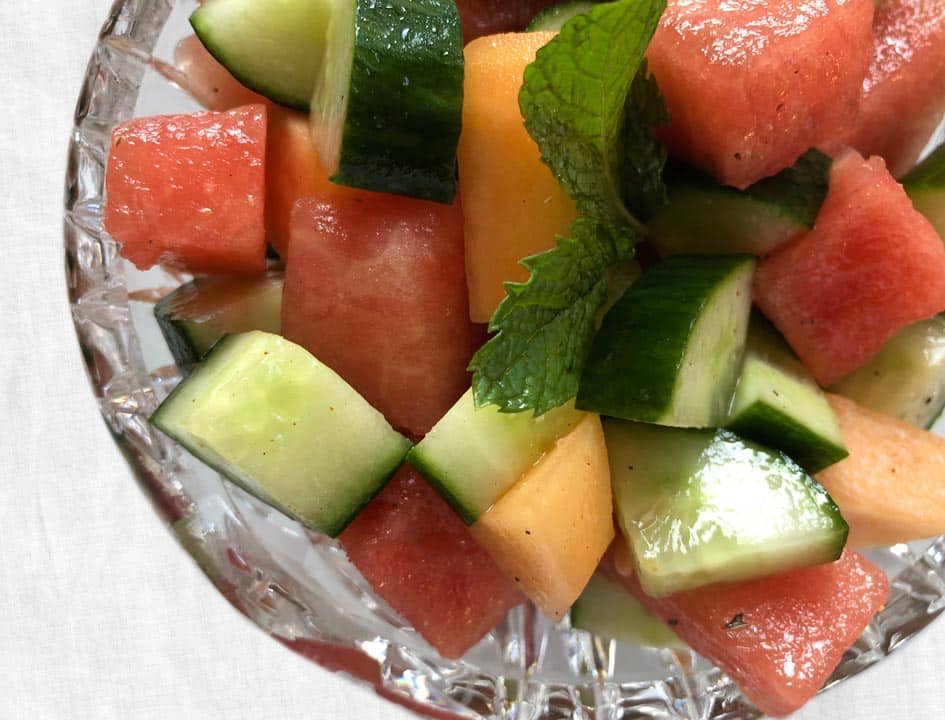 Cucumber melon salad is a great gluten and dairy-free way to combat the summer heat. Along with being healthy and low in calories, it is also vegan-friendly⁠—a plus for those of us with restricted diets.
The Nutritional Value of Cucumbers
Cucumbers are low in calories, but rich in important vitamins and minerals such as:
Vitamin C
Vitamin K
Magnesium
Potassium
Manganese
2g Protein
2g Fiber
Additionally, cucumbers are 96% water, which keeps you hydrated and aids in weight loss. Try eating cucumbers with their beta-carotene and vitamin k-rich peel intact. Eating the peel adds to cucumbers' nutritional value and promotes healthy bones, eyes, and skin.
How is Watermelon Good for You?
Watermelon is rich in the antioxidant lycopene, which studies have shown may help curb your risk of cancer and diabetes. Watermelon also contains the amino acid citrulline, which helps move blood through the body and lowers blood pressure. They also have a natural pigment called beta-cryptoxanthin, which has been found to protect the joints. A serving of melon provides 9 to 11% of the daily requirement of vitamin A — essential for keeping your eyes healthy and strong. And, since watermelon is 92%, it keeps you hydrated. Another bonus: The vitamins A, B6, and C in watermelon help skin to stay soft and smooth.
How is Cantaloupe Good for You?
Cantaloupe is an excellent source of vitamins and antioxidants. One cup of cantaloupe contains more than 100% of the daily intake of vitamin A as well as almost 100% of the daily intake of vitamin C, keeping skin healthy and protecting the immune system. It is filled with antioxidants such as beta carotene, lutein, zeaxanthin, and cryptoxanthin. Other nutrients in cantaloupe include potassium, folate, vitamin K, vitamin B3, calcium, magnesium, manganese, phosphorus, copper, selenium, and zinc. Also, cantaloupe is thought to help reduce the risk of cancer and relieve stress.
Add Your Own Twist
The versatility of this recipe for cucumber melon salad allows room for customization. For instance, consider tossing in some basil for freshness and avocado oil for a rich, nutty flavor profile. Not only will these ingredients add a fun twist, but they also come with some added health benefits. Basil is full of eugenol and that helps to lower blood pressure. The essential oils in the herb can help lower cholesterol and triglycerides. Avocado oil is high in oleic acid, which is an unsaturated fat. It also contains vitamin E which aids in reducing cholesterol.
Other variations of cucumber melon salad include adding sprigs of mint, olive oil, honey, avocados, and even tomatoes for added color.
How to Keep Your Cucumber Melon Salad Fresh
Lay a damp paper towel on the bottom of an air-tight container.

The paper towel should be damp, not wet or dry. This keeps the salad moist but not mushy.

Place the salad in the container on top of the paper towel.
Close the container and refrigerate.

Cucumber melon salad should be eaten within two to three days.
Print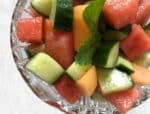 Refreshing Cucumber Melon Salad
---
Author:

Total Time:

15

Yield:

2

1

x
Description
Here's a healthy summertime salad featuring watermelon, cantaloupe, and cucumber.
---
Dressing
2 tablespoons

canola oil

1 tablespoon

lemon juice

1/2 teaspoon

sugar
Dash of pepper
Salad
1

small unpeeled cucumber, quartered lengthwise and cut in 1/2-inch slices

1

cup

cubed melon of your choice (watermelon, cantaloupe)
---
Instructions
In a small bowl, combine the oil, lemon juice, sugar, and pepper for the dressing.
In a serving bowl, combine the cucumber and melon.
Pour the dressing over all and toss gently to evenly coat the salad.
Prep Time:

15 minutes

Cook Time:

None

Category:

Lunch

Method:

Chop

Cuisine:

American
Keywords: summer salads, cucumber watermelon salad, summer side dishes, cucumber watermelon salad, nutritional value of cucumbers
Please note: Nutrition facts and calories per serving are approximate.
© Photos/Health Food Radar/iStockPhoto
This post is not intended to substitute for medical advice or prescribed medication. Especially if you have special health needs or a special diet, consult a physician before undertaking any new diet or exercise plan.
The author has not been compensated for any of the products mentioned in this post. In some cases, we may earn a small affiliate fee from certain links, including Amazon and the Health Food Radar shop. This helps compensate our staff for their time. Thanks for supporting us by clicking on the links!
Statements made on this website have not been evaluated by the U.S. Food and Drug Administration. Any information or products are not intended to diagnose, treat, cure, or prevent any disease. Information provided by this website or this company is not substitute for individual medical advice.