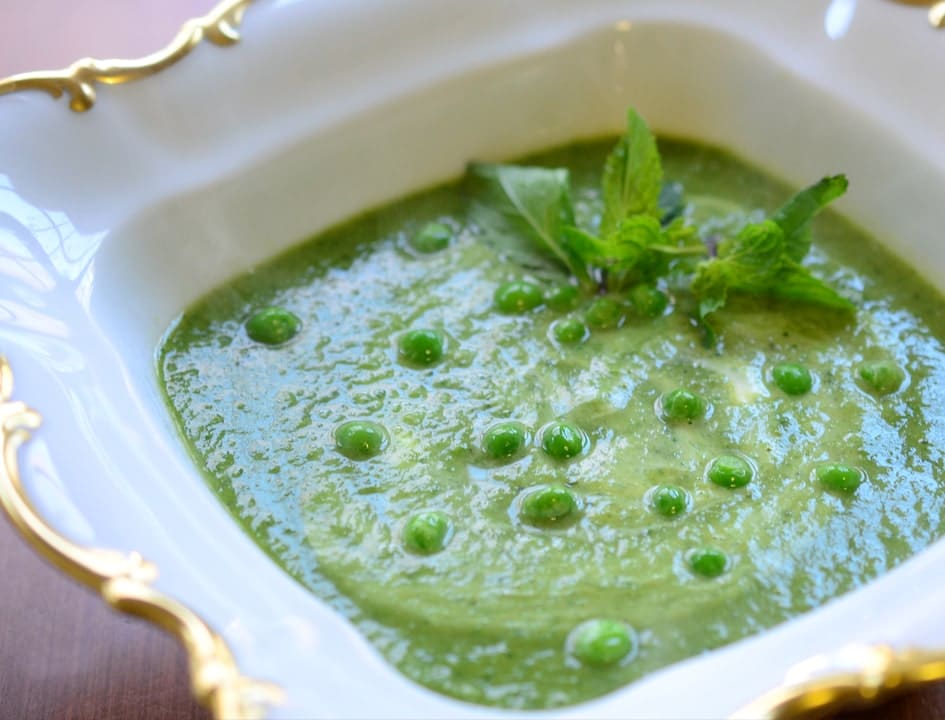 This vegan pea soup is the bright, velvety, luxurious star of a great spring dinner, though you can swirl in some creme fraiche if you like.
Let's get one thing out of the way before I attempt to convert you to pea soupism: split-pea soup is not the same as pea soup (even though split-pea soup is a soup made of peas, a soup made of peas is not ipso facto pea soup) because split-pea soup is gruel for discerning foodies.
Well, it's almost gruel. It's thick enough to stand a spoon in and when it comes to sticking to one's ribs, split-pea soup is a wildly effective verdant spackle. BUT IT'S NOT PEA SOUP.
Pea soup is pea soup and here's why.
Pea Soup Is Just Fresh Peas
The other one is hulled peas. They are dried then rolled in a tumbler to remove their outer shell, which causes the meat to split. Hence the name. Dried peas won't work because they thicken up too much and turn dull olive — a drab color for soup. This recipe calls for fresh peas, preferably right from your garden, or a farmer's market, or a jolly green giant.
Or Peas from the Freezer Section
Because you're probably not going to find fresh peas. Even the more expensive grocers don't carry them. You can thank Captain Birdseye for that (yes, he was a real person). The truth is, flash-frozen peas are better than fresh peas you'd find in a produce section. They're cheaper and they hold their color better.
Pea Soup Is French Cooking at Its Easiest
The recipe below is one I developed from the classic French dish, Potage St. Germain. It sounds fancy, but it's not. It's just vegan pea soup from France. You may be surprised to see lettuce in the ingredients. That's because the foundation of French culinary artisanship is a guy in a kitchen sipping something out of a hot spoon and thinking, oui, oui — but 'ow can I make zees weird? Don't omit the lettuce. It's a critical component that creates a velvety texture, gives the soup body, and heightens the flavor.
Quick Green Vegetarian Stock Is Your New Best Friend
I use a quick stock made from boiling a handful of green vegetable trimmings I keep in my freezer, along with the trimmings from the ingredients on this list, including the giant leek leaves. I keep vegetable trimmings just for this stock, so I always have a big Ziploc bag of green leaves and stems. The stock only adds a small addition to the flavor, but I feel there's something about using this stock (and please, just give this idea a chance) that elevates the green-ness of the vegan pea soup.
Don't Ruin Your Pea Soup With Dirty Leeks
Wash your leeks. Split them lengthwise, slice them thinly, and swirl them in a big bowl of cold water, then run them under some running water again. They are dirt magnets. The two leeks I used for this vegan pea soup left a solid teaspoon of sludge in the bowl when I rinsed them and I still found a speck of mud when I chopped them up.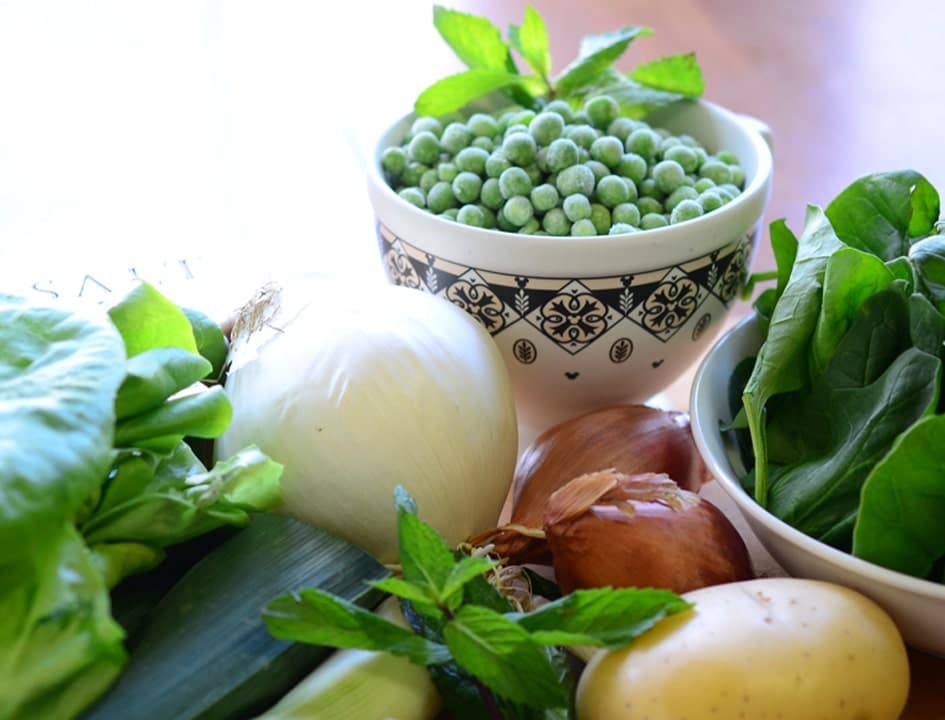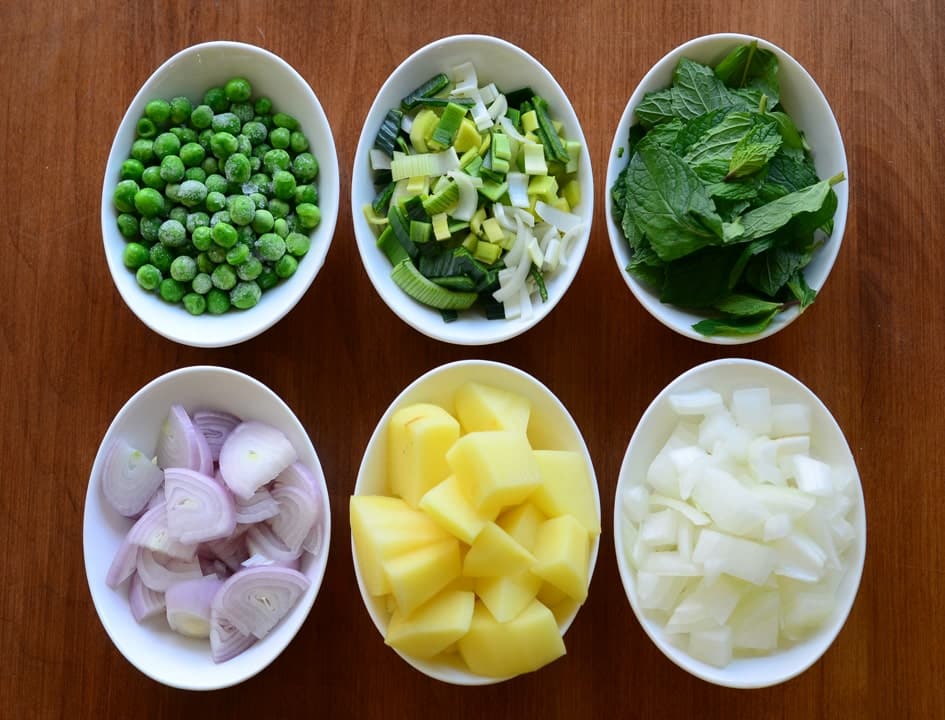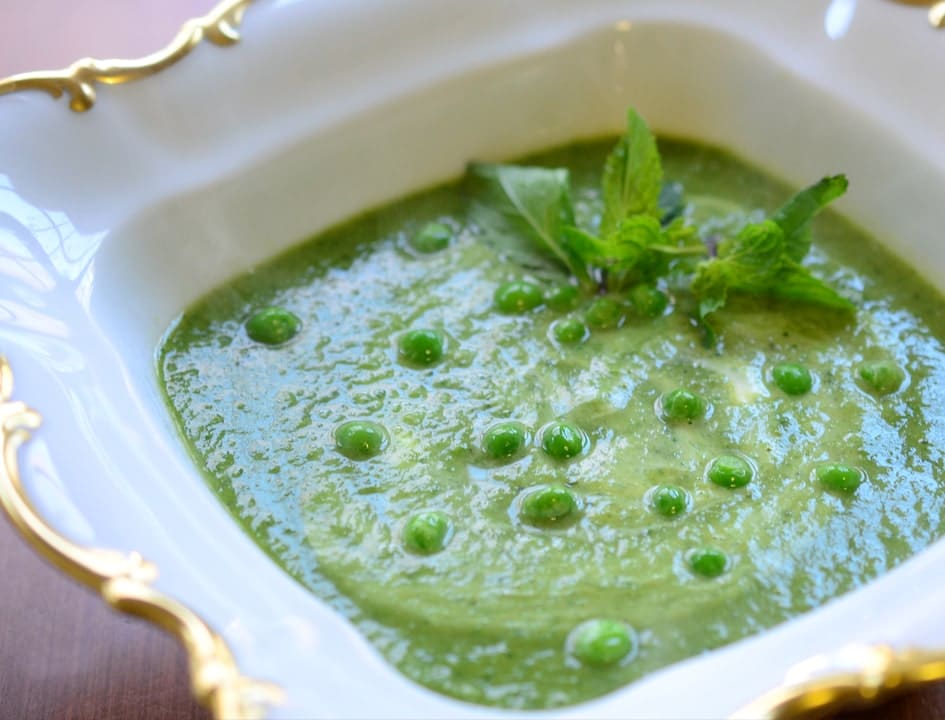 Print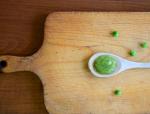 Vegan Pea Soup
---
Description
This simple, elegant soup is based on the traditional French classic, Potage St. Germain, and combines lettuce, mint, and leeks with frozen peas for a bright, light, delicious soup for spring.
---
Soup
4

c.

Frozen peas

2

Leeks, white parts and the best parts of the green leaves — approximately 3 inches from the bottom.(Save tops of leaves for stock below)

2

T. Olive oil

1

t.

salt

4

c.

baby green lettuce rinsed and dried

1/2

c.

Fre

sh mint leaves

1

c. F

resh spinach leaves

6

c.

V

egetable stock or a quick green stock

1

Medium yellow onion, peeled and diced
Stock
Leftover green and dark green parts of leeks used for the soup.
Trimmings from other ingredients along with any bright green vegetable trimmings you may have saved in your freezer. Approximately 1-2 cups.
---
Instructions
Soup
Add olive oil to a large pot and heat.
Add onions and leeks and saute over medium heat for about 3 minutes until soft but not brown.
Add the stock (strained if using homemade) and a pinch of salt, simmer until tender for about 5 minutes.
Add the peas and lettuce, cook for 10 to 15 minutes.
Add the spinach. Simmer for another 5 minutes.
Remove the pot from the heat and mix until smooth using either an immersion blender or standard blender. (Blend in batches if using a blender.) Reheat briefly if necessary.
Test for seasoning.
Serve immediately with French bread.
Green Stock
Combine all stock ingredients in a 2-quart saucepan, cover with water (at least 6 cups); bring to a boil then simmer until ready to use.
Strain through a colander, preferably lined with a cheesecloth, before using.
Notes
For that Michelin-star level of velvety smoothness, push the blended soup through a fine-mesh strainer before reheating.
To garnish each bowl, add a sprig of fresh mint and a small dollop of creme fraiche if you desire.
Photos: © Adam Carroll for Health Food Radar
This post is not intended to substitute for medical advice or prescribed medication. Especially if you have special health needs or a special diet, consult a physician before undertaking any new diet or exercise plan.
The author has not been compensated for any of the products mentioned in this post. In some cases, we may earn a small affiliate fee from certain links, including Amazon and the Health Food Radar shop. This helps compensate our staff for their time. Thanks for supporting us by clicking on the links!
Statements made on this website have not been evaluated by the U.S. Food and Drug Administration. Any information or products are not intended to diagnose, treat, cure, or prevent any disease. Information provided by this website or this company is not substitute for individual medical advice.