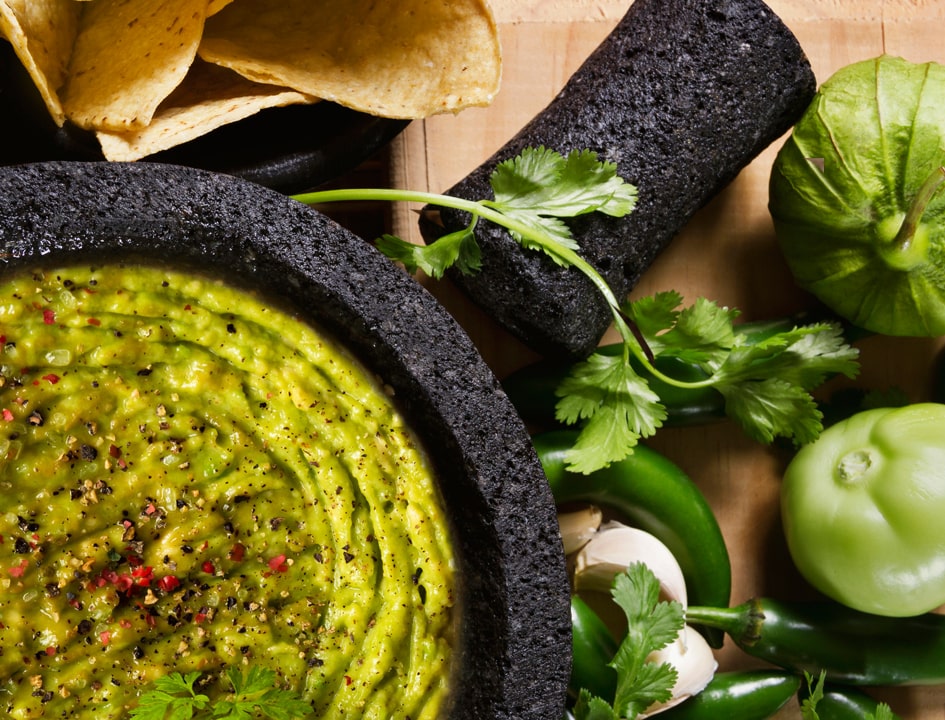 Salsa guacamole is not the same as regular avocado guacamole. Regular guacamole, at its simplest, is avocados and seasoning mashed into a chunky dip. Salsa guacamole is more complex, creamy, and may change your "Taco Tuesday" game forever.
Salsa Guacamole Starts With an Avocado
It actually starts in the produce aisle when you choose your avocado. Or avocados, since you'll need three. You want to pick a Hass avocado. Hass are the ones that are small and dark with knobby skin. They are the most common avocado, so you're probably already holding one in your hand right now, but make sure. The avocados from Florida are gigantic and have a slightly different flavor profile with a hint of banana.
How to Tell If an Avocado is Ripe
This is an important trick that has served me well over the years as the KING OF GUACAMOLE. Nothing ruins your salsa guacamole plans quicker than hard, unripe fruit or mushy, overly ripe flesh. Here's what you do: Pick up a dark avocado and gently press it near the stem. If it feels like there's empty space beneath the skin, it's overripe, and the flesh will have dark grey spots where it's oxidized. Throw it across the store in disgust. If it's hard and doesn't give at all, it's still 'green,' so put it back. You want the skin to give a little, then spring back into place. If it does that, it's perfect. When you slice it open, you'll be amazed at the perfect fade from the bright green flesh near the skin to the creamy ivory near the pit. That's what you're looking for.
What is Salsa Guacamole?
Think of guacamole you can pour. Salsa guacamole is creamy in texture and flavor—and ingredients, since it uses Mexican crema (though you can substitute sour cream). This is an entirely different flavor profile from guacamole, though it's still strongly avocado forward. Salsa guacamole is lighter, giving your food more lift.
If you grew up eating Mexican or Guatemalan cuisine, you know all about salsa guacamole since your food was always blessed with avocado. If you've picked up tacos, say, at Taco Tio in Chicago, the bright green sauce the taquiero slathers on your order is salsa guacamole. You can keep it on hand in the fridge to bring a bright and verdant kick to chicken, pork, and vegan or vegetarian dishes (like jackfruit tacos).
Three main ingredients of Salsa Guacamole: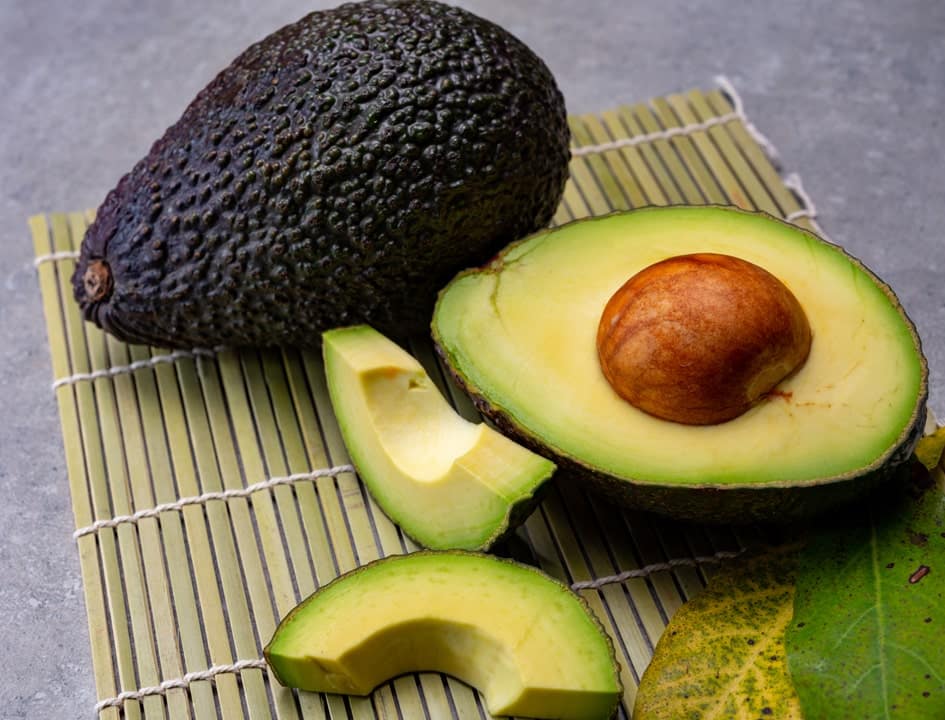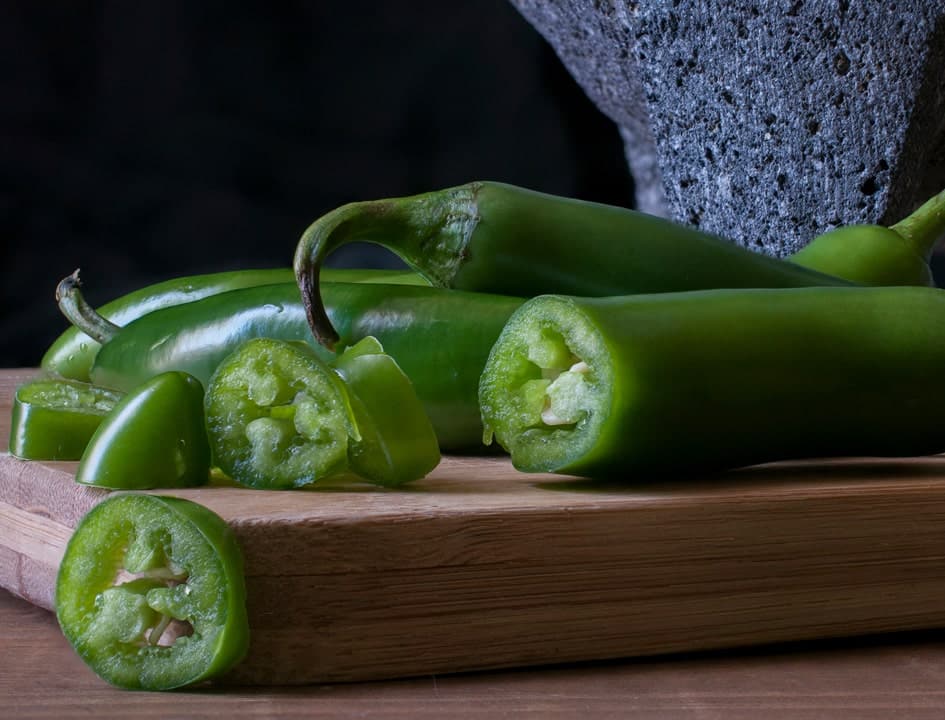 How to Make Mexican Crema
This isn't a complete recipe, but essentially you're going to make creme fraiche and then add lime and salt after it's cultured a little. The quick version: Fill a mason jar with one cup of heavy cream brought to room temperature. Add a spoonful of cultured buttermilk. Cover it with a coffee filter kept tight with a rubber band. Put it in a cool place on your counter for 24 hours, then add a squirt of fresh lime juice and a teaspoon of salt. Put it into the fridge to cool (and thicken up). Use it in the following recipe or keep it around—it's delicious.
Print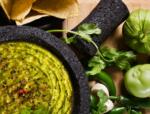 Easy Salsa Guacamole that Rocks
---
Author:

Total Time:

15

Yield:

1/4 cup

1

x
Description
Salsa guacamole is a bright green savory and creamy cousin to the well-known avocado salsa. Put it into a squirt bottle and keep it in the fridge.
---
3

Ripe Hass avocados, pitted and scooped into a bowl

3

Tomatillos (you can parboil them if you wish, but you don't have to), peeled and washed

1

Serrano chile or

1/4

of a poblano chile, seeded and roughly chopped

1

Clove garlic, minced

4

T. of Mexican crema (see recipe above), or sour cream, vegan sour cream, or plain creme fraiche

6

T. Water (Reduce to

5

T. if you use Mezcal; a teensy bit more if you're going to add this to a squirt bottle)

1

T. Salt

1

T. Mezcal (optional)
Pinch of cayenne (optional, but if you don't do it, we can't be friends)
---
Instructions
Add all the ingredients to a blender and blend on high until the mixture is pureed and smooth. Add more water to make it smoother, if you wish.
Taste for seasoning.
Refrigerate for at least 30 minutes before serving.
Notes
You can tweak this Salsa Guacamole recipe any way you want to suit your preferences. Add more peppers to make it spicier. Add a dash of cumin to make it more savory. Add more salt, crema, or cilantro — whatever you want.
Prep Time:

10

Cook Time:

5

Cuisine:

Mexican
Keywords: salsa guacamole, avocado
---
The information provided on Health Food Radar is intended for general informational purposes only. While we strive to offer accurate and up-to-date content, we do not provide medical advice, diagnosis, or treatment. Always consult with a qualified healthcare professional before making any dietary or lifestyle changes, especially if you have underlying health conditions or concerns.