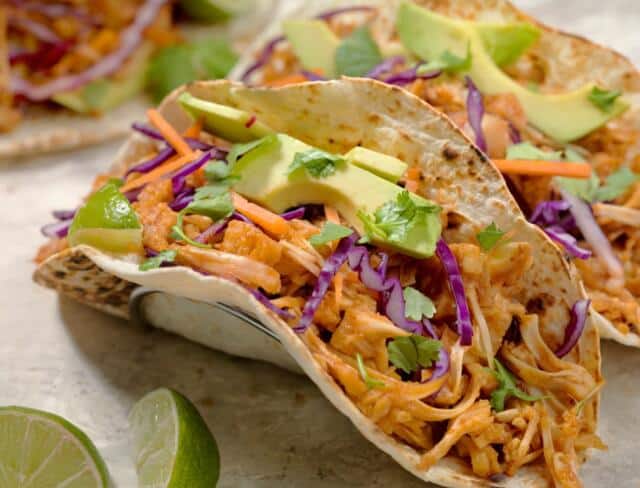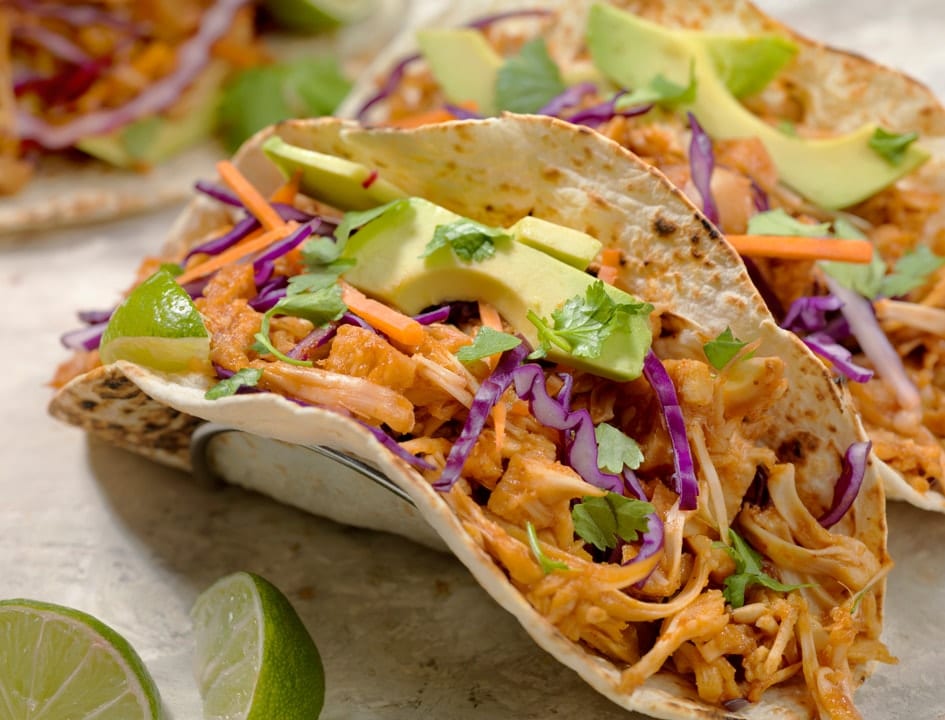 Jackfruit Tacos Al Pastor–Sans Pastor–is Delicious
This Jackfruit taco recipe is easy and absolutely the best kind of vegan taco you can make from this enormous tropical fruit.
Green jackfruit may be the best recipe for a meat substitute a vegan's ever known. It's the core ingredient in everything from jackfruit pulled pork recipes to jackfruit enchiladas. And for a good reason. The green fruit of the Malaysian jack tree, most often canned, looks, feels, and, well, kind of tastes like really good pork.
Jackfruit Tastes Like Candy–Until You Cook It
Specifically, Juicy Fruit gum. Although there is little evidence to prove Wrigley used jackfruit to create the flavor of their brand, the similarities are undeniable. And look, nobody Googles Juicy Fruit tacos. It's not the flavor you want wrapped in a tortilla. But when you cook jackfruit, it readily adapts to whatever flavor profile you're building. Especially if that flavor profile is the classic al pastor taco filling.
Wait, Why is Jackfruit so Good for Al Pastor Tacos?
Because al pastor gets part of its flavor from grilled pineapple. Al pastor is spit-grilled meat that grew out of the lamb shawarma of Lebanese immigrants to Mexico. Pork is marinated in a slew of spices then roasted. Al Pastor is popular street food in Mexico where vendors roast it on a vertical rotating spit heated by an electric grill. They usually put a chunk of pineapple or onion at the top and bottom of the massive club of pork, probably to easily slide it onto the spit. That flavor has become a feature and now the most common serving of tacos al pastor includes a slice of grilled pineapple.
Ok, These Things Are HUGE
I hear you. Jackfruits are the biggest fruit on earth–the largest jackfruit ever recorded was grown in Pune, Maharashtra, India, weighed just under 95 pounds.  The average size in your produce section is between ten and twenty pounds. Which might be small for a jackfruit but pretty hard to fit into your fridge.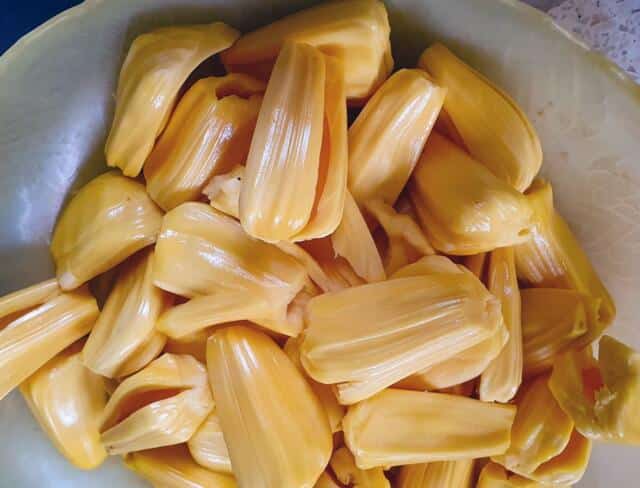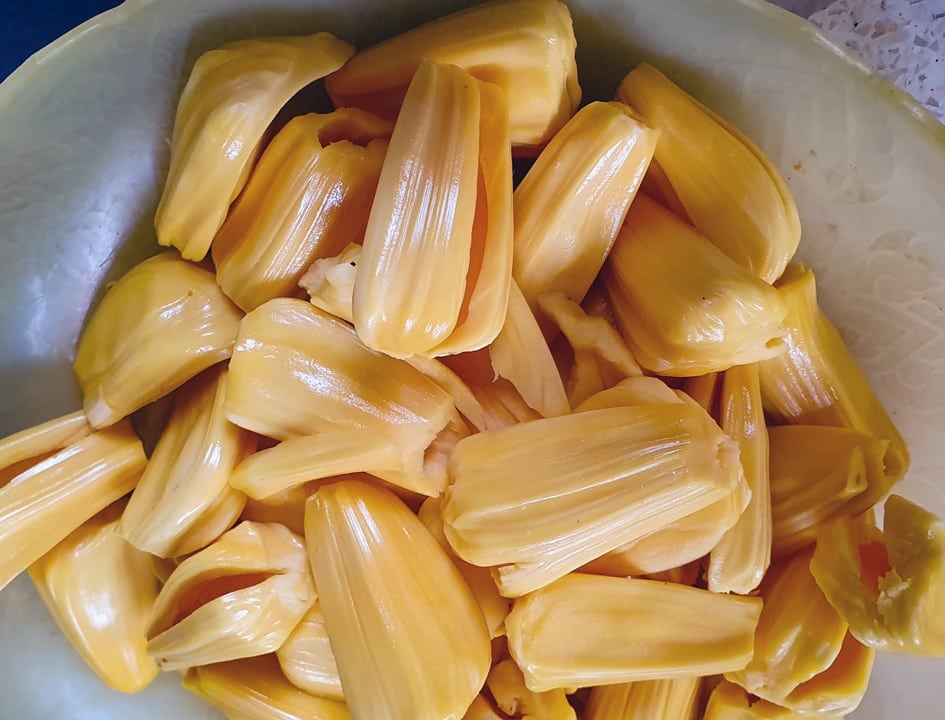 Where to Buy Jackfruit Without Getting a Hernia
Jack fruit is tropical so the best place to get them is Amazon. Canned jack fruit is already prepped for popping it directly into your jack fruit tacos al pastor recipe. You can get green jackfruit for about four dollars a can which is a pretty good price. A whole fruit goes for about four dollars a pound but seriously, you're going to need a crane to get it into your cart. Buy the cans.
How to Cook Canned Jack Fruit
You can cook canned jack fruit nearly any way you want. Most recipes stew the fruit the same way they would meat, using the same spices. For taco al pastor, you're probably not going to spear this stuff onto a spit grill over a fire. You're going to toss it into a pan with the right spices and chiles and cook it down. You can cut the fruit up before you do this, but you don't have to. After it cooks, you'll be able to pull it apart just like pulled pork.
Print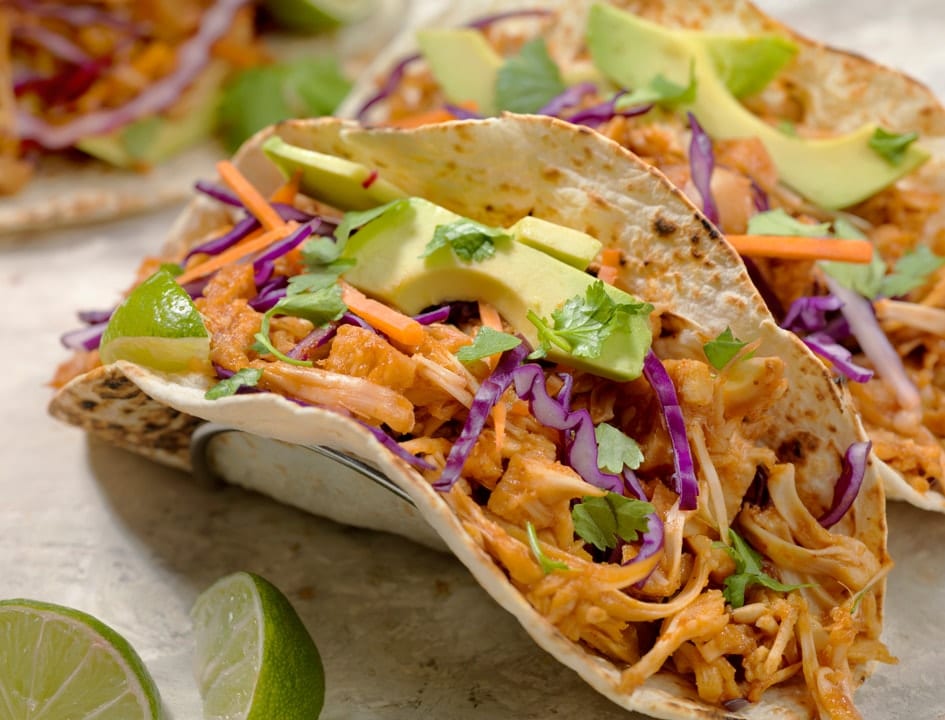 Vegan Jackfruit Tacos Recipe
---
Author:

Prep Time:

30 minutes

Cook Time:

2 hours

Total Time:

2.5 hours
Description
Before we get into this madness, this is the easy peasy recipe, not the hardcore perfectly authentic from scratch foodie recipe. If you're a busy vegan mom knocking out a good dinner then this is your slow cooker jam.
---
1

20 oz can of jackfruit in brine, drained

1

7 oz can of chipotle pepers in adobo sauce

1/2 cup

of vegetable stock or water

1/2 cup

diced pineapple

1

large onion, halved, then sliced thinly

2

cloves of garlic

1

packet of taco seasoning
teaspoon of olive oil
salt and pepper to taste
---
Instructions
Preheat your slow cooker on high
Blend chipotles and adobo sauce
Sauté the onions and the pineapple until they're slightly browned
Add everything to the slowcooker, cook on high for two hours
Open the lid, pull apart jackfruit, stir, cook for another two hours.
Serve on warm tortillas of your choice with salsa or escabeche
Notes
Most chipotle sauces and adobo sauces are vegan friendly, but it's a big world out there so check the label.
Add sliced jalapenos for more kick
Broil or grill the onions, jalapenos, and pineapples
Keywords: tacos, al pastor, mexican, vegan, jackfruit tacos recipe, jackfruit taco meat recipe, jackfruit tacos, how to make jackfruit tacos