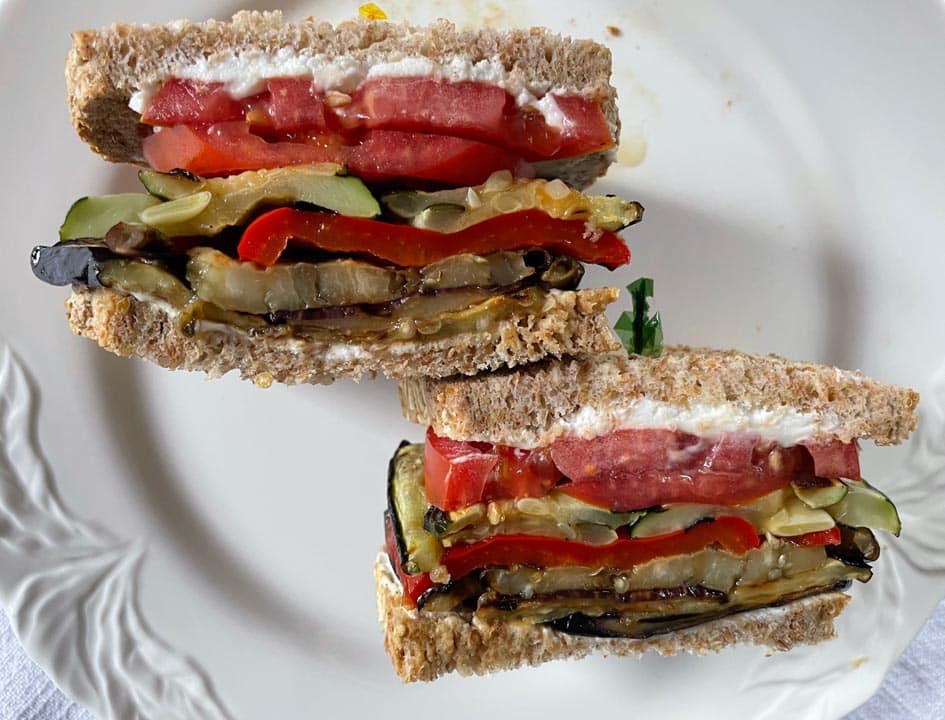 There's nothing better than a grilled veggie sandwich. It's a healthy alternative to heavy weeknight meals, especially during the summer. This grilled veggie sandwich, uses classic Mediterranean ingredients. It is easy, delicious and satisfying, and packed with heart-healthy veggies!
What Makes a Great Grilled Veggie Sandwich
This sandwich is best made at the end of summer when the zucchini, eggplant, and tomatoes are fresh and plentiful at your local farmer's market. There's nothing exotic here, but keep in mind that — as with most simple recipes — the magic is in the quality of the ingredients.
Ingredients for the Grilled Veggie Sandwich
Here are the ingredients and stacking order for the sandwich:
Bread
Spreadable goat cheese
Beefsteak tomato or tomato relish
Grilled Zucchini
Grilled Sweet Red Pepper
Grilled Eggplant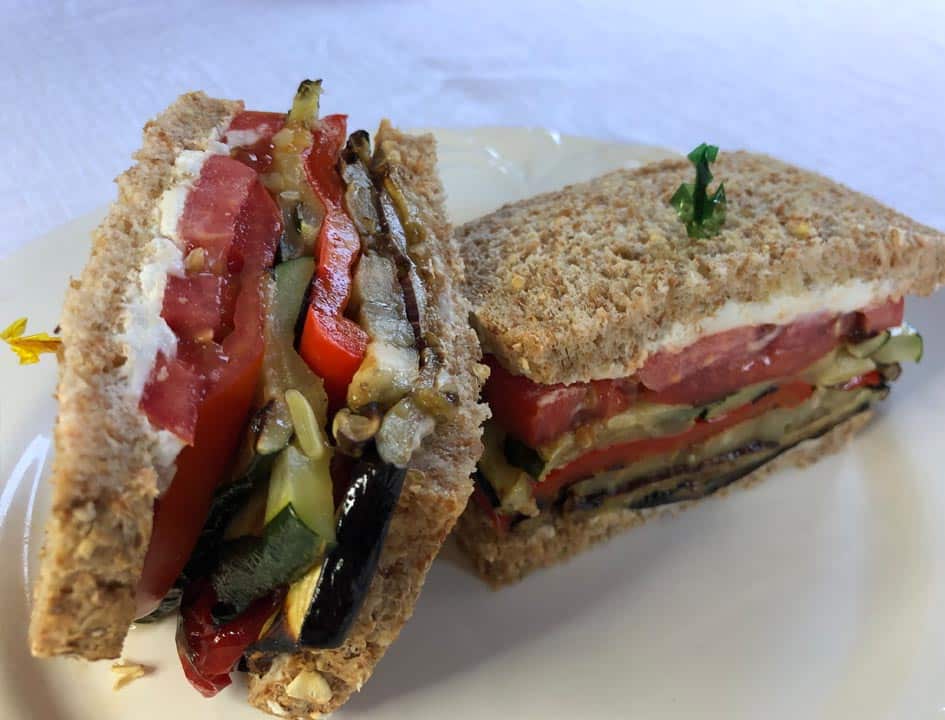 Sprouted Bread is the Best
You can stick with packaged whole wheat bread for this sandwich, but I like to use multigrain sprouted bread. There are lots of variations of sprouted bread these days but multigrain's nutty texture pairs nicely with goat cheese and grilled veggies.
Sourdough bread or ciabatta works nicely with this sandwich as well. Whatever choice you make, give the bread a quick toast so it holds up.
Fresh Goat Cheese Spread
Creamy, tangy fresh goat cheese (also called chevre) contrasts nicely with grilled eggplant and the melange of flavors in this sandwich. (For a relatively simple appetizer, spread a thin layer of goat cheese on one side of grilled eggplant slices and roll into spirals, fastened with a toothpick. Yum.) Soft goat cheese also serves to bind the sandwich together. For this sandwich, I use plain chevre but for an extra kick, you can use a flavored cheese spread as well. Just stick to the Mediterranean flavor profile.
Fresh Summer Tomatoes
Tomato sandwiches — especially the classic southern version described by Bull Garlington — are having a moment these days. While the tomato isn't the star in our grilled veggie sandwich, the tomato's brightness and texture play an important supporting role.
Fresh tomato — beefsteak or whatever heirloom variety tempts you — contrasts with the soft and smokey grilled vegetables, giving the sandwich a fresh pop of acid and sweetness. Slice a large fresh tomato into quarter-inch slices and salt and pepper them to bring out the natural flavors.
Note: During the wintertime, we combine chopped sweet cherry tomatoes, a splash of olive oil, salt, and pepper for a quick tomato relish instead of taking a chance on supermarket hothouse tomatoes.
How to Grill the Vegetables
Zucchini. To prepare the zucchini, slice off the ends and then slice lengthwise, about a quarter of an inch thick. Cut the slices in half so they fit onto the bread. Brush with olive oil, salt, and pepper, and grill on medium heat for about three minutes on each side.
Eggplant. To prepare the eggplant, simply slice off the stem and begin slicing lengthwise — no need to peel them —about one-third to one-half inch thick. During the summer, I like to experiment with the different eggplant varieties I find at the farmer's market, along with fresh baby eggplant, which does not require pre-salting to remove bitterness. Brush the eggplant slices with olive oil, salt, and pepper — but beware that eggplant soaks up a lot of oil. Work quickly to make sure all edges of the eggplant have a light swoosh of olive oil. Grill on medium heat until tender and slightly charred, for about three minutes on each side.
Red pepper. Grilling peppers is easier than roasting them (where you blister the skin, steam it and then peel it off before using the pepper). Simply slice large pieces of red pepper and toss them with olive oil, salt, and pepper before placing them on the grill. Let the edges char a bit, but not too much — two to three minutes per side.
Assembling the Grilled Veggie Sandwich
For the ultimate blend of flavors, spread a layer of soft goat cheese on one side of both pieces of bread. Spread from edge to edge. Next, stack the veggies in order: eggplant, red pepper, zucchini, and tomato. When finished, pierce each side of the sandwich with a toothpick. This will keep the sandwich together when you cut it in half.
Storing Leftovers
This sandwich is not great for storing. But, you can store leftover grilled veggies in the refrigerator for up to two days. Use the veggies for a quick sandwich or for a delicious omelet filling!
Print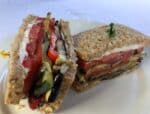 Grilled Veggie Sandwich
---
Author:

Total Time:

40 minute
Description
Making this flavorful grilled vegetable sandwich is a wonderful way to celebrate the bounty of late summer vegetables without heating up the kitchen. This recipe makes two sandwiches.
---
4

slices of bread of your choice, such as sprouted multigrain, whole wheat, or sourdough

1/4

c

. Soft goat cheese spread

1/2

Beefsteak or heirloom tomato, sliced

1

Medium Zucchini cut in half and sliced lengthwise

1

Sweet Red Pepper, sliced into

4

pieces

1

Large eggplant or

two

small eggplants sliced lengthwise

4

T. Olive oil

1/2

t. Salt

1/2

t. Pepper
---
Instructions
In a small bowl, combine the olive oil, salt and pepper. Set aside.
Lightly brush the olive oil mixture on both sides of the vegetables.
Grill the vegetables, turning once, for approximately three minutes per side until soft and lightly charred.  Remove from the grill.
Spread soft goat cheese on one side of all four slices of bread, tops and bottoms.
Top the two bottom slices of bread with ingredients in this order: Grilled eggplant, grilled sweet red pepper, grilled zucchini, and beefsteak tomato.
Top each sandwich with the remaining slices of bread. Secure each half of the sandwiches with toothpicks, cut in half, and serve with a big napkin.
Enjoy!
Prep Time:

40 Munites

Cook Time:

6 Minutes

Category:

Dinner / Lunch

Method:

Grill

Cuisine:

American
© Photos/Health Food Radar
This post is not intended to substitute for medical advice or prescribed medication. Especially if you have special health needs or a special diet, consult a physician before undertaking any new diet or exercise plan.
The author has not been compensated for any of the products mentioned in this post. In some cases, we may earn a small affiliate fee from certain links, including Amazon and the Health Food Radar shop. This helps compensate our staff for their time. Thanks for supporting us by clicking on the links!
Statements made on this website have not been evaluated by the U.S. Food and Drug Administration. Any information or products are not intended to diagnose, treat, cure, or prevent any disease. Information provided by this website or this company is not substitute for individual medical advice.