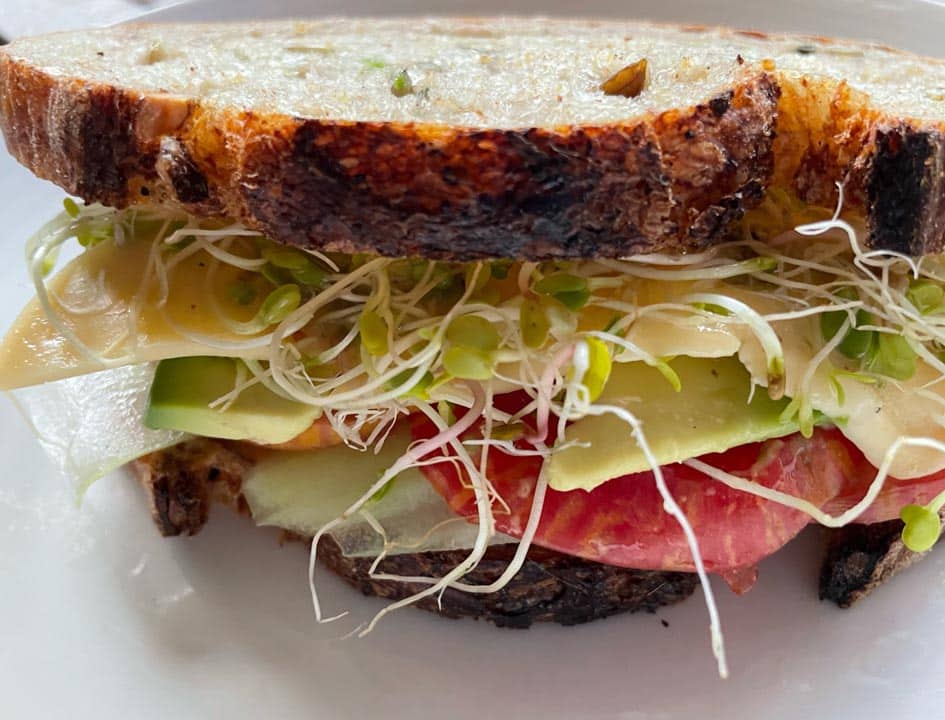 Veggie sandwiches are a delicious and healthy alternative to heavy weeknight meals, especially during the summer. Besides, making them is a good excuse to visit your favorite bread bakery. This California Veggie Sandwich, inspired by the original Corner Bakery menu, is easy, delicious and satisfying, packed with avocado, cucumber, tomato, sprouts and a slice of your favorite cheese.
Why Do Good Things Never Seem to Last?
You've probably eaten at a Corner Bakery restaurant. The fast-casual chain restaurant has 192 locations across the U.S. and is similar to Panera. But the current shopping mall version of the original Corner Bakery is a sad replica of the original Corner Bakery, a breakfast and lunch cafe that opened in Chicago's River North neighborhood in 1991. Original owner Lettuce Entertain You Enterprises wanted to create a menu to showcase the bread made in-house for LEI's other restaurants. So, not just tuna salad, but tuna salad on Kalamata olive bread. Not just chicken salad but mom's chicken salad on soft sliced country bread. And the California veggie sandwich served on heavenly multigrain.
LEI sold the restaurant in the 2000s and, over the years, new corporate owners have dumbed down the menu along with the quality and variety of their bread — because, well, profits and apparently we can't have nice things. Few of the original Corner Bakery sandwiches remain on the current menu and the original California Veggie sandwich didn't make the cut.
Reinventing a Classic: The HFR Californian
The good news is that I've spent years perfecting the California Veggie sandwich, so all is not lost.
Here's What Makes a Great California-Style Veggie Sandwich
This is a sandwich that will get you through the hot weather, though it is perfectly delicious year-round since the ingredients are readily available at the supermarket. There's nothing exotic here, but keep in mind that — as with most simple recipes — the magic is in the quality of the ingredients and the technique. So remember all the money you are saving on meat and splurge on that locally grown tomato.
Here's the stacking order for the sandwich:
Bread
Condiments
Cucumber
Tomato
Avocado
Cheese
Sprouts
Vinaigrette

The Bread
You can stick with packaged whole wheat bread for this sandwich, but to make it a memorable meal, shop local. Bakery prices aren't much higher than the frozen factory bread you're buying at the local grocery store. Besides, it usually freezes well and your cash is supporting local businesses.
For the California Veggie Sandwich, you can choose seedy or unseeded bread, sprouted, multigrain sourdough or spelt. The only caveat is that the bread must be hearty enough to hold the vegetable filling inside without becoming too soggy. So skip the white bread. This is not meant to be a sink sandwich. Skip the rolls, too, with the possible exception of ciabatta. Crusty, chewy rolls aren't a good option for this sandwich.
The Condiments
I grew up in an "either-or" condiment family. Mustard or mayo, definitely not mustard and mayo. I couldn't believe the delicious "sauce" for this sandwich was a simple blend of the two. For this recipe, dollop the mayo and mustard together using a 2:1 ratio. Swirl them together gently on the bottom slice of bread, but don't combine fully — you want to taste the distinct flavors of each condiment. We use vegan mayonnaise and Grey Poupon or Koops Dijon mustard.
The Vegetable Layers
Once you've spread your layer of mayo and mustard on the bottom slice of bread, layer the vegetables in this order:
Cucumber. To prepare the cucumber, peel it, seed it and slice it lengthwise, about 1/8th of an inch thick. Cut the slices in half so they fit onto the bread. Note that if you use an English cucumber there's no need to peel or seed — just slice!
Tomato. For the most flavor in your veggie sandwich, choose the biggest, ripest tomato you can find — beefsteak or heirloom during the summer months. Ideally, two slices of tomato should cover your sandwich (maybe three). Slice thinly and sprinkle with Kosher salt and fresh ground pepper. Let the tomatoes sit for at least 10 minutes to bring out the most flavor. You should always do this when adding fresh tomatoes to a recipe or salad, especially during the winter. I find that Roma tomatoes have the most flavor among the grocery store greenhouse tomatoes — and they are usually inexpensive.
Avocado. The avocado is the delicious glue that holds the sandwich together, so make sure it is ripe and soft (but not brown or mushy). Slice thinly so you can layer the pieces across the sandwich to form a cohesive layer.
The Cheese
The original sandwich recipe used muenster cheese — but it was the 1990s. I've replaced muenster with Havarti (Roth's Havarti is amazing), but you could use swiss, gouda, mild cheddar, or really, any semi-soft cheese you like. You might even spice it up with pepper jack or any other cheese with a kick.
The Topping
Finally, the last layer is the sprout layer. Alfalfa sprouts are the most common and easiest to find, but you can find lots of sprout varieties or 'microgreen" alternatives to try. And, if sprouts are not available, you can use a spring mix or frisee salad mix.
Take a small handful of sprouts and pile them on top of the cheese layer, a little or a lot, and then sprinkle lightly with vinaigrette. Lemon vinaigrette brightens up the rest of the ingredients, but red wine vinegar and oil or balsamic dressing works well, too.
Top the sprout layer with the remaining bread slice, cut the sandwich in half to reveal the layers and serve!
Veggie Sandwich Alternative Combinations
Once you master the layering technique for the HFR Veggie Sandwich, experiment with a few of your favorite vegetables, the freshest pick from the farmer's market — or whatever is left in your refrigerator at the end of the week! Here are a few ideas:
The Hippie Veggie Sandwich
Multigrain bread
Cream Cheese
Cucumber
Tomato
Avacado
Sprouts
Vinaigrette
The Middle Eastern Veggie Sandwich
Multigrain bread or pita
Hummus
Cucumber
Tomato
Shredded carrot
Sprouts
Lemon Vinaigrette
The Mediterranean Veggie Sandwich
Ciabatta or Sourdough bread
Pesto
Grilled eggplant slices
Roasted Red pepper slice
Fresh mozzarella slice
Arugula
Tomato Slice
Red wine vinaigrette
The Southwestern Veggie Sandwich
Sourdough bread
Smashed avocado mixed with olive oil, salt and pepper
Sliced cucumber
Tomato slices
Pepperjack cheese
Shredded iceberg lettuce
Pickled Jalapeno slices
Chipotle mayonnaise
The French Veggie Sandwich
Multigrain
Boursin Cheese
Cucumber
Tomato
Spring Mix Lettuce or Mixed Microgreens
Pickled red onions
Dijon Mustard
Print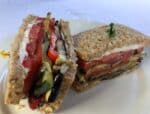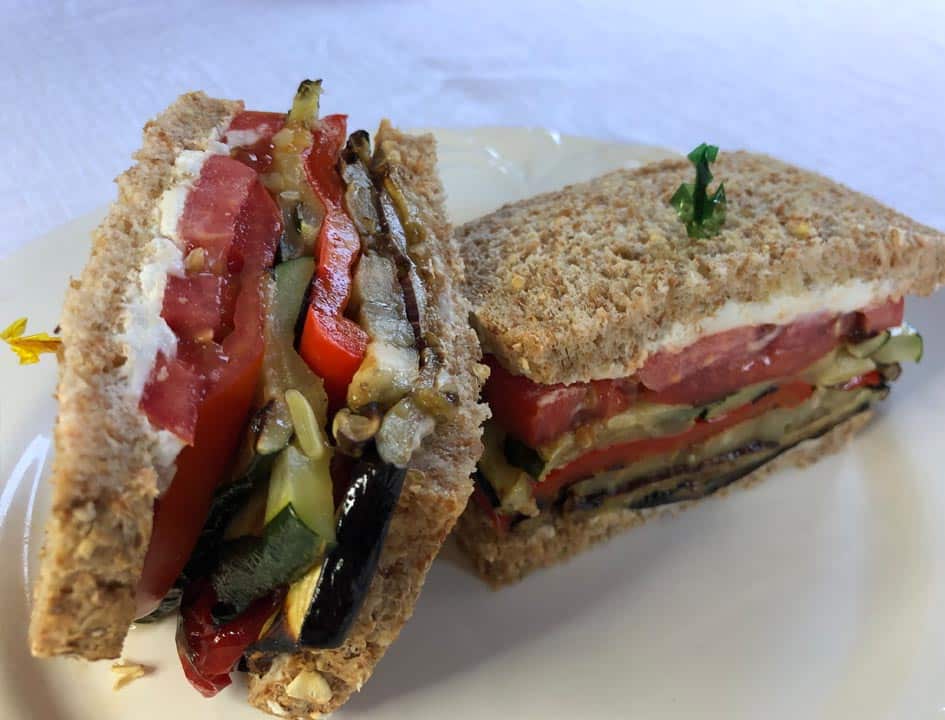 Grilled Veggie Sandwich, a Mediterranean Style Classic
---
Author:

Total Time:

7 minute

Yield:

2

Sandwiches

1

x

Diet:

Vegetarian
Description
This is a sandwich that will get you through the hot weather, though it is perfectly delicious year-round since the ingredients are readily available at the supermarket. This recipe makes two sandwiches.
---
1

T. Mayonnaise

1/2

T. Dijon Mustard

4

slices of bread of your choice (multigrain or seeded multigrain recommended)

1/2

Cucumber peeled and sliced thin, lengthwise

1/2

Beefsteak or heirloom tomato, sliced thin

1

Avacodo, sliced

2

slices Havarti cheese

1/2

c

. Alfalfa sprouts

2

T. of lemon vinaigrette
---
Instructions
1. Slather mayo and mustard together on the bottom slices of bread.
2. Top with the remaining ingredients in this order: cucumber, tomato, avocado, cheese, sprouts, vinaigrette.
3. Top with the remaining slices of bread, cut in half and serve.
Notes
You may have enough filling to make a third sandwich, depending on how high you stack your sandwich.
Prep Time:

20 minutes

Cook Time:

None

Category:

Sandwiches

Method:

Slice and assemble

Cuisine:

American
Keywords: veggie sandwich, recipe for veggie sandwich, California style veggie sandwich
© Photos & Illustration/Health Food Radar
This post is not intended to substitute for medical advice or prescribed medication. Especially if you have special health needs or a special diet, consult a physician before undertaking any new diet or exercise plan.
The author has not been compensated for any of the products mentioned in this post. In some cases, we may earn a small affiliate fee from certain links, including Amazon and the Health Food Radar shop. This helps compensate our staff for their time. Thanks for supporting us by clicking on the links!
Statements made on this website have not been evaluated by the U.S. Food and Drug Administration. Any information or products are not intended to diagnose, treat, cure, or prevent any disease. Information provided by this website or this company is not substitute for individual medical advice.