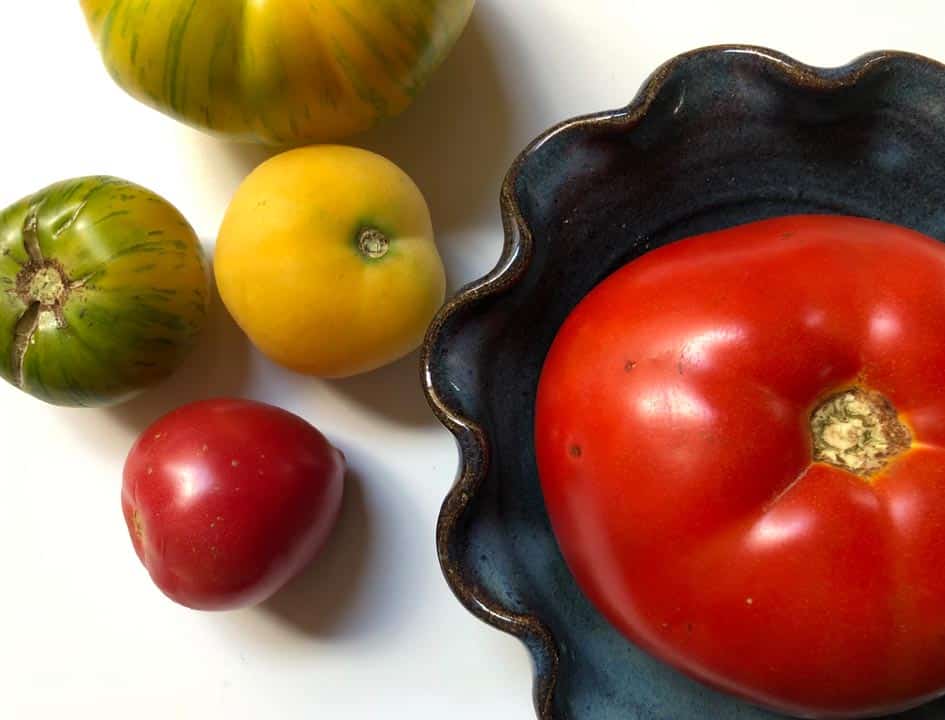 This easy tomato pie recipe is the best. It's cheap, simple, and tastes delicious. I know you're cringing because it seems like tomato and pie don't go together. But, yes, they do, said every pizza lover ever. Tomato pie is a southern staple. You can make it with ripe tomatoes or green tomatoes (if you're a witch).
It Sounds Like Pizza, But It's Not Pizza
A tomato pie is not a pizza. I know you're thinking, listen, pal, I've had tomato pie, and yes, it was. But no, you haven't had tomato pie. Because tomato pie is an actual pie. You bake it in a pie pan just like a peach cobbler or a cherry pie.
If you're a home gardener — or live anywhere near a home gardener — tomato pie is a great way to deal with the load of ripening tomatoes sitting in your kitchen right now because planting too many tomatoes and then being swamped by a tidal wave of them is how home gardeners spend their autumn.
Just look at all those tomatoes. What are you going to do with them? You have at least eight pounds, and you can only eat so many tomato sandwiches. Canning is not an option because your time machine is broken, and Pa didn't bring in the firewood for boiling the jars.
Here's what you do.
Turn Those Excess Tomatoes Into a Pie Using This Easy Tomato Pie Recipe
This is peak southern scratch cooking here.
You may have discovered tomato pie in "Southern Living "or some other half-southern magazine and thought, gee whiz, that looks good. It's just a savory pie with a crust on the bottom and the top and not an ounce of mayonnaise anywhere. But if you didn't grow up in Alabama, Georgia, or North Florida, you've never had a real tomato pie because it does have mayo, and it's weird and it's delectable.
Trust Me, You Will Love This Southern Tomato Pie
Which type of tomato you use doesn't really matter. The best for pie are ripe or at least close to ripe. But even if they're a little tight, the pie will be good. If you're like me and grow 18 different varieties in at least as many colors, then this pie will look amazing. If you're getting your 'maters at the store, go for a variety just for the visual appeal.
Finally, the True Southern Mayonnaise Argument: Duke's or Hellman's?
Everyone will tell you Dukes, but I spent my early years in a trailer by a lake in Florida eating sorghum syrup on biscuits and the kind of mac and cheese that can get up and walk away, so don't test my southern credibility here. Duke's is the king of the south, but Hellman's is better mayonnaise.
Also, the Whole Basil Thing
Some folks in South Alabama put basil in this. But they also used canned tomatoes, so maybe they should just stay off the internet. Basil changes everything. Basil makes it Italian, which means your tomato pie is essentially a calzone. Use it if you want, but if you do, we're not friends anymore.
Print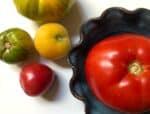 Easy Tomato Pie
---
Author:

Total Time:

50 minutes
Description
This easy tomato pie recipe is always a hit at the trailer park social. You can use canned tomatoes if you're in a hurry or it's January or something, but please do yourself a favor and find some fresh toms.
---
1

9-inch store-bought flaky pie shell or

one

you've made from scratch.

5

medium tomatoes, peeled and sliced. (This could be

five

Romas,

20

cherries, or most of a single Cuostraleé beefsteak, which is bigger than my head.)

1/2

cup

green onions, sliced thinly. (Or an onion mix, but we're being traditional here.)

1 1/4

cup

of shredded white cheddar cheese

1 1/4

cup

shredded cheddar cheese

3/4

cup

mayonnaise
Salt and pepper
---
Instructions
Pre-heat the oven to 350°

Layer the sliced tomatoes into a colander, seasoning them lightly between layers; let them rest no less than 10 minutes and no longer than one commercial break in Floribama.
Layer some paper towels over your tomatoes then, using a wide bowl, gently — GENTLY — press them to squeeze out all that liquid. Don't break the tomatoes. Remove the soggy paper, then use more dry paper to blot some more until the tomatoes are just about dry to the touch. (It's a tomato; it's never gonna be all the way dry.)
Layer the tomatoes and the green onions in the pie shell, seasoning lightly with salt and pepper again ,TO YOUR TASTE, until you have a slight mound of tomato goodness.
Combine one cup each of white and regular grated cheddar with mayonnaise.
Spread this mixture on top of all the tomatoes and smooth it out to the edge of the pan
 Sprinkle the remaining cheese on top
Bake for 30 minutes or until the crust is dark golden brown with caramelized spots along the edges. Allow the pie to rest for about 15 minutes before slicing.
Notes
You can customize this recipe in all kinds of ways. I like an onion mix that has leeks and shallots in it. You can break up your tomatoes or even (shudder) dice them. You can also mix some onions in with the cheese you sprinkle on top. They get nice and brown, adding a thin streak of France into your Alabama pie.
Prep Time:

20 minutes

Cook Time:

30 minutes

Category:

dinner

Method:

bake

Cuisine:

southern
Keywords: tomato, tomatoes, pie, easy, southern
© Photos/Health Food Radar
This post is not intended to substitute for medical advice or prescribed medication. Especially if you have special health needs or a special diet, consult a physician before undertaking any new diet or exercise plan.
The author has not been compensated for any of the products mentioned in this post. In some cases, we may earn a small affiliate fee from certain links, including Amazon and the Health Food Radar shop. This helps compensate our staff for their time. Thanks for supporting us by clicking on the links!
Statements made on this website have not been evaluated by the U.S. Food and Drug Administration. Any information or products are not intended to diagnose, treat, cure, or prevent any disease. Information provided by this website or this company is not substitute for individual medical advice.