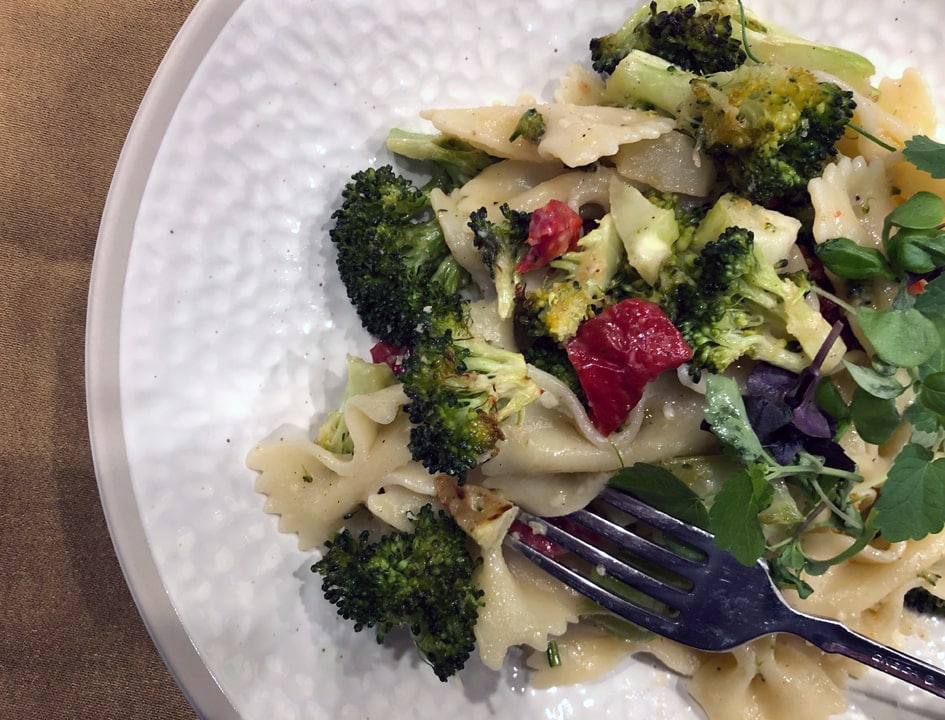 Broccoli and sun-dried tomato pasta is idiot-proof. If you can turn on a stove and boil water you're qualified to make this dish. Simple doesn't mean boring, though. Even without making any changes to the basic recipe, roasted broccoli, sun-dried tomato, and warm pasta make for a delicious meal. But with the tiniest changes, the dish can be elevated to restaurant quality.
Start With the Best Roasted Broccoli
The simplest roasted broccoli tastes pretty good. Broccoli is a forgiving ingredient, imparting a nutty, slightly bitter vegetable flavor to your meals. Roast it, and the Maillard effect adds a second dimension by deepening the umami of the broccoli. Variations work on top of this new dimension: roasted broccoli with lemon and Parmesan; roasted broccoli with cheese; roasted broccoli with olive oil and fresh garlic.
But here we're going to divide the dish into two distinct recipes and then combine them for the finish.
Expensive Sun Dried Tomatoes are Worth the Money
Do yourself a favor and try real Italian sun-dried tomatoes packed in oil. You can get them from California, and you can definitely make them at home. But Italians have been drying tomatoes under the noon-day sun for 80 million years and they just have a knack for it.
Zingerman's imported Sicilian tomatoes are insanely expensive, but a little goes a long way. Fratelli Carli are half the price and are just as good. For domestic sun-dried tomatoes, Bela San Luci are grown in California and are available pretty much everywhere.
Roasted Broccoli and Sun-dried Tomato With Cacio e Pepe Pasta
Just as you can tweak the roasted broccoli, you can tweak the pasta. Any pasta shape will do. Roasted broccoli and sun-dried tomato with bow-tie pasta is an internet favorite, but I'd like to make the pasta even better by calling up an old friend.
Cacio e Pepe is one of the simplest and most rustic pasta bowls you can have. Italian American moms are always portrayed in movies working a giant pot of red sauce all day long, but real Italian moms faced with the hangry passion of a starving six-year-old probably served pasta with olive oil, black pepper, and cheeses.
Used in the broccoli and sun-dried tomato pasta recipe, its simple, Cacio e Pepe's frank elegance will marry with the simplicity of the broccoli and … a heavenly dish is born.
Print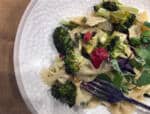 The Best Broccoli and Sun-Dried Tomato Pasta Recipe
---
Author:

Total Time:

30 minutes

Yield:

4

Servings

1

x
Description
This quick meal of roasted broccoli and sun-dried tomato with Cacio de Pepe pasta divides some of the flavorful ingredients between the two dishes. Usually, Cacio e Pepe uses both Pecorino and Parmesan cheese, but roasted broccoli with Parmesan is classic, so the Parmesan is in the vegetable while the Pecorino is in the pasta. (Don't skip the step of adding sun-dried tomato oil to the broccoli before roasting — it's everything.)
---
1

head of broccoli (about a pound) trimmed, tough parts removed, cut into florets.

4

T. Olive oil, divided

1

t. Kosher salt

1

t. Cracked Pepper

1/2

c. grated parmesan cheese

8 oz

. Bow tie or any other pasta

1/2

c. Sun-dried tomatoes in oil, drained, 1/2 tablespoon of the oil reserved

2

T. Fresh chopped parsley

1

T. Unsalted butter, cubed

1/3

c. Finely grated pecorino romano
Salt and cracked pepper to taste
---
Instructions
Preheat oven to 375 degrees.
Place a large pot of salted water on to boil.
In a large bowl, drizzle half the olive oil and the reserved sun-dried tomato oil over the broccoli.
Add the parmesan, 1 t. salt and 1/2 t. pepper to taste.
Mix until well coated.
Spread broccoli mixture onto a baking sheet and bake for about 20 minutes or until the tips of the florets get crispy.
Meanwhile, add the pasta to the water and cook according to directions, drain, reserving about a 1/4 cup of the pasta water.
In a casserole dish, mix the pasta, remaining olive oil, butter, salt, pepper, sun-dried tomatoes, parsley, and pecorino romano cheese together gently.
Add broccoli and butter, then drizzle with reserved water and toss gently.
Serve.
Prep Time:

10

Cook Time:

20

Category:

Italian
Keywords: broccoli, sun-dried tomato, pasta, easy, pecorino, parmesan, bow-tie pasta, healthy pasta recipe
Image © Health Food Radar
This post is not intended to substitute for medical advice or prescribed medication. Especially if you have special health needs or a special diet, consult a physician before undertaking any new diet or exercise plan.
The author has not been compensated for any of the products mentioned in this post. In some cases, we may earn a small affiliate fee from certain links, including Amazon and the Health Food Radar shop. This helps compensate our staff for their time. Thanks for supporting us by clicking on the links!
Statements made on this website have not been evaluated by the U.S. Food and Drug Administration. Any information or products are not intended to diagnose, treat, cure, or prevent any disease. Information provided by this website or this company is not substitute for individual medical advice.