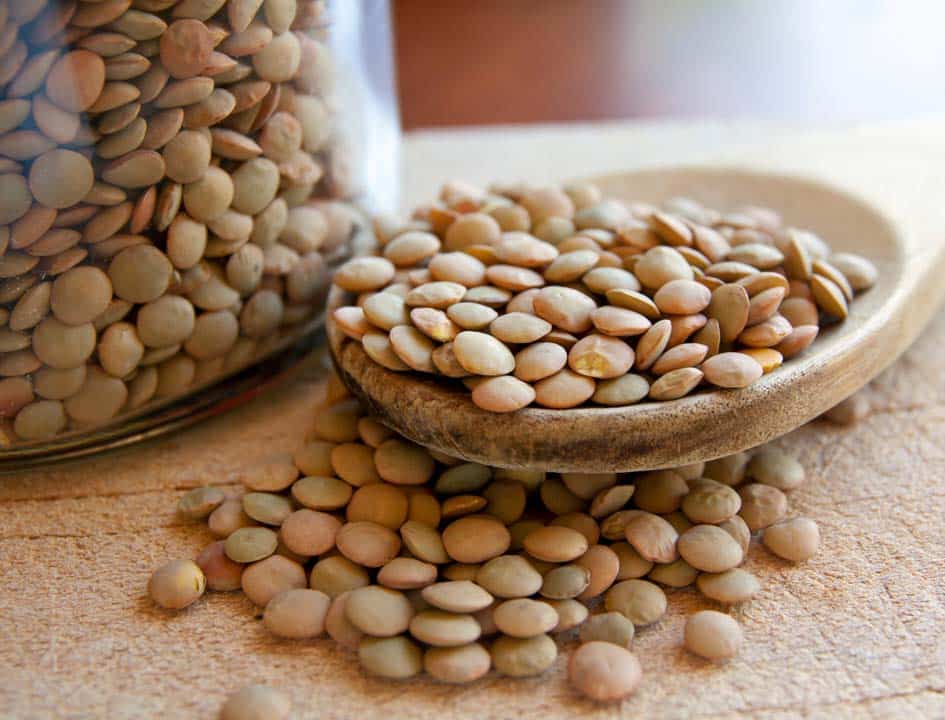 My mother-in-Law's delicious lentil loaf lets the taste of the lentils through and has a wonderful savory flavor. Her secret? Sprouted lentils.
I have a fantastic mother-in-law. She treats me like I am her daughter and is always doing nice things for me. From the moment I came into their family, she has always gone out of her way to make sure I am comfortable at my husband's family gatherings. I can honestly say I am one lucky woman and I have the best in-laws.
Catering to Dietary Restrictions Can Test the Best Relationships
I have celiac disease and I am a vegetarian. I admit I am not easy to feed, especially when it comes to family gatherings. When I host a party, I usually find myself not wanting to go through the effort of making an extra meal just for myself. And, let's face it nobody really wants to eat gluten-free vegetarian food at a family barbecue. My mother-in-law, however, always makes sure I have a main course when she hosts. She is so sweet and considerate, she goes out of her way to prepare an extra meal so I don't end up eating lettuce for dinner.
Below is one of my favorite things she makes for me.
It's Her Famous Lentil Loaf
The recipe really lets the taste of the lentils through and has a delicious savory flavor. Her secret is using sprouted lentils, which I think are delicious (in addition to being especially healthy).
Since she has started making this for me, some non-gluten-free family members have begun to eat the lentil loaf as a side dish. But, my mother-in-law always tells them, "Make sure Courtney gets some first because I made it for her."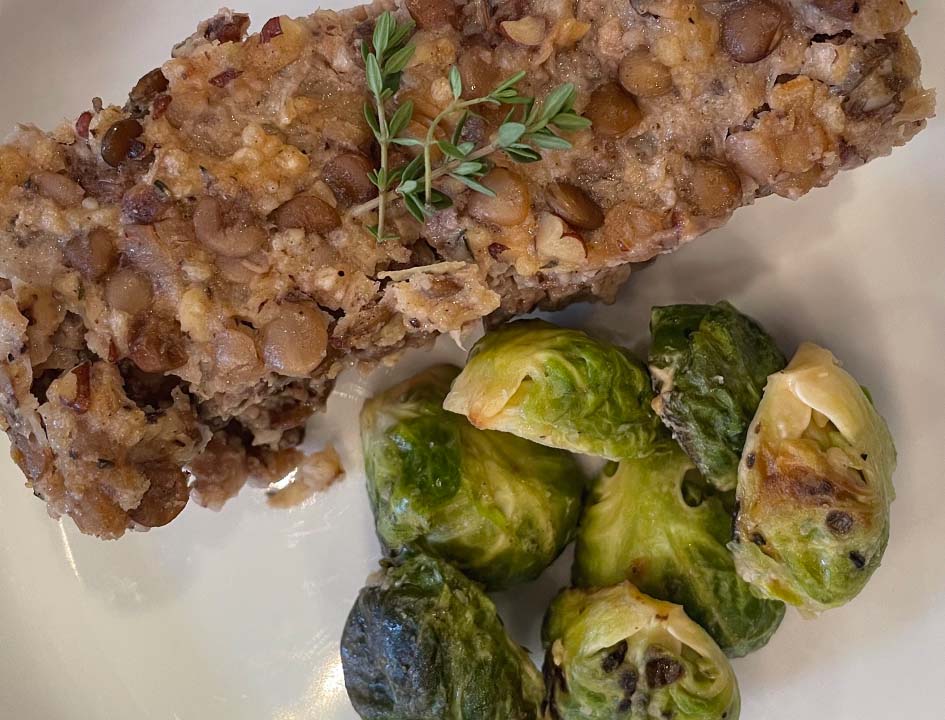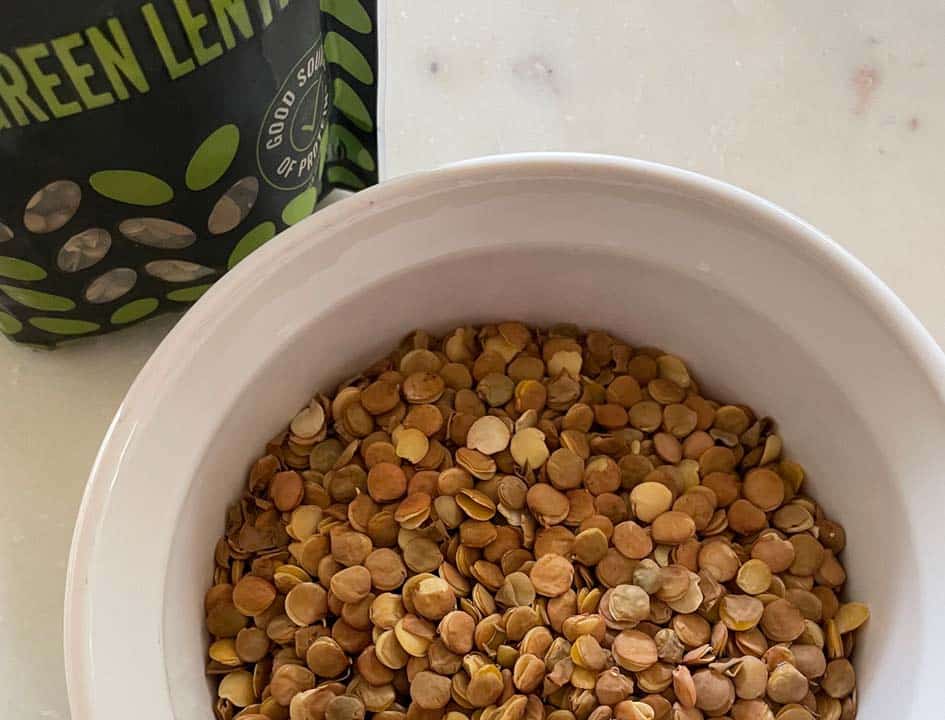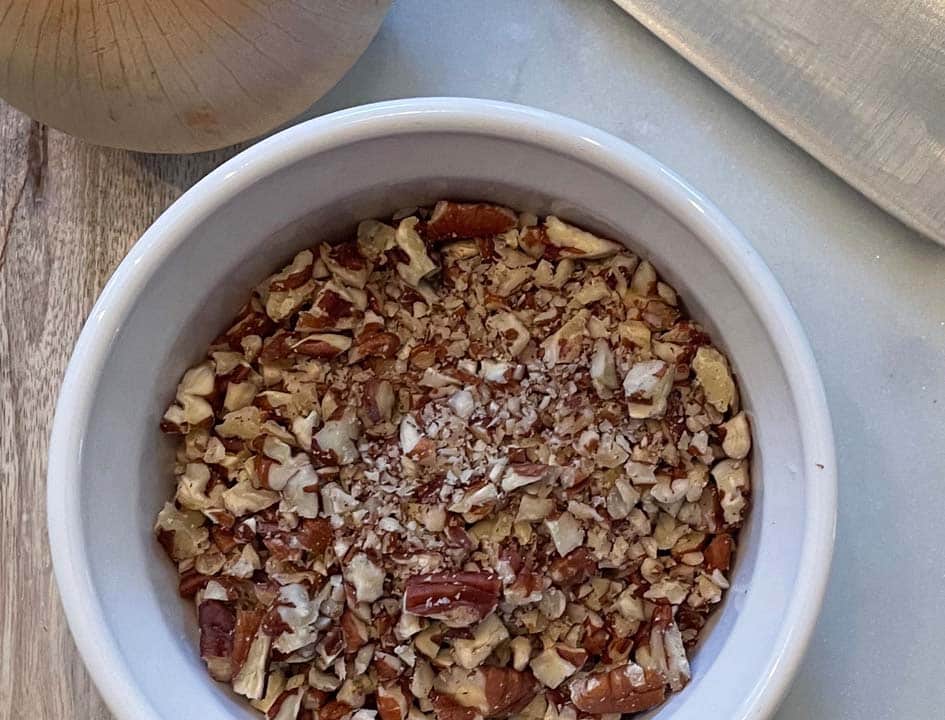 Sprouted Lentils FAQs
Are sprouted lentils better for you than unsprouted lentils?
Sprouting may increase the nutrient content of lentils even more and enhance levels of antioxidants.
How long does it take to cook sprouted lentils?
Sprouted lentils cook faster than regular lentils. The total cook time is about 12 minutes, compared to 17 to 20 minutes for regular lentils.
Print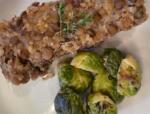 Lyons Lentil Loaf
---
Author:

Total Time:

1 hour 15 minutes

Yield:

4

1

x
Description
Savory and satisfying, this lentil loaf is easy to make for a main dish or side.
---
1 cup sprouted green lentils, cooked per package instructions, and slightly cooled (2 cups cooked)
1 egg or egg substitute (3 T. Just Egg equals one egg)
10 oz. plant-based milk (I prefer almond milk)*
1/2 cup finely chopped walnuts or pecans
2 T. vegetable oil
1 medium onion, diced
1 cup gluten-free bread crumbs*
1/2 t. dried sage
1/4 t. dried thyme
1/2 t. ground black pepper
1 t. Kosher salt
---
Instructions
Preheat oven to 350 degrees.
Grease an 8 1/2 x 4 1/2 loaf pan and set aside.
Cook lentils per package instructions. You should have 2 cups of cooked lentils, drained.
In a mixing bowl combine all ingredients and mix well. Let stand 5 minutes.
Transfer ingredients to greased loaf pan.
Bake for 1 hour uncovered or until golden brown on top and set.
Notes
Garnish with fresh sage and serve with brown rice. Gluten-free barbecue sauce makes an excellent accompaniment. 
* You can use one can of evaporated milk instead of plant-based milk. I use standard American dried breadcrumbs; if you use Panko, add an extra 1/4 cup.
Prep Time:

15 min.

Cook Time:

1 Hour

Category:

Dinner/Lunch

Method:

Bake

Cuisine:

Vegan/American
Keywords: lentil loaf, lentil loaf recipe, sprouted lentils, recipe for lentil loaf
© Photos / iStock / Health Food Radar
---
The information provided on Health Food Radar is intended for general informational purposes only. While we strive to offer accurate and up-to-date content, we do not provide medical advice, diagnosis, or treatment. Always consult with a qualified healthcare professional before making any dietary or lifestyle changes, especially if you have underlying health conditions or concerns.