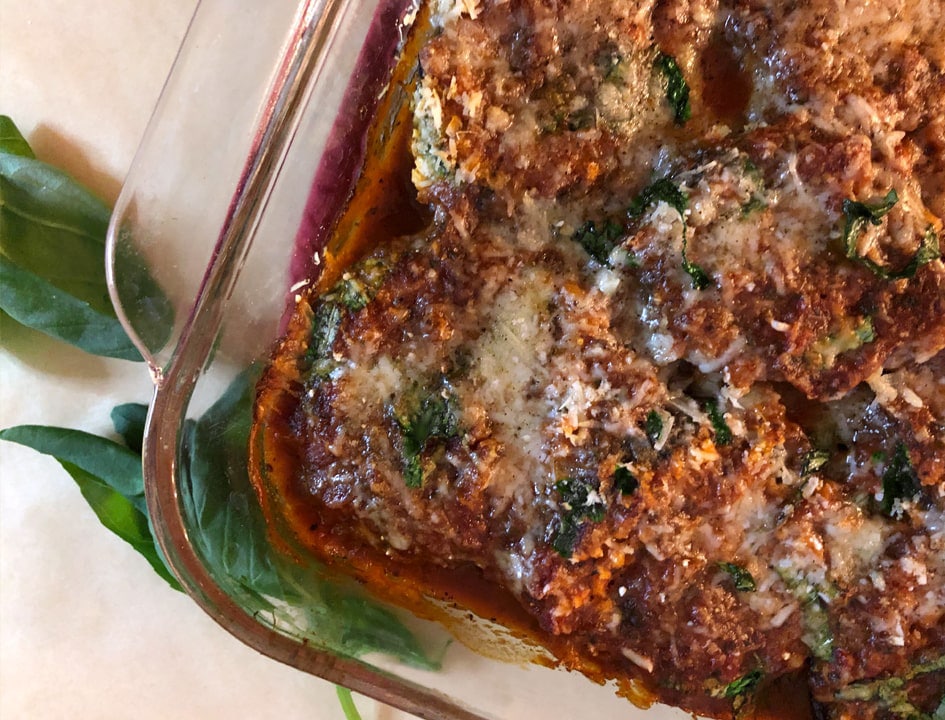 This healthy gluten-free vegan eggplant recipe for a low-calorie parmesan is so good you might make it every night for the rest of your life. Not only is this recipe healthy, it's also easy. If you've been avoiding eggplant parm because it seems really hard, just stop it. Stop it now. You can do this.
Finding Vegan Products Is Easy Because Vegan Culture Is Making Money
Plant-based eggplant parmesan cooks are lucky. Plant-based food is mushrooming in the marketplace. You can find a replacement for just about any animal-derived ingredient, and parmesan is at the tip of that delicious wedge of products. This recipe uses Violife Parmesan, but as you'll see, there are more options—you can even make your own. Plenty of companies are making vegan dairy so you can develop a vegan pantry. There's nothing like knowing you have everything you need, right there in your kitchen cabinets, to whip up a great dish.
Even If You Want to Cook a Healthy Vegan Eggplant Parmesan Recipe That's Gluten-Free
Gluten-free products are also blowing up the market — especially as home cooks discover that cooking gluten-free recipes for their family or themselves can be so easy. It's all about the products and all about having what you need on hand, like gluten-free panko crumbs, which are delicious.
The Crumbs Stick to the Eggplant Slices Because of Magic Beans!
Coating an ingredient in bread crumbs is classic frying deliciousness. But every recipe outside the vegan circle uses an egg wash, which for vegans is a deal-breaker. But it doesn't have to be, thanks to Just Egg, a vegan egg substitute developed by Gandalf and the Elves of Endor because it is magical, and oh my God. Just Inc. uses mung beans to make its "eggs" and has possibly the world's greatest vegan conversion image on their splash page. Look at this.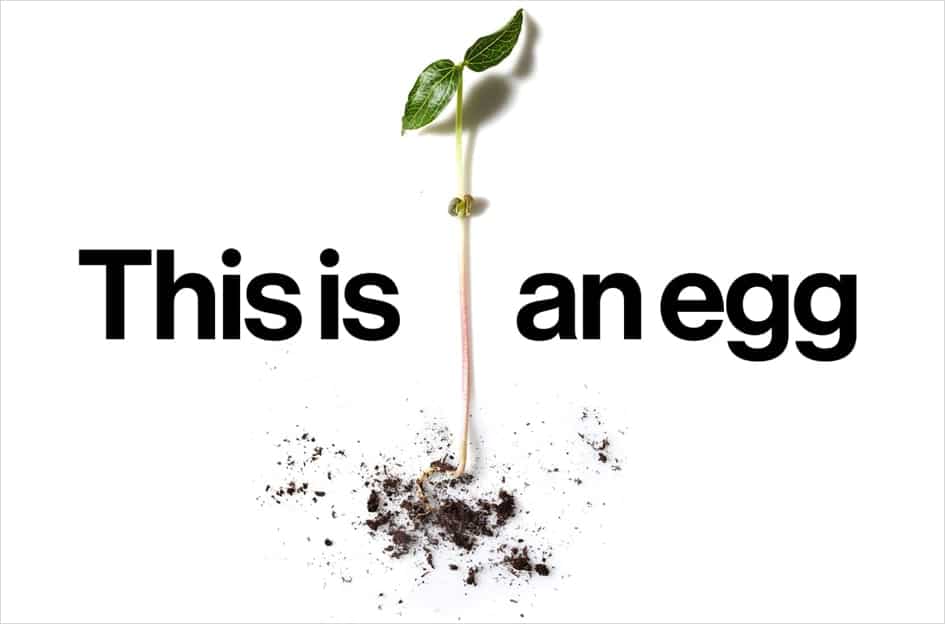 But, Dude, How Do I Keep My Vegan Eggplant Parmesan From Getting Soggy?
I'm so glad you asked. I am a fan of American Test Kitchen. Years ago, they published a vegetarian lasagna recipe with a trick for preventing eggplant sog by reversing it. OH YEAH. WE'RE ABOUT TO SCIENCE.
The Test Kitchen salts the eggplant to draw out moisture and bitterness, which is the first step in most veggie or vegan eggplant parmigiana recipes. In this one, though, there's one more step: microwaving the slices until they dehydrate the teensiest little bit. This means that once they're in the sauce, instead of releasing extra moisture, the eggplant slices will absorb it, leaving you with a deliciously textured and low-calorie aubergine parmesan sans sog. Serve with this vegan Potage St. Germain for a bright, delicious French-Italian dinner.
Quick-Step Recipe Guide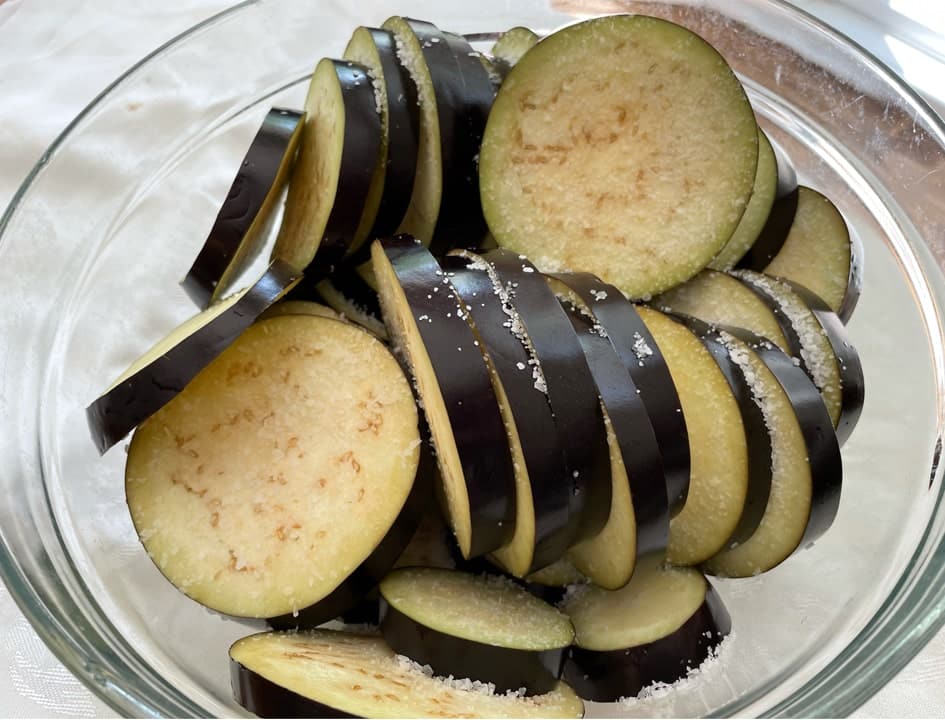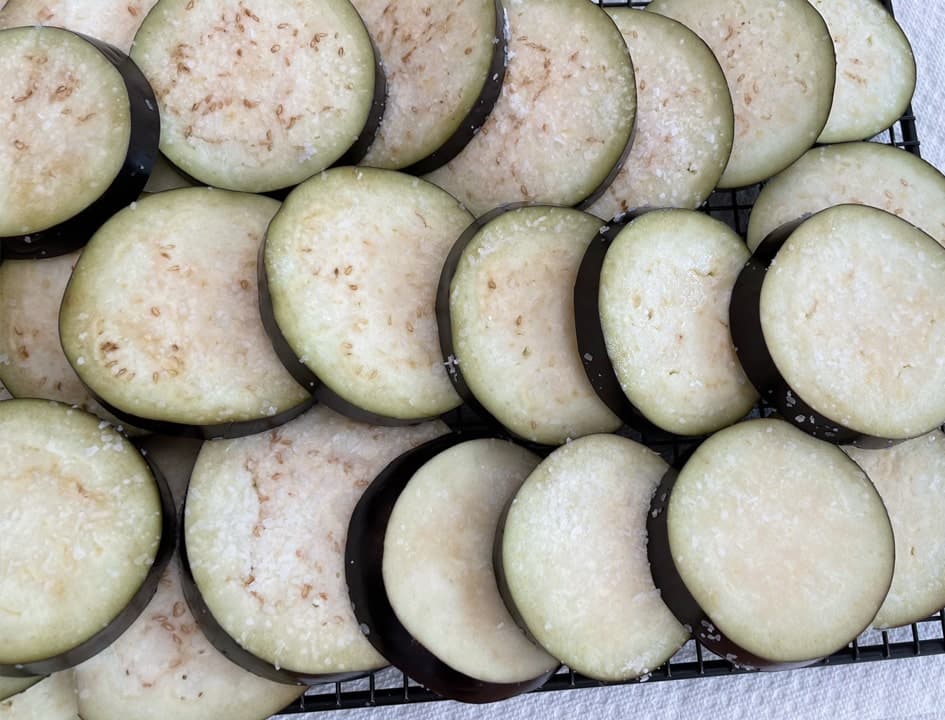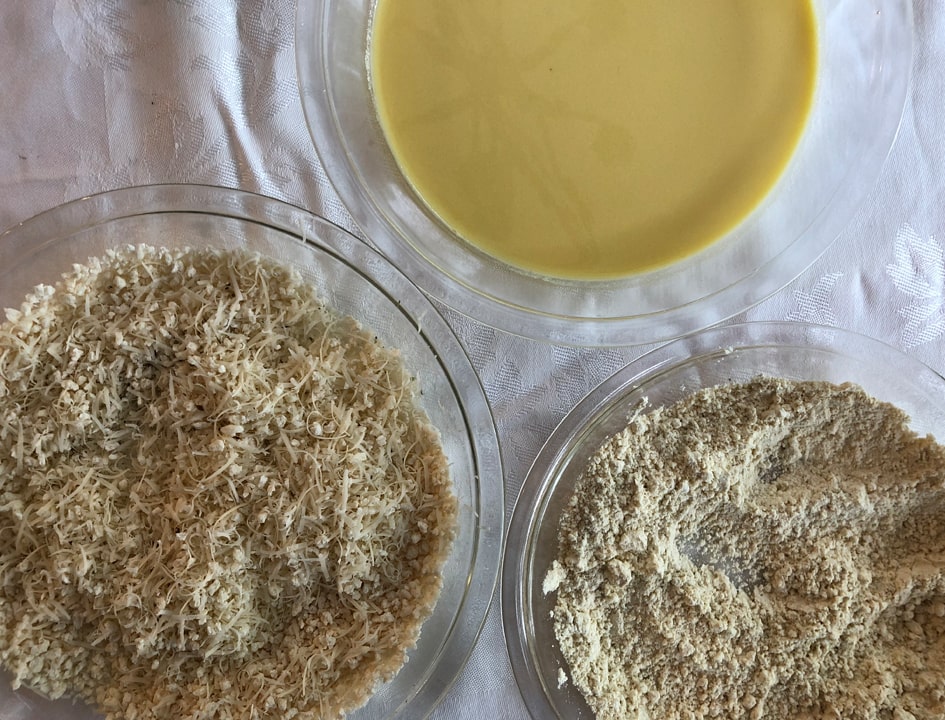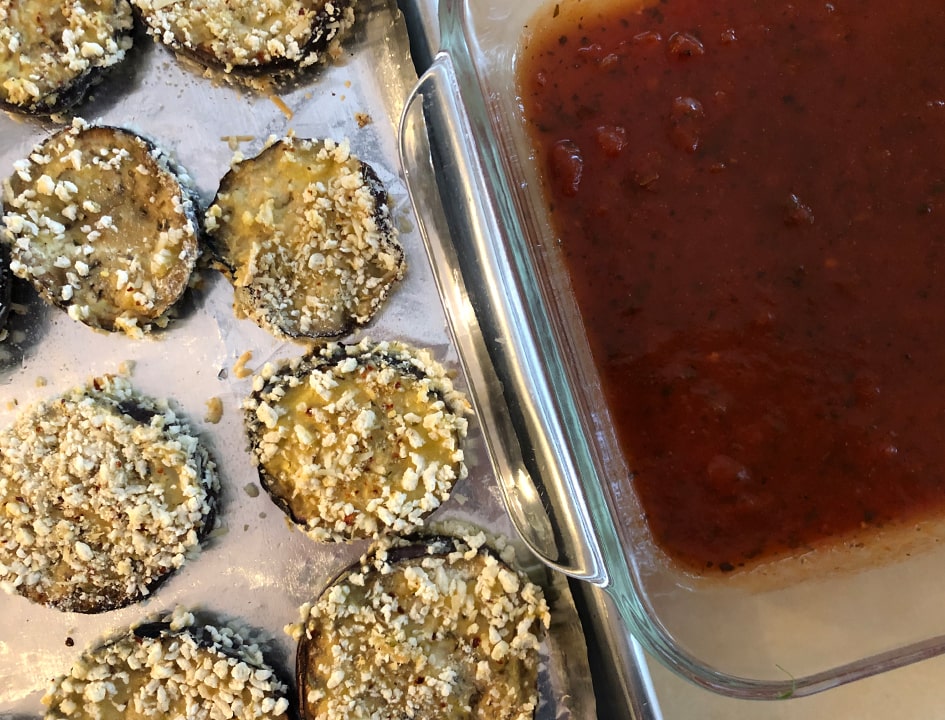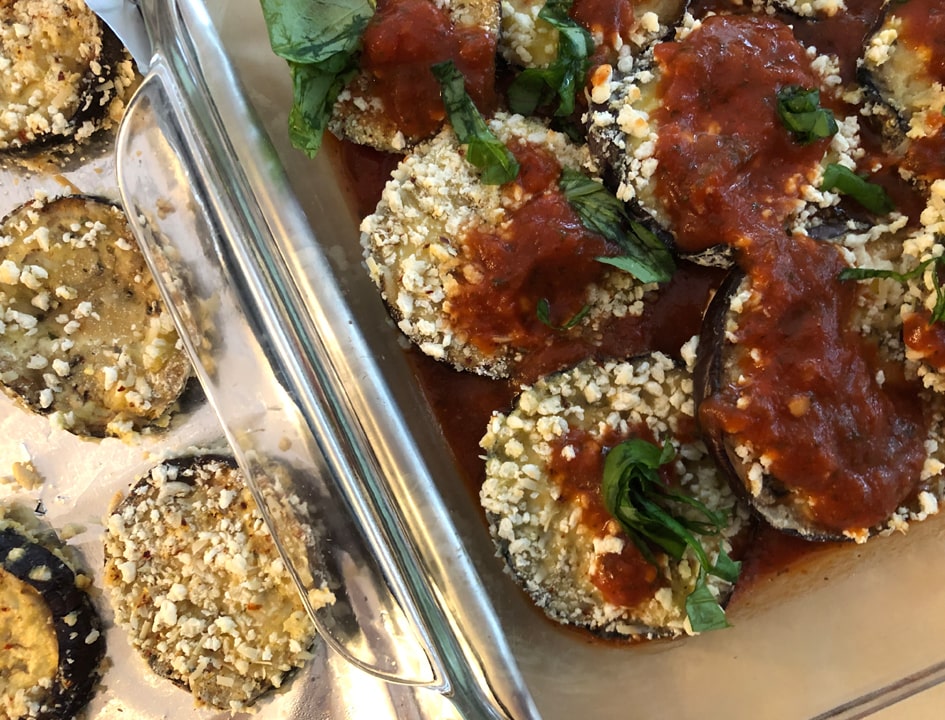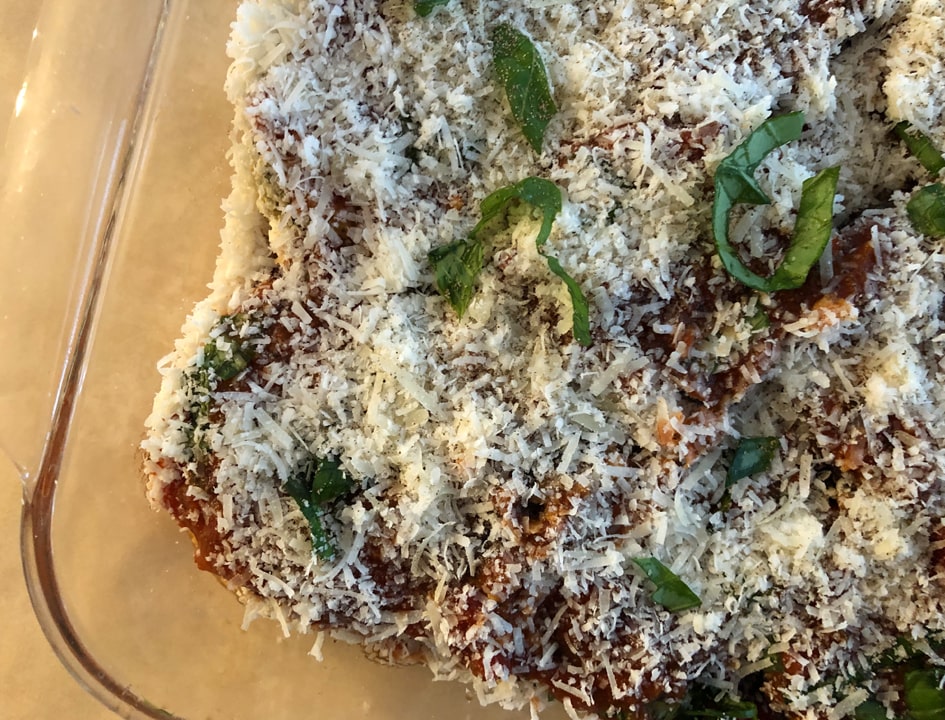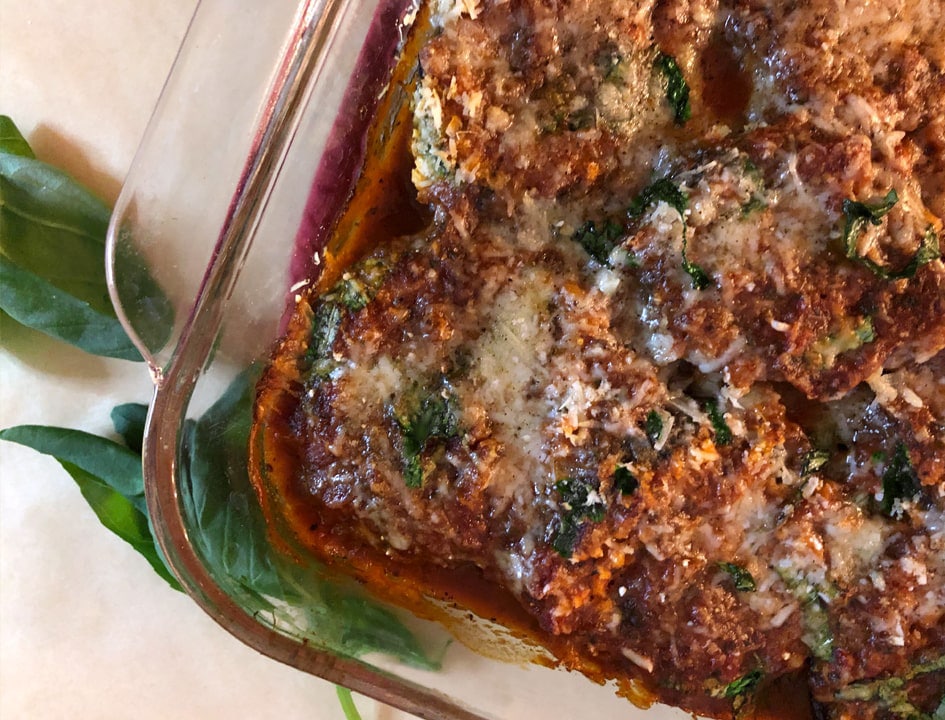 Print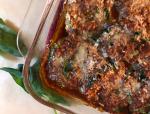 World's Greatest Vegan Eggplant Parmesan Recipe
---
Author:

Total Time:

1 hour 5 minutes

Yield:

8

1

x

Diet:

Gluten Free
Description
This healthy baked eggplant parmesan is gluten-free, vegan, and a powerfully delicious, filling main course. You can make it vegetarian by using actual parmesan cheese and real eggs. But why? This is so much healthier!
---
2

Large eggplants, cut into wheels just shy of a half-inch thick

1

C Gluten-free all-purpose flour (I used Cup-4-Cup; use your favorite)

1

C Just Egg egg substitute

1

t Water (or liquid from the eggplant)

2

C Gluten-free panko crumbs

1

C Vegan parmesan cheese, shredded (divided)

1

t Dried oregano

1

t Dried basil or

1/4

c. of fresh basil, cut into a chiffonade

24

oz

. Marinara sauce (use your favorite), or crushed San Manzano tomatoes

1

T Kosher salt, plus some for seasoning

1

t Red chili flakes
Extra basil leaves and cherry tomato halves for garnish, if you wish.
pepper
---
Instructions
Preheat the oven to 375°; line two baking pans with Silpats or lightly greased foil.
Salt the eggplant wheels, place them into a colander, then place that in a clean sink or into another bowl for 30 minutes so the eggplant can drain. OPTIONAL: reserve the collected liquid.
Press slices between paper towels to remove moisture and salt—don't rinse! Put them into a microwave-safe bowl lined with paper towels and microwave on high for 30 seconds. Check the slices—they should be slightly dehydrated. If they aren't, go for another 30 seconds. But no more.
Add the flour to a wide shallow bowl (a pie pan also works).
In a separate wide shallow bowl or pie pan, whisk a teaspoon of water or reserved eggplant liquid into the JUST EGG mix.
Mix the panko, half of the Vegan parmesan cheese, oregano, red pepper and black pepper into another wide shallow bowl.
Do the classic egg-wash three-step:

Coat each eggplant wheel completely in the flour, shaking off the excess.
Then, dip each wheel into the egg-wash, submerging completely, then draining well.
Coat both sides of the wheel with the panko mixture.

Place them on the baking sheets so they are evenly spaced and not touching.
Bake 30 minutes; remove from the oven and cool, rotating half-way through baking.
Meanwhile, line the bottom of a heat-proof glass baking dish with the marinara and sprinkle with basil.
Nestle each baked eggplant slice into the marinara. Cover with a thin layer of sauce and basil, add another layer of eggplant wheels until the pan is filled and the sauce is used up.
Top with the remaining vegan parmesan.*
Bake at 375° for 35 minutes. Remove foil, bake for 10 more minutes.
Top with extra slices of basil and cherry tomatoes (optional).
Serve warm.
*NOTE: TO FREEZE AND BAKE LATER, STOP AT STEP 12. COVER TIGHTLY WITH PLASTIC WRAP AND STORE IN FREEZER FOR UP TO THREE MONTHS. TO SERVE, DEFROST AND CONTINUE WITH RECIPE STEPS.
Notes
It may take some practice to get the microwave-eggplant-dehydration thing right because every eggplant is different. Try a couple of individual wheels first to tune your timing.
Yes, you can fry the wheels instead of baking them. Adding shredded mozzarella on top would make it extra decadent.
If you aren't using the eggplant juice, you can lay the wheels out on a large baking rack (with paper towels below) instead of a colander. Salt both sides with kosher salt and leave to drain, flipping them halfway through. 
Prep Time:

30 minutes

Cook Time:

35 minutes

Category:

Dinner

Method:

Oven

Cuisine:

Italian
Keywords: vegan eggplant, eggplant parmesan, vegan eggplant recipes, vegan eggplant parmesan, vegan breaded eggplant
FAQs About This Eggplant Recipe
Is it better to freeze Vegan Eggplant Parmesan before or after baking?
Before. Prepare your healthy Vegan Eggplant Parmesan in a freezer-proof pan then cover tightly with plastic wrap. Make sure the wrap is pressed firmly against the ingredients. Then cover again tightly with foil. Store in your freezer for up to three months. When you're ready, place it in the refrigerator to thaw. Remove the wrapping and bake per instructions.
How do you cook eggplant without getting soggy?
One method is to salt the eggplant and then rest it in a colander for 30 minutes to drain. An additional step is to brush the salt off the eggplant, then microwave for 30 seconds to one minute to slightly dehydrate the eggplant. During baking, the eggplant slices will rehydrate with the liquids from your recipe.
What sides are good with Vegan Eggplant Parmesan?
Eggplant parmesan is a rich and hardy main course with cheese and rich red sauce. Balance all that with lighter dishes like a bright zucchini salad, pea soup, grilled asparagus, or a simple leafy green salad.
© Photos/ iStock/Adobe/Health Food Radar.
This post is not intended to substitute for medical advice or prescribed medication. Especially if you have special health needs or a special diet, consult a physician before undertaking any new diet or exercise plan.
The author has not been compensated for any of the products mentioned in this post. In some cases, we may earn a small affiliate fee from certain links, including Amazon and the Health Food Radar shop. This helps compensate our staff for their time. Thanks for supporting us by clicking on the links!
Statements made on this website have not been evaluated by the U.S. Food and Drug Administration. Any information or products are not intended to diagnose, treat, cure, or prevent any disease. Information provided by this website or this company is not substitute for individual medical advice.