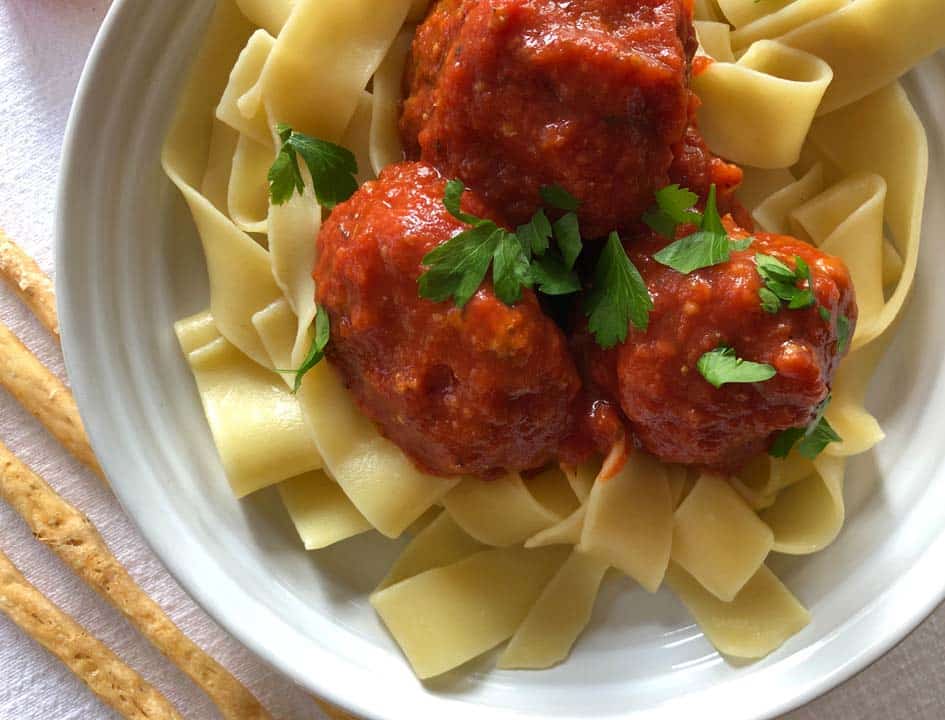 In honor of my Uncle Silvio, this recipe for healthy meatballs is bursting with flavor!
Lately, I've been thinking about the family holiday meals we'd have when I was a kid in New York. My mother was one of nine children, raised in Manhattan by her parents, Maria and Santos, who had immigrated to America from the Abruzzo region of Italy in the early 1900s. My two brothers and I were raised in an Italian household on Long Island — so the kitchen was always very busy.
Every Thanksgiving, Christmas, and New Year's, we'd have our Turkey with a side of stuffed shells, and every visit to Grandma Maria's came with heaping plates of meatballs, Italian sausage, or lasagna. Her Sunday sauce was legendary.
Since I've been trying to eat healthier, I've been avoiding those Italian meals. But I miss those Italian favorites. Which got me thinking: How could we update those classic Italian dishes to make them healthier — but with the same flavor, bringing back the memories of a family loved and who you don't want to forget? This Christmas, I want to try.
A Healthier Tradition: Uncle Silvio's Spaghetti and Meatballs
Because everybody likes a good meatball — over pasta, or stuffed into a roll for a decadent meatball sub, or even on a meatball salad — I'm going to start by transforming Grandma Maria's spaghetti and meatballs into a lighter and healthier dish.
I say healthy Italian recipes because many of my family members passed away from either diabetes or a heart condition. So, while I'd like to duplicate those Italian recipes, I want to do it in a healthier way.
Silvio's Favorite: The Recipe File
When my father passed away several years ago, I found myself back at home, rummaging through stacks of books and boxes. In one closet, I discovered some of my Grandma Maria's recipes — I wouldn't call it a cookbook, exactly, it was more of a folder of notes and cards. Nearby, I found a box of old family photos, including snapshots of my mother's brother Silvio. I never met Uncle Silvio, but the photo brought back the stories my mother and grandmother used to tell about his huge appetite and big heart. Sadly, Silvio was killed in World War II.
So, in addition to my grandma, I'd like this series of healthy Italian recipes to honor Uncle Silvio.
I know this is a challenge, but let's start recreating those Italian flavors and bring back the memories of a family loved.
A More Modern Inspiration for the Meatballs' Base
When our two sons were young, we made a turkey and mushroom meatloaf recipe they both loved (it was a miracle!). Finely chopped mushrooms and onions infused the turkey with a richer, more complex flavor, so it was less bland than most turkey meatloaf recipes. It occurred to me that we could redo that favorite meatloaf and turn it into meatballs using Italian ingredients.
The turkey meatball recipe we created is so much healthier than traditional beef and pork meatballs. Comparatively, 1.5 pounds of grass-fed ground beef has 68 grams total fat, compared to just 16.8 grams of total fat found in ground turkey meat. As you can imagine, the fat content in a combination ground beef and ground pork would be even higher.
Plus, we reduced the fat in other ingredients, too — nonfat milk instead of whole milk, and low-fat ricotta. Ricotta? Yes, a secret to keeping any type of meatballs moist is to add ricotta cheese. You can also use vegan ricotta cheese to bring down the saturated fat even more.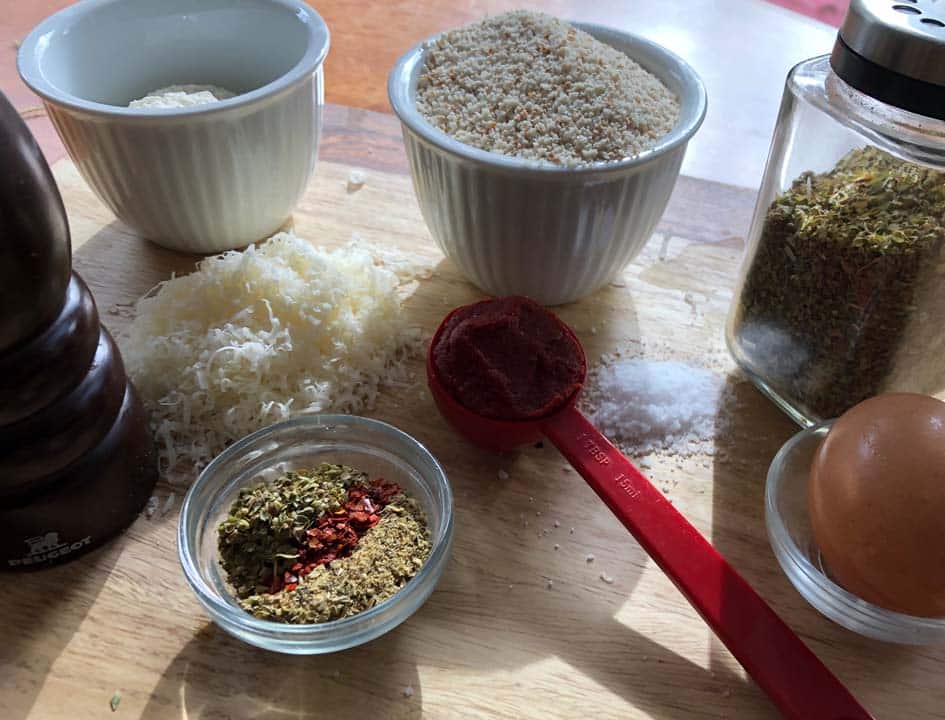 Make no mistake, these meatballs pack a flavorful punch and are just as satisfying as the traditional beef and pork versions. Healthy and simple.
Don't Forget the Sauce
Of course, you want a delicious marinara sauce to go with the turkey meatballs. You can find plenty of good and healthy options in the grocery store. Just make sure that you check the ingredients — the fewer the better — and take note of the sugar added.
If you'd like to make your own marinara sauce, though, it's not that hard. Click over to Joan's Marinara Recipe on the Health Food Radar site, here.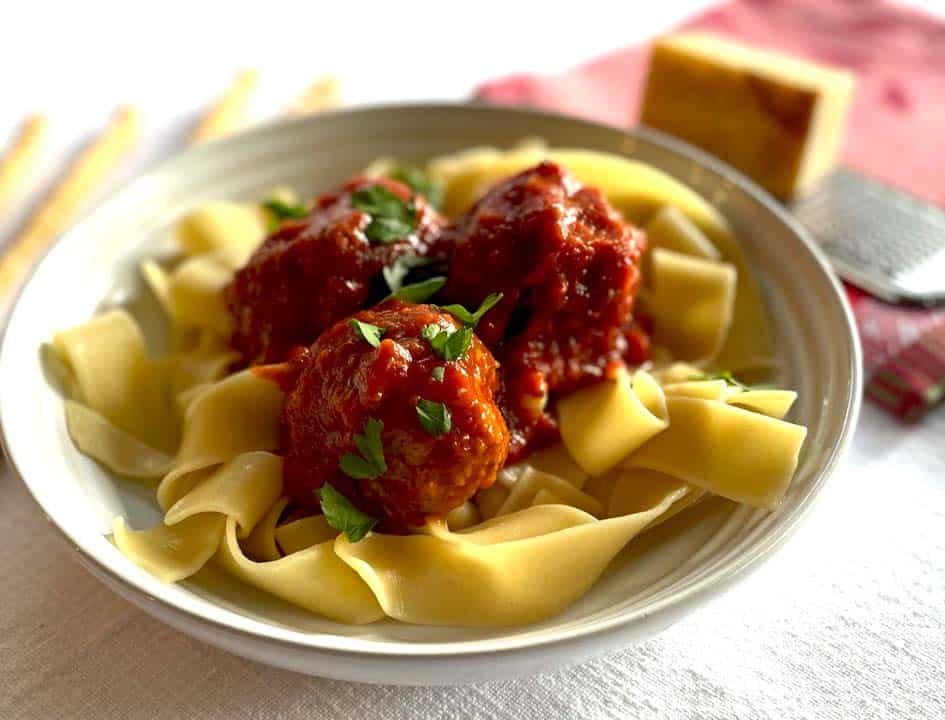 FAQs About the Healthiest Italian Dish
What is the healthiest Italian Dish?
Minestrone soup is considered a very healthy dish because, depending on how it is prepared, it is low-calorie and loaded with vegetables like carrots, celery, and spinach.
Are There Other Healthy Ingredients in Minestrone Soup?
Garbonzo beans (chickpeas) and Cannelloni or Navy beans are very healthy, and a good source of protein. One cup of Cannelloni or Navy beans has 15 grams of protein and 19 grams of fiber. At 12.5 grams per cup, chickpeas also have tons of fiber, and one cup provides approximately one-third of an adult's daily protein requirement.
Is There a Vegan Version of Minestrone Soup?
You can make a vegan Minestrone soup by substituting vegetable broth for the chicken broth.
Print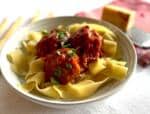 Italian-Style Turkey Meatballs in Marinara Sauce
---
Author:

Total Time:

1 Hr. 20 Minutes

Yield:

6

1

x

Diet:

Low Fat
Description
Mushrooms are the secret to these flavor-packed meatballs, along with your favorite Italian herbs and plenty of Parmesan Reggiano. The turkey meatballs stay moist thanks to a dollop of ricotta cheese in the mix. Make a batch for dinner tonight or freeze ahead in serving-size packets.
---
2

tbs vegetable oil

1

medium onion, finely chopped (

1/4

inch squares)

2

cloves of garlic finely chopped

8

–

oz

. white button mushrooms, whole or sliced

5

-oz. package of shiitake mushrooms, stemmed

2 tsp

salt, divided

1/2 tsp

pepper

1 1/2

lbs. ground turkey, preferably a mix of dark and light meat

1/3

cup

skim ricotta cheese (plant-based alternative optional)

1/3

cup

low-fat milk (unsweetened plain plant-based milk optional)

1/4

cup

freshly grated Parmesan (plant-based alternative optional)

1

cup

toasted bread crumbs (gluten-free optional)

1

large egg, slightly beaten

2

tbls tomato paste

2 tsp

Italian seasoning (I use Bliss's Tuscan blend)

1 tsp

dried oregano

1/8 tsp

Aleppo pepper or crushed red pepper

2 tsp

of salt(note if the Italian seasoning includes salt, decrease added salt to

1 teaspoon

)
Marinara Sauce (store-bought or see Joan's Marinara Sauce recipe)
---
Instructions
Clean the mushrooms and place them in a food processor. Pulse several times until the mushrooms are very fine — there should be pieces, just finely ground mushrooms. Set aside.
Heat 1 tablespoon of the oil in a large skillet. Add the onion and sauté for five minutes until translucent and soft. Do not brown. Add the garlic and sauté for an additional minute to soften.
Add the ground mushrooms to the pan and simmer over medium heat until most of the liquid from the mushrooms evaporates. You don't want the mushrooms to be completely dry but you don't want them to be soggy either. Allow the mushroom mixture to cool to room temperature.
Preheat the oven to 375° and prepare your baking sheet by coating it with the remaining 1 tablespoon of oil.
Place the bread crumbs and milk in a large mixing bowl and stir to combine. Add the remaining ingredients and mix lightly until all of the ingredients are incorporated. Don't overmix — it's OK if small pieces of ricotta are visible.
Use an ice cream scoop to shape egg-sized (or golf-ball size) meatballs; you should have between 16 and 18 turkey meatballs. Note if the mixture seems too wet and loose, you can add up to 1/3 cup of dried breadcrumbs. If it is too dry, add milk a tablespoon at a time until you get the right consistency.
Place the meatballs on the greased baking sheet and gently roll them around to coat all sides of the meatballs in oil. Bake for 25 minutes, checking halfway through the cooking time to turn the baking sheet and turn the meatballs over. The temperature should reach 165° to 175°.
While the meatballs are cooking prepare your sauce in a large pot.* Once the meatballs are done, drop them gently into the sauce and allow them to simmer for 15 to 20 minutes so that they absorb the flavors of the marinara.
Serve over your favorite pasta, topped with a sprinkle of parmesan and fresh parsley, if desired.
Notes
Special equipment: Food processor or chopper, ice cream scoop, rimmed baking sheet.
*For special diets: use vegan cheeses instead of regular parmesan and ricotta; use JustEgg instead of the whole egg; use gluten-free breadcrumbs instead of regular.
Prep Time:

45 Minutes

Cook Time:

35 Minutes

Category:

Dinner/Lunch

Method:

Bake/stove top

Cuisine:

Healthy Italian
Keywords: turkey meatball recipe, healthy Italian, healthy meatballs
Please note: Nutrition facts and calories per serving are approximate.
© Photos / Health Food Radar
This post is not intended to substitute for medical advice or prescribed medication. Especially if you have special health needs or a special diet, consult a physician before undertaking any new diet or exercise plan.
The author has not been compensated for any of the products mentioned in this post. In some cases, we may earn a small affiliate fee from certain links, including Amazon and the Health Food Radar shop. This helps compensate our staff for their time. Thanks for supporting us by clicking on the links!
Statements made on this website have not been evaluated by the U.S. Food and Drug Administration. Any information or products are not intended to diagnose, treat, cure, or prevent any disease. Information provided by this website or this company is not substitute for individual medical advice.