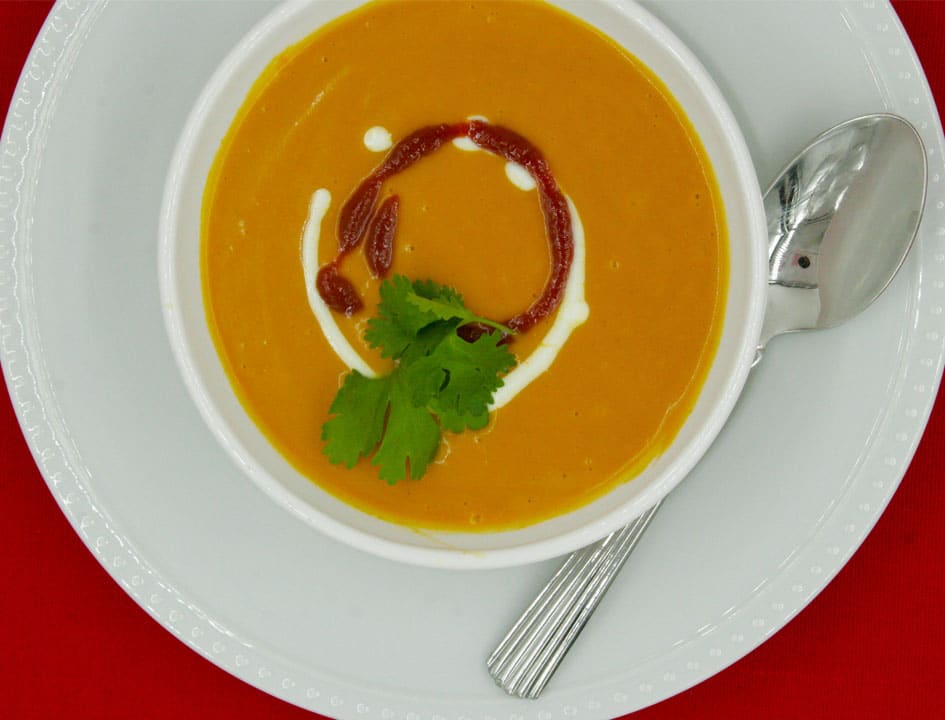 Making warming, sweet potato coconut soup is delicious and even more nutritious by adding the spiciness of ginger and curry.
Winter is cold here! I am forever in search of warm and delicious food to make me cozy and comfy during the winter months. Ginger and curry are two of my favorite spices for warmth, and have lots of other health benefits too.
Ginger Root Aids Digestion
A warming sweet potato coconut soup aids digestion by soothing the intestinal tract, eases nausea, and even prevents flatulence. The pungent spiciness of ginger also warms the upper respiratory tract, making it a soothing remedy for colds, coughs, and stuffy noses. Ginger has an analgesic and anti-inflammatory effect on joints, improving mobility and reducing the pain associated with arthritis, which can be particularly problematic in the cold winter months.
Curry Powder and A Touch of South Asian Cuisine
Curry powder is a blend of spices used widely in South Asian cuisine, including Indian and Thai. It can be yellow, red, or green. Yellow is the mildest, green is the spiciest, and red is in the middle. Most curry powders include curry leaf, turmeric, cumin, fenugreek, and chili peppers in their blends, and some may include additional ingredients such as ginger, garlic, fennel, cinnamon, clove, cardamom, nutmeg, and black pepper. Nearly all the ingredients in curry powders are warming. For example, cinnamon and turmeric are high in astringent tannins that help tighten tissues and absorb excess water from the body, resulting in raising the overall body temperature.
The Benefits of Sweet Potatoes
Another warming food is a yummy hot soup made with my favorite root vegetable: sweet potato. Sweet potatoes are a good source of vitamin A, vitamin C, vitamins B1, B2, and B6, iron, potassium, manganese, copper, pantothenic acid, niacin, and phosphorus. And my favorite benefit? Sweet potatoes have only natural sugars so have a slow absorption rate that does not spike blood sugar levels. This creates a balanced source of energy and does not negatively contribute to fatigue or weight gain.
Is Coconut Milk Nutritious?
We can make a warming, sweet soup with sweet potatoes and spices, and can make it even more nutritious by adding coconut milk. Coconuts are highly nutritious, containing vitamins C, E, B1, B3, B5 and B6 and minerals including iron, selenium, sodium, calcium, magnesium and phosphorous.
Now we have a delicious, nutritious, cold-fighting, body-warming superfood beyond compare.
Print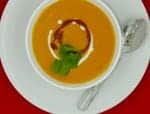 Gingery Sweet Potato and Coconut Soup
---
Author:

Total Time:

50 minutes

Yield:

6

–

8

Servings

1

x
Description
This Asian-inspired soup has a cozy blend of spices that will warm you up all winter long!
---
1

medium white onion, diced (if you are pressed for time, dried onion will work too)

2 tsp

coconut or olive oil

4

cloves garlic, minced (again, dried garlic will work if you are pressed for time)

2 Tbsp

curry powder (preferably yellow)

1/2 tsp

ginger powder

1/4 tsp

cayenne powder

1/4 tsp

sea salt

1/2 tsp

pepper

2

large sweet potatoes, peeled and cubed

4

–

5

cups

of coconut milk
---
Instructions
Add the onions and the oil to a large pot over medium heat. Stir them round so that the onions are coated with oil, put the lid on and leave for approximately 5 minutes. Check and stir frequently. Repeat this until the onions are soft and translucent, but not browned.
Add garlic, stir, and simmer for a few minutes.
Add curry powder, cayenne, ginger, salt and pepper. Stir.
Add sweet potatoes and stir.
Cook on medium-low for 5 minutes, stirring frequently.
Add 4 cups coconut milk, stir, and cover.
Reduce heat to low. Simmer for 25 minutes, or until sweet potatoes are soft.
Puree using an immersion blender, food processor or blender. Add more coconut milk, if desired, to create the thickness and consistency of your choice.
Adjust seasonings to taste.
Transfer back to the pot if needed and keep heat on low until ready to serve.
Prep Time:

15 Minutes

Cook Time:

35 Minutes

Category:

Soup

Method:

Stove top

Cuisine:

American/Asian
Keywords: sweet potato and coconut soup, sweet potato soup, curry powder, benefits of sweet potatoes
Photo ©Health Food Radar
This post is not intended to substitute for medical advice or prescribed medication. Especially if you have special health needs or a special diet, consult a physician before undertaking any new diet or exercise plan.
The author has not been compensated for any of the products mentioned in this post. In some cases, we may earn a small affiliate fee from certain links, including Amazon and the Health Food Radar shop. This helps compensate our staff for their time. Thanks for supporting us by clicking on the links!
Statements made on this website have not been evaluated by the U.S. Food and Drug Administration. Any information or products are not intended to diagnose, treat, cure, or prevent any disease. Information provided by this website or this company is not substitute for individual medical advice.