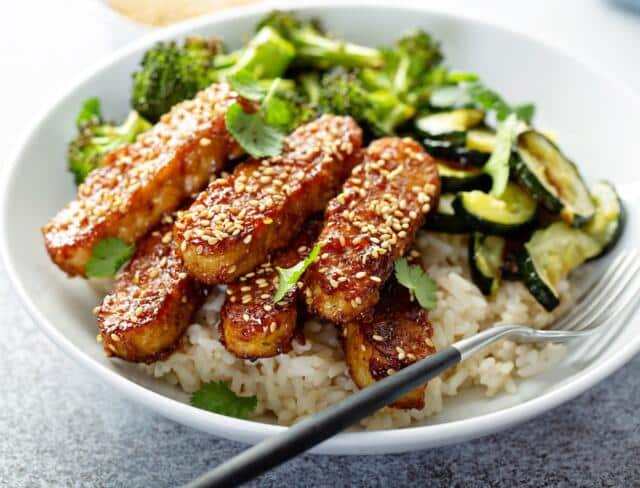 Vegan tempeh is one of those divisive ingredients non-vegans are thinking about when they complain that all vegan food is bland. This isn't true, especially for tempeh, unless you eat tempeh without doing anything to it, which is true for any ingredient. A bowl of rice needs butter and salt, a biscuit needs jam, and you better throw together a tasty vegan tempeh marinade or you're just eating naked beans, and nobody eats beans naked.
What is Vegan Tempeh Anyway?
Essentially, it's beans. Tempeh is fermented soybeans pressed into a cake and if that doesn't make you drool, nothing will. Vegan Tempeh is loaded—load-ed—with probiotics and has been studied for years for its health benefits. As a protein, it packs a hell of a punch with 32g for a six-ounce serving. It's also loaded with fiber, vitamin B, calcium, and . . . you know what, let's break this down:
What's in Tempeh?
Tempeh is nutritionally dense. A six-ounce serving of tempeh contains:
280 calories
32 grams of protein
Only 10 grams of fat
20 grams of carbs
More than half your daily fiber
12% of your daily calcium
20% of your daily iron
Six ounces of tofu packs less punch than tempeh, which is good if you're doing CICO but not so good if you're starving:
105 calories
6 grams of fat
1 gram of carbs
1 gram of fiber
11 grams of iron
As a comparison, six ounces of lard contains:
1554 calories
218% of your daily fat
54% of your daily cholesterol
. . . and pretty much nothing else. Which, granted, is a spurious comparison. Who eats six whole ounces of lard?
Tempeh is More Like a Flavor Base
Not the kind of flavor base that lends taste to a meal, but a base onto which a savvy cook can build to suit their palate. This kind of ingredient is all over the culinary landscape, not just in vegan cooking. Polenta is a flavor base, so are noodles, so is rice. Sure, you can eat them all alone, with no seasoning, but they are never used that way. All of them act as sturdy vehicles for a savory architecture of marinades, sauces, and seasoning that transforms them from a mere ingredient into a dish.
Which Explains How to Cook Vegan Tempeh
You're building a flavor profile. Only psychopaths eat tempeh out of the box. There are steps. There's a process. It has a history.
But Wait, First Let's Talk About the Cutting Controversy
Because there is one. Some recipes suggest you follow these steps with your intact brick of tempeh, while others insist you slice your tempeh into the shapes you mean to serve. While the preparation war is raging, the fact is by slicing prior to marinating, you will distribute the flavor more thoroughly and serve a more consistently delectable dish. However, you can steam first, if you wish. But you'd be crazy to.
Steam the Tempeh
Tempeh is essentially a brick. There aren't many ways to get the flavor inside. But if you don't get the seasoning into the tempeh, it can taste bitter. Steam fixes the problem by causing tempeh to bloom. The beans open a little, exposing crevices and cracks in the surface for your flavor train to follow.
Marinade the Tempeh
Here's where your talents at flavoring will really shine. Tempeh's natural flavor is neutral so it can go in any direction. Classic tempeh marinade is a kind of Korean or Indian mélange, with about eight million variations on soy, ginger, and garlic. Which is delicious. But there's just no reason to limit your palate to the Asiatic continent.
Barbeque tempeh marinade—soy sauce, maple syrup, liquid smoke, and seasoning
Peanut tempeh marinade—peanut butter, soy sauce, sesame oil, chili flakes
Balsamic tempeh marinade—soy sauce, balsamic vinegar, garlic, olive oil
Teriyaki tempeh marinade—cheat: get a jar of vegan teriyaki sauce
You get the idea. Tempeh is your tabula rasa of vegan marinades.
Cook the Tempeh
For which there is an infuriating breadth of possibilities, but they come down to the big three: frying, baking, and grilling. The vast recipe-verse on the internet covers all three ad infinitum. Just Google tempeh breakfast recipes, or tempeh marinade without soy sauce, and your search results will scroll forever.
To narrow it down, I decided to focus on expediency, ease, and flavor. I also wanted to think about leftovers. If you use a Mexican marinade for your tempeh, will the leftover pieces make good snacks between meals the next day? Or will they emerge after 12 hours in the fridge as ghostly versions of themselves, spectral knobs of flavorless glurge? It seems to me the dividing line there is finish and flavor, so I went for a marinade and a method that gave my dinner—and my leftovers—the most flavor bang for their tempeh buck.
Recipe for the Muskavado Cashew Hoisin Glazed Vegan Tempeh Masterpiece
Muskavado is the Cadillac of brown sugars. It's an unrefined sugar that isn't centrifuged, so it retains a lot of the minerals and flavonoids of the cane it's made from. It is a dark coffee-colored sugar with a deliciously strong, earthy molasses aroma that clumps very nicely. It's made by the oldest method, which is to boil can down into molasses then pour the molasses out into giant flat pans and stir it so it will crystallize. It's a protected and well-managed production using organic cane and manual methods that's been worked continuously in the Indian province of Maharashtra (and others) for over 1000 years. Only about 120 tons a day are produced during an annual season barely over 100 days long. It is expensive, rare, organic, and just delicious.
Ways to Tweak This Recipe for Vegan Tempeh
Brown sugar or molasses is a big part of Hoisin sauce and Muskavado combines them. It's freaking delicious and it marries well with the brown sugar. However, if you hate cashews, you can use any nut butter in this recipe—you can even use black beans, if they're cooked down. Making your own Hoisin sauce is not that hard and it's good practice for cooking Thai or any dish where you want that sticky, spicy, soy-umami flavor bomb.
Make Enough for Vegan Tempeh Leftovers
Make too much, it keeps in the fridge for about two weeks before the garlic starts to assert itself and storm the flavor profile. But look, I know some people who use Hoisin sauce in a lot of their dishes at home and they're busy people, and trust me, they buy cheap hoisin sauce at a local grocery store.
This is one of those life sauces that you can work on for years to turn it into a truly personal expression of your flavor profile. Don't be afraid to tweak it with variations in every ingredient. Try different vinegar. Try different flavored oils. Different peppers. What would a cajun version taste like? What if this was made with British analog ingredients (Vegan Worcestershire sauce, chestnut butter)?
Print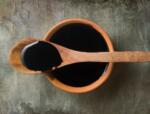 Muskavado and Cashew Hoisin Sauce
---
Author:

Total Time:

20 mins

Yield:

8

servings for dipping or

one

marinade

1

x

Diet:

Vegan
Description
This sauce uses hard to find ingredients because the author loves the flavor they impart. Feel free to substitute for what is available in your area or if you don't like strong flavors. You can use any brown sugar, or a combination of brown sugar and honey . . . you do you.
---
1/4 cup Sempio soy sauce (or soy sauce of your choice)
2.5 tablespoons of smooth cashew butter (use only two if you want it slightly thinner), or any nut butter
1 tablespoon Muskavado brown sugar (or any brown sugar)
1.5 teaspoons rice vinegar
.5 teaspoon of apple cider
2 teaspoons sesame oil
1 teaspoon of chili paste, or hot sauce, to taste
1 clove garlic, minced or pressed
1 pinch of freshly ground black pepper
---
Instructions
Whisk it all together in a bowl. Serve.
Notes
Change up the nut butter to tweak the flavor profile. Try using different vinegars. Different oil.
Prep Time:

10 mins

Cook Time:

10 mins

Category:

sauce

Cuisine:

Asian
Keywords: soy, cashew, asian, hoisin
Print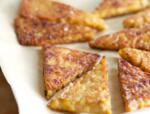 Vegan Tempeh with Homemade Hoisin Sauce
---
Description
This recipe turns your vegan tempeh into bombastic bites of pure flavor–and makes for fantastic snacks later.
---
1 8 oz block of tempeh, cut into triangles or just sliced
Muskavado Cashew Hoisin Sauce (above)
Sesame seeds
---
Instructions
Steam your vegan tempeh slices for about 10 minutes,
Combine tempeh and hoisin in a bowl, until well-coated. Let marinate for at least two hours, preferably overnight.
Bake in a 400 degree pre-heated oven for about 20 minutes, flipping halfway OR saute in a non-stick pan for about 15 minutes, flipping halfway.
Serve over rice
Keywords: vegan tempeh, tempeh recipes, tempeh, vegan tempeh recipes, tempeh vegan, fermented soybeans, is tempeh vegan
© iStockPhoto.com
This post is not intended to substitute for medical advice or prescribed medication. Especially if you have special health needs or a special diet, consult a physician before undertaking any new diet or exercise plan.
The author has not been compensated for any of the products mentioned in this post. In some cases, we may earn a small affiliate fee from certain links, including Amazon and the Health Food Radar shop. This helps compensate our staff for their time. Thanks for supporting us by clicking on the links!
Statements made on this website have not been evaluated by the U.S. Food and Drug Administration. Any information or products are not intended to diagnose, treat, cure, or prevent any disease. Information provided by this website or this company is not substitute for individual medical advice.