Low-carb vegetable lasagna can help meet your goals for a low-carb diet.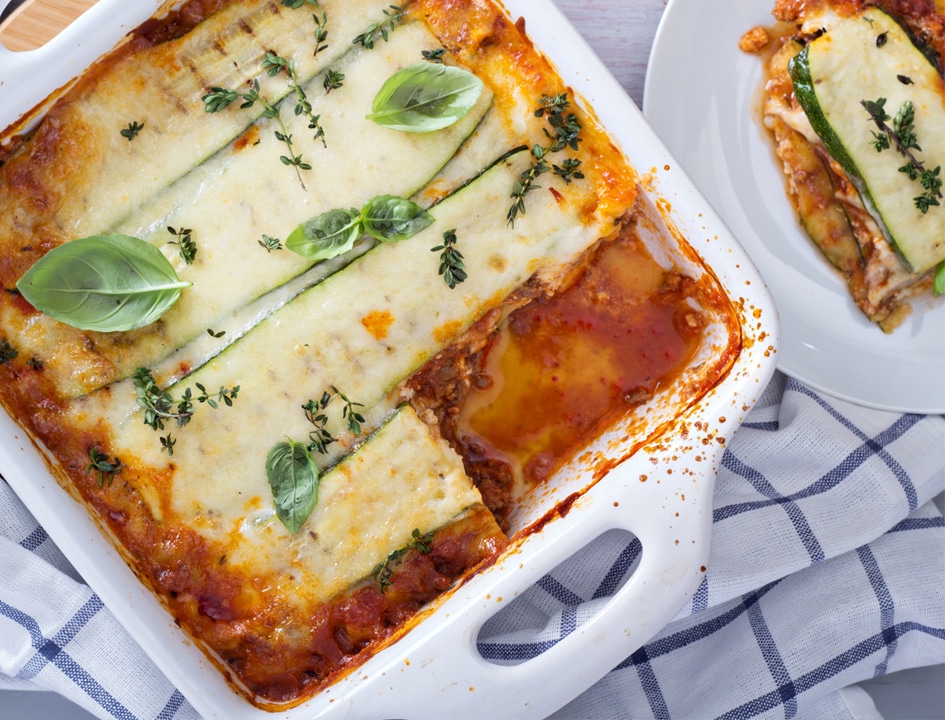 The idea behind the low-carb diet is that decreasing carbohydrates lowers insulin levels, which causes the body to burn stored fat for energy, ultimately leading to fat loss. This happens because blood sugar triggers the release of insulin, which moves the blood sugar through your body to be used for energy. Any excess blood sugar is stored as fat cells to be used later. But if you don't use it, you gain fat.
A low-carb diet has other benefits, too: better cholesterol levels, lower risk of heart disease, and significantly less inflammation, which improves overall health. But a diet too low in carbohydrates can result in vitamin and mineral deficiencies, bone loss, and gastrointestinal disturbances.
low carb vegetable lasagna
Low Carb Vegetable Lasagna Cuts the Refined Carbohydrates
The healthy way to eat low-carb is to cut out simple, or refined, carbohydrates and keep naturally occurring complex carbs found in plant-based foods. Examples of simple, "bad carbs" are white bread, pasta, cookies, cake, candy, and sugar-sweetened sodas and drinks. Complex, "good carbs" can be found in whole grains, vegetables, fruit, nuts, seeds, and legumes (like beans, lentils, and peas). These complex carbohydrates are full of fiber that helps regulate your digestive system, making you feel fuller so that your meal satisfies you longer.
Even if you are not actively avoiding wheat or trying to eat low-carb, replacing some of your pasta with veggies is always a nutritious swap.
Yet, despite being armed with this knowledge, giving up pasta is a tall order. So, I'm happy to share a fantastic low-carb vegetable lasagna that even carb addicts love. We replace the lasagna noodles with thinly sliced zucchini. Sliced zucchini stands in quite well with its flat slices, ability to soak in flavor, and capacity to absorb oils, which spreads good taste throughout the dish. Plus zucchini is low in calories (even lower than other green veggies like broccoli and brussels sprouts) and has loads of potassium and vitamin C.
It's not a low-calorie meal, but it is a low-calorie, low-carb lasagna. So when you really want something warm and cheesy, you can have it without breaking your New Year's resolution. Delicious!
Print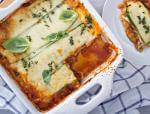 Low-Carb Lasagna
---
Author:

Yield:

8

–

10

Servings

1

x
Description
This low-carb lasagna featuring thinly sliced zucchini is the perfect stand-in for the classic Italian comfort food!
---
4

large zucchini, sliced about ¼ inch thick (a mandolin slicer is helpful, but not necessary)

2

15-ounce containers part-skim ricotta or dairy-free ricotta

2

large eggs

1 tsp

. salt, plus more for seasoning to taste

½ tsp

. black pepper, plus more for seasoning to taste

1

10-ounce package frozen chopped spinach, excess moisture squeezed out

2 cups

shredded part-skim mozzarella cheese or Follow Your Heart Vegan Mozzarella Shreds

1½ cups

shredded parmesan cheese or dairy-free parmesan cheese

1 cup

fresh basil leaves, torn

2 tsp

. dried oregano

1 tbsp

. extra-virgin olive oil

3

cloves garlic, minced

1

yellow onion, diced

¾ cup

shredded carrot

1

yellow squash, diced

6 cups

marinara sauce
---
Instructions
Preheat oven to 375°. (Note: After removing the zucchini noodles from the oven, increase the temperature to 400°.)
Place sliced zucchini on large baking sheet coated with non-stick cooking spray. Sprinkle with salt and roast in the oven for 15-20 minutes to help dry out the zucchini a bit.
While the zucchini is roasting, in a medium bowl make the ricotta mixture by whisking together the ricotta, eggs, salt and pepper. Add the spinach and stir to combine.
In a separate bowl, make the shredded cheese mixture by combining the mozzarella, parmesan, basil, and oregano.
Make your mixed vegetable filling by heating a large skillet over medium-high heat and adding the olive oil. Add the garlic and onions and cook, stirring, 1 minute. Add the carrots and yellow squash. Cook until the vegetables are tender, 3 to 5 minutes. Season with salt and pepper. Remove from the heat and drain off any excess liquid.
If you didn't already, increase the oven temperature to 400 degrees F.
Assemble the lasagna in a 9 by 13-inch glass baking dish with the following layers: Spread a third of the marinara sauce over the bottom of the baking dish. Arrange a layer of zucchini noodles on top. Spread a third of the ricotta mixture over the zucchini noodles. Spread a third of the cooked mixed vegetables. Sprinkle with a third of the shredded cheese mixture. Repeat to make two more layers, ending with the shredded cheese mixture on top.
Cover with foil and bake 30 minutes.
Remove the foil and continue to bake until the top is golden brown, about 10-15 minutes more.
Let cool at least 10 minutes before serving.
Notes
I love quick and easy dinners, but this is not one of the quick ones! While it takes only about 30 minutes of easy, active prep time, it has to cook for about 45 minutes in the oven, so plan ahead.
Adapted from and inspired by Cookingchanneltv.com, AmbitiousKitchen.com, and All Recipes.
Photo ©iStockPhoto
This post is not intended to substitute for medical advice or prescribed medication. Especially if you have special health needs or a special diet, consult a physician before undertaking any new diet or exercise plan.
The author has not been compensated for any of the products mentioned in this post. In some cases, we may earn a small affiliate fee from certain links, including Amazon and the Health Food Radar shop. This helps compensate our staff for their time. Thanks for supporting us by clicking on the links!
Statements made on this website have not been evaluated by the U.S. Food and Drug Administration. Any information or products are not intended to diagnose, treat, cure, or prevent any disease. Information provided by this website or this company is not substitute for individual medical advice.