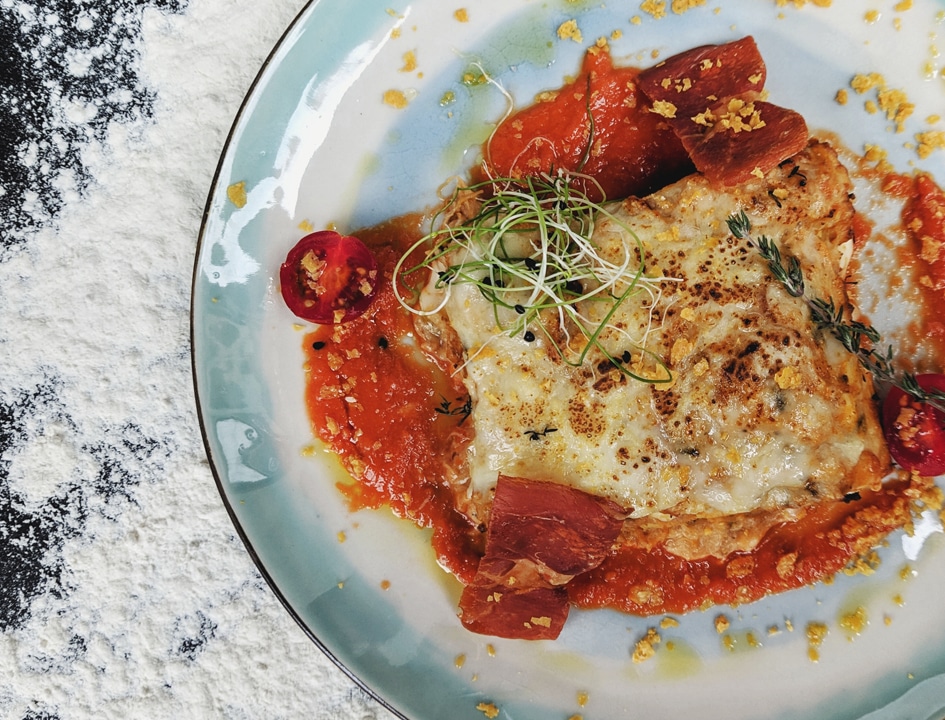 I Finally Develop the World's Best Gluten-Free Vegetarian Lasagna, Seriously
Gluten-free vegetarian lasagna does not taste great. It's squishy and sopping wet and gray. It's a fine recipe for the friend that follows vegetarianism, but your gluten-free friend can't eat it because of the noodles, and your brother who is keto can't eat it, also because of the noodles. And the bechamel sauce. How do you make a lasagna that's delicious, has a proper lasagna texture, isn't dripping zucchini juice, and tastes wonderful? Ahem. Let me help you with that.
I Cook for a Multi-Dietary Family
Sometimes it's hard to get the gluten-free recipe right, only to find out it overclocks the carb limit for my Keto eater. My wife loves vegetarian dishes as long as they have bacon in them, and I just want something I can cook that doesn't take me all day yet has the flavor of a culinary nuclear bomb.
Say Hello to My Little Friend
There are many components to lasagna that can get lost when turning this traditionally meat-heavy casserole vegetarian. The meat, for one. And the noodles for two. And the texture for three. In my endless quest for the perfect vegetarian lasagna, I've tried, perhaps, every recipe. Some were great on flavor, but not the texture. Some were great on texture, but they tasted like a 1965 Buick Riviera. Some left such a blank space where the meat goes that they tasted like you were staring at a warm salad.
The Best Meat for Gluten-Free Vegetarian Lasagna
I use a duxelles. I know a lot of people (I'm looking at you, @americastestkitchen) use ground-up black olives or kalamata olives—a delicious choice. But this is expensive and it doesn't matter because my Keto eater hates olives so much if I put them on the table he'll move. So, I needed different meat. I considered beets, since they're the right color and I use them for steak, but I just didn't think they'd work in an Italian dish. Then I remembered duxelles.
Duxelles is made from roughly chopped mushrooms that are cooked down over time to a savory paste that is brown and umami-licious. It looks a little like ground beef and, because it's cooked in butter with shallots and thyme, it hits in the same flavor profile as beef. I tried it and it works and everyone loved it.
Those Noodles, Though
Noodles are a structural component of lasagna. They separate the layers with a recurring texture and a taste that carries the other flavors but doesn't compete with them. I looked at gluten-free noodles, but the carb load per serving exceeded Keto boy's daily limit. I had to find something else. So, I got down a couple of cookbooks, shoved 90 pounds of fresh zucchini out of the way, and tried to find — oh yeah, Zucchini. Such a versatile vegetable.
I'd heard of using thin slices in place of noodles. Zucchini also plays a big role in most vegetarian lasagnas, but usually as a filler, not a layer. Except that I'm totally wrong, there are several excellent recipes out there using zuke noodles.
The first batch was terrible because I tried to mimic noodles and sliced the zucchini paper-thin. That was a mistake, as the vegetarian lasagna had no bones, so a serving just fell into a slump on the plate. It still tasted OK, but the texture was not great.
Setting the mandolin to a thicker setting, say just over an eighth of an inch, or about four millimeters, gave me a sturdy plank that kept the structure of the dish solid. It was still easy to bite through and had a nice texture.
Make It Moist, Not Soggy
Finally, the demon of vegetarian lasagna: moisture content. I had to eat my early attempts with a spoon. The pan I cooked with practically filled with liquid — not surprising when you remember most vegetables are mostly water. But they're also sponges, and you can use that to your advantage.
Salt your zucchini strips in a bowl, then pour off extra moisture and dry them on paper towels.
Microwave your diced eggplant, then dry it on a paper towel.
Cook your duxelles till it's dry.
Use frozen spinach, heat it up in a pan to evaporate as much water as possible, then squeeze it through a kitchen towel to remove excess moisture.
Here Is Where I Failed at Making Vegetarian Lasagna
There's no way to make this gluten-free vegetarian lasagna recipe quickly. There is a lot of prep work, so block off a couple of hours. It can be frozen, of course, so make more than you need. But my hopes for an easy, delicious dish did not materialize. Mine takes a couple of hours. But. It's. Worth. Every. Minute.
Print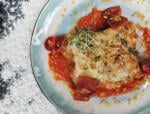 The World's Best Gluten-Free Vegetarian Lasagna
---
Author:

Total Time:

2 hours 25 minutes

Diet:

Gluten Free
Description
This ridiculous, lengthy, multi-stepped method for vegetarian lasagna may take a long time, but it's worth the effort. Be sure to make two batches and freeze one for later.
This recipe is for a 9×13-inch pan.
---
2

to

3

medium-sized zucchini–the wider the better–sliced lengthwise into

1/8

-inch planks

1 cup

of diced eggplant

1 cup

of frozen spinach, water removed

1.5

to

2

cups duxelles (your choice)

1

clove of garlic (or more if you want)

2 cups

shredded mozzarella (don't cheat, do it yourself)

2

26 oz boxes of San Marzano crushed tomatoes

1/4 cup

(approximately) fresh basil, chiffonade
dried oregano
salt and pepper
Keto and Gluten-Free Bechamel from Hell
1.5 cups

heavy whipping cream

7 ounces

mascarpone cheese
dash of salt
dash of white pepper
dash of freshly grated nutmeg

1 cup

finely shredded parmesan or manchego
Duxelles
2

lbs mushrooms

1

medium shallot

2 teaspoons

fresh thyme or

1 teaspoon

dried thyme

one

stick of unsalted butter
---
Instructions
Preheat the oven to 350°
Prep your zucchini and your eggplant!
salt the planks and put them in a bowl, set aside
microwave the diced eggplant for three minutes
Make your duxelles
pulse the mushrooms in a food processor, being sure to do it in batches to avoid turning it into a paste
wrap the resulting batch of pulsed mushrooms in a clean kitchen towel and squeeze out as much moister as possible (reserve if you like)
put all ingredients into a pan over medium heat and sweat the mushrooms, stirring often, until they release all moisture and that moisture has evaporated, leaving a dry paste
set aside
Keto Gluten-Free Bechamel from Hell
add all the ingredients into a small saucepan; warm over medium heat until the ingredients are thoroughly combined; remove from heat and set aside
Assembling the world's greatest gluten-free keto vegetarian lasagna
Drain the zucchini noodles and dry them thoroughly on paper towels
Add the garlic, oregano, and basil to the crushed tomatoes and mix well
Lightly oil the bottom and sides of your lasagna pan (9×13)
Spread a quarter cup of the red sauce on the bottom of the pan
Cover with noodles as completely as you can. If you need to cut and paste, do it.
Layer the ingredients like this:

red sauce on the bottom
the ingredient
mozarella
top with bechamel sauce

The topmost layer

add some red sauce
add all the remaining cheese except the parmesan or manchego
sprinkle with grated parmesan or manchego

Put into the oven for 25–30 minutes, or until the lasagna is bubbling and the cheese on top is browned.
Notes
If you want to get weird, make this vegetarian lasagna with the zuke noodles rolled into cylinders then fill them with the ingredients and top with bechamel and cheese.
Prep Time:

2 hours

Cook Time:

25 minutes

Category:

Italian, Vegetarian, Gluten-free, keto

Method:

maximum effort

Cuisine:

Italian
Keywords: vegetarian lasagna, zucchini, duxelles, gluten-free, keto, gluten-free vegetarian lasagna, gluten free vegetarian lasagna, gluten free vegetarian lasagna recipe
Photo by sunorwind on Unsplash
This post is not intended to substitute for medical advice or prescribed medication. Especially if you have special health needs or a special diet, consult a physician before undertaking any new diet or exercise plan.
The author has not been compensated for any of the products mentioned in this post. In some cases, we may earn a small affiliate fee from certain links, including Amazon and the Health Food Radar shop. This helps compensate our staff for their time. Thanks for supporting us by clicking on the links!
Statements made on this website have not been evaluated by the U.S. Food and Drug Administration. Any information or products are not intended to diagnose, treat, cure, or prevent any disease. Information provided by this website or this company is not substitute for individual medical advice.