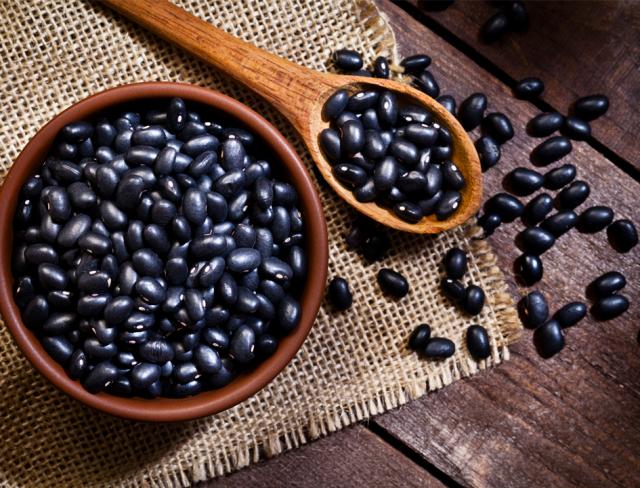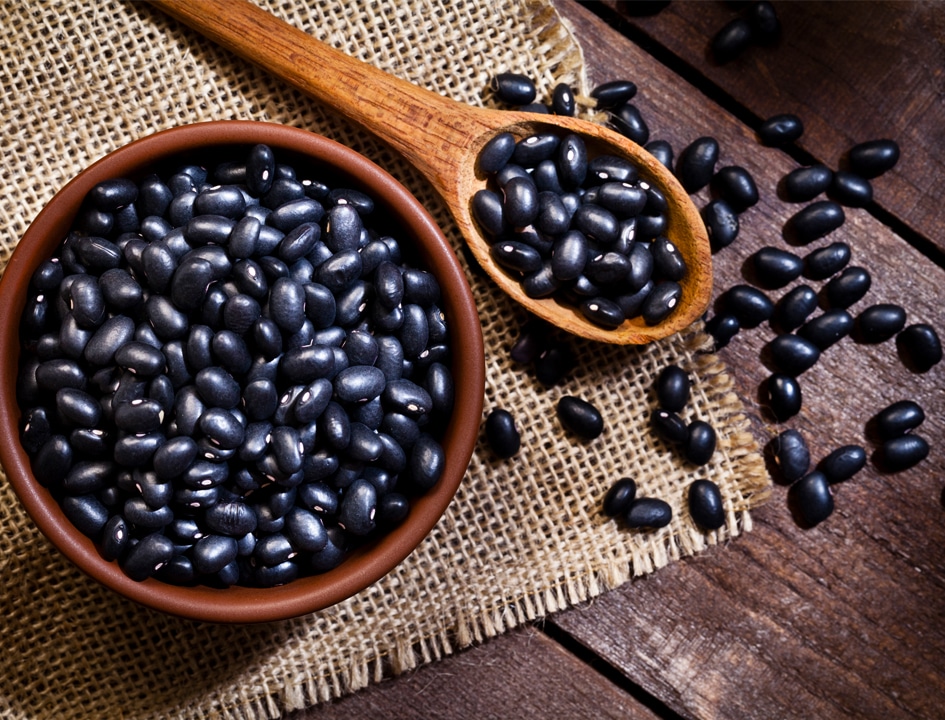 Not only are beans inexpensive and nutritious — full of fiber, high in protein and antioxidants — but they are also a versatile pantry star. Prepare a big batch of saucy, smoky, spicy black beans over the weekend and freeze in portion sizes. Voila! You'll have a delicious and deeply satisfying option for a quick weeknight meal.
And, depending on how you prepare them, beans are going to satisfy the diet requirements or preferences of the pickiest eaters.
New to Preparing Beans?
If you are new to prepping and cooking beans, here are a few tips:
Fresh is always best. The beans available today bear no resemblance to those found in dusty plastic bags on the bottom shelf of the super-grocery store. These jewels are sold at their peak of freshness, and heirloom varieties are available, too. Buy dried beans from the bins, where they are usually fresher than the bagged variety, or shop where you know the turnover is high. Old beans are tough and flavorless. For prepackaged beans, opt for Bob's Red Mill brand. For canned, try the Eden brand.
Watch the salt. While there is debate over whether to salt the water before cooking dried beans (some say it toughens the beans), there's no debate about the unnecessary amount of salt in most cans of beans. Look for no- or low-salt canned beans. If you can't find them, choose the brand with the least amount of sodium — it's shocking how much this varies from brand to brand. You'll find that you like your food better when you get to control the salt, especially if someone in your house is on a low-salt diet. (I learned from Joanne Chang's "Flour Two" cookbook to use no-salt tomatoes and low-salt stock in soups and other dishes, too.)
Canned beans work for most recipes. Beans are like refrigerator pie dough or frozen puff pastry: They don't always have to be homemade. Sometimes canned is best or makes no difference. You can make delicious homemade hummus with canned chickpeas. When beans are the star of your dish, however, do splurge on the best quality canned beans. Nobody wants to eat three-bean chili made with mushy, flavorless beans.
Black Beans Star in These Recipes
I have a few go-to bean recipes, from slow-cooking to quick and easy, but these are easily my favorites. Like most dishes, you can control how lean you want to keep things with how many toppings and sides you add. (Recipes below.)
1. Black Beans with Salsa (for "Hoppin' Jack.") This recipe is inspired by Wishbone restaurant's Hoppin' Jack, which I fell in love with years ago at the original location in Chicago's West Loop. Black beans made with plenty of heat are poured over brown rice and topped with cheese, scallions, sour cream, and any other toppings you wish.
2. Black Beans and Quinoa. One of my favorite comfort foods, especially after a hard day at work, is this fast, easy dish: Black beans (canned or homemade) are tossed with quinoa and salsa and served with a sunny side up egg on top. It's hearty, filled with satisfying textures and flavors. (Secret ingredient: A tiny bit of butter.)
Print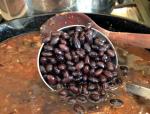 Black Beans and Salsa
---
Description
Cook a big batch of these delicious, soupy black beans and freeze ahead for easy meals all month long. Serve over rice, pasta or include in your favorite Mexican dishes.
---
2 c. Dried black beans
2 T. Oregano, divided
2 Bay Leaves
2 T. Dried sage, divided
2 t. Cumin, divided
1 medium onion, diced
1 – 2 T. Olive oil
1 Jar Medium Salsa
1 t. Sugar (optional)
Salt (Kosher) and Pepper
---
Instructions
Prepare the beans. (Plan ahead to soak the beans overnight.) In a large bowl cover the beans with cold water to cover by at least an inch (they will expand). Allow to soak overnight or at least 8 hours. Drain and add more water a few times — some believe this helps reduce the gas-producing nature of beans.
Once the beans have soaked, drain and rinse. Add them to a large pot or dutch oven. Cover with cold water, at least two inches above the bean line. Add 1 tablespoon each of the oregano and sage and the bay leaf. Bring to a boil and reduce to simmer for 20-25 minutes. (You don't want the beans to cook all the way through.)
Prepare the salsa. In a separate non-stick pan, heat the olive oil on medium-high heat. Add the onion and cook for 5-8 minutes until translucent. Add the remaining oregano and sage and the two teaspoons of cumin. Stir quickly to toast the spices but don't allow them to burn. Add the salsa, and salt and pepper (1 teaspoon each) to taste. Stir and simmer for another 5-10 minutes over low heat.
Combine! Scoop one cup of the cooked black beans and their liquid into the pan of onions and salsa. Heat over medium heat to combine the flavors. Continue adding beans to the pan until the pan is full. Simmer until the mixture is slightly thick (it should not be watery)!
Now, pour the bean and salsa mixture back into the large pot with the remaining beans. (Note: There should not be much liquid left in the large bean pot; if there is, remove some and reserve it to add later in case the beans get too dry while simmering.)
Taste the beans and add more heat (red pepper flakes or an additional teaspoon of cumin) if necessary. Add the sugar. Simmer over low to medium heat, partially covered, for at least 30 minutes. Keep a close watch and stir occasionally so the bottom of the pan doesn't burn.
Notes
Serving suggestion: Top a bowl of brown rice with the beans and spoon your favorite ingredients on top for "Hoppin' Jack": Cheddar or Colby Jack cheese; sour cream, avocado, diced tomatoes. Non-dairy cheese is delicious here as well. Get creative!
Substitution: If you don't have jarred salsa on hand, substitute with one 14-oz. can of diced tomatoes with juice (I prefer the fire roasted kind) and at least one tablespoon of chile powder. Toss in a small can of chopped green chiles, if you wish.
Storage: Keeps for up to three or four days covered in the refrigerator. Freeze in two-cup and one-cup portions for quick dinners. Also, you can pull out the freezer packs of beans for other recipes, like the "Black Beans and Quinoa" recipe here.
Keywords: black beans and salsa, black beans, Mexican dishes, cheddar, colby jack cheese
Print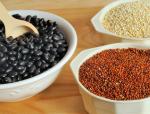 Black Beans and Quinoa
---
Description
Protein-packed quinoa and black beans get a spicy kick from your favorite salsa in this fast, healthy and versatile dish. Serve for dinner or breakfast.
---
1 c. Quinoa
2. c. Water
1 Can black beans, preferably unsalted, drained
2 t. Olive oil
1/3 c. Salsa
Salt and Pepper
1 T. Butter
---
Instructions
Combine quinoa and water in a medium saucepan. Bring to a boil. Turn down the heat and simmer, covered, for 15 minutes or until the water has absorbed and the grains have "sprouted."
In a separate medium saucepan, heat the olive oil then add the drained black beans and salsa. Heat through. Season with salt and pepper to taste.
Add the bean mixture to the quinoa and stir to combine. Add butter (optional) and season with salt and pepper to taste.
Notes
Serving suggestions:
Serve a generous helping of the quinoa and black beans with a poached or sunny-side-up egg on top.
Serve with your favorite avocado toast on the side or simply top with avocado slices.
Keywords: black beans and quinoa, black beans, salsa
Images © iStockphoto and ©Feldcomm
This post is not intended to substitute for medical advice or prescribed medication. Especially if you have special health needs or a special diet, consult a physician before undertaking any new diet or exercise plan.
The author has not been compensated for any of the products mentioned in this post. In some cases, we may earn a small affiliate fee from certain links, including Amazon and the Health Food Radar shop. This helps compensate our staff for their time. Thanks for supporting us by clicking on the links!
Statements made on this website have not been evaluated by the U.S. Food and Drug Administration. Any information or products are not intended to diagnose, treat, cure, or prevent any disease. Information provided by this website or this company is not substitute for individual medical advice.