A gluten free peach cobbler may change your dessert-making life. Peach cobbler is a thing where I grew up in the Deep South. A peach tree grew right outside our kitchen door, and in the early fall, we'd pick warm fuzzy fruit right off the branch to make cobbler. Now I live in Zone 5a, and there's not a peach tree in a hundred miles. So when I make a cobbler, I use canned peaches, and I don't care; it's delicious.
And It's a Cinch to Make
Requiring just a few ingredients and almost no technique, cobblers are a newbie baker's best friend. Not only are they very forgiving, you can alter the ingredients to make just about anything into a cobbler. I like to mix in blackberries but to bake a true masterpiece, try peaches and blueberries. It's an amazing combo that is visually stunning and tastes like a long summer afternoon.
Cobbler is essentially flour, milk, sugar, butter, and fruit. Which fruit is entirely up to you. Using seasonal berries and stone fruit is a smart choice. And once you master this simple recipe (or print it out and tape it to the inside of your kitchen cabinets like I did), you can make any kind of cobbler at the drop of a hat.
But Wait, Can't We Elevate Our Gluten-Free Peach Cobbler?
Oh yes, we can. Peaches have an interesting flavor profile. The Seattle Times listed flavor attributes for peaches that open up a giant pantry of flavor combos. Besides blackberries and blueberries, peaches pair very nicely with tree nuts, other stone fruits like plums and citrus. But some combos are wackadoodle: cinnamon basil, Mexican tarragon, and ginger—also vanilla, caramel, Grand Marnier, and Bourbon. I want them all, but that might be weird. Still, I can't just NOT put something into this cobbler.
A Quick Visual Guide for the Pros!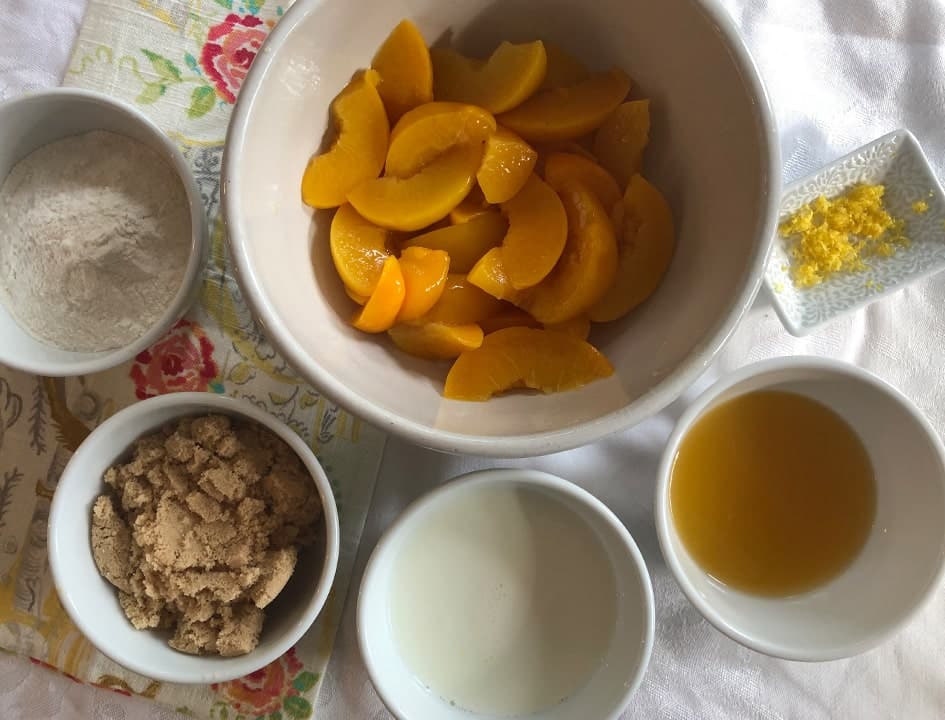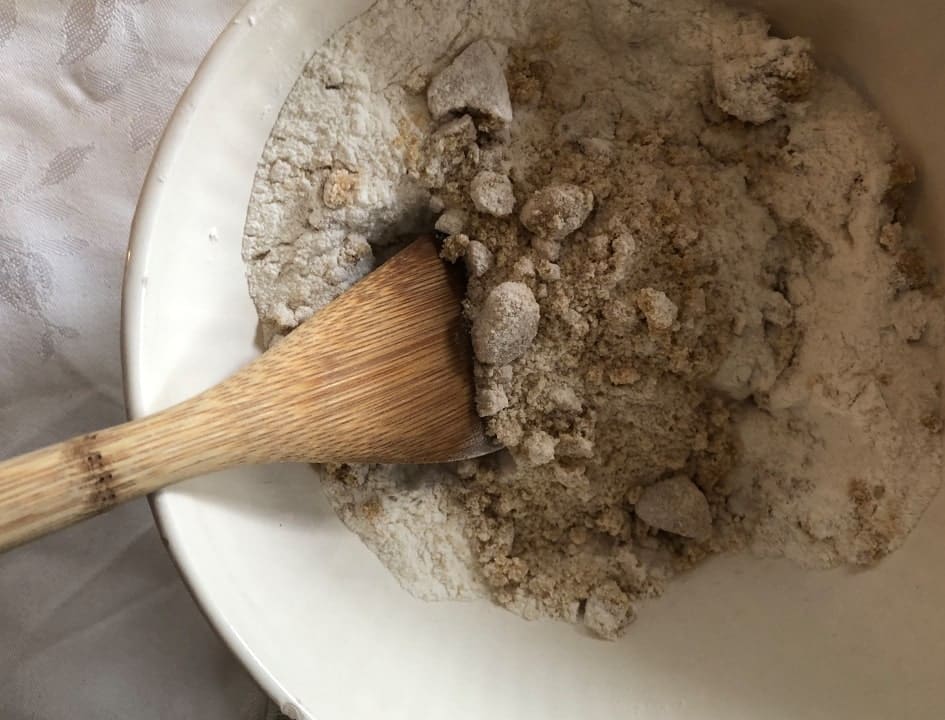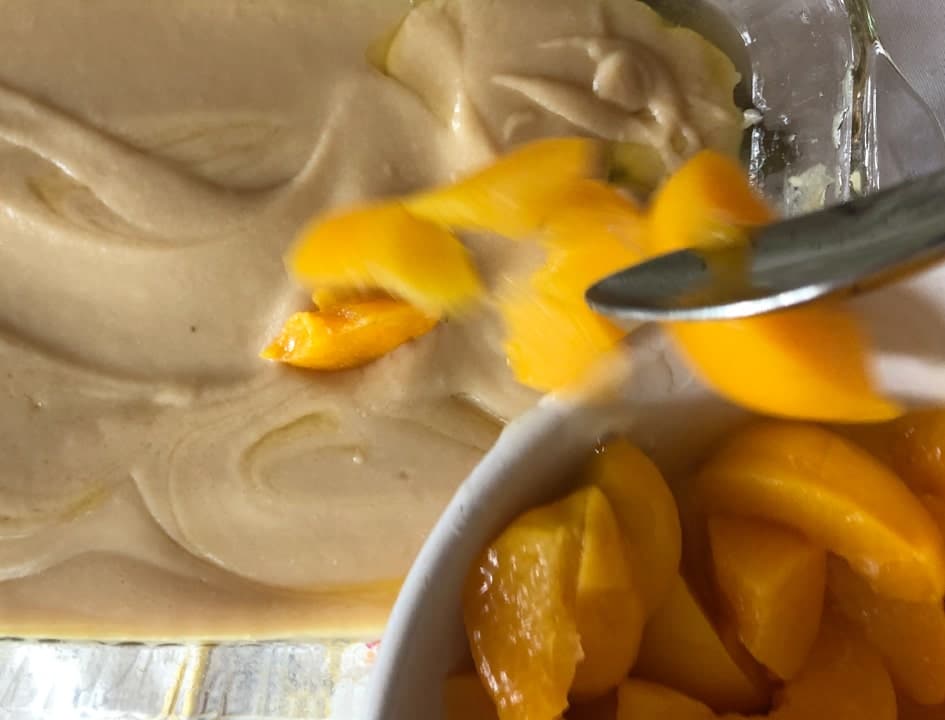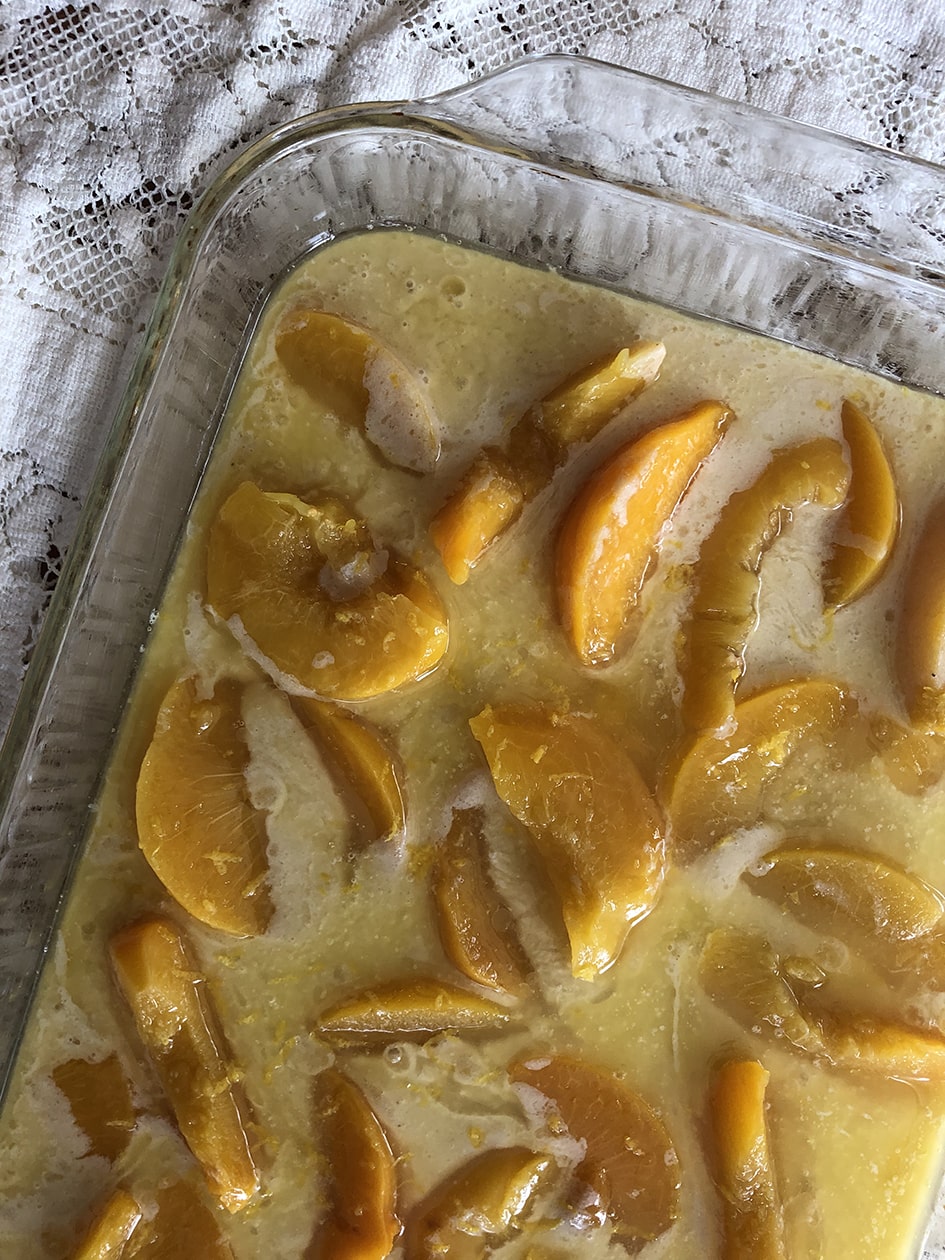 Print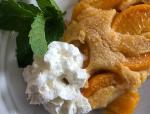 Gluten Free Peach Cobbler
---
Author:

Total Time:

55-60

Yield:

6

1

x
Description
Gluten-free peach cobbler is easy and will form the foundation of your new life-long obsession with this vintage one-pan dessert.
---
2

15

–

oz

cans of peaches with no added sugar; half the syrup reserved (approximately 1/2 cup of syrup)*

1

stick of butter (

8

T), melted

1

cup

gluten-free flour — we used Bob's Red Mill, but look at these

1/2

t Baking powder

1/2

t Xanthan Gum (check your flour label; if it includes Xanthan then you don't need to add it to this recipe)

1/2

t Kosher salt

3/4

cup

light brown sugar

1

cup

milk
Grated zest of half a lemon

1 Tablespoon

Grand Marnier
---
Instructions
Preheat oven to 375 degrees. Butter a 9-1/2 x 13-inch baking pan.
Mix the flour, sugar, baking powder, salt and Xanthan gum (if you are using it) together in a medium bowl.
Add the milk, peach syrup, and Grand Marier and mix lightly.
Add the melted butter (slightly cooled) and mix until just incorporated. 
Pour batter into the buttered pan.
Place the peaches evenly on top of the batter BUT DO NOT MIX THEM IN. Arrange the peach slices however you want but resist the urge to stir everything together. Sprinkle the lemon zest over peach slices.
Bake until the batter rises slightly around the peaches and the crust is golden brown.
You can use fresh peaches or frozen peaches if you wish. You will need approximately 2 cups. See below for tips on peeling fresh peaches.
Notes
Alternates:
Substitute Bourbon or Kirtsch for the Grand Marnier
Add a SINGLE drop of vanilla
Drizzle with maple syrup
Pour caramel over the peaches before you bake
Add any other fruit
Prep Time:

20

Cook Time:

35-40

Category:

dessert

Method:

bake

Cuisine:

southern
Keywords: peach cobbler, southern, dessert, fruit dessert
How to Peel a Peach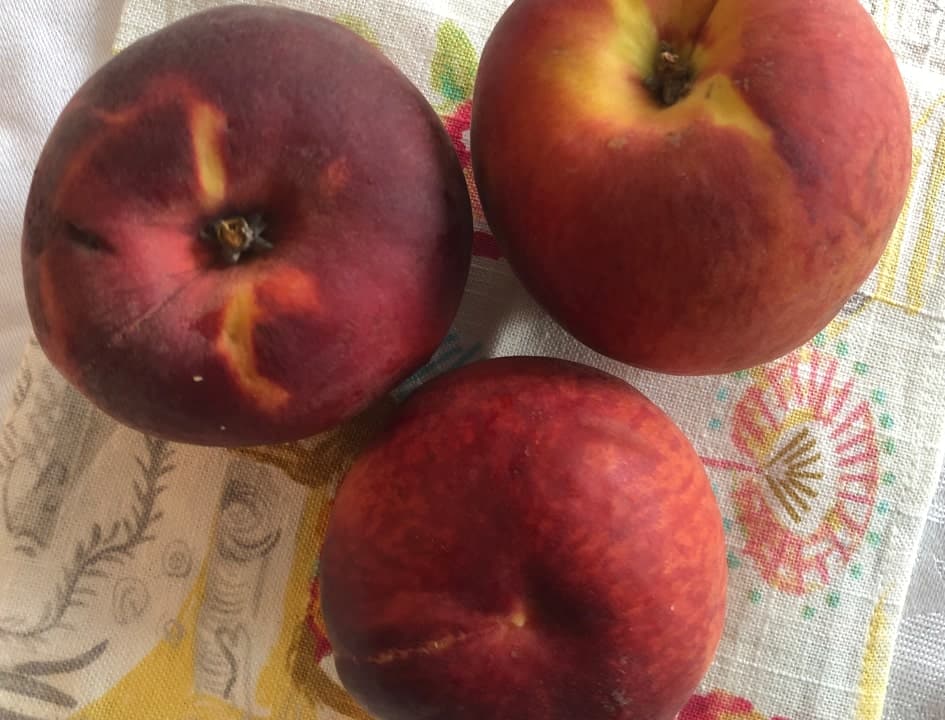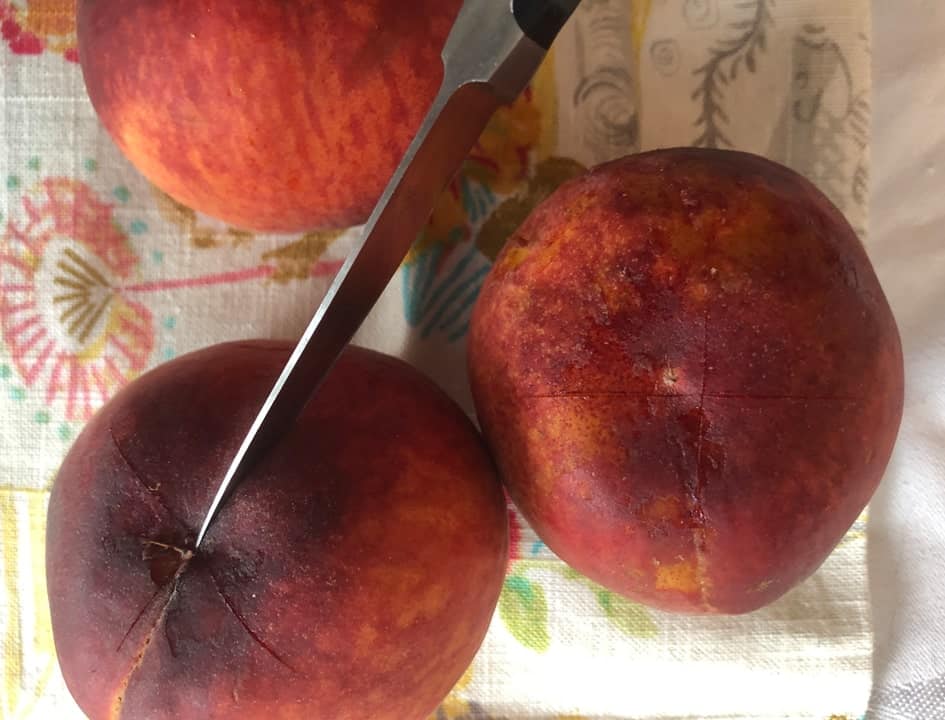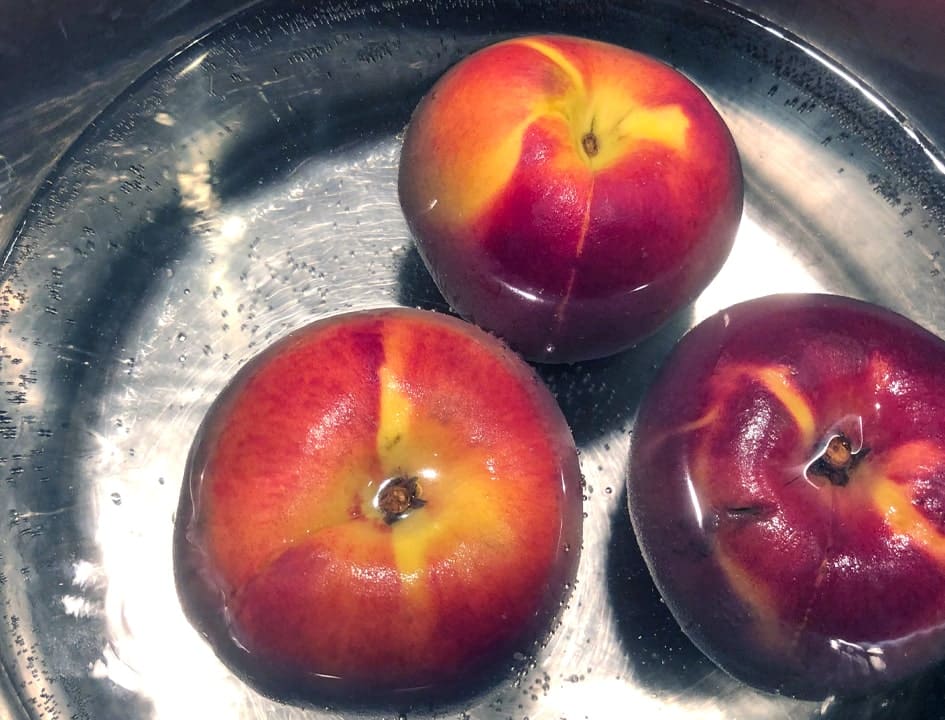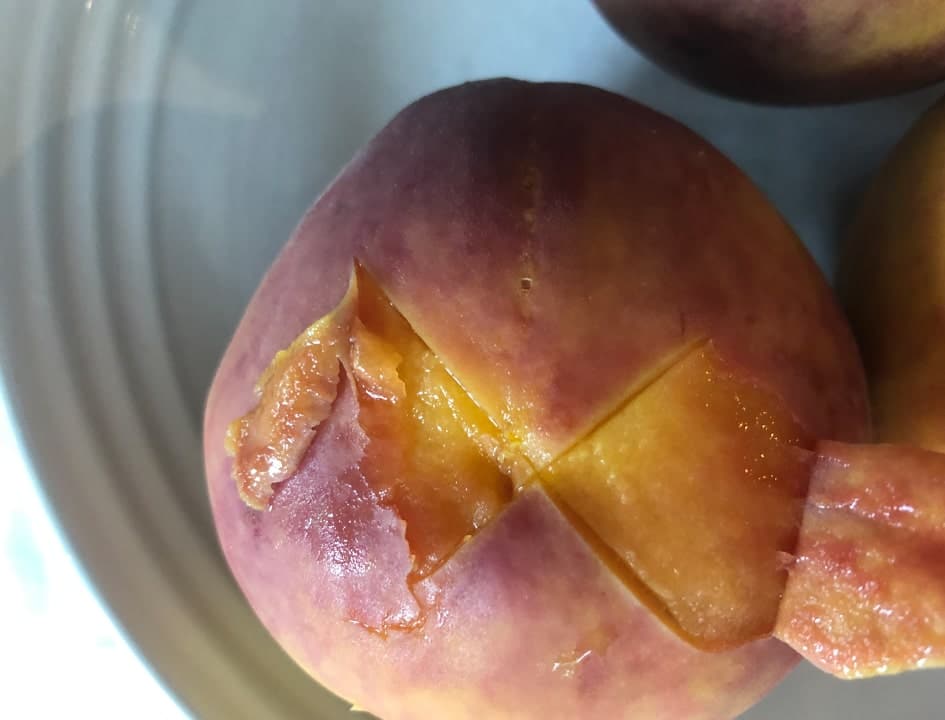 © Photos/ iStock
This post is not intended to substitute for medical advice or prescribed medication. Especially if you have special health needs or a special diet, consult a physician before undertaking any new diet or exercise plan.
The author has not been compensated for any of the products mentioned in this post. In some cases, we may earn a small affiliate fee from certain links, including Amazon and the Health Food Radar shop. This helps compensate our staff for their time. Thanks for supporting us by clicking on the links!
Statements made on this website have not been evaluated by the U.S. Food and Drug Administration. Any information or products are not intended to diagnose, treat, cure, or prevent any disease. Information provided by this website or this company is not substitute for individual medical advice.