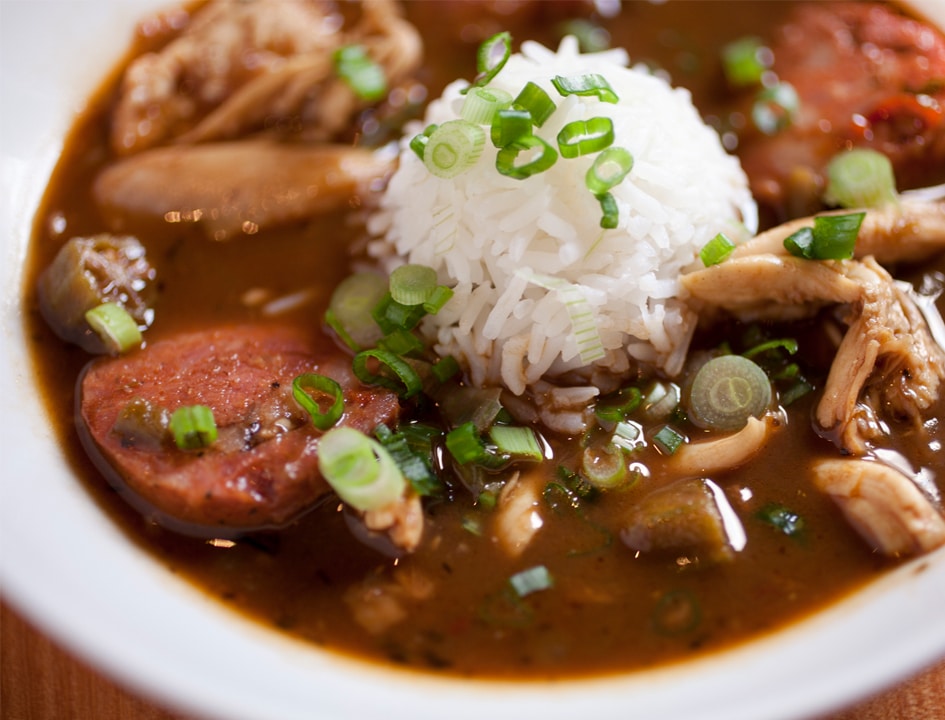 This is not just a recipe. It's a lifestyle. It's a well of mystic power. It's the wisdom and experience of centuries of effort to get a thing right. This is gumbo and you should make some.
Maybe you've had gumbo. Maybe you've been to Heaven on 7th or Big Jones. Maybe you've been to New Orleans. You know this dish. It is the foundation of Cajun cuisine, shamelessly ganked from slave cooking, honed down to the most basic ingredients, the cheapest ingredients, an irreducible ratio of peppers to celery to onion to garlic that will produce an unmatched bouquet.
For millions of southerners, this is comfort food. My family and I eat it monthly at least, with Jambalaya, etouffee, and red beans and rice in between. I run a Cajun-forward kitchen. It brings joy to my table. This is the way of Gumbo.
You need a few basic tools. A soup pot and a big cast-iron frying pan are helpful, but the most important tools are a solid New Orleans playlist and a six-pack of beer. If you're on Spotify or Pandora, just type in Rebirth Brass Band and Play the "This Is . . ." playlist. Trust me. It's essential to this recipe.
"I Feel Like Funkin' It Up"
Your beer is a personal choice. I don't want to impose my yeastful leanings on you. You don't have to drink a New Orleans beer. Drink your favorite beer. This is about comfort. This is about surviving the stayhomealypse. Go to your carbonated safe place. Have several on hand, cold and ready.
The ingredients of a great gumbo are cheap. Sure, it's wildly delicious and you might pay $12 a bowl in the French Quarter, but you can make it at home for next to nothing.
Get two good-sized onions. If you're fancy, you can mix it up with some shallots or purple onions. Doesn't matter. You want to finish with about two generous cups of them, diced.
When I say diced, I mean just diced. You're not Gordon Ramsay. Relax. Are you a foodie? Ok, then turn those onions into perfect cubes. That's your jam. Don't cook much? Relax. Cut them any way you want. This is your gumbo. Get down with it. What's important is you pop that beer and turn up the music. Large, medium, small or even brunoise—cut them your way.
Then cut half that amount of celery. Half bell peppers. You can use other peppers. This is your gumbo. Use half a bell pepper and half a Poblano. Go thirds with a jalapeno. Do what you whatcha wanna.
"Rebirth Groove"
You'll need a couple of garlic cloves. Don't go crazy. Two is good. Three is fine. Four is ridiculous. Dice 'em small. Smash them. Push them through a press. Nobody's watching.
Get some chicken stock. If you don't have any stock, water is just fine. You'll need about three and a half quarts.
If you can get andouille sausage, that's great. Most stores carry it. But in these times, you may be going the route of poverty cooking and using what's available. Any sausage is fine. There's a ratio here: one andouille to one-and-a-half smoked kielbasa sausages. Cut them into cubes. Wheels. On the bias. Big, small. Doesn't matter.
Chicken next. Thighs are preferred. Breasts are OK but they're expensive and you're gonna cut them up anyway. Thighs are delicious. Get thighs.
Gumbo: "Roll With It"
Finally, the spices. Pick up some Tony Zatarains if you can. Most stores have generic Cajun spice mixes. They're fine. They'll do. You'll need about a rounded tablespoon, maybe a half more.
But the ingredients aren't why you're here. You're here to learn the Way of Gumbo. You're here to cook the best pot of stew your family's ever had.
Do it like this:
"Take it to the Street"
Making gumbo is about joy. It's about ignoring the welling mania all around you and instead, turning your kitchen into a mardis gras parade. Get some beads. Wear a stupid hat. Your hot stove is not just a place over which you toil. It is your jam. It is your groove.
As you simmer and saute and stir, let the beer and the music carry you into a place of groovalicious exultation. Get funky. Do some moves. Because the gumbo will reach out to you. The spirit of Zulu and Indian Chiefs and Marie Laveau and all the second-line joy jazz–the spirit of the big easy–will flow into your galley. It will swirl around the room and make you shake a leg and grin like an idiot then it will return to your stew where it will turn the whole thing into a delectable potion of gleeful lip-smacking boogie down.
Start with andouille. Get your frying pan hot. Add a teaspoon of bacon grease if you keep some handy. Otherwise, any fat except butter. For bonus points, pull the skin off the chicken and toss it in with the andouille. Fry it all up until the sausage has a little bit of char. Remove the sausage with a slotted spoon to a bowl. Do the kielbasa next. Yes, in the same pan. Yes, leave the chicken skin in there. Pull it. Bowl it.
"Let's Do It Again"
Now for the Holy Trinity: the onions, celery, and peppers. IN THE SAME PAN. They're called the holy trinity because they are the magical triad mother sauce of Cajun cuisine. Fry and stir until the onions are translucent, with maybe the tiniest little bit of browning. Add half the spices and stir. Add the garlic and stir. When you smell the garlic, remove everything to the same bowl as the meat.
At this point, the andouille has flavored the kielbasa which flavored the trinity which has produced an amazing fund on the bottom of your pan. Look at it. It's glorious. Now drain all that fat and oil from the pan and from the bowl of ingredients into a measuring cup. Add everything to a soup pot. Heat your frying pan up until you're a little nervous then stand back and pour two cups of water or stock into the hot pan. Watch out! The steam will be intense. Use a wooden spoon to scrape the bottom of the pan. Let the water come up to a simmer and be sure to clean every sliver of char off the pan and stir it into the liquid. Pour this off into the soup pot. Fill with stock or water to just cover everything by about an inch. Bring it to a boil then set it on low. Right now, your house should smell like New Orleans.
"Do Whatcha Wanna, Pt. 3"
Now for the roux. Add any fat or oil to what you recovered from cooking. You can use butter if you want. You can use duck fat, lard, olive oil, vegetable oil, or bacon fat. Doesn't matter. You want to bring it up to half a cup. Now get a half cup of all-purpose flour. Pop open two beers. Get a long-handled wooden spoon. The music's on, right? Make sure there is music. You're about to make a peanut butter roux.
Put the flour and fat into a small, cold frying pan. Turn it on medium-high. Stir. Don't stop. You can dance a little right there at the stove. It's alright. Nobody's looking. I know you're feeling it now. Keep stirring. It's going to get hot, so watch yourself.
As the roux cooks, it will change color and smell amazing. At first, it's the color of the top of a biscuit. Then it gets a little more golden. By now, you should be on your second beer. Keep stirring. Now it's going to morph from golden brown to a kind of sepia and then, about halfway through your second beer, it will magically morph into the deep brown of peanut butter. Might even smell a little like it. Take it off the heat. Add it directly into your gumbo. Keep the gumbo on low and let it simmer for at least 40 minutes.
Now we wait.
Let the playlist run. Drink more beer. Dance. Maybe make some rice or potato salad. Check on your gumbo. Skim the oil off the top. If you're hardcore, save it. Freeze. Use it to make French fries later. Nobody can tell you what to do.
Serve with French bread or biscuits or crackers or cornbread. Doesn't matter. Do whatcha wanna. You have cooked something grand. You have been initiated into the Way of Gumbo, and you can never return to the ordinary world. Your family will dance around the table. You will be adored.
Print
Gumbo is Life
---
Author:

Total Time:

1 hour
Description
This is essential gumbo, nothing fancy, but instead the solid working stiff's version. It may deviate slightly from the steps in the article above, but don't let that bother you. This is your gumbo. Do whatcha wanna.
---
2

medium onions, chopped

1

bell pepper, seeded and chopped

2

celery stalks, halved then chopped

2

garlic cloves, chopped fine

1/2

cup

of all-purpose flour

1/2

cup

of oil, butter, or fat

2

quarts

chicken stock or water

1 tablespoon

of Zaterain cajun spice

1

pound

of chicken, chopped

1

smoked kielbasa, quartered then chopped

1

andouille sausage, chopped

1 teaspoon

salt

1 teaspoon

pepper
---
Instructions
In a large pot, add a little oil then sauté the andouille and the smoked kielbasa until the edges have a little char, and remove to a bowl
Salt, pepper, and spice the chicken; in the same pot, sauté until the pieces are almost entirely done, about five to seven minutes, and remove to the bowl.
Add the oil or fat and the flour; cook on medium heat, constantly stirring, until the flour and oil are thoroughly combined and have begun to form a paste; continue cooking until that paste is the color of very light peanut butter.
Add the chopped onions, peppers, and celery to the hot fat and sauté until the onions are transparent. CAUTION: there will be a lot of steam; be careful not to have your face over the pan, and make sure your hood vent is on.
Add the garlic and cook for two more minutes until the garlic is fragrant.
Add the stock or water, deglazing the pot and stirring.
Add the meats and pour the oils and grease from the bowl into the pot
Bring the gumbo to a lively simmer then reduce the heat to low. Skim the foam and fat off the top with a ladle. Cook for about 30 to 40 minutes until all the flavors have married. 
Test for spice and add more if you need to; test for seasoning. Serve immediately over rice.
Notes
You can mix up your holy trinity any way you want as long as you maintain the ratio. Use leeks, shallots, purple onions, or vidalias. Use various peppers. Customize as you wish.
Prep Time:

20 minutes

Cook Time:

40 minutes

Category:

dinner

Cuisine:

Cajun
© iStockphoto
---
The information provided on Health Food Radar is intended for general informational purposes only. While we strive to offer accurate and up-to-date content, we do not provide medical advice, diagnosis, or treatment. Always consult with a qualified healthcare professional before making any dietary or lifestyle changes, especially if you have underlying health conditions or concerns.