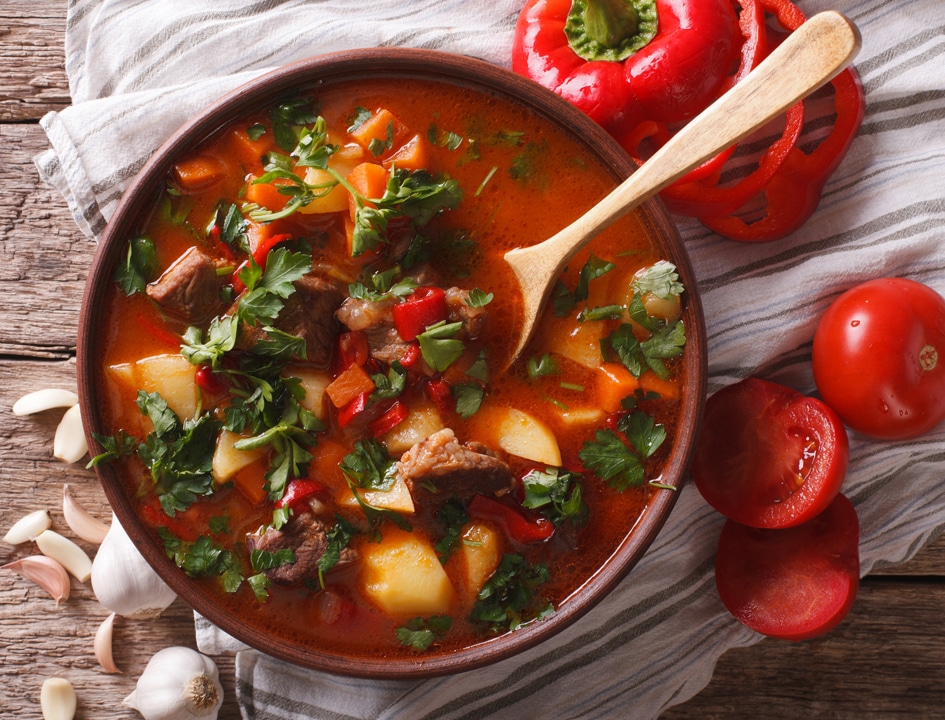 A Mulligan stew recipe is not what you think. Mulligan stew can't be what you think because Mulligan stew is made from whatever you have in the fridge that needs to be used so it's different for everyone. Mulligan stew is the same as hobo stew or beggars' stew. It comes from the bare cupboards of homelessness and poverty or folks who don't want to venture out to many times right now. It is a recipe for the desperate and ingenious. During the great depression, many poverty-stricken people lived in the open, along train tracks, in the woods on the outskirts of town. They recognized right away the importance of working together. Mulligan stew is an example.
First, a History of Hobo Stew Recipe Cooking
A small camp would divide according to ingredients. One guy scavenged for potatoes. Another begged for scraps of meat. Kids might be dispatched to steal carrots or chickens or bread. At the camp, the chef found an old can and some water and got it hot. As people returned, they added their purloined provisions to the pot and the chef watched over it until it was thoroughly boiled.
I am old enough to have had a grandfather who was an actual hobo. During the depression, the steel mills and smelters he'd worked at closed their doors. He and thousands of others in the south took to riding the rails or hiking along them from town to town, from camp to camp, looking for work and trying to get by. I still remember him complaining about a radio report describing hobo stew. He was furious that such a singular traditional recipe was being maligned on the air. It was never called hobo stew. Hobos didn't think of themselves as hobos. They never got a scrap of meat that wasn't gamey offal. The prize for any pot was a turkey neck–refuse for the housewife but a palatial cut for the desperate. It was Turkey Neck Stew.
The Basic Ingredients of a Mulligan Stew Recipe
There are, however, base ingredients that are most common in hobo stew recipes, potatoes, onions, day-old bread, carrots, and scraps of meat and bone. But since you don't live in a hobo camp and you're not scavenging some rural town for scraps, you can use leftovers.
You can also prepare for this during lean times by freezing your scraps. Don't throw that chicken carcass away. When you pull the neck and gizzards from a whole chicken, freeze them. Freeze the heels of your onions. Freeze carrot peels and bell pepper caps. The stuff you normally throw out because you normally aren't trying to squeeze nutrition out of a rock.
Flavor is everything
Now is the time to strategically employ those flavor bases we talked about. If you have a predominance of bell peppers (or bell pepper scraps) and celery and onions, then make a Cajun version. Carrots? Make a French base.
The important thing to remember is Mulligan stew is a mélange. It's never the same twice. Have fun with it.
Here is a very basic recipe to which you can add pretty much anything.
Print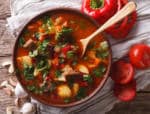 MULLIGAN STEW
---
Author:

Total Time:

6 minute

Yield:

unknown
Description
By no means is the following recipe some kind of definitive example of Mulligan stew. Because such a thing can't exist. Mulligan stew (Hobo stew, turkey neck stew, burdoo) is a group effort. It's whatever there is to throw in a pot. It is the perfect vehicle for leftovers.
---
some carrots (or carrot scraps, or carrot peels) roughly chopped
some onions (or onion ends, or peels, or scraps) roughly chopped
some celery roughly chopped
some potatoes roughly chopped
some kind of meat or Jack Fruit
Optional ingredients 
a chicken neck or a turkey neck or chicken carcass (Bone broth)
beef bones (bone broth)
ramps (when in season)
wild mushrooms (follow local guidelines)
turnips roughly chopped
dried out bread heels (can use gluten-free)
cheese scraps
tomato paste (you know you have like ten cans of this stuff)
old spices about to go bad
whichever vegetables are about to turn
---
Instructions
Heat a pot of water to a rapid simmer
Add ingredients in the order you find them
Cook until everything in the pot is thoroughly boiled
Season to taste
Serve hot
Notes
Regarding chicken and turkey necks: cook them separately. Boil in scant water to cover until thoroughly cooked, let it cool. Use forks to separate the meat from the bones. Necks are loaded with tiny bones and vertebrae, so be careful and take your time.
Prep Time:

unknown

Cook Time:

unknown

Category:

stew

Method:

group

Cuisine:

hobo
Keywords: Mulligan, hobo, stew, mulligan stew, authentic mulligan stew recipe, mulligan soup, hobo stew recipe
Image © iStockphoto
This post is not intended to substitute for medical advice or prescribed medication. Especially if you have special health needs or a special diet, consult a physician before undertaking any new diet or exercise plan.
The author has not been compensated for any of the products mentioned in this post. In some cases, we may earn a small affiliate fee from certain links, including Amazon and the Health Food Radar shop. This helps compensate our staff for their time. Thanks for supporting us by clicking on the links!
Statements made on this website have not been evaluated by the U.S. Food and Drug Administration. Any information or products are not intended to diagnose, treat, cure, or prevent any disease. Information provided by this website or this company is not substitute for individual medical advice.