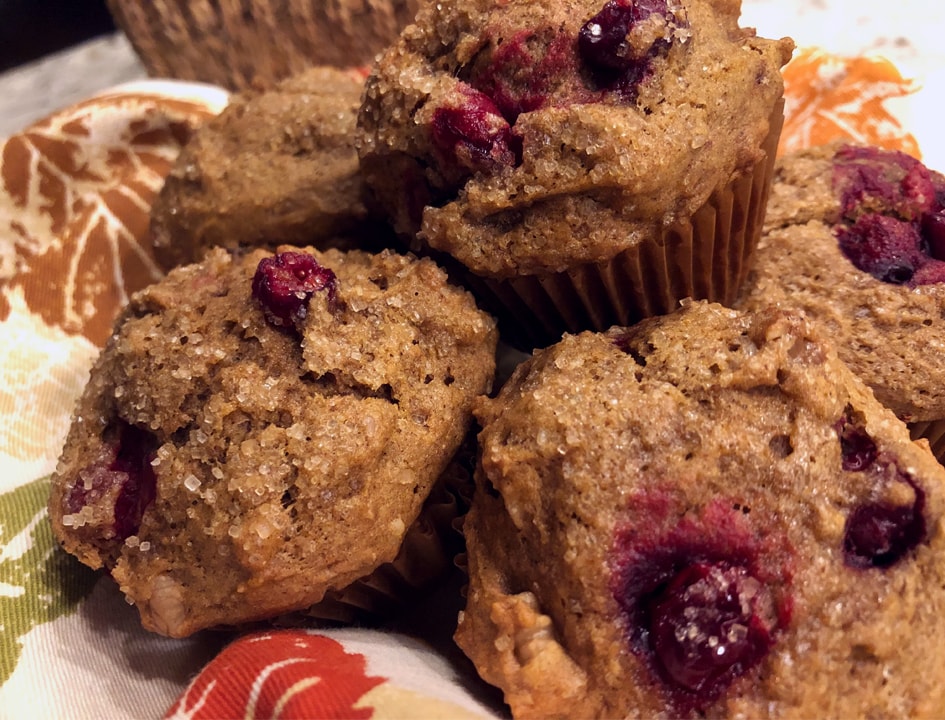 Grab your canned pumpkin and start the fall baking season with these tender spiced pumpkin muffins, studded with fresh cranberries, golden raisins, walnuts, and plenty of spice.
Have you noticed a shortage of canned pumpkin on the grocery store shelves this month? Those orange cans that show up in October, stacked perilously high at the ends of grocery store aisles, signaling the start of the fall baking season?
The Run for Pumpkin
Normally, my pantry is stocked with canned pumpkin left from the previous Thanksgiving's baking spree. Maybe I've been baking more (is that even possible?), but last week, partway into making my favorite pumpkins scones, I found the cupboard bare. Not to worry, I headed to the closest grocery store. And struck out. The manager assured me new pumpkin stock would arrive soon, and shrugged as if to say "I give up; people are crazy" and
Luckily, I struck pumpkin gold at my favorite local health food store.
But, later in the week, while scanning the baking aisle shelves at a large organic grocery chain, a kindly stocker stopped us to ask if we were looking for pumpkin: "It's gone, man," he said, shaking his head. "Come back next week."
Look, I've seen this before, with the whole pandemic sourdough bread-baking spree. I've suffered through the price hikes for organic whole oats and almond flour. So, do I worry that the shortage of flour and yeast was just a rehearsal for the locked-down holiday baking marathon ahead? You bet.
Thankfully, though, according to grocery store managers and online sources, there is no canned pumpkin shortage — just a slight delay in this year's harvest. The shelves should be full enough soon.
Still, I am keeping All Ways Healthy on speed dial, and checking my supply of sprinkles.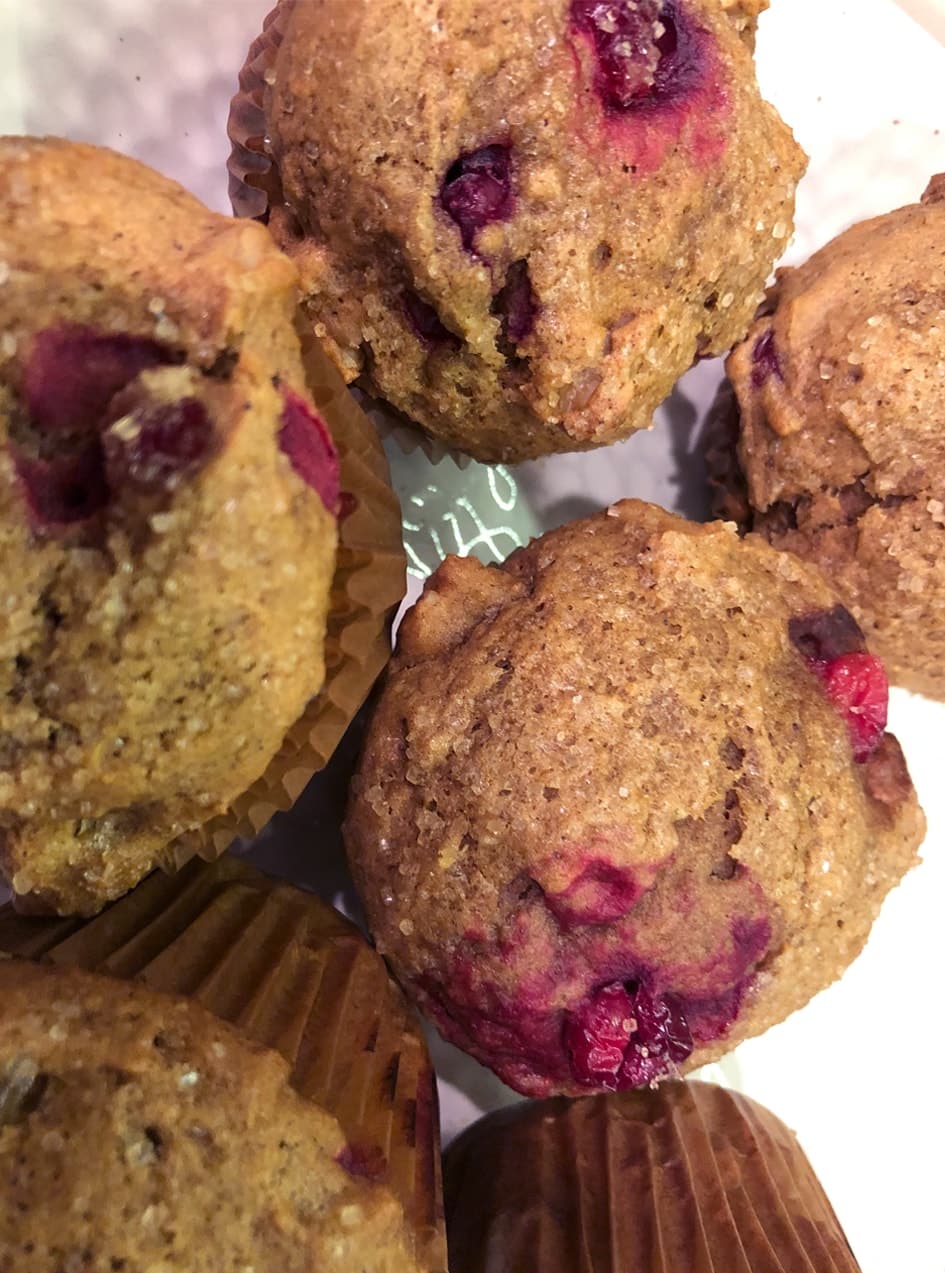 Now, What to Do With All That Pumpkin?
Honestly, I can only muster the enthusiasm for one pumpkin pie a year. There are other more delicious and creative things to cook. So, if like me, you now have lots of pumpkin on your hands, here's a simple, delicious muffin recipe to try.
It is inspired by the flavors of the amazing Pumpkin Cranberry Scone from "Once Upon a Tart" (sadly, out of print).
Yes, I know, there are thousands of pumpkin recipes on the internet, competing for your puree. Hundreds of variations on bread, or bread pudding, or pie. But so many are weird. This muffin recipe, however — studded with fresh cranberries, golden raisins, walnuts, and plenty of spice — is wholesome and delicious. The tartness of the cranberries contrasts with the sweet punch of the golden raisins and the earthy crunch of the walnuts. And they all play well together surrounded by cinnamon, ginger, nutmeg, and clove.
Print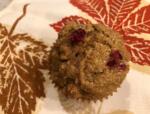 Spiced Pumpkin Cranberry Muffins
---
Description
Tender pumpkin muffins studded with fresh cranberries, golden raisins, walnuts and plenty of spice.
---
1/2 c. Butter, unsalted (1 stick or 8 T.)
1/2 c. Sugar
1/2 c. Dark brown sugar
1 c. Pumpkin puree (canned), preferably organic
1 t. Vanilla
2 eggs
1 c. Whole Wheat Flour * Substitute your favorite 1 for 1 gluten-free flour blend
1 c. All Purpose Flour * Substitute your favorite 1 for 1 gluten-free flour blend
1 1/2 t. Cinnamon
1 t. Ground Ginger
1/2 t. Nutmeg
1/4 t. Ground cloves
1/2 t. Baking Soda
1/2 t. Kosher Salt
1/3 c. Golden Raisins
1/2 c. Chopped fresh cranberries (thawed and patted dry if frozen)
1/2 c. Walnuts, coarsely chopped
Sparking sugar or turbinado sugar for topping, optional
---
Instructions
Preheat the oven to 350 degrees. 
Line a 12-cup muffin pan with cupcake liners (or grease with butter or PAM spray)
In a small bowl, whisk together the flour, whole wheat flour, spices and salt. Set aside.
In a 2-qt. saucepan, melt the butter on low. Turn off the heat and add the sugar and brown sugar. Stir thoroughly with a wooden spoon.
Add the two eggs and vanilla. Stir to incorporate.
Add pumpkin puree and raisins, stir until pumpkin is completely mixed in.
 Add the flour mixture. Stir only until traces of flour disappear. 
Stir in the chopped walnuts.
Scoop the batter into the prepared muffin tin; batter will reach the tops of each cup.
Top each muffin with ½ t. of sparkling sugar or turbinado sugar, if desired.
Bake for 20-25 minutes until a toothpick comes out clean. 
Cool and enjoy!
Keywords: spiced pumpkin muffins, pumpkin cranberry muffins, pumpkin muffins, pumpkin cranberry muffins recipe
Pumpkin, Cranberries and Walnuts Are Good for You, Too
While the main ingredients of these muffins are, flour, sugar and butter, you can feel good about the rest of the list. Pumpkin, cranberries and walnuts are nutrient rich. (I'm working on a gluten-free version and a lower fat version.)
Pumpkin is low in calories and high in fiber and nutrients. It is one of the best sources of beta carotene, an antioxidant with several health benefits. According to the USDA, 1 cup of cooked, boiled, or drained pumpkin, without salt, contains only 49 calories, zero cholesterol and 1.76 g of protein and 2.7 g of fiber.
Cranberries are antioxident rockstars. In addition to being a great source vitamin C, dietary fiber and manganese, cranberries contain phytonutrients — including proanthocyanidins and anthocyanins; flavan-3-ols like catechins and epicatechins; flavonols like isorhamnetin, kaempferol, myricetin, and quercetin; and terpenoids like ursolic acid.
The best way to take advantage of cranberries' health benefits is to eat them raw (they keep their nutrients for 6 months to a year when frozen). 
If you like dried cranberries in your snacks, salads or on your cheese platter, look for dried cranberries that are unsweetened (most have added sugar). The extra sugar cancels out any nutritional benefit you might gain. For example, 100 grams of fresh cranberries contain 10-15 milligrams of vitamin C, compared to 1 milligram found in dried, sweetened cranberries.
Walnuts are an excellent source of several vitamins and minerals. These include copper, folic acid, phosphorus, vitamin B6, manganese, and vitamin E. While most calories come from fat, walnuts are richer than most other nuts in polyunsaturated fats. They also contain a relatively high percentage of the healthy omega-3 fat alpha-linolenic acid (ALA).
This post is not intended to substitute for medical advice or prescribed medication. Especially if you have special health needs or a special diet, consult a physician before undertaking any new diet or exercise plan.
The author has not been compensated for any of the products mentioned in this post. In some cases, we may earn a small affiliate fee from certain links, including Amazon and the Health Food Radar shop. This helps compensate our staff for their time. Thanks for supporting us by clicking on the links!
Statements made on this website have not been evaluated by the U.S. Food and Drug Administration. Any information or products are not intended to diagnose, treat, cure, or prevent any disease. Information provided by this website or this company is not substitute for individual medical advice.