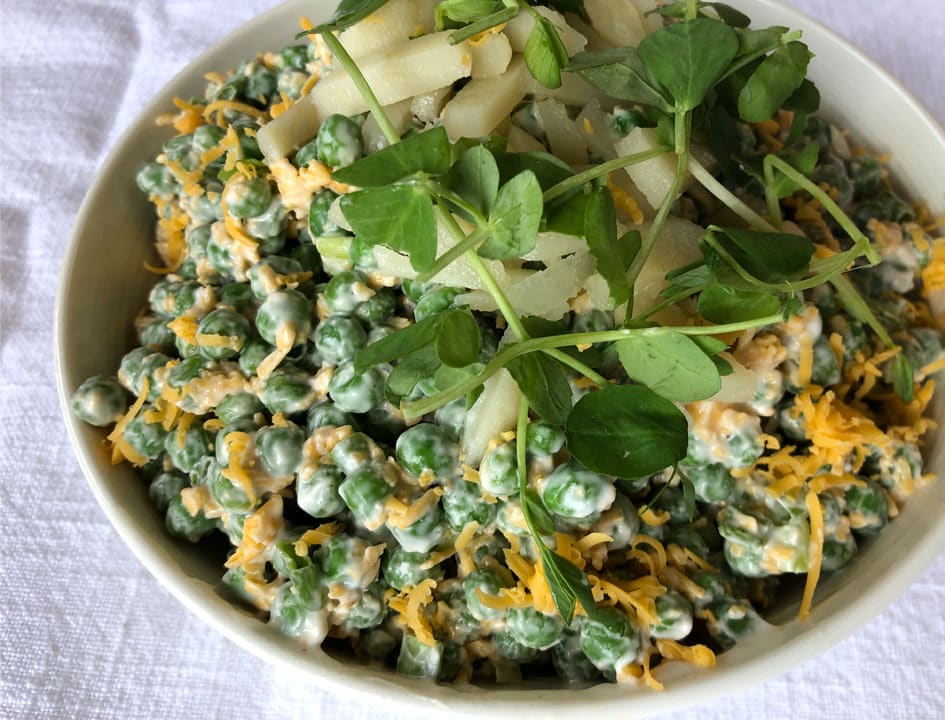 A simple pea salad is a picnic staple. Like potato salad or mac and cheese, creamy pea salad maintains a courtly prominence on the sideboard. Maybe it's the combination of crunchy and creamy. Or maybe it's the summery taste of bright green peas against the smokey flavor of crispy bacon. Or the mayo. Or the cheese.
Maybe This Simple Pea Salad is Popular Because it Combines Two Vital Ingredients
It's easy. It tastes amazing. It's easy because you just toss everything into a bowl and combine it. In 10 minutes, you've got an incredible dish that everyone at your table will rave about. Also, people love peas. They taste like spring. They taste like summer. Don't fear making this simple recipe for pea salad.
But it doesn't have to be that simple.
You Can Customize Southern Pea Salad
You can ditch the bacon, turning this dish vegetarian. You can replace that bacon with anything crunchy. Chef Travis Milton's famous version comes from his grandma, who used water chestnuts for crunch. You might try salted, cracked pecans. How you get your crunch is your business. To make a healthier or vegan version use the vegan options marked in the recipe. I'm not here to judge.
But I Will Judge You if You Use Canned Peas
I know you're thinking what kind of culinary maniac would do that, but some people are desperate. Look, don't use canned peas for this pea salad. I can't believe I have to type those words. Use fresh peas if you can. Blanch them, then dunk them into cold water to preserve the color. Or, and this is how it's done from Jacksonville to Paducah, use frozen peas. They're cheap, they look great, and they were frozen at the height of freshness. Trust me. It's the way.
Use This Secret Ingredient to Make Your Simple Pea Salad Amazing
Please don't tell anyone about this, but there is a pantry staple that will elevate your creamy pea salad from potluck cuisine to Michelin star territory: Worcestershire sauce. I'm not kidding; just a speck of this ancient additive changes everything. Try it. But look, we're talking a single dash. ONE DASH! No one will be able to actually taste the Worcestershire sauce any more than they can spell it without autocorrect. But it will add a sense of umami and smoke, the X factor that will bring the overall flavor up several levels. If you're a savage, then you can add an even secreter ingredient: A drop or two of Louisiana hot sauce. Just a drop. Maybe two. Be careful.
A Note on Mayonnaise and Moderation
Yes, it's true. Mayonaisse will add calories and fat to any dish, even pea salad. One tablespoon of regular mayo has 103 calories, 12 grams of fat, and 2 grams of saturated fat. In moderation, depending on your overall health, that's not a terrible tradeoff for the flavor and creaminess (and there are health benefits). This recipe, for example, serves eight and has a half cup of mayonnaise — or 8 tablespoons. Again, not terrible — assuming you don't eat half the bowl yourself and the balance of your meal is lean protein and non-fatty sides. Or celery. You can also use oil-based or vegan mayonnaise to reduce the amount of saturated fat. (But beware of "light" versions because they add a ton of additives.)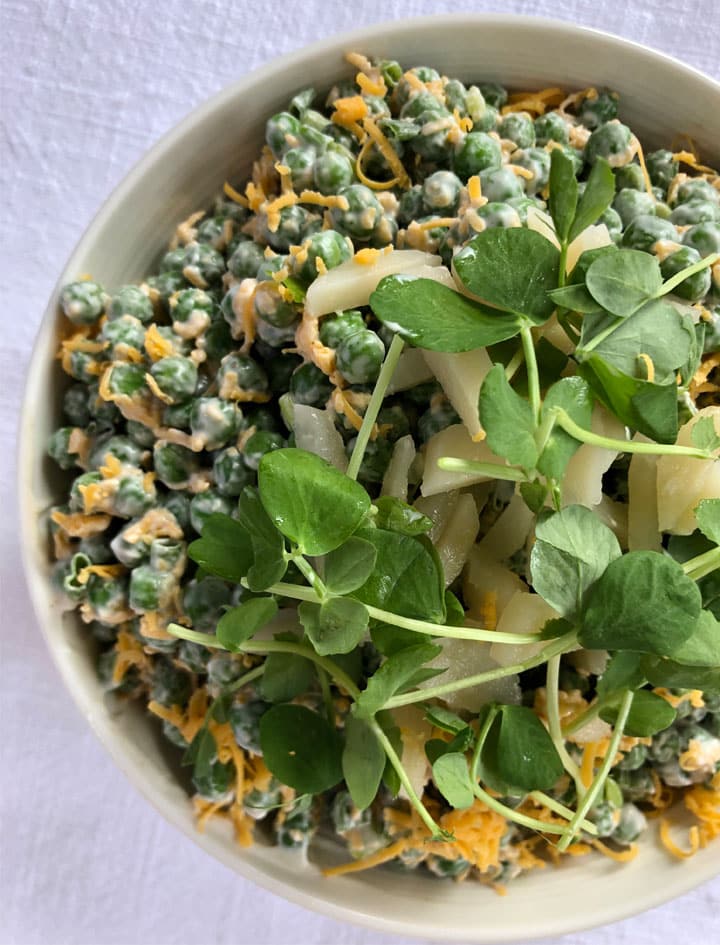 Pea Salad FAQs
Are frozen peas already cooked?
Yes. They are blanched, although most produce packers use a jet of steam. Either way, frozen peas are ready to eat.
How healthy is pea salad?
A single cup of fresh peas is only 40 calories and they're loaded with vitamins. Of course, the mayonnaise doesn't help much, and let's just not talk about the bacon. Our vegan version is very VERY healthy.
Do you put eggs in pea salad?
Eggs are not used in the classic, old-fashioned pea salad we've based our recipe on. But it's your kitchen, so do what you want. Eggs are delicious. It'll taste great.
How long is pea salad good for in the fridge?
This southern pea salad can be made the day before serving and will last about three days in the refrigerator.
Print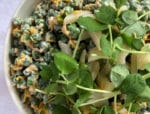 Simple pea salad
---
Author:

Total Time:

10 minutes

Yield:

8

servings

1

x
Description
This simple pea salad will elevate your entire dinner when used as a side and stand out as a main course for a bright vegetarian meal.
---
1

16

–

ounce

bag of frozen peas

1/2

cup

of mayonnaise (vegan mayonnaise can be used)

1/2 Teaspoon

white vinegar (for authenticity, apple cider and really any clear vinegar works)

1

small bunch (about six) of green onions, sliced into thin discs, including some of the green leaves

4

slices of bacon, fried or baked until crisp and crumbled (healthier version: use water chestnuts!)
A speck (this is a grandma measurement equal to a scant dollop which is about half a teaspoon) of sour cream (vegan sour cream can be used)

1

SINGLE dash of Worcestershire sauce (optional)

1

SINGLE dash of Louisiana Hot Sauce (optional)

4

ounces

of shredded cheddar cheese (vegan cheddar can be used)
a scant pinch of sugar
salt and pepper to taste
---
Instructions
In your serving bowl, stir the mayonnaise, sour cream, vinegar, sugar, and black pepper. If you're using Worcestershire Sauce or hot sauce, add them too.
Add the peas, onions, and cheese, mix well
Salt to taste, mix one last time to make it pretty
Top with the bacon. Or water chestnuts.
Cover with plastic wrap and refrigerate for at least an hour.
Notes
This goes very well with a nice warm slice of tomato pie.
Prep Time:

10 minutes

Category:

side

Cuisine:

southern
Keywords: peas, salad, creamy, easy, bacon, southern
© Photos/Health Food Radar
This post is not intended to substitute for medical advice or prescribed medication. Especially if you have special health needs or a special diet, consult a physician before undertaking any new diet or exercise plan.
The author has not been compensated for any of the products mentioned in this post. In some cases, we may earn a small affiliate fee from certain links, including Amazon and the Health Food Radar shop. This helps compensate our staff for their time. Thanks for supporting us by clicking on the links!
Statements made on this website have not been evaluated by the U.S. Food and Drug Administration. Any information or products are not intended to diagnose, treat, cure, or prevent any disease. Information provided by this website or this company is not substitute for individual medical advice.