Here are eight steps on how to start a new exercise plan that takes a strategic approach about our schedules and how much time we have.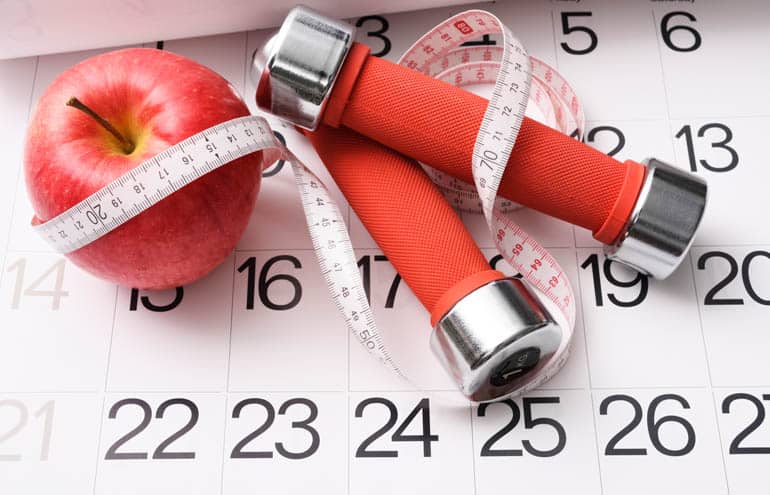 In the hustle and bustle of our fast-paced lives, taking a moment to prioritize our well-being often falls by the wayside. Amid the demands of our roles as professionals, parents, and whatever other roles we have, it's easy to neglect our physical health even though we know that regular exercise can hold the key to a healthier and more energetic life.
So how can we start an exercise routine and stick to it?
We need a strategic approach, one that takes into account not only our motivation (and lack of it at times), but also is realistic about our schedules and how much time we have.
1. Set Clear Goals
Time can feel like a luxury where every second counts. That's why, when it comes to starting a new exercise plan, it's important to have well-defined goals. Setting clear and actionable goals ensures you can work efficiently to reach them.
Like in many areas of life and work, it's important to set SMART goals – Specific, Measurable, Achievable, Relevant, and Time-bound. Instead of vague aspirations like "getting fit," aim for specifics. Define exactly what "fit" means to you – is it running a certain distance without stopping, lifting a certain amount of weight, or perhaps achieving a specific body composition?
Measurability is key, as it allows you to track your progress and celebrate milestones along the way. Make sure you quantify your goals so you have clear markers of achievement. Also, make sure your goals are achievable and relevant to your life. Your exercise plan should align with your personal values and integrate seamlessly with your other responsibilities in life, taking in account how much available time you have for your exercise routine.
Lastly, every goal should have a timeline. Whether it's shedding a certain number of pounds by a particular date or participating in an upcoming athletic event, having a time-bound goal injects purpose into your plan.
Remember, setting goals isn't about creating a rigid framework that induces stress; it's about defining a path that empowers you. By having a clear vision of where you want to go, you're not just starting an exercise plan – you're embarking on a journey towards a healthier, more energized, and fulfilled version of yourself.
2. Choose the Right Exercise Routine
As some wise person once said, the best exercise routine for you is the one you will do. When deciding what your exercise routine will be, make sure you select something that you like – or at least don't hate. Whether you find solace in the tranquility of yoga, the invigoration of cardio, or the empowerment of strength training, identifying activities that resonate with you ensures that your fitness journey remains enjoyable and sustainable.
Also keep in mind that you want the exercise you choose to facilitate reaching your goals. If you're striving to enhance cardiovascular endurance, activities like running, cycling, or swimming might be your go-to options. On the other hand, if building muscle strength and tone is your aim, weight lifting and resistance training are essential components of your routine.
3. Create a Realistic Plan
Crafting a realistic exercise plan that can be integrated into your life is essential for long-term success. To achieve this, it's important to strike a balance between your ambitions and your practical constraints. Consider not just the frequency of your workouts, but also their duration and intensity. A well-thought-out plan ensures that you're setting yourself up for success without overwhelming your already packed schedule.
4. Start Slow and Gradually Increasing Intensity
It's important to approach a new exercise plan slowly and increase intensity as we go. This is important for many reasons, including ensuring you don't injure yourself, get exhausted, or run out of motivation. Begin with exercises that match your current fitness level. It's perfectly alright if your starting point feels easier than you anticipated — it's a foundation on which you'll build your stamina and strength.
I recently starting running again, and I had to start at a half mile! My entire run/walk was 2 miles, but I had to start with only a small portion of it running. Now, 6 weeks later, I'm up to 2 miles of running.
This approach not only reduced the risk of injury but also helped me remain consistent, ultimately fostering the habit of regular exercise. It's important to listen to your body and adjust your pace accordingly.
5. Find Accountability and Support
Finding an accountability partner or group can provide you the support you need to keep up your exercise routine, especially when you are feeling motivated or when life gets extra busy. Consider partnering up with a friend, colleague, or family member who shares your fitness goals. Not only can you motivate each other, but you'll also have a built-in support system to keep each other accountable. You might also consider joining fitness classes, online communities, or forums that can provide a virtual network of like-minded individuals who understand the challenges and triumphs of your journey.
For me, I have a running club that keeps me on track to reach my distance and time goals. We don't run together; our schedules are too different. But we check in via Messenger after our runs to share our times, distance, and that we ran when we said we would.
6. Track Your Progress
Whether you're a fan of spreadsheets or smartphone apps, tools are available to help you record and analyze your exercise efforts. One way to start with a workout journal or a fitness tracking app that monitor your activities, time spent, and calories burned. I love my FitBit tracker and My Fitness Pal food diary because I can see my stats and how my exercise and food work together (or not) to help me achieve my goals.
These stats provide a sense of accomplishment and act as a starting point for improvement. Seeing tangible progress in the numbers — whether it's increased endurance, heavier weights lifted, or faster run times — can be incredibly motivating.
7. Reward Yourself
If you've set your SMART goals, then you have a measurable point — a milestone — that you can celebrate and reward yourself when you reach it. Rewards need not be grand or extravagant; they're acknowledgments of your hard work and dedication. Consider setting up a system where achieving specific fitness milestones earns you a treat — perhaps a spa day, a new workout outfit, or even a guilt-free indulgence in your favorite dessert. Just remember that your reward shouldn't undermine your progress.
After I ran a 5k for the first time in three years, I treated myself to an ice cream cone for the new ice cream place in town that I'd been driving by for weeks. The next day, I was back to my exercise and healthy eating routine, so my progress wasn't derailed.
8. Embrace a Healthy Lifestyle
Beyond the exercise routine, a healthy lifestyle includes mental and emotional well-being. Stress management, sufficient sleep, and balanced nutrition are as vital as your exercise routine. Recognize that self-care isn't selfish — it's an investment in your overall performance and happiness.
Remember, the path to well-being is not a sprint; it's a marathon that requires consistent effort, mindful choices, and the unwavering commitment to keep trying. So, let's lace up our metaphorical sneakers and take those first steps together on our journey toward a sustainable exercise routine.
---
The information provided on Health Food Radar is intended for general informational purposes only. While we strive to offer accurate and up-to-date content, we do not provide medical advice, diagnosis, or treatment. Always consult with a qualified healthcare professional before making any dietary or lifestyle changes, especially if you have underlying health conditions or concerns.