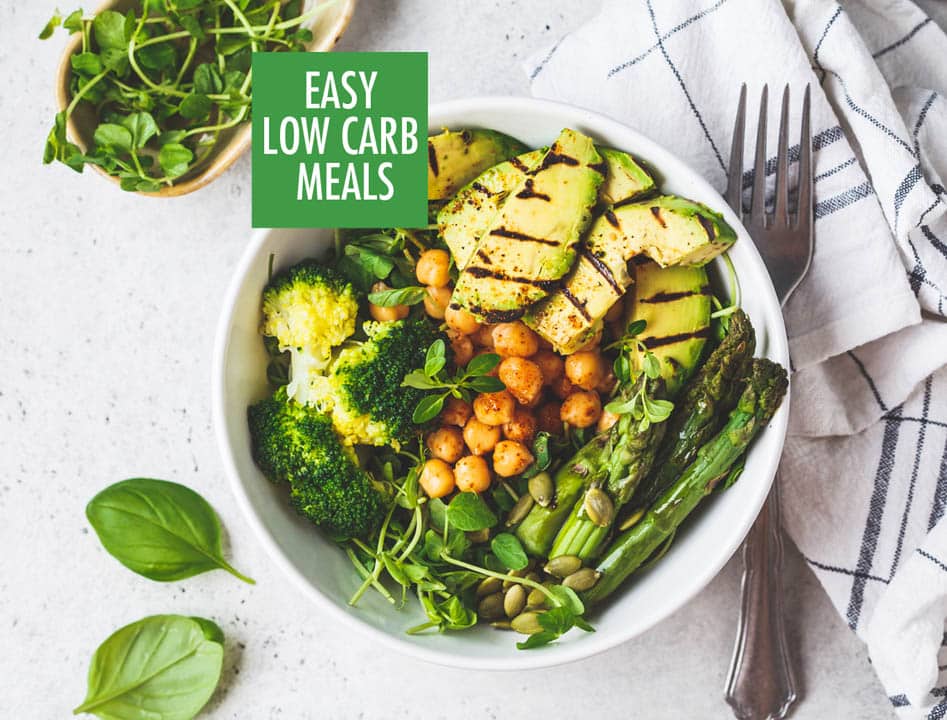 Easy low carb meals may be great for losing weight, but they're also great if you are fighting high blood sugar. According to the CDC, 37.3 million Americans, or about 1 in 10 people, have diabetes.
Here are a few simple low-carb meals I eat almost every week — some every day! I know it's hard to walk away from your favorite carbs, but incorporating tasty meals like these into your mealtime routine just a few days a week may improve your health.
Get Started With These Easy Low Carb Meals
Let's give our bodies a break from the carbs and added sugar.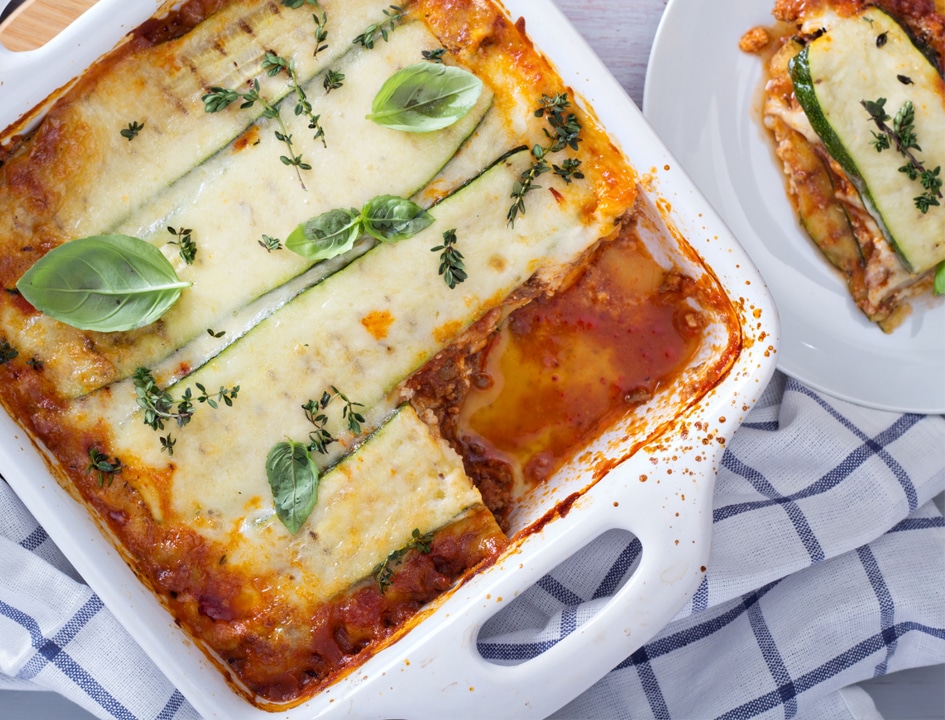 Low Carb Vegetable Lasagna
---
I'm happy to share Jamie Spannhake's fantastic low-carb vegetable lasagna that even carb addicts love. She replaces the lasagna noodles with thinly sliced zucchini. Zucchini makes a great stand-in because of its ability to soak in flavor and absorb oils, which spreads good taste throughout the dish. Plus, zucchini is lower in calories (even lower than other green veggies like Broccoli and Brussels sprouts) and has loads of potassium and vitamin C.
Get Low-Carb Vegetable Lasagna Recipe >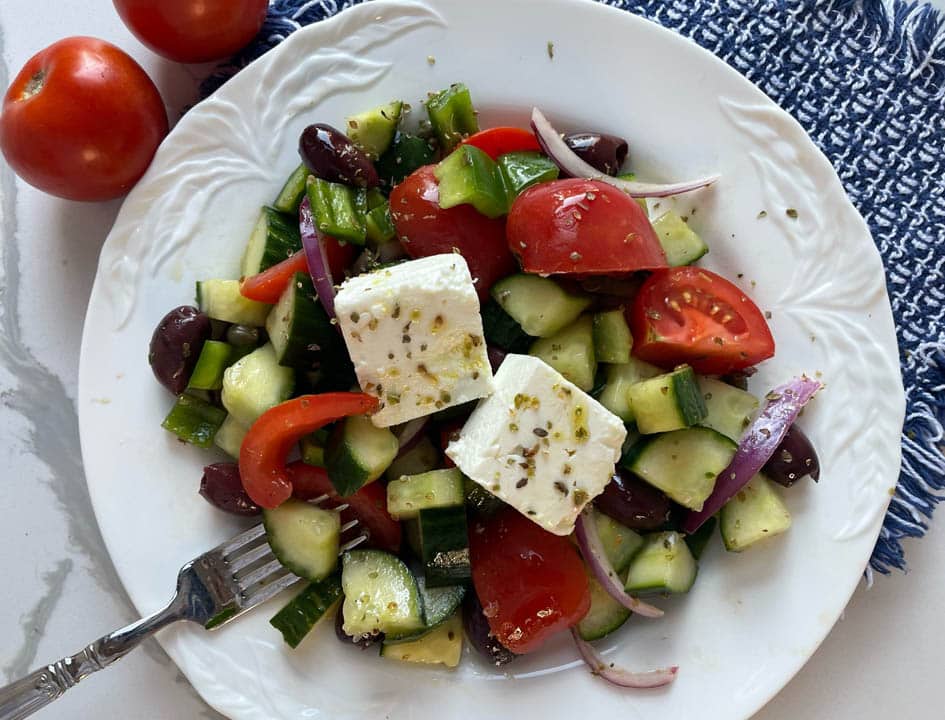 Classic Greek Salad Is Easy and Tasty
---
Horiatiki Salata, the classic Greek Salad, is a low-carb meal and so good you may think you can't make it at home. But you're wrong. It's an easy and tasty salad made from a few fresh ingredients. Most of the technique of this salad is just chopping. And not even high-level chopping. This isn't Michelin Star kitchen work. This is busy family kitchen work. You just need a large purple onion, an English cucumber, a green pepper, a tomato, some capers, kalamata olives, and feta cheese.
Get Classic Greek Salad Is Easy and Tasty Recipe >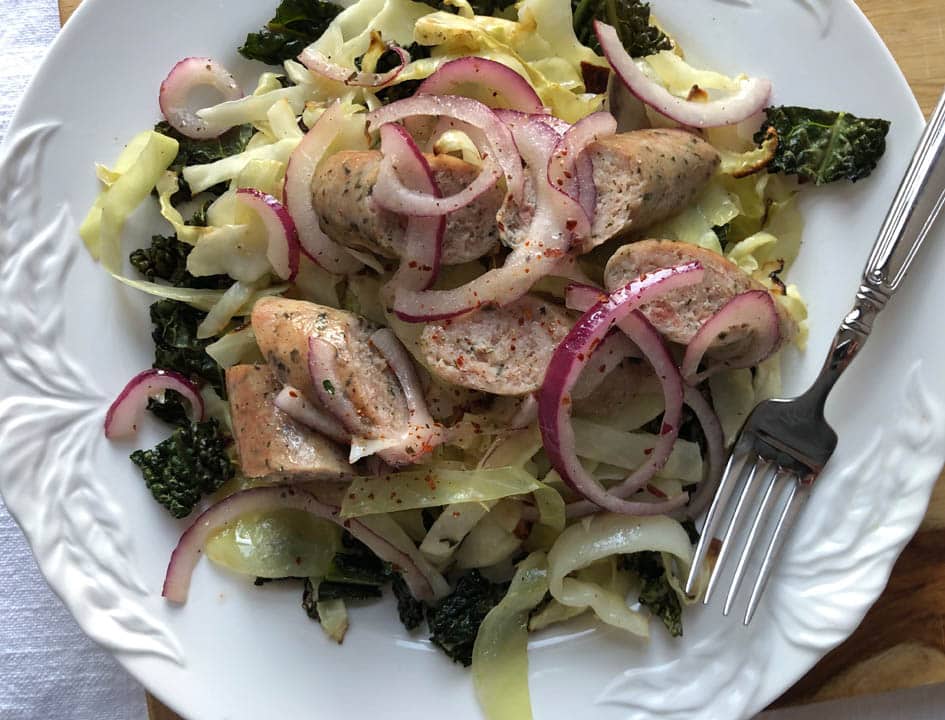 Roasted Cabbage with Chicken Sausage and Honey-Mustard Vinaigrette
---
Try this low-carb, high-protein cabbage and chicken sausage with kale, red onion, and a tangy honey-mustard vinaigrette. It's a healthy and easy dinner that's perfect for a winter's day. I know this sound crazy, but eating anything with cabbage reminds me of being a kid back on Long Island. We had lots of German delis out there (along with those iconic diners), with amazing salads: potato salad, macaroni salad, chicken salad, tuna salad — and cabbage salad.
Get Roasted Cabbage with Chicken Sausage Recipe >
Baked Zucchini Fritters: A Low-Carb Quick and Easy Meal
---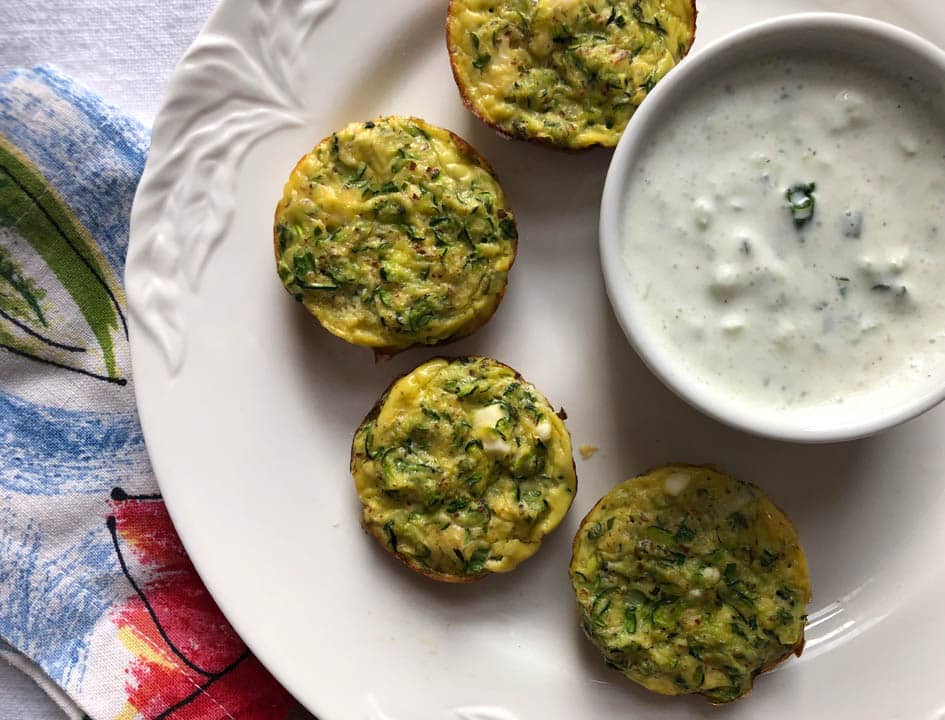 The traditional zucchini fritter is made with flour and fried. Hands down, they are delicious! But, we wanted to take this recipe to the next level of healthy and still have it taste great. How are we doing that? Bake it and use almond flour to keep the fat content down and make it low glycemic for people with elevated blood sugar.
Baked Zucchini Fritters: A Low-Carb Quick and Easy Meal >
Other Carb-Friendly Recipes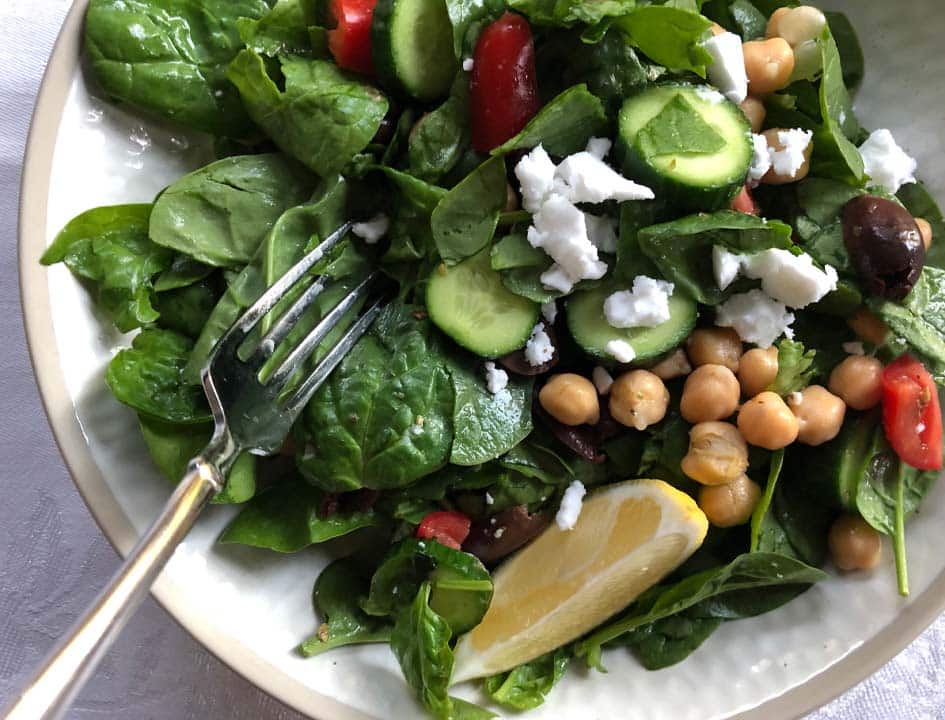 Greek Chickpea and Feta Salad
---
If you enjoy Mediterranean-inspired dishes, you'll love this delicious and easy-to-make salad, loaded with healthy ingredients. This version of Greek salad is one of the tastiest I've tried (I love chickpeas!). High in protein and fiber and lower in carbs, it is great for a post-workout meal to speed up workout recovery!
Get Greek Chickpea and Feta Salad Recipe >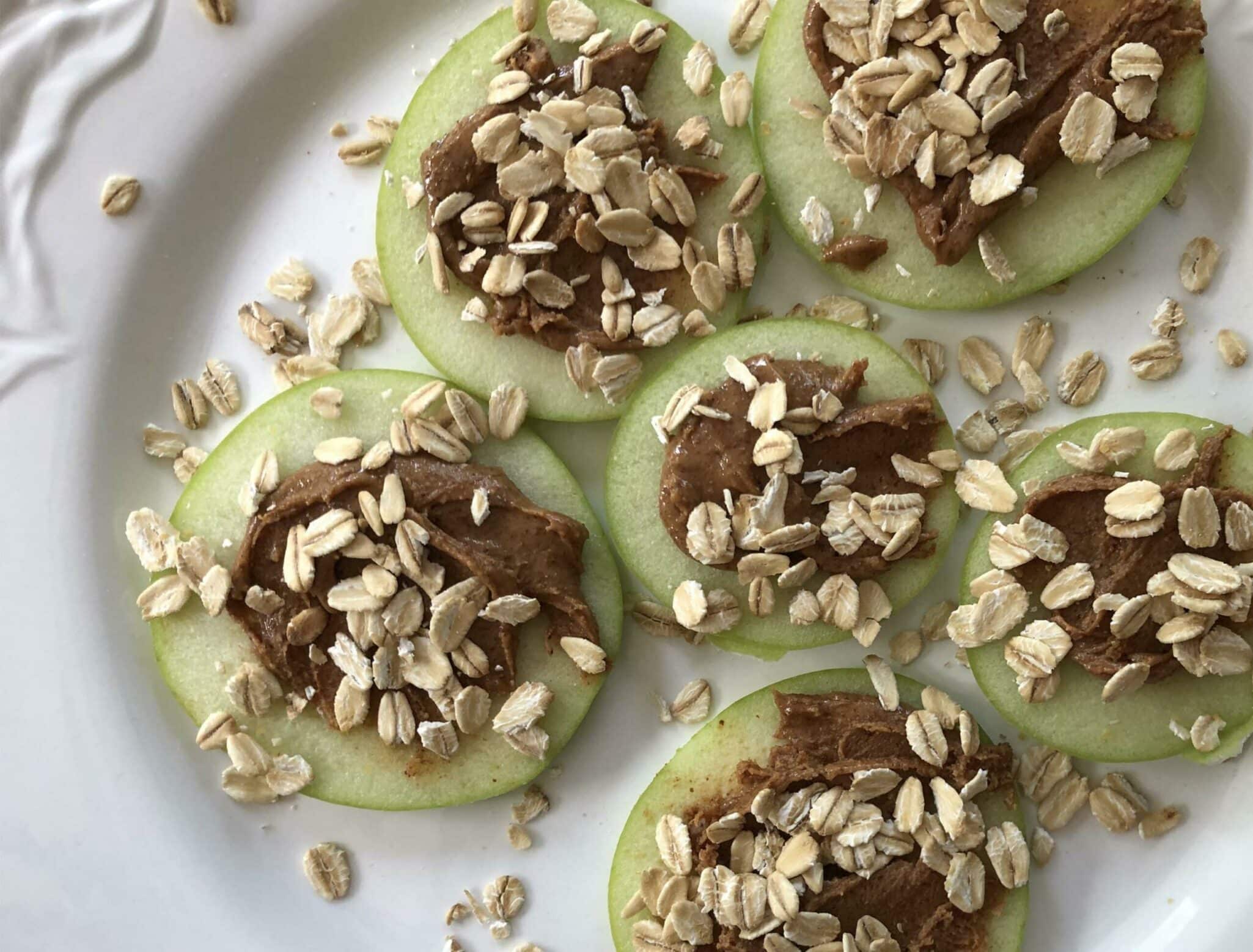 Mark's Anytime Granny Smith Apple and Almond Butter Breakfast
---
One of my favorite breakfast recipes combines Granny Smith apples, nut butter, and raw oats. All the fiber and protein in this recipe is a great way to start the day, but you can snack on this recipe anytime — mid-day, after school, or after dinner for dessert. (I know oats contain carbs, but a sprinkle adds texture and extra fiber to this quick breakfast.)
Get Granny Smith Apple and Almond Butter Recipe >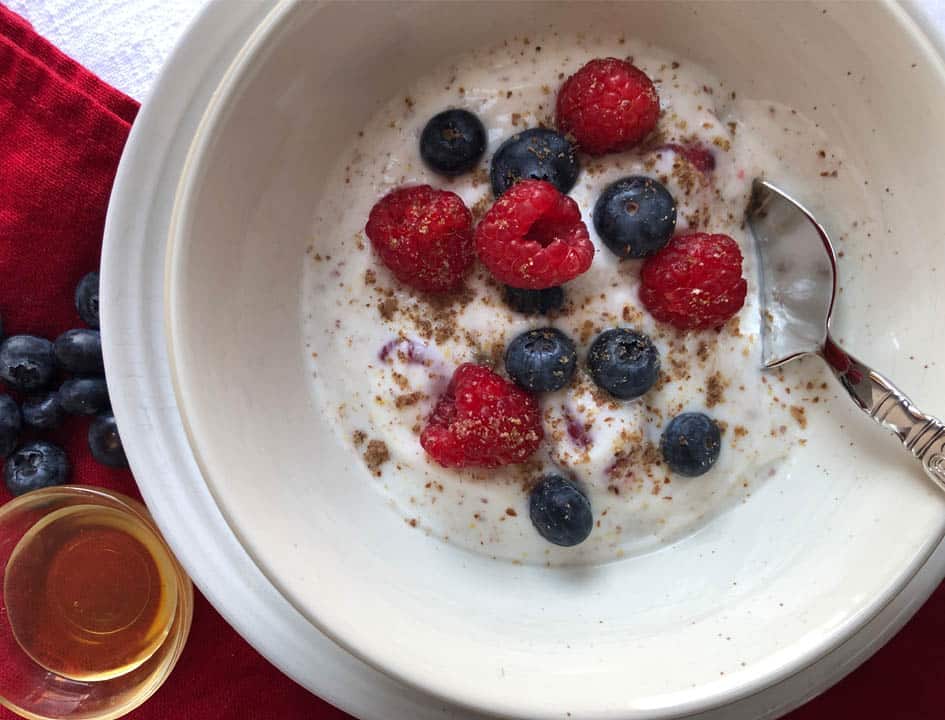 Goat Milk Yogurt With Blueberries and Raspberries
---
This tasty goat milk yogurt recipe punches above its weight when it comes to nutritional value. Do you want a quick lower-carb breakfast or lunch? This is it! This lower-carb goat milk yogurt recipe is not only filling, good-looking and tasty, but it also punches above its weight when it comes to nutritional value.
Get Goat Milk Yogurt With Blueberries Recipe >
© Photos/Health Food Radar/iStockPhoto
This post is not intended to substitute for medical advice or prescribed medication. Especially if you have special health needs or a special diet, consult a physician before undertaking any new diet or exercise plan.
The author has not been compensated for any of the products mentioned in this post. In some cases, we may earn a small affiliate fee from certain links, including Amazon and the Health Food Radar shop. This helps compensate our staff for their time. Thanks for supporting us by clicking on the links!
Statements made on this website have not been evaluated by the U.S. Food and Drug Administration. Any information or products are not intended to diagnose, treat, cure, or prevent any disease. Information provided by this website or this company is not substitute for individual medical advice.