Try making this superfood healthy vegan pizza recipe. It will become a family go-to favorite. Yes, Friday night dinner just got better!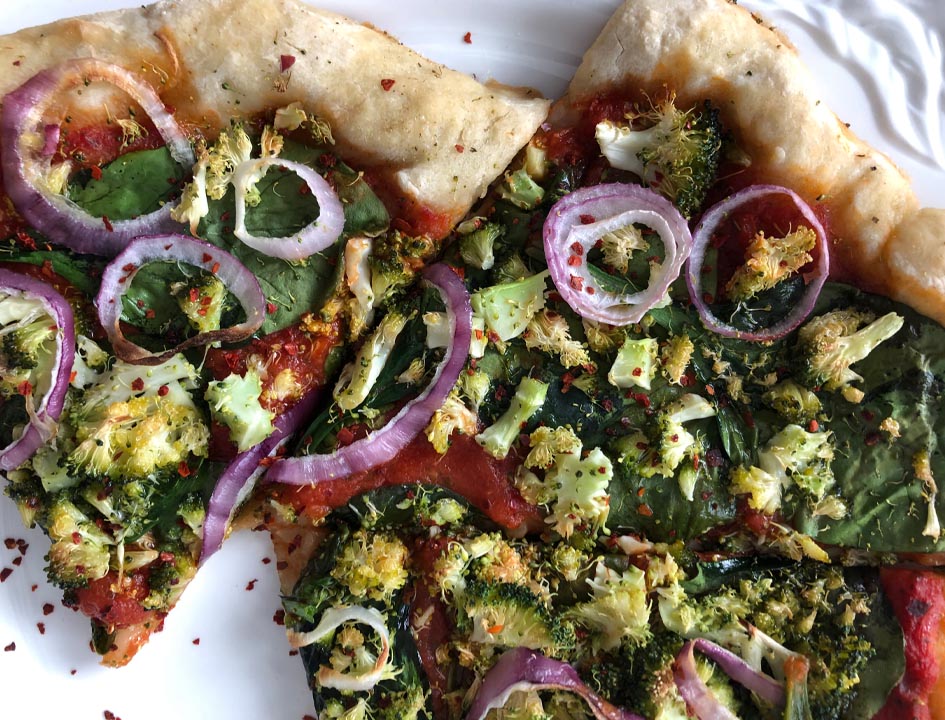 I used to think of pizza as a greasy, cheesy pie that came from a soggy box the delivery guy dropped off when I didn't have time to cook. Not the most appetizing or healthiest choice for dinner. Then I started making my own pizza and realized it could be delicious and healthy. It all depends on the crust you choose and what you put on top of it.
Who Says Pizza Can't Be Healthy?
You might be surprised by how much you'll enjoy a simple slice of pizza once you eliminate the grease of traditional pizza meats and the fat from dairy and replace it with homemade crust, a simple marinara sauce, and your favorite vegetables and herbs. I pack the top of my pizza with a delicious combination of superfood veggies — broccoli, baby spinach, and red onion — and leave off the cheese.
Crust Is Easier Than You Might Think
Store-bought pizza crusts can have preservatives and dough conditioners that are bad for us, but you can make your own crust pretty easily. The ingredients are simple: water, flour, yeast, sugar, salt, and olive oil. (Tip: Before you start the dough, check the expiration date of your yeast. There's nothing more frustrating than waiting for dough that never rises!) As for special equipment, none is required — you can knead by hand if you have strong forearms. However, a stand mixer with a dough hook makes it super fast and easy.
A pizza stone is highly recommended if you are a crispy crust person, but a heavy sheet pan will do. (Tip: Grease the sheet pan very lightly with olive oil and sprinkle with finely ground cornmeal or semolina flour to keep the crust from sticking and add a bit of rustic texture.)
Can I Use a Gluten-Free Crust?
I prefer to make a gluten-free crust using my favorite recipe below. That way I have a tasty, healthy meal without all of the junk and grease that's not good for you. And because it comes right out of the oven and goes straight to the table, the crust is crispy.
Vegetarian Pizza Toppings
You can be creative and add any combination of vegetables you want to your pizza. Some I have experimented with are baby artichokes, roasted Brussel sprouts, caramelized onions, and sundried tomatoes. I'm allergic to mushrooms, but my Health Food Radar partners tell me that mushrooms, spinach, red onion, and sun-dried tomatoes are a great combination for vegan pizza.
Of course, you can add cheese (vegan or regular) if you want to, but I prefer to leave mine plain.
Our go-to marinara sauce recipe makes a great pizza sauce — I make it ahead and store it in the freezer to save time on weeknights.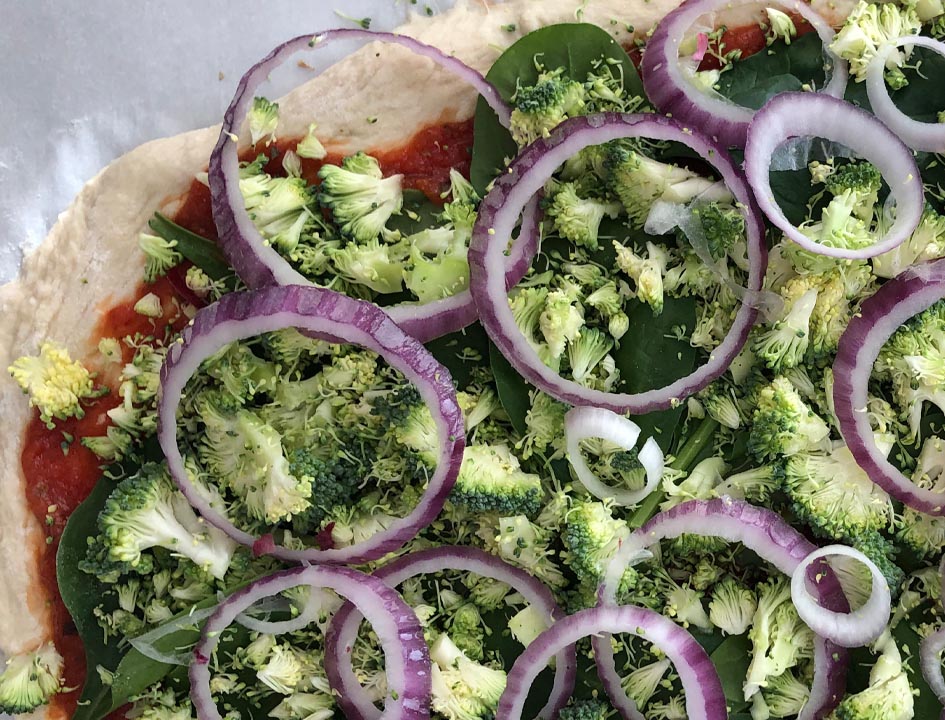 3 FAQs About Vegan Pizza
What makes vegan pizza healthy?
Vegan pizza is generally healthy because it uses no animal products which lowers the fat content.
What types of vegetables can be used on vegan pizza?
Zucchini, spinach, peppers, eggplant, mushrooms, and the list goes on. You can experiment with combinations. Get creative! Pizza is a blank canvas.
What sauce can be used with vegan pizza?
Try to use a no-sugar-added marina sauce, but you can also use a vegan pesto sauce or substitute a creamy blend of vegan ricotta and parmesan for a white sauce.
Print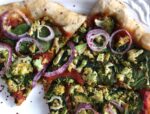 Superfood Healthy Vegan Pizza
---
Author:

Total Time:

1 hour 20 minutes

Yield:

4

1

x
Description
This pizza is a thin-crust rustic style so pretty much anything goes. When I first started making pizza I used a cookie sheet to bake on. Then I graduated to a round metal pizza pan and now I have a ceramic pizza stone that makes a wonderfully crisp crust. The point is if you don't have a pizza stone, use what you have on hand. It will be delicious!
---
Crust
1–1/3 cups hot tap water. Between 100-110 degrees
2 1/4 tsp yeast
1 Tbs granulated sugar
2 Tbs olive oil
1 tsp salt
3 1/2 cups flour or 1 for-1 gluten-free flour
Toppings
Marinara sauce (I use our Simple Homemade Marinara Sauce recipe that I always have in the freezer)
1 1/2 tsp Italian seasoning
1 small head of broccoli chopped into small pieces
1/4 cup chopped red onion
1 cup baby spinach or kale
Olive oil to drizzle
---
Instructions
In the bowl of a stand mixer, whisk hot water, yeast, and sugar together and let stand for 5 minutes.
After 5 minutes add salt, olive oil, and flour. With dough hook attachment mix on low speed for 2 minutes. Increase speed to medium-low and knead in the stand mixer for 8 minutes. When the dough is done it will be stretchy when pulled apart. If the dough immediately breaks away when pulled from the rest of the dough mix for another 2 minutes.
Place the dough in a well-oiled bowl large enough for the dough to double in size and leave at room temperature for 90 minutes.*
Once the dough has doubled in size, punch it down to release the air that has built up inside.
Preheat oven to 475 degrees
Form a large ball with the dough and cut the ball in half. There is enough dough for 2 large thin-crust pizzas.
Turn one chunk of dough out on a floured work surface and begin rolling crust into the shape of your baking sheet, pizza pan or pizza stone.
Place crust on the baking pan.
Follow the same instructions with the other half of the dough or store for later in the refrigerator or freezer.
Let the dough rest while you are prepping toppings.
Apply a thin layer of marinara sauce onto the crust
sprinkle Italian seasoning over the marinara sauce
Lay baby spinach leaves in a single layer over the sauce
Sprinkle broccoli evenly over the pizza
Sprinkle onions over the pizza
Drizzle olive oil over the veggies on of pizza
Place pizza (s) in the oven and bake until the crust is golden brown — 10-15 minutes if you are using a stone, longer if you are using a baking sheet.
Notes
You can make the dough ahead of time and store in the refrigerator for about 24 hours. You can also freeze the dough to use at a later date. Just remember to thaw in the refrigerator for at least 8-10 hours.
Prep Time:

1 Hour

Cook Time:

20 Minutes

Category:

Lunch/Dinner

Method:

Bake

Cuisine:

Italian/America
Please note: Nutrition facts and calories per serving are approximate.
© Photos / Health Food Radar
This post is not intended to substitute for medical advice or prescribed medication. Especially if you have special health needs or a special diet, consult a physician before undertaking any new diet or exercise plan.
The author has not been compensated for any of the products mentioned in this post. In some cases, we may earn a small affiliate fee from certain links, including Amazon and the Health Food Radar shop. This helps compensate our staff for their time. Thanks for supporting us by clicking on the links!
Statements made on this website have not been evaluated by the U.S. Food and Drug Administration. Any information or products are not intended to diagnose, treat, cure, or prevent any disease. Information provided by this website or this company is not substitute for individual medical advice.