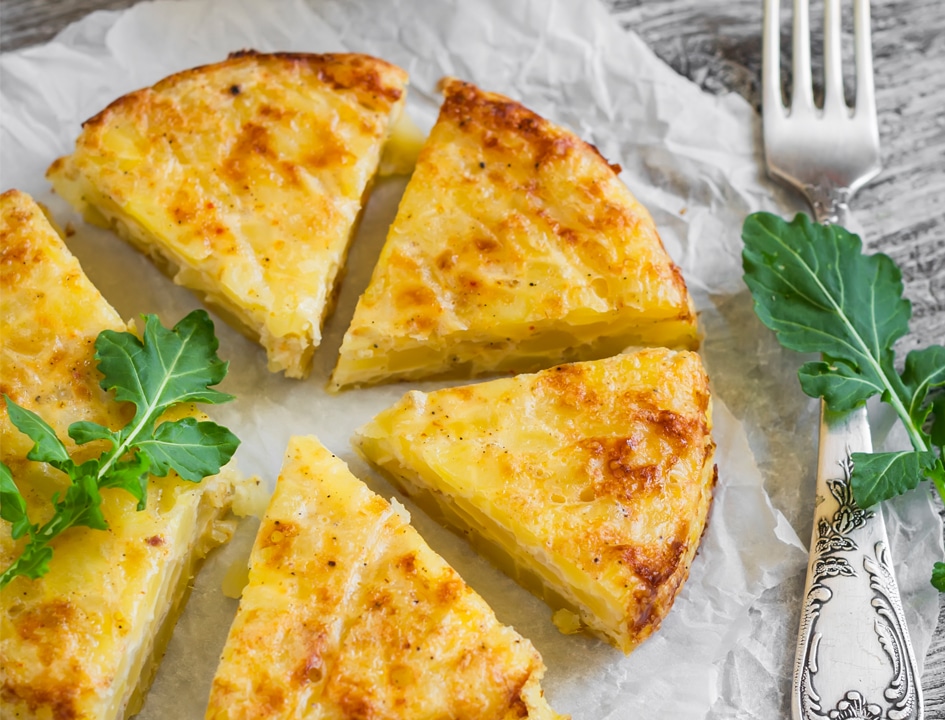 A Spanish tortilla is divine and like all divine things, it is simple. Just eggs and onions and potatoes. And some olive oil. And maybe a little garlic depending on–look, I'm just saying that with a handful of ingredients you have in your house right now, you can make a dish of international import.
Like many simple dishes, a Spanish tortilla is about technique and there are two steps that require you to act with confidence. The first is frying the potatoes. The second is flipping the tortilla. Your inner chef needs to step up–but don't worry, these techniques are vital but easy.
The Potatoes
The sliced potatoes must be fried in olive oil slowly, so they cook without browning. You have to be patient and you have to get a handle on heat. You're going to think your oil is too cool because those potatoes are just going to float there not turning golden on the edges. How do you know they're cooking if they don't turn golden on the edges? Trust. That's how. Trust the hot oil is cooking those chips until they are fork-tender. Or maybe knife blade tender. Which is how you check them, 15 minutes later. Prick them with the point of a paring knife. If they feel luxurious and give, they're ready. If they don't they're not. Just don't brown them.
The famous Spanish tortilla flip
If you've never flipped a tortilla, this step will be where you level up. There are a lot of methods. Most cooks lay a large plate upside down on the frying pan then turn it over. I don't. I slide the Spanish tortilla onto a plate then flip it using another plate then slide it back into the pan because I am an egg flipping coward.
Don't be put off by these culinary caveats. The following recipe is easier than it looks, is forgiving of mistakes, and produces a stunning, delicious dinner.
Print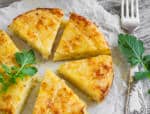 A Spanish Tortilla is Cheap and Easy
---
Author:

Total Time:

55 minutes

Yield:

8

1

x
Description
Seriously, this dish is more about confidence than anything else. Buck up and build this omelet with just three ingredients: potatoes, eggs, and onions.
---
1.5

to

2

cups extra virgin olive oil (extra points if it's Spanish)

2

pounds potatoes, peeled and cut into wheels (Yukon gold preferred)

1

(Spanish) onion, cut into quarters and sliced thin

2

to

2.5

teaspoons of kosher salt

8

large eggs, beaten
---
Instructions
Heat the oil in a pan
Add the potatoes and the salt; when the oil begins to bubble, reduce the heat and simmer those potatoes for 15 minutes or until you can easily pierce them with a knife.
If you want browned onions, add them with the potatoes. If you want tender, transparent onions, add them about halfway through.
Remove the potatoes and the onions to a bowl with a slotted spoon.
Add the eggs and careful CAREFULLY fold everything together taking care to preserve the integrity of the sliced potatoes. Add mixture back into the hot oil, reducing the temperature to low.
Cook the tortilla in the oil until the edges begin to brown slightly and the eggs in the interior are turning solid.. You may have to jostle the potatoes and eggs to make sure the potatoes stay submerged.
Flip the tortilla (see below) and continue cooking until the eggs are done.
Serve warm.
Flip the tortilla
CLASSIC TECHNIQUE:

place a large plate over the pan and, holding it firmly in place with one hand, flip the pan and the plate together so the tortilla is now on the plate. Take a moment to admire your remarkable control and savoir faire.
Slide the tortilla back into the pan to finish cooking.

THE TWO-PLATE WAY OF THE COWARD:

slide the tortilla onto one plate.
place the other plate over it. Hold the plates together and flip the tortilla over. It is now on the second plate and upside down. Yay.
Slide it back into the hot pan and continue cooking.
Notes
I know what you're thinking. You're thinking, "That's a lot of oil!" But trust me, this is how it's done.
Prep Time:

15

Cook Time:

40

Category:

Spanish

Method:

Frying

Cuisine:

Spanish
Keywords: Spanish, tortilla, olive oil, eggs, potatoes, spanish tortilla recipe, spanish tortilla recipe authentic
Image © iStockphoto
This post is not intended to substitute for medical advice or prescribed medication. Especially if you have special health needs or a special diet, consult a physician before undertaking any new diet or exercise plan.
The author has not been compensated for any of the products mentioned in this post. In some cases, we may earn a small affiliate fee from certain links, including Amazon and the Health Food Radar shop. This helps compensate our staff for their time. Thanks for supporting us by clicking on the links!
Statements made on this website have not been evaluated by the U.S. Food and Drug Administration. Any information or products are not intended to diagnose, treat, cure, or prevent any disease. Information provided by this website or this company is not substitute for individual medical advice.