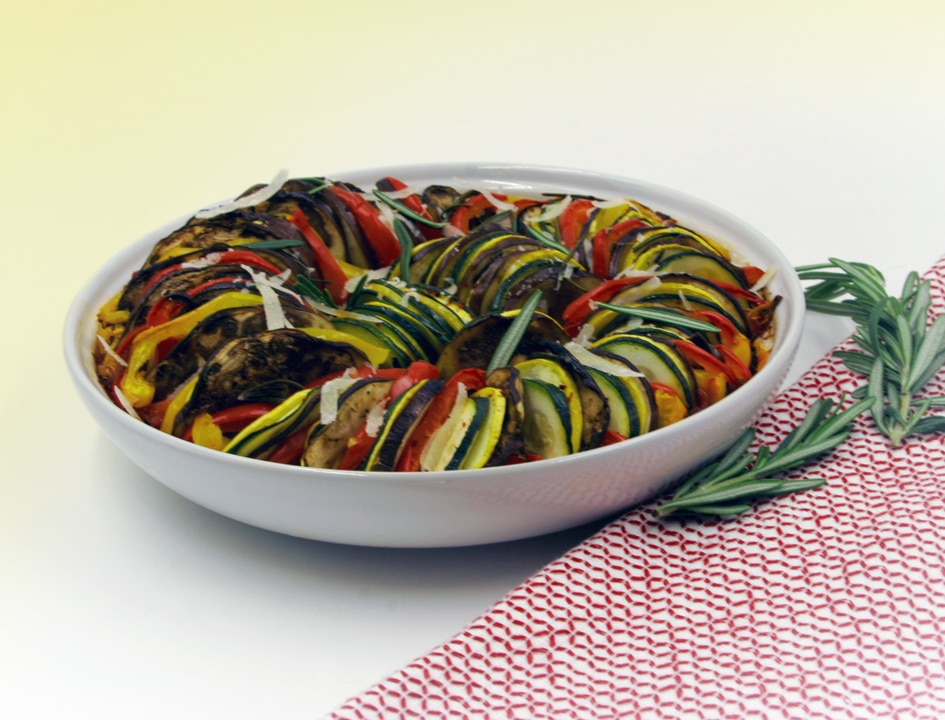 This simple ratatouille recipe, packed with colorful vegetables, will steal the spotlight at your dinner table.
Ratatouille is an elegant yet simple dish that will fill you up (believe me, I speak from personal experience) and leave you feeling guilt-free when you've finished the meal. This classic French dish also works with plenty of lifestyles and diets — vegetarian, paleo or even low carb. The veggies have a good portion of dietary fiber and are naturally low in sugar.
What Makes This Simple Ratatouille Recipe so Mouthwatering?
The beauty of the dish comes from the colorful vegetables and a neat presentation that shows them off. So, I always make it just like the aspiring chef Remy does in the namesake Pixar movie: a tight spiral of eggplant, yellow squash, and zucchini, along with red and yellow bell peppers. To keep the dish light, I use a simple tomato sauce as the base — no heavy béchamel to be found here!
If you are lucky enough to have a farmer's market nearby, that is where you will find the freshest veggies. Late summer and early fall are the best times to make ratatouille, when the summer squash and zucchini are overflowing at the market and at their freshest.
Ratatouille is a Healthy, Delicious Addition to the Family Table
My dad's eyes light up every time we make this dish. It's one of his favorites because he loves vegetables and is always looking for ways to cut down on his sugar intake at night. We tend to eat a bit later at night, but with this dish, we get a great-tasting meal, high in fiber, and low in sugar.
The dish will wow you on its own as an entree, served with crusty french bread and maybe a charcuterie platter to start. If you want to serve ratatouille as a side dish, though, it pairs well with a simple protein such as chicken or fish.
Print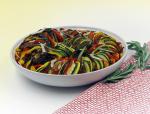 Simple Ratatouille
---
Author:

Total Time:

1 hour 15 minutes

Yield:

8 Servings
Description
Try this simple ratatouille for a guilt-free dinner that will satisfy.
---
Materials:
Small saucepan
Ceramic or oven-safe round or oval baking dish
Parchment paper
Tomato sauce:
1/2 medium white onion, finely chopped

1 can of tomato paste (6 oz.)

Salt and pepper to taste

2 tablespoons extra virgin olive oil

2/3 cup of water
Ratatouille:
1 baby eggplant, thinly sliced

1 small yellow squash, thinly sliced in rounds

1 small zucchini, thinly sliced in rounds

1 red bell pepper, thinly sliced

1 yellow bell pepper, thinly sliced

5 sprigs of fresh rosemary

A pinch of red pepper flakes

Salt and pepper to taste

2 tablespoons extra virgin olive oil, to taste

Grated Parmesan for garnish
---
Instructions
Tomato Sauce:
Add the olive oil to a small saucepan over medium heat. When the pan is warm throw in the finely chopped onion and sauté for about 3 minutes, until onions are translucent.

Add the tomato paste and water to the saucepan and mix. Add salt and pepper and simmer an additional 4 to 5 minutes. Once the sauce is smooth, pour into the bottom of an oven-safe baking dish, covering the bottom. Cover with foil and set aside.
Ratatouille:
Preheat the oven to 350 degrees.

Take all of your sliced vegetables and layer them in an alternating pattern, making short stacks of multi-colored sliced veggies. I usually start with eggplant on the bottom of the stack, then squash, zucchini, and the bell peppers.

As you are making your stacks, lay them into the casserole dish so they form a tube that spirals from the outside all the way to the middle.

Once the vegetables are packed into the dish, you can start seasoning. Top the vegetables with the rosemary sprigs, salt, pepper, red pepper flakes. Finally, drizzle with olive oil.

Next, cover the dish with a sheet of parchment paper, trimmed to fit the dish. (Cut the paper as needed.)

Place in the oven for 30 minutes, check, then cook for another 15.

Once the vegetables are soft and tender and the sauce is bubbling through, take the ratatouille out of the oven. Grate Parmesan over the top to finish and you are ready to serve.
(Note: The more tightly packed the veggies, the longer they will take to cook.)
Bon Appetit!
Prep Time:

30 min.

Cook Time:

45 Min.

Category:

Side dish

Method:

Bake

Cuisine:

French
Keywords: ratatouille recipe, colorful vegetables
This post is not intended to substitute for medical advice or prescribed medication. Especially if you have special health needs or a special diet, consult a physician before undertaking any new diet or exercise plan.
The author has not been compensated for any of the products mentioned in this post. In some cases, we may earn a small affiliate fee from certain links, including Amazon and the Health Food Radar shop. This helps compensate our staff for their time. Thanks for supporting us by clicking on the links!
Statements made on this website have not been evaluated by the U.S. Food and Drug Administration. Any information or products are not intended to diagnose, treat, cure, or prevent any disease. Information provided by this website or this company is not substitute for individual medical advice.