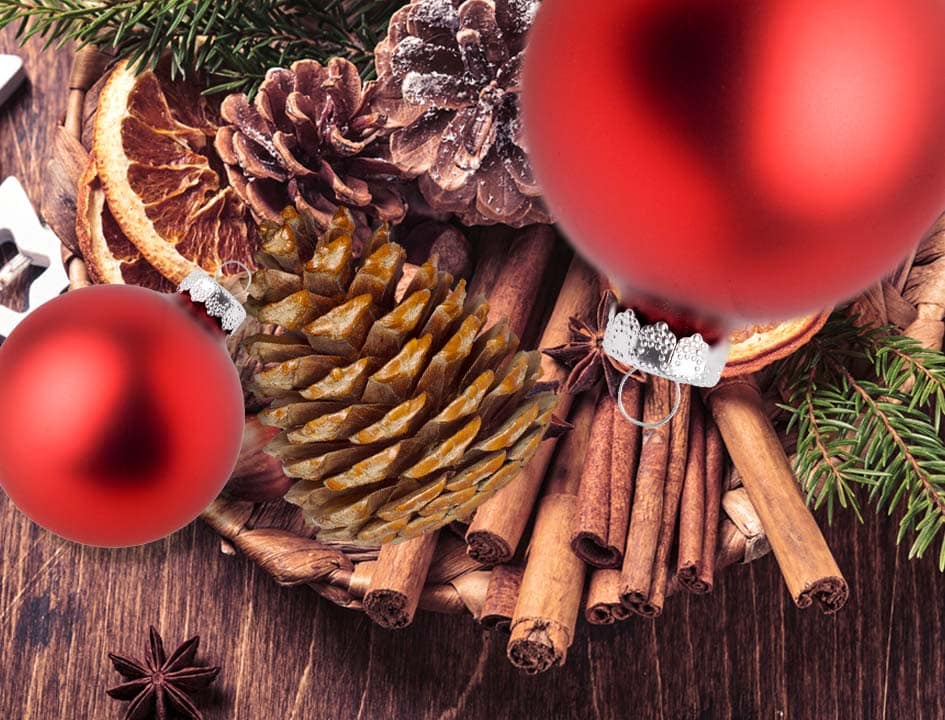 Homemade potpourri is a great way to scent your home and make it look pretty for the holidays — without using all of those chemical and synthetic fragrances. It's easy to conjure all of those warm, nostalgic scents that make us feel welcome and at home simply by using a combination of fragrant spices and essential oils.
For this Holiday potpourri, all you need are a few ingredients and a beautiful vessel to display it in.
Holiday Potpourri Makes a Great Gift, Too
Potpourri makes a wonderful homemade gift. You can personalize the gift for your friend or family member by selecting a special potpourri dish that is perfect for their home. Or, make a large batch of potpourri, divide it up into small cellophane bags tied with a festive ribbon, and use them in place of a bow on your packages.
The spices and oils also have valuable aromatherapy qualities, so it is more than a decorative gift. The recipe below uses Star Anise, which I selected for its nostalgic holiday scent but also for its calming properties. Clove is an immune booster and helps lower blood pressure, two things that can be very helpful during the holiday season. Cinnamon is also an immune booster, in fact, both cinnamon and clove oils were used to help fight the bubonic plague. Balsam fir essential oil has stress-reducing properties as well as immune-boosting properties. So it makes perfect sense to use these wonderful smelling ingredients that also bring a sense of calm during the holidays when we are all busy rushing around.
Make Your Whole House Smell Like the Holidays!
This potpourri recipe can also be used as a simmering potpourri. Simmering these ingredients together either on the stove or in a slow cooker will release the natural oils in the spices and make the scent stronger. The scent will carry much the same way the smell of whatever you may be cooking carries throughout your home. Instructions are at the end of the post.
Print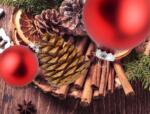 Natural Scents of the Holidays with Holiday Potpourri
---
Author:

Total Time:

1 hour

Yield:

1

1

x
Description
With heavily scented spices and beautiful, festive ornaments, this Holiday Potpourri is meant to both decorate and scent your home for the holidays.
---
6 Sprigs of Spruce or other Evergreen
1 Large Pinecone
1 Small Red Ball Ornament
1 Large Red Ball Ornament
3 Star Anise
3 Cinnamon Sticks
1/4 cup Dried Cloves
3 Tbs Dried Orange Peel
6 drops of Cinnamon Essential Oil
6 drops of Balsam Fir Essential Oil
---
Instructions
This recipe fills 1 salad bowl-sized vessel.
Start by collecting all of the items for your potpourri and lay them out in front of you on a counter.
In a large mixing bowl mix all spices, evergreens, and pinecone together.
Add essential oils and mix.
Add decorative ornaments.
Place potpourri in a display vessel.
Notes
The red decorative ornaments are a suggestion. Be creative with what to display in the potpourri. Choose ornaments that you like in colors that complement your home.
Do not ingest essential oils. This is only for external use and display purposes.
Prep Time:

1 hour

Cook Time:

None

Category:

holiday scents

Method:

Assemble
Keywords: holiday potpourri, potpourri pot, potpourri bowl, potpourri homemade, Potpourri christmas, potpourri recipe, potpourri how to make
How to Make a Simmer Potpourri
Mix

Mix all ingredients in the above recipe except for the ornaments in a large pot or pot of a slow cooker.

Add Water

Fill the entire pot with water. Make sure there is enough water so that it will be able to simmer for a long time without boiling dry.

Bring Pot to a Boil

Bring an uncovered pot of water and potpourri ingredients to a roaring boil. Once it has reached a boil turn the heat down so that the pot is simmering. If using a slow-cooker fill the pot that comes with the slow-cooker with water and potpourri ingredients and turn on.

Don't Forget to Check the Water Level

Every so often, check your simmering pot to make sure the water level is adequate. Add water as needed.
© Photos / iStockPhotos
This post is not intended to substitute for medical advice or prescribed medication. Especially if you have special health needs or a special diet, consult a physician before undertaking any new diet or exercise plan.
The author has not been compensated for any of the products mentioned in this post. In some cases, we may earn a small affiliate fee from certain links, including Amazon and the Health Food Radar shop. This helps compensate our staff for their time. Thanks for supporting us by clicking on the links!
Statements made on this website have not been evaluated by the U.S. Food and Drug Administration. Any information or products are not intended to diagnose, treat, cure, or prevent any disease. Information provided by this website or this company is not substitute for individual medical advice.